EtsyHunt VS Marmalead, Which Tool is Better for Etsy Sellers?
Etsy is a shopping website originating from the United States. It mainly sells handmade crafts. The common feature of these products is handmade and original. Excellent designers and craftsmen from all over the world set up shops in Etsy and sell their excellent handmade works. The sales model is similar to Ebay. If you are a crafts lover and producer, then you choose to open a shop in Etsy.
EtsyHunt and Marmalead are two Etsy keyword tools you'll hear about A LOT as you develop your Etsy SEO strategy, the difference is that the keyword function of EtsyHunt is still under development, but Marmalead is relatively mature.
With that said, EtsyHunt is currently available for free, but Marmalead upgrads to full versions does cost money. Who is the right operating tool for Etsy sellers? What is the difference between these two tools, let's read the article.
EtsyHunt :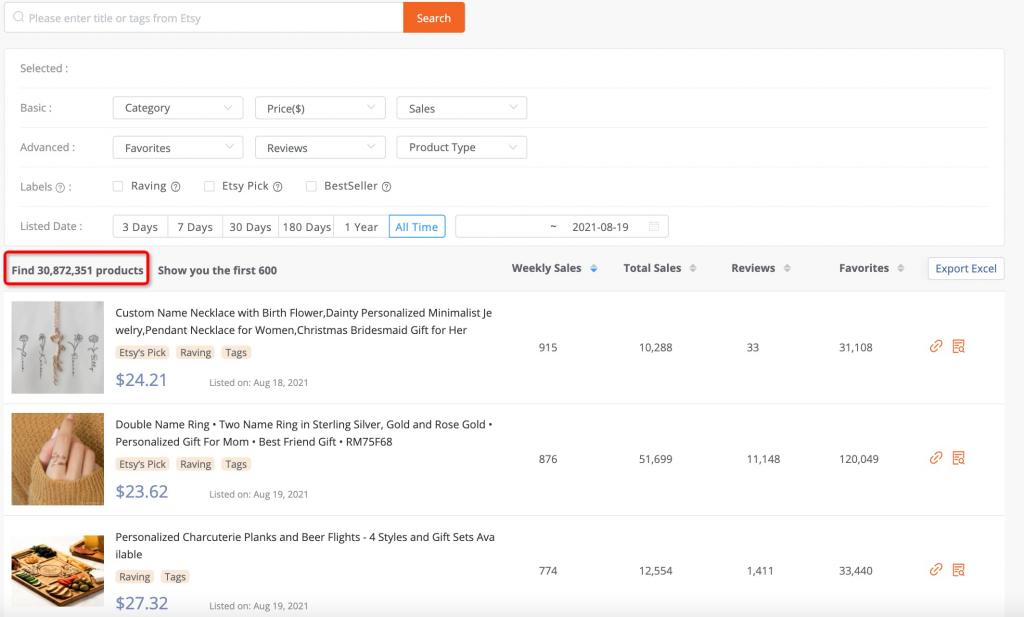 The most important function of EtsyHunt is that it has a very powerful product database, which actually includes more than 30 million products. Etsy sellers can set their own conditions and screen products that are suitable for their sales.
Product:
Etsy sellers can set conditions: category, price, sales volume, Reviews, Etsy Pick, Listed Date and other conditions to filter out satisfactory handmade products.
EtsyHunt will show you several products through these set conditions, and show you the weekly sales, Total Sales, Reviews, Favorite. What is the use of this information? It can provide us with the market quotation, and whether the product you want to choose is correct and whether it is in line with the mainstream of the market.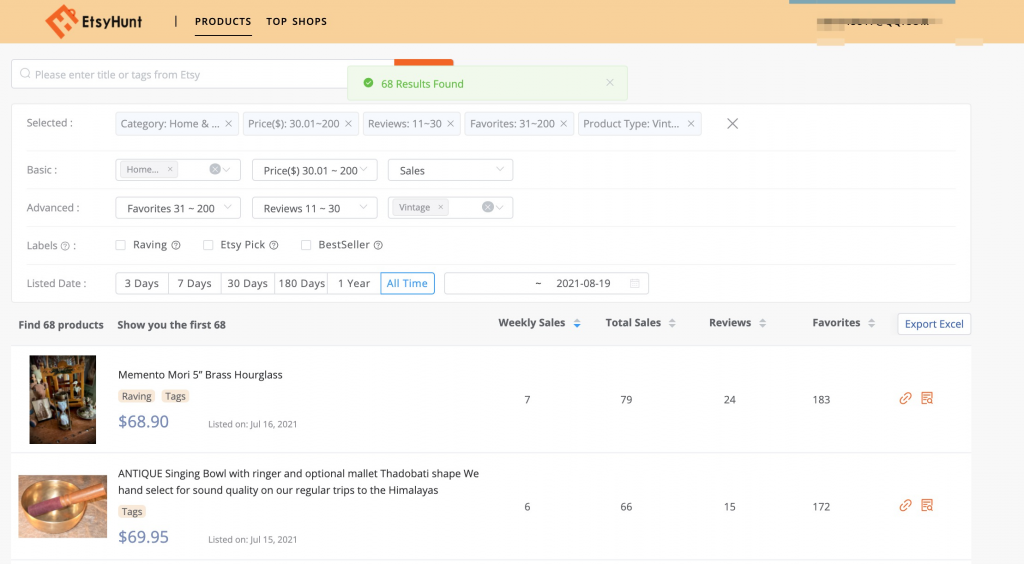 TOP SHOPS:
Top Etsy Shops are ranked based on store sales in the past 30 days. The chart is updated on the 5th of every month.United States sellers occupy the first place, 78 of the world's top 100 sellers, followed by British and Turkish sellers.
What is the use of this analysis for stores? He can help you find excellent competitors, and can also help you analyze which country your product is suitable for sale in.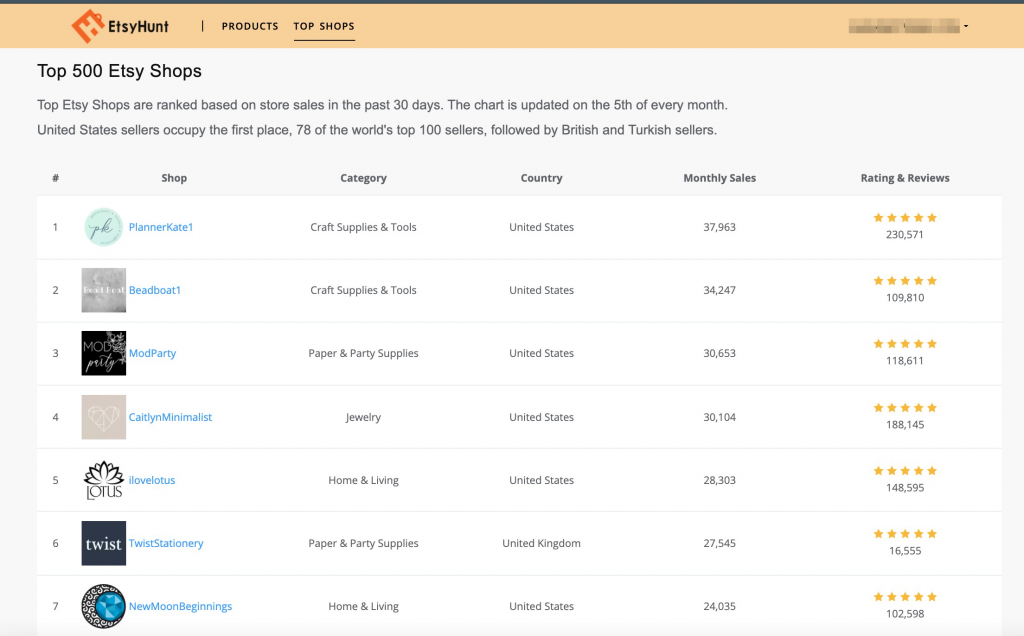 Marmalead:
Marmalead can provide some pretty in-depth keyword. Marmalead can show you exactly how well a keyword will perform by showing you a 30-day snapshot of the number of searches, engagement, and the amount of competition you'll be up against. So, before you use one of the keywords from the list of top Etsy searches, make sure you use Marmalead to see how well these keywords will perform in your Etsy shop.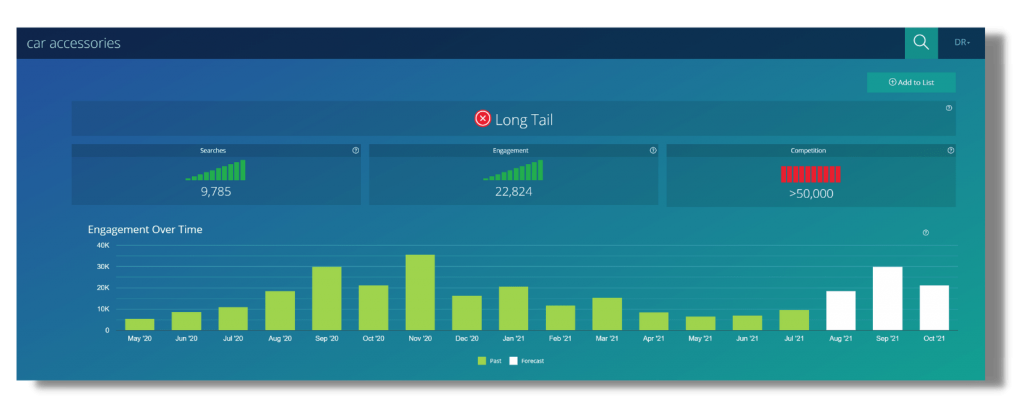 SEO in Etsy can be quite complex: keyword research, tags, descriptions, these labels are what we need to improve. Marmalead is an SEO tool that shows you:
Average views per week and month
Where your shop is ranking
Shops you're competing with
Items you're competing with
Especially for Etsy sellers who don't know what products to sell, this feature can help you find products very well.
Finally, Marmalead has a great tracking tool that allows you to place 4 keyword phrases for you to track. It will show you different results and different stores competing for the keyword.
The similarity between EtsyHunt and Marmalead is that they are both tools suitable for Etsy sellers. The difference is that one focuses on product selection, and the other focuses on SEO.Marmalead is a great tool. If you are still in its infancy, we recommend that you try EtsyHunt first. After all, its features can also help Etsy sellers, and it's free now, what do you think?