Research Keywords With Free Etsy Keyword Tool
With Etsy's top search keywords from EtsyHunt, you can brainstorm product ideas and keyword tags, analyze actual search data, view buyer engagement, and see product seasonality.

Remember, make informed decisions rather than guesses.
Start For Free
Keyword Analysis
Increase the Chances of Being Seen Online
Make your shop ranking higher based on top products keywords, prices, recency, views, and favorites analysis.
Explore Etsy Trending Keywords for Your Etsy Listings
With our Etsy keyword tool, you can explore the keywords that are truly relevant and essential to your product listings.

The key takeaway is that you need to:
√ Find keywords that your customers use, by category or by country
√ Use long-tail keywords as shoppers using those keywords are more likely to buy
√ Avoid overlooking some seasonal keyword opportunities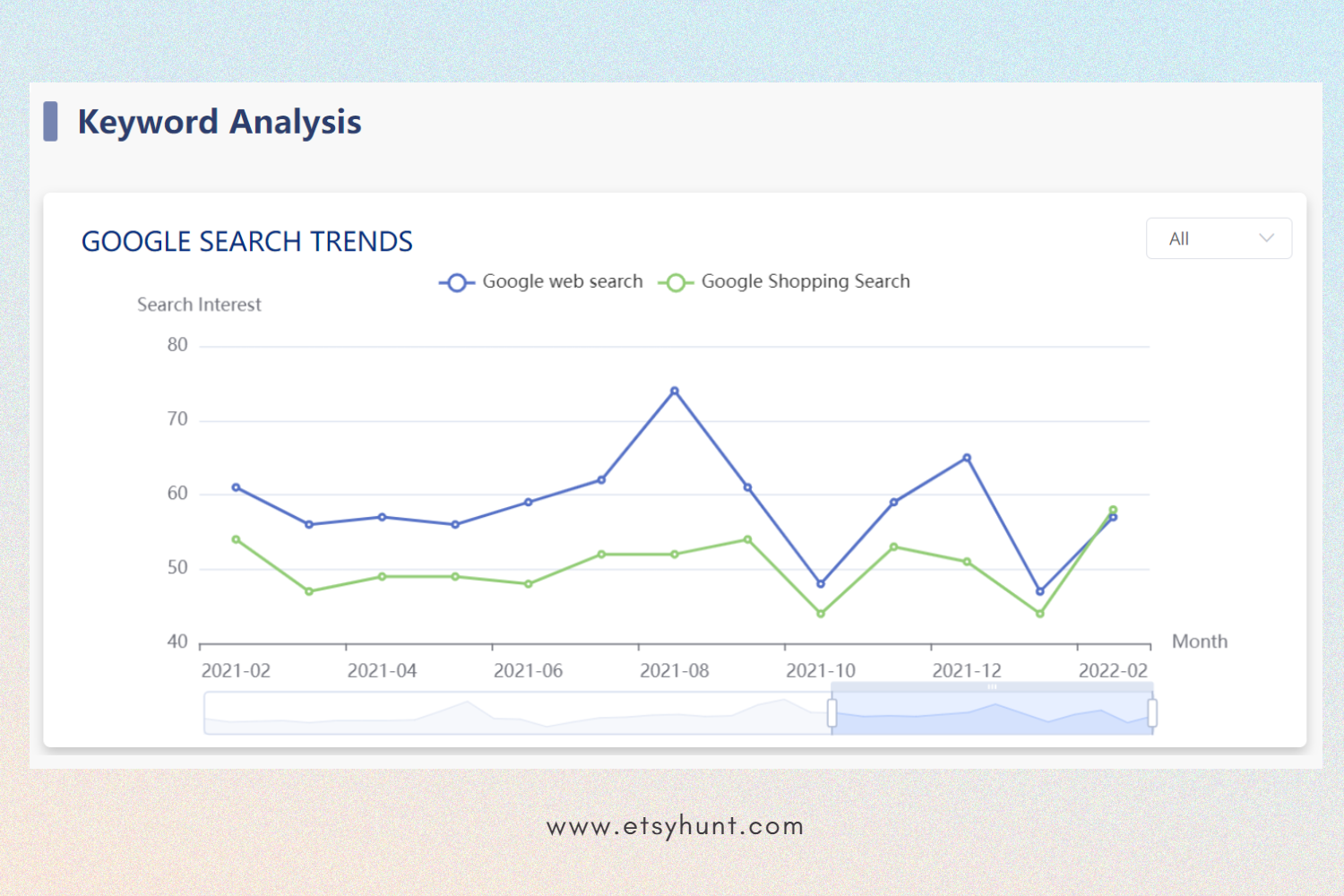 Choose the Best Etsy Keyword Tags for Your Etsy Listings
The Etsy keyword tags are very important. It is one of the main factors that Etsy algorithm uses to determine the ranking of your product listings. With the Etsy keyword tool, you can find the most searched terms or low-competition keywords to optimize your keyword tags.

Moreover, if you want to stand out in the search results, you also need to create the best shop name, manage your photographs, sales history, and reviews.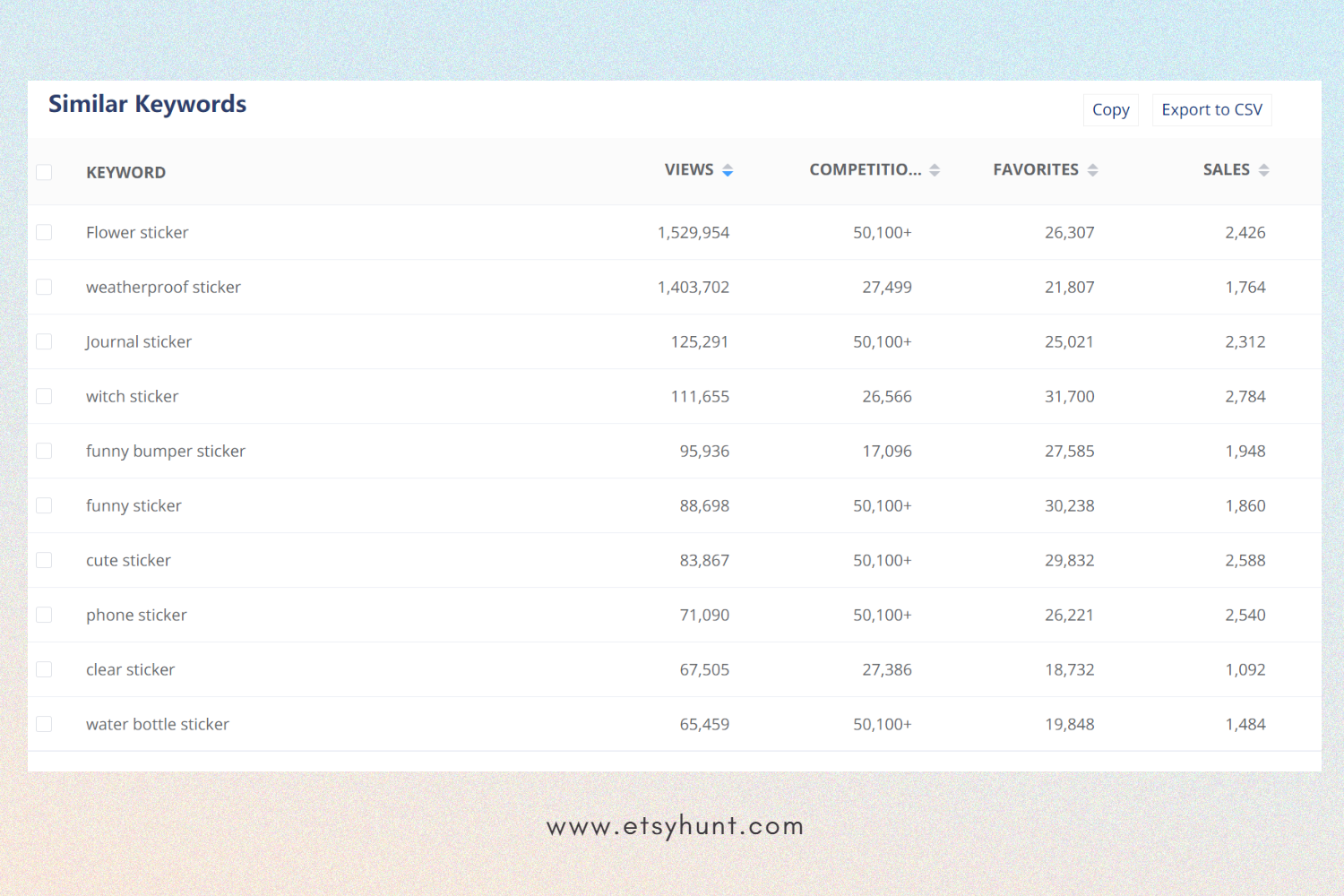 Find the Most Searched Keywords on Etsy Now!
Top 100 Best-selling Products Analysis
Improve the Conversion Rate of Your Etsy Listings
Maximize your business by optimizing your title or description and repeating what works.
Tweak Titles, Descriptions, and Photographs to Fit Target Customers
Inappropriate listings will lead to bad conversions and will hurt your shop in the long run. EtsyHunt has a wealth of data about which items are being found more often and selling best —— put them together and start to determine any patterns that can be implemented across your Etsy shop.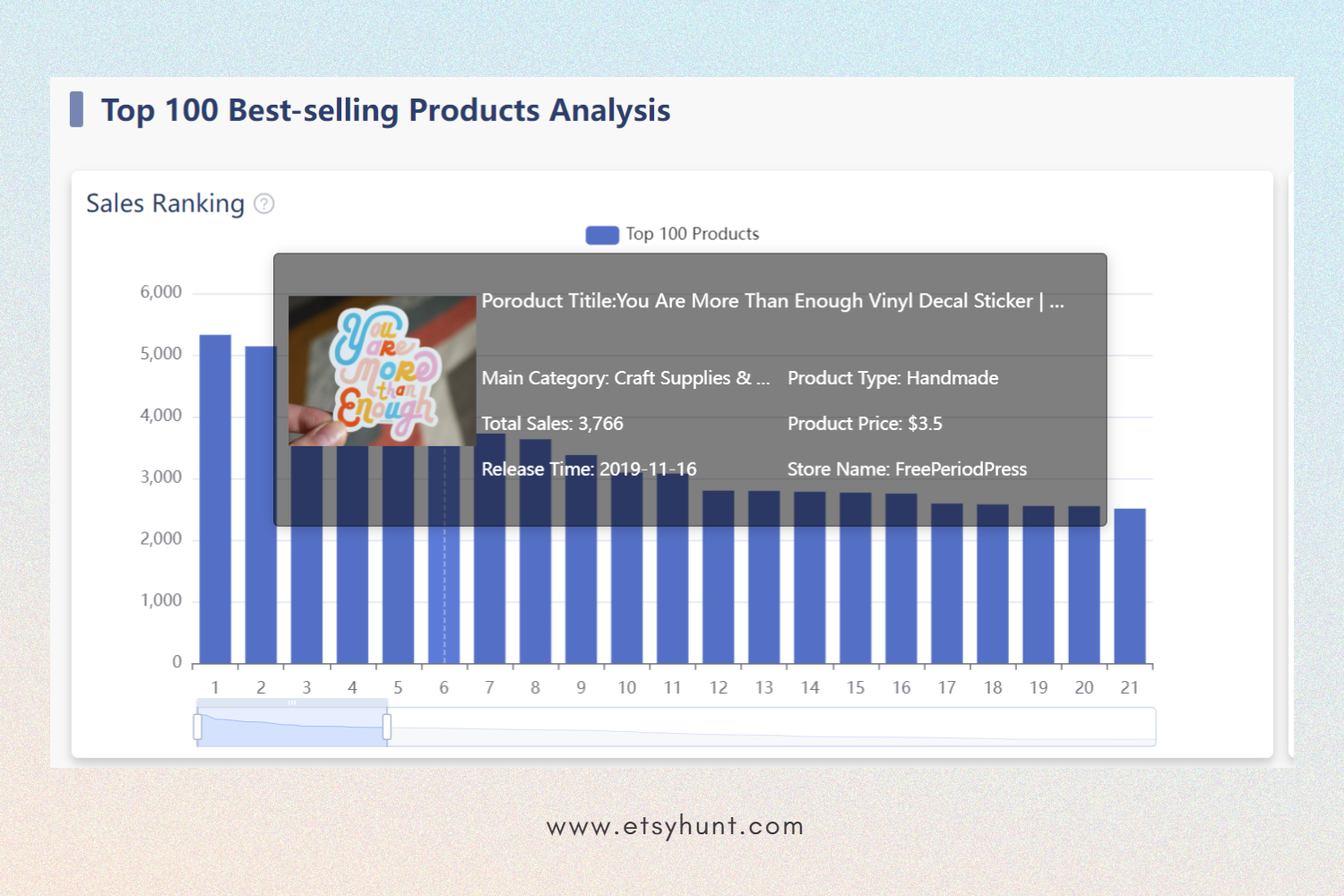 Create a Competitive Pricing to Win Target Customers
As with any business, the key to achieving decent profits is to set the right prices. One essential way is to study your competitors' prices for comparison. With our Etsy keyword tool, you can adjust the price based on high-performing listings.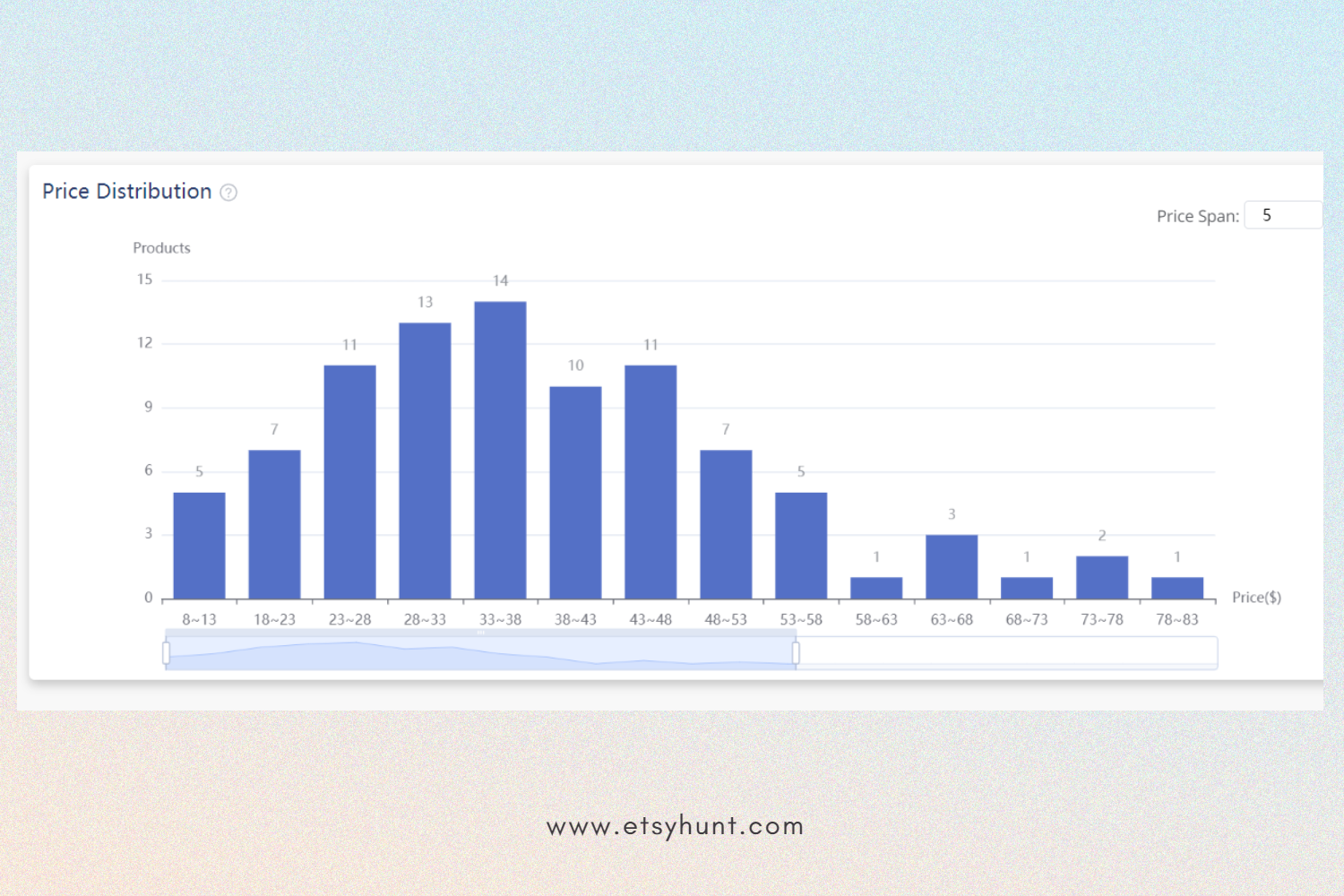 Grow Your Etsy Shop with the Best Etsy Keyword Tool!
FAQ
About Etsy Keywords Research & Etsy SEO
If people don't see your Etsy listings, they can't buy. Keyword research is the first step to achieving being seen in the top search results of Etsy and Google.

Moreover, keyword research is the process of understanding the search intent of buyers. What drives them to shop and purchase? What are the factors they care about when it comes to the products you sell? Once you know the different search intents behind a purchase, you can categorize listings and use the right keywords for each listing to win.

Frankly, keyword research is the secret to making sure your product gets sales.
(1)Be accurate. Whether it's keywords, phrases or long-tail terms, choose keywords that shoppers are familiar with and searching for, as well as those that Etsy is more familiar with.
(2)Repeat appropriately. Use the keywords and keyword phrases you want to rank for in multiple places, including titles, descriptions, tags, shop names, categories
(3)Avoid Self-competition. Even if you have several products related to the same search term, use different core keywords.
Etsy SEO (search engine optimization) is the process of increasing the visibility of an online shop in search engines such as Google or Etsy's own search system. For sellers, Etsy SEO is a way to connect buyers to the shop, making it simple for buyers to purchase. Thus, driving sales.
(1) Here are 4 SEO hacks to crack the Etsy ranking algorithm.
√ Use short but fully descriptive product titles
√ Backlink to your listings
√ Become a top seller achieving a positive feedback score
√ Consider launching an Ad campaign to get inbound links


(2) Here are 3 SEO mistakes may hinder your SEO performance on Etsy.
× Spamming keywords, embracing misspellings or worrying about plurals
× Believe in clandestine link-building websites that allow you to buy links
× Etsy SEO is a magic bullet for sales