How to Do Etsy Keyword Research by Using EtsyHunt?
Benefits
Optimize Etsy listings: find keywords with high search volume and low competition
Determining market demand, matching keywords with target products, referring to the performance of top products, and then adjusting operational strategies
Etsy SEO: Influencing the Etsy Ranking and Exposure of Your Products
Etsy SEO (Search Engine Optimisation) is the process of improving the ranking of Etsy items so that they rank higher in the search results on the Etsy platform. However Etsy has a complex search algorithm and quality SEO results will showcase your items to more potential customers, increase item exposure and get more sales conversions, so it is important that you understand the important metrics that affect Etsy SEO, to learn more about Etsy SEO check out this blog
Title: The title is limited to 140 characters, but search results will only show the first 55 characters, so core keywords should be displayed at the beginning
Category: A category selection specific to your product, users will be more likely to search for products matching the category when they select a specific category
Attributes: This is the additional information you can add after selecting a category, such as color and material
Tags: allows sellers to add up to 13 Tag description phrases in the backend, a mechanism unique to Etsy that gives each tag you add a chance to match the search results of your potential customers if the words are chosen correctly

How to Use
Overview: Take Necklace as An Example
The number of views and favorites reflects the market demand, with higher values meaning higher demand; the competition reflects the existing supply side, with higher values meaning higher competition; and the sales volume allows you to determine how profitable it is to sell the category

Views: total number of monthly views for the top 100 listings ranking for this keyword
Favorites: total number of monthly favorites for the top 100 listings ranking for this keyword
Competition: the number of listings Etsy finds relevant for the keyword.EtsyHunt Keyword connects directly to Etsy, and they give out a maximum of 50,100 competing listings which means that for listings with "50,100+" the number of competitors could be larger
Sales: total number of estimated monthly sales for the top 100 listings ranking for this keyword
Google Search Trends: Used to Determine Sales Patterns and Future Trends of Related Products
There are currently two types of search trends: Google Web search reflects what people are searching for in the Google search engine; Google Shopping search refers specifically to searches on Google Shopping pages with higher demand for shopping.
The trend chart allows you to determine if the merchandise is in a seasonal pattern and you can prepare your goods in advance of the peak season to prevent stock-outs
You can also determine if the overall trend is rising year on year to determine the future sales trend and sustainable cycle of the product
By filtering different countries, you can determine the demand for the item in different countries and thus plan the layout of your own sales and refine your demographic profile

Similar Keywords: Save Time on Manual Word Search and Make Better Decisions
In the actual operation process, we often struggle to find competitor long-tail words and core words to optimize the listing, "similar keywords" for you to save the head product comparison, a large number of words to find the link. It also supports one-click copying and exporting, making it easier for you to replace keywords in the background. It is ideal to find keywords with high search volume, low competition, and high sales, but in practice, you can sacrifice a certain amount of search results to take down words with average search volume but high conversion (high sales).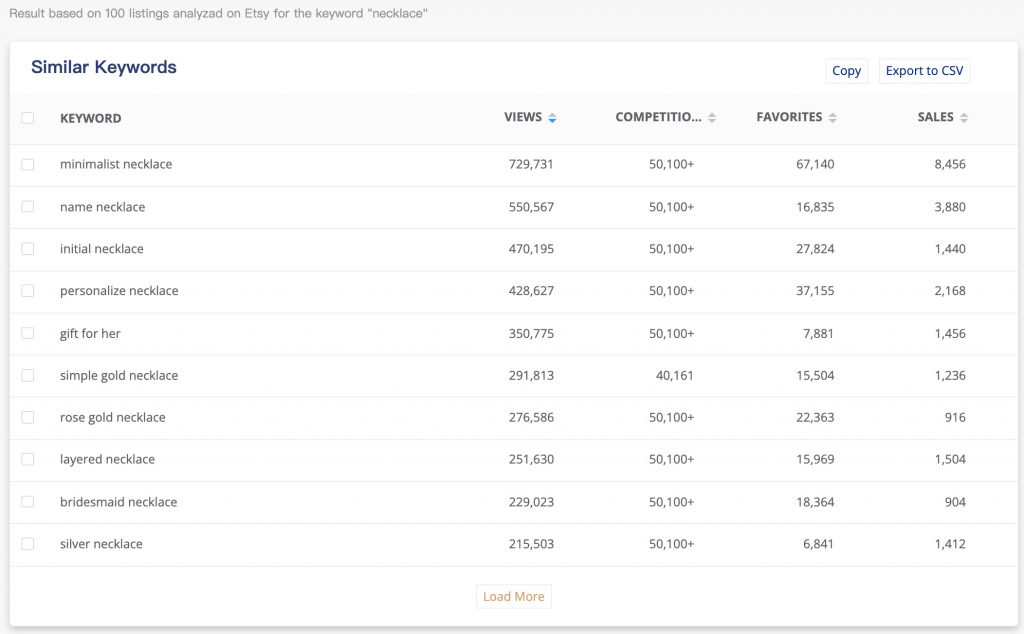 Hot Word Cloud
Find the most frequently used keywords in related products and click on the keyword to see how the term performs

Top 100 Best-selling Products Analysis
Aggregate analysis of the Top 100 hot-selling items using the keyword to confirm the characteristics of the headline items that match the keyword and reference operational strategies.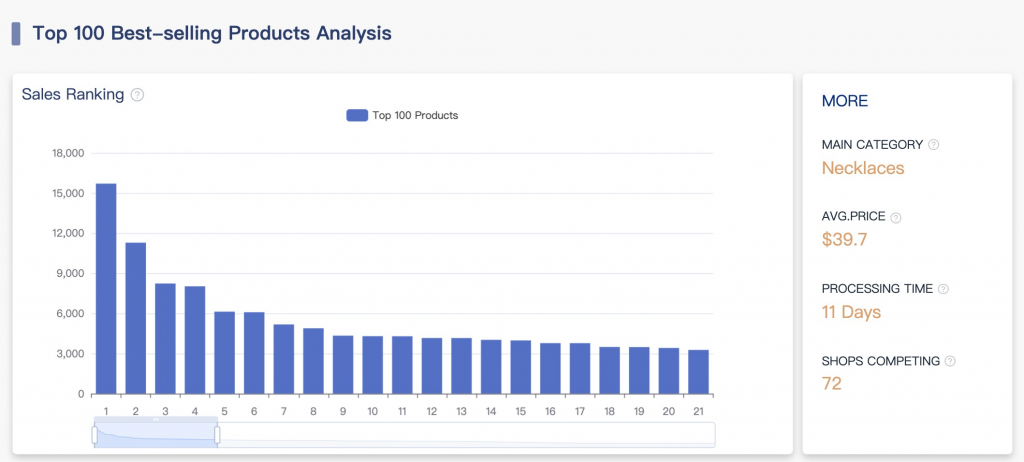 Sort by total product sales from left to right to determine if there is a monopoly in the category, discover new product opportunities through shelf time and then optimize competition strategies
In more, refer to the main category to determine if the target keyword matches the target product
Refer to the average selling price and average delivery time to see if you can achieve a competitive advantage with a more appropriate price strategy or faster delivery time
The number of relevant shops refers to how many shops are selling the top 100 hot items; fewer shops means more monopoly and more competition for the shop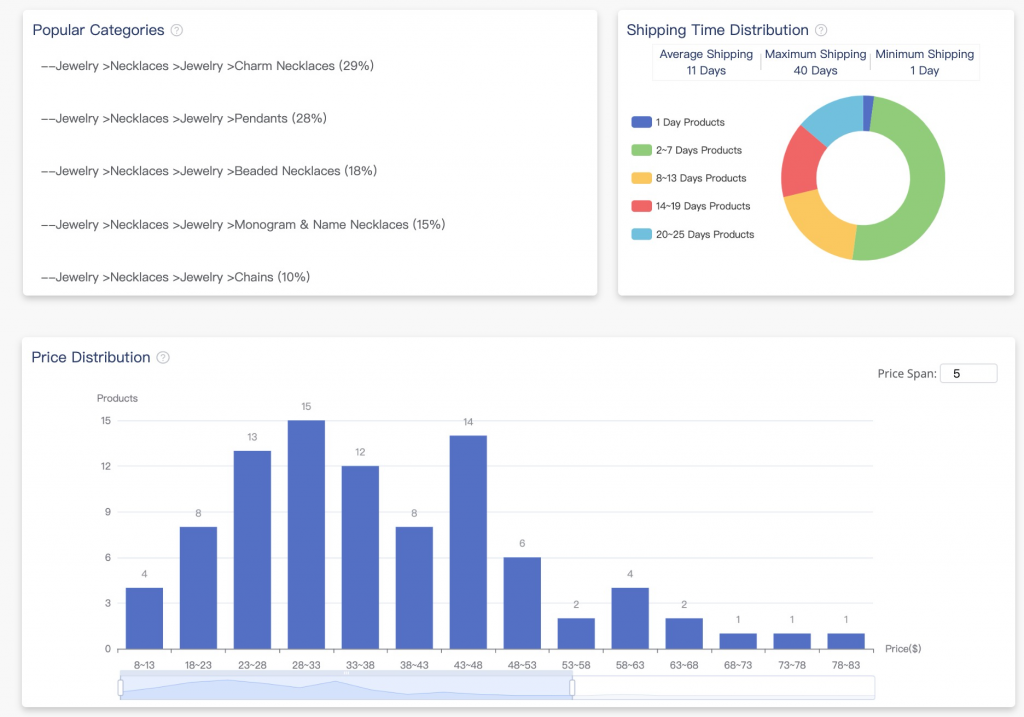 Choose your route to the shelves by referring to popular categories
Refer to the shipping times of popular products to determine if there is a competitive advantage in terms of logistics
Refer to the pricing strategy by price distribution, as shown in the chart, the most popular items are in the price range of $28-$33 and $43-$48