How to Improve Etsy Reviews by Using EtsyHunt?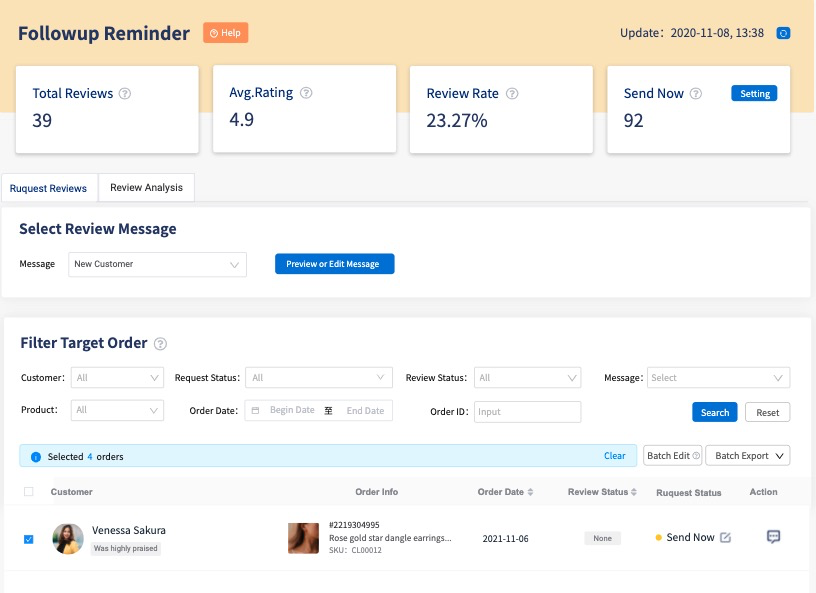 Benefits
Increase the number of positive reviews in the shop by accurately selecting orders (e.g. selecting repeat users who have left positive reviews) and by using intelligent copy to solicit reviews
Review analysis to see the impact of recent campaigns and different review copies on retention rates, in order to optimize campaigns or copy
First to deal with the latest bad reviews through bad review tracking
Bulk order emails can be exported for email marketing users to build Email Lists
How to Use
Connect shops
Entry 1: Click on the "Connect Etsy Shop" button on the shop management page in the top right corner of the User Centre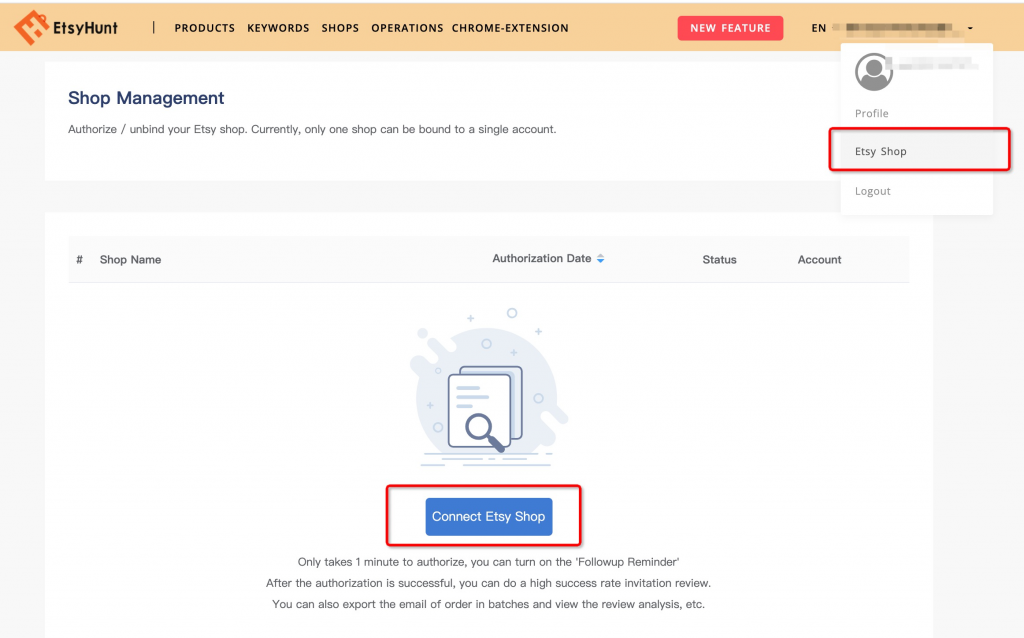 Entry 2: Click the "Connect Etsy Shop" button on the Banner page of the Sole Review function page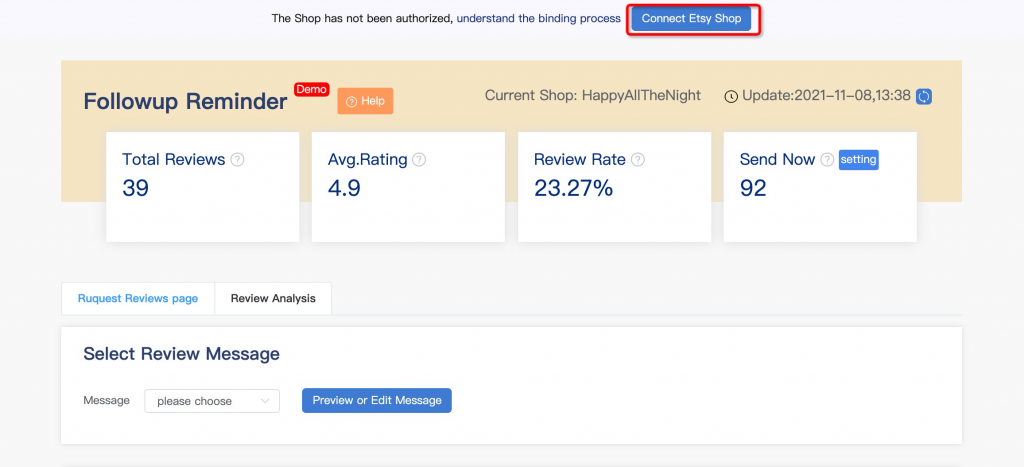 Shop Overview
Check the total number of reviews, the average review rating, the retention rate, and the number of orders that are due for review (orders that have reached the buyer and have not yet been reviewed)

Configure Send Now Order
Click on the "Settings" button to the right of "Send Now Order" in the overview to configure how many days after receipt the order can be evaluated, save it and the order will be updated automatically every day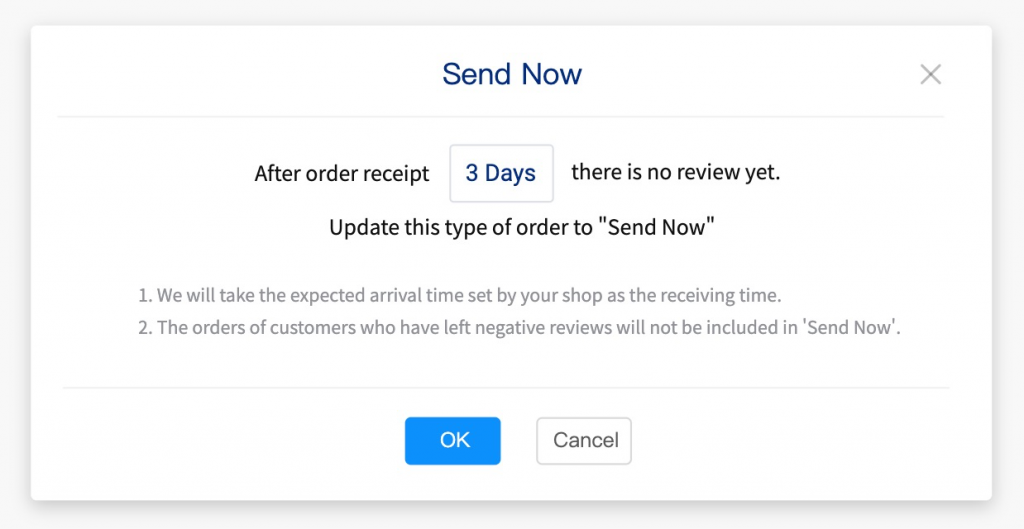 Selecting Message
EtsyHunt has two built-in copywriters: one for new users and one for repeat users.
Support for custom copy, with the ability to replace customer names; seller names, order dates, days of the week using smart tags, reducing the manual replacement process
Order Selection
Efficient screening of target users and selection of the corresponding text for the claim can greatly improve the success rate of the claim, as follows.
For a higher rate of requests: select repeat customers who have left a positive review and request a review on the corresponding request order
For new customers: filter for new customers who are first-time buyers and select the new user invitation text to request a review
If you are confident about a product, you can filter by product type and select a specific product to request a review
Filter orders from repeat users who have left a bad review, click on bulk edit, and set it to ignore to reduce the risk of getting a bad review

Customer Type: Repeat customers who have left positive reviews; repeat customers who have left negative reviews; new customers who are buying for the first time; repeat customers who have not commented
Order request status: Send Now; Completed; Ignored; Order in delivery
Order Review Status: Commented; Not Commented
Invitation templates: built-in templates and custom templates
Product filtering: filter by product title and SKU
Support filtering by order date and order number
Request a Review Process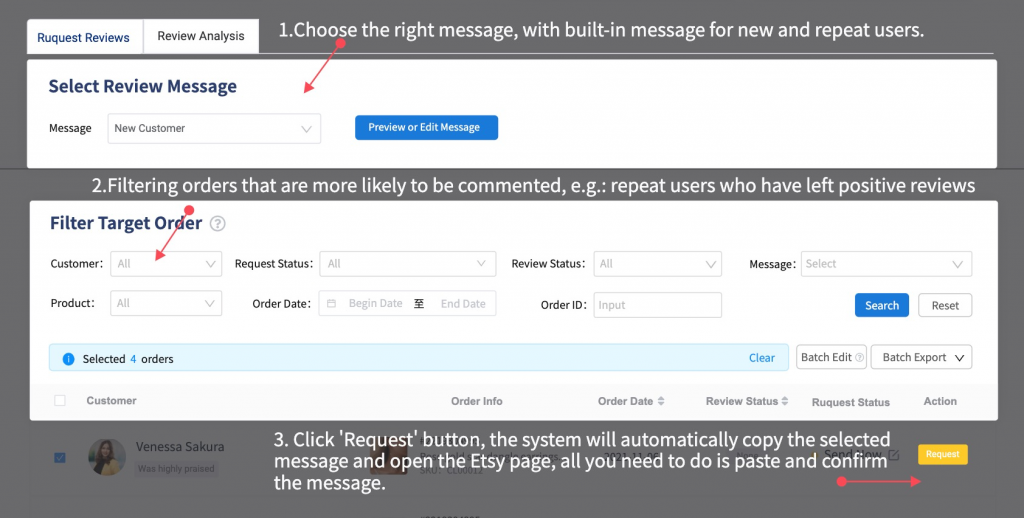 Review Analysis
See the percentage of reviews by category for the shop over the last three months to get an idea of recent reviews
See the performance of the shop's reviews for the last three months of orders

Retention rate: number of orders with reviews / total number of orders
Positive review rate: number of reviews with 4 stars or more / total reviews
Negative review rate: number of reviews below 3 stars / total reviews

View the performance of different message templates for the review and optimize high success rate message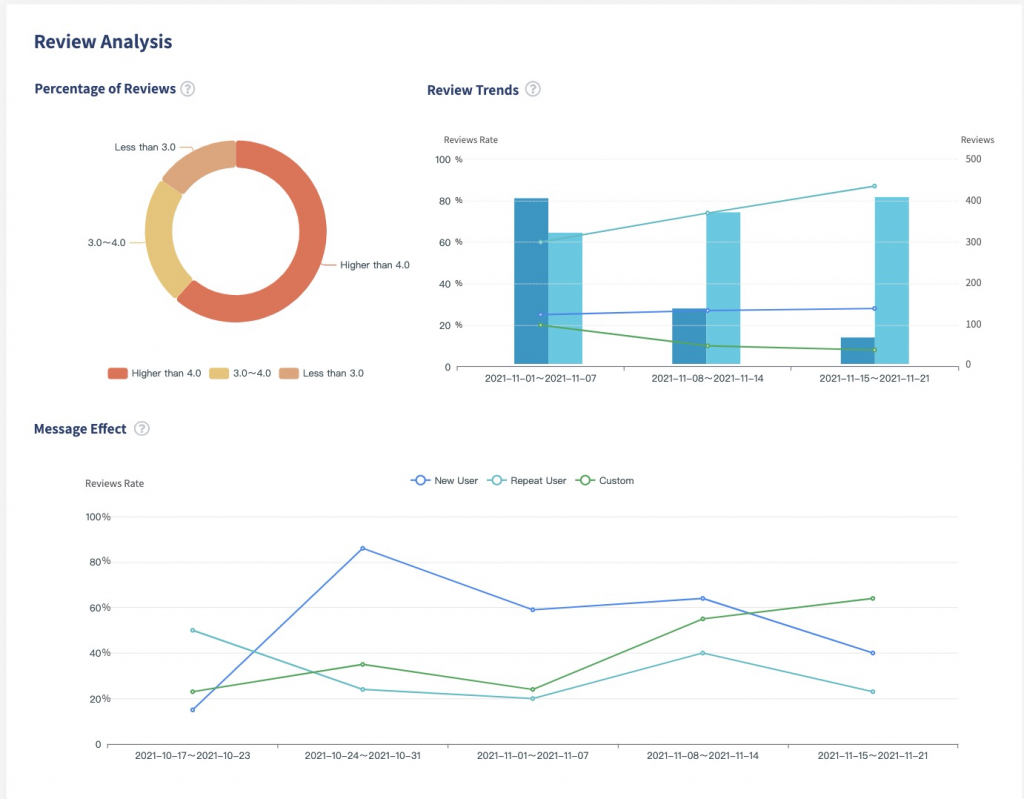 You can also view the last three months of positively reviewed orders for the shop, quickly locate the positively reviewed products and the content of the reviews, and get in touch with the buyer in time to eliminate the impact of positive reviews