Your Go-to Free
Etsy Keywords Research Tools
For all Etsy sellers, to research keywords, tags and product ideas. Make your shop and listings ranking higher!
Know more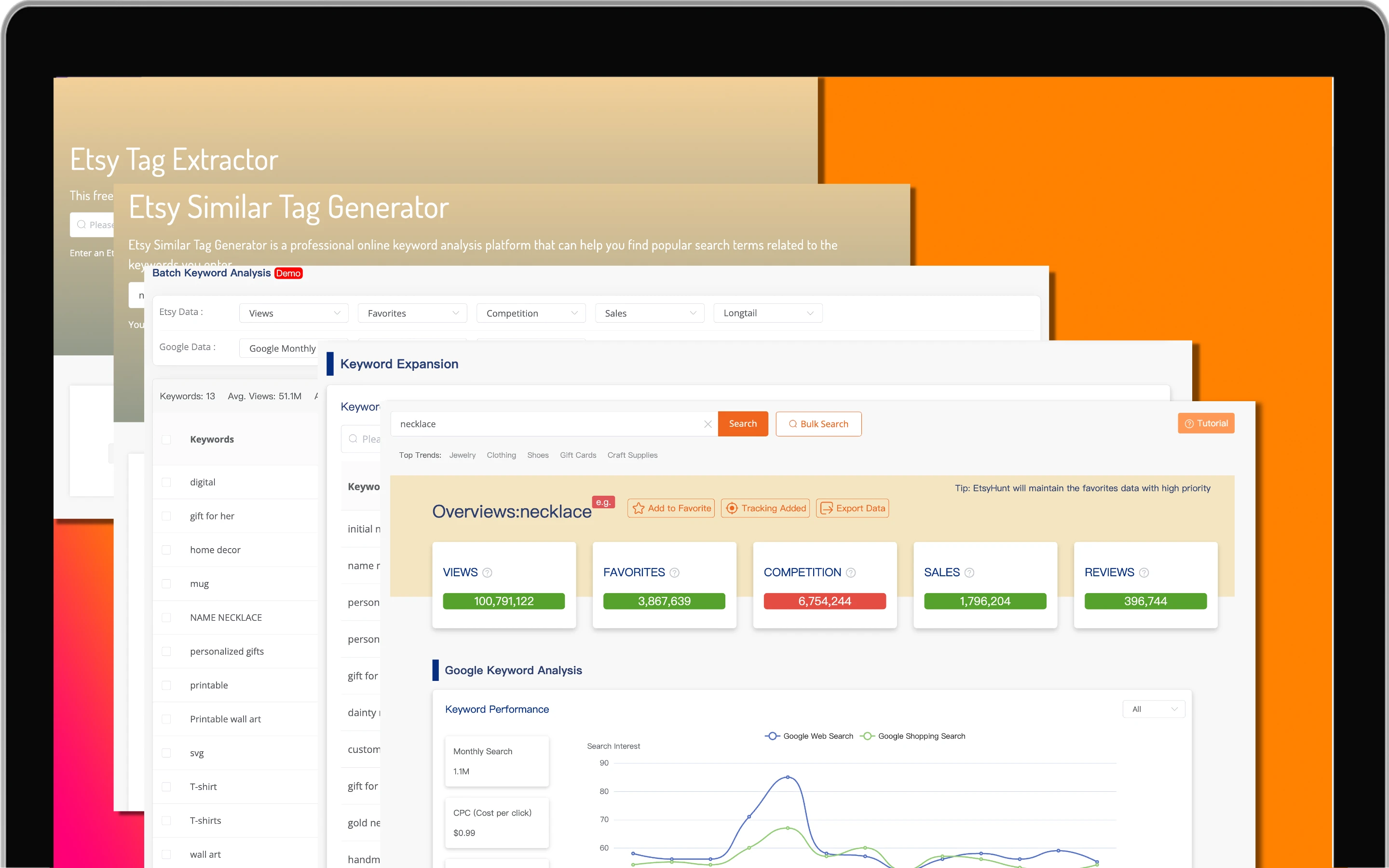 ETSY KEYWORD SEO TOOL
Advanced Etsy Keyword Tool Analysis Solution
---
EtsyHunt's Etsy keyword analysis solution offers more than just insight into the performance of individual keywords, it provides the capability for batch keyword analysis, enabling you to gain a deeper understanding of how to design your listings and structure your shop traffic.
Knowing Etsy Keyword Tag Performance
√ Keyword Tag real performance in Etsy Market linked by products
√ Analyze Keyword Search Trends to find out the most searched keywords by Etsy buyers.
√ Export data to csv and analysis by your own rules
TRY IT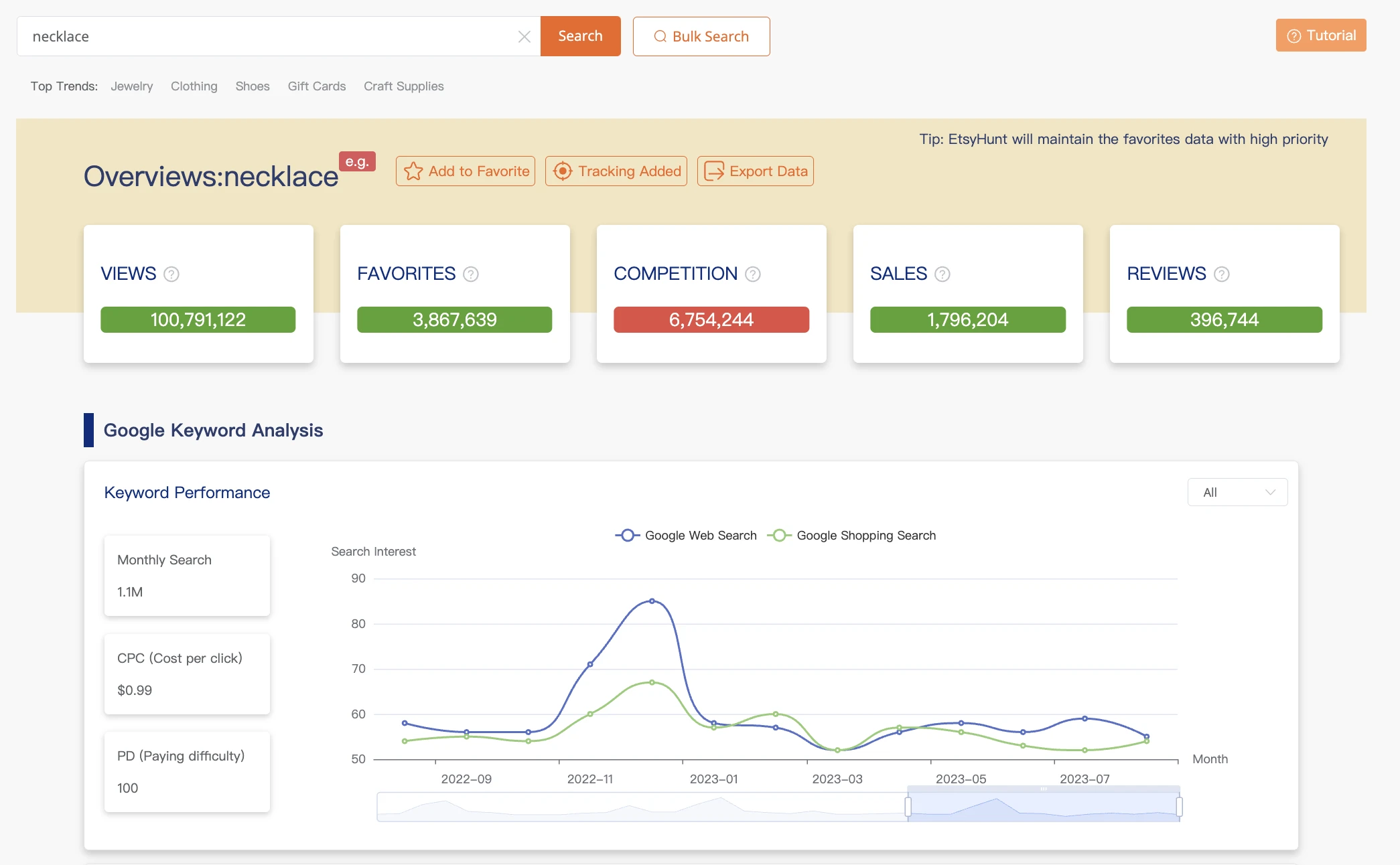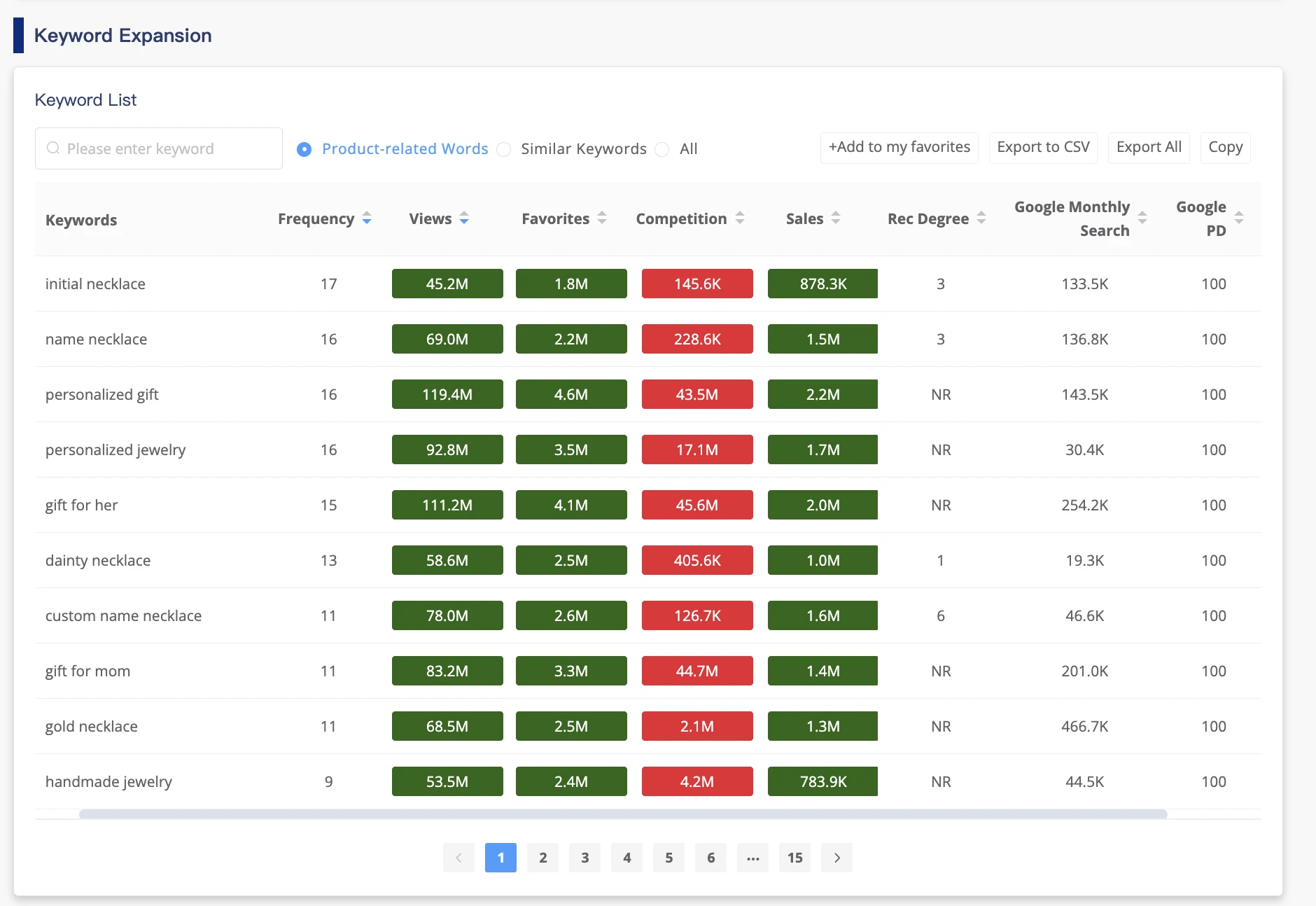 Expand Keywords by Etsy products
√ Keyword Tag real performance in Etsy Market linked by products
√ Knowing Another Related Keyword helps you expand longtail keyword
√ Directly copy all keywords and paste to analysis
try it
Batch Analysis Etsy Keyword
√ Easily Input through all keyword analysis table in Etsyhunt
√ Effortlessly filter your desired keywords through multiple dimensions.
√ Easily gain insights into the performance of a multitude of keywords on both Etsy and Google.
TRY IT
FREE ETSY KEYWORD TOOL
Research Etsy Keywords with EtsyHunt
---
EtsyHunt provides best free keyword research tools, helping you analyze a large amount of keyword data more easily, and increasing the exposure of your products and store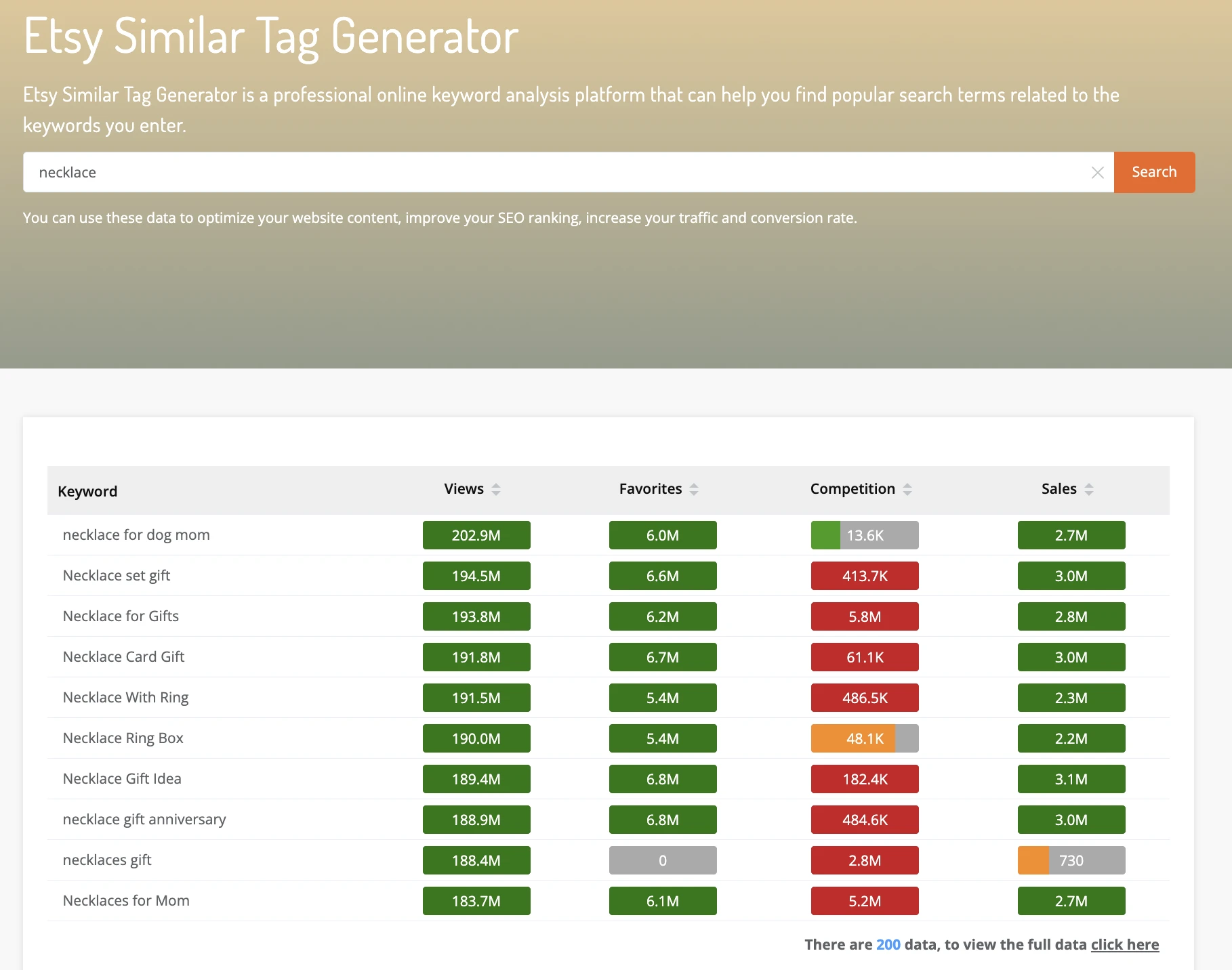 Etsy Similar Tag Generator
√ Find more long-tail keywords, expand your keyword library,
√ Analyze competitors' keyword strategies, discover their strengths and weaknesses,
√ Increase listing coverage and exposure.and develop more effective optimization plans.
Start for free
Etsy Product Tag Extractor
√ Discover the most popular and effective product tags used by competitors, allowing you to optimize your own tags for better product ranking and exposure on Etsy.
√ Gain valuable insights into various product categories and styles on Etsy, helping you identify market trends and opportunities.
√ Find new market opportunities and potential customers by analyzing tags with high search popularity and low competition levels, giving you a competitive advantage in product visibility and sales.
Start for free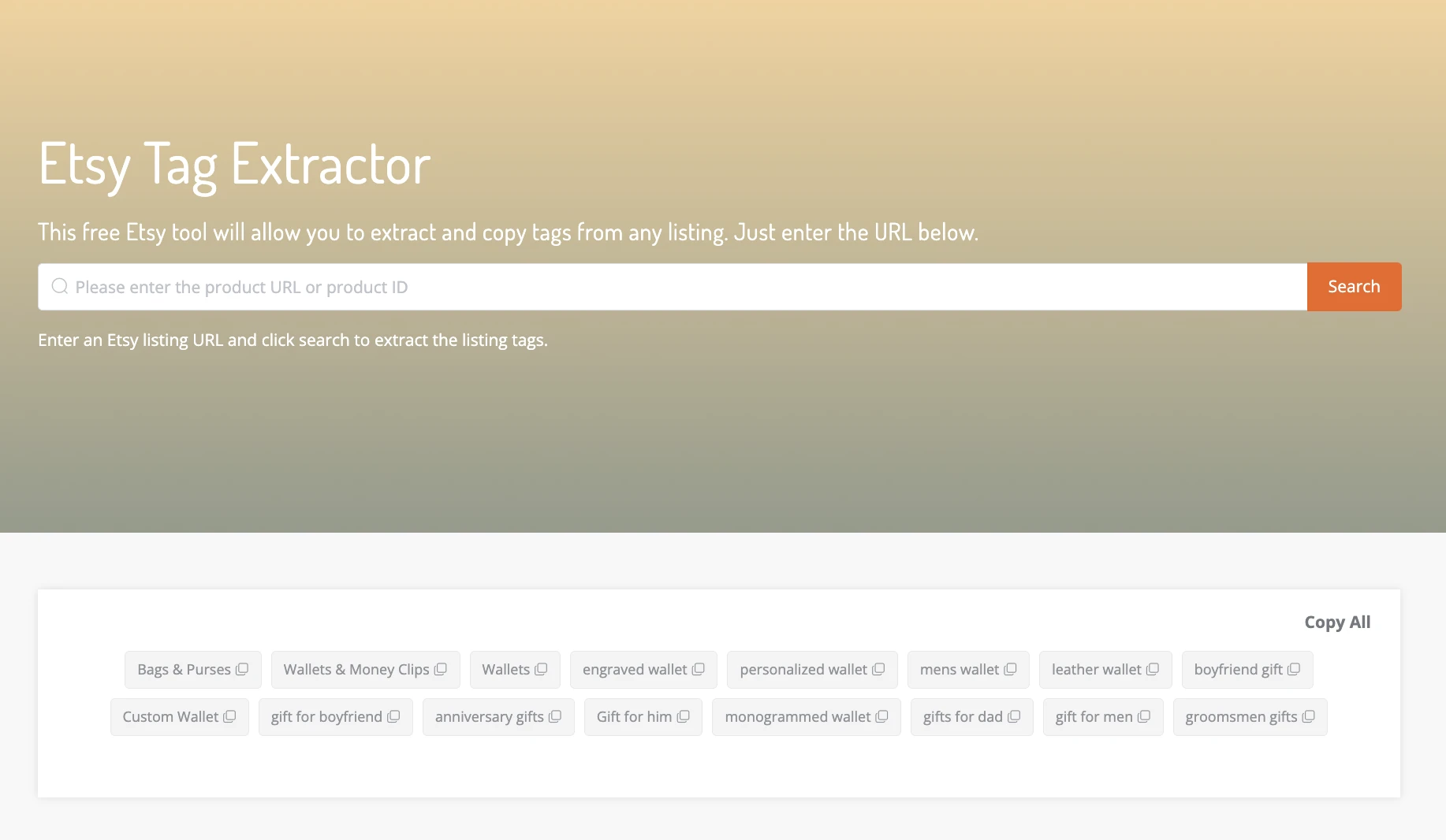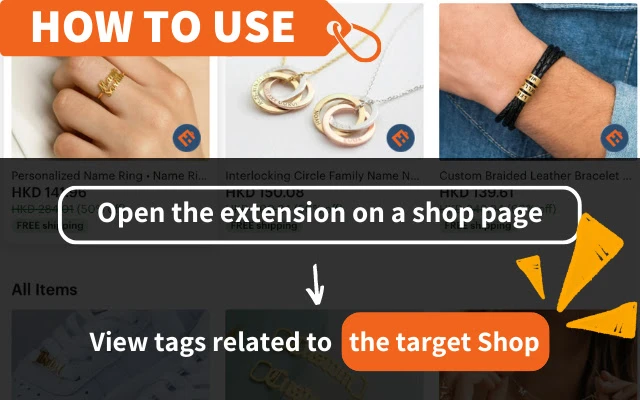 Etsy Tag Analysis Extension
√ Best way to analysis etsy keyword tags within Etsy product or shop detail page
√ Compare muti products tags views, competition, and other data.
√ Bulk copy all tags and export them to csv.
Start for free
FAQ
Frequently Asked Questions
---
All About Etsy Keyword Research Tool and Etsy SEO Questions and Answers, If you have any further question please contanct our support.