How to Start an Etsy Shop? Step-by-step Guide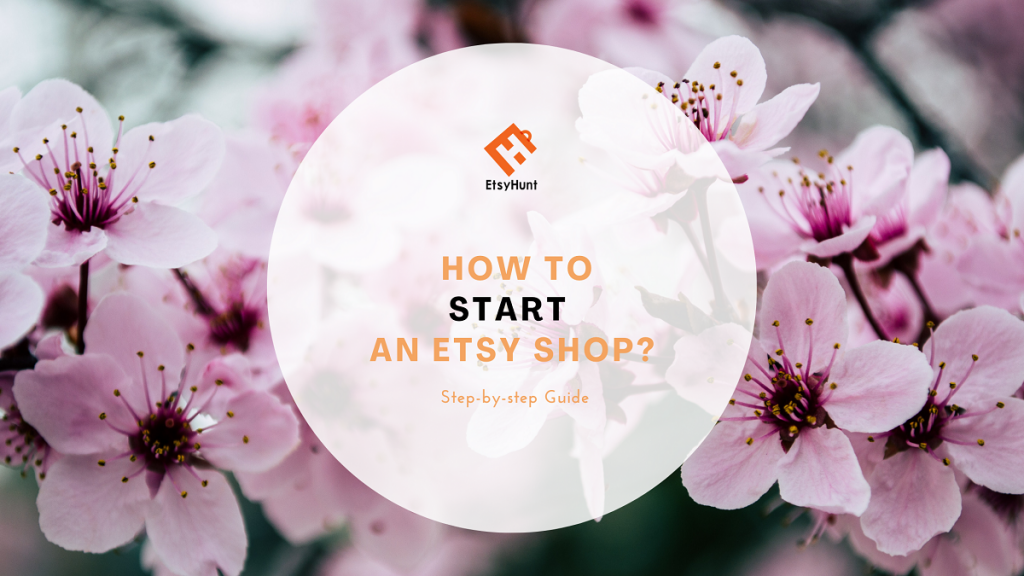 I am often asked how to open a shop on Etsy or how to sell on Etsy. Do you want to open an Etsy shop?
First, I would like to answer a basic question - What is Etsy?
Etsy is an online marketplace that allows users to sell handmade or vintage items and craft supplies. These items fall under a wide range of categories, including jewelry, bags, clothing, home decor and furniture, toys, art, as well as craft supplies and tools. All vintage items must be at least 20 years old. The site follows the tradition of open craft fairs, giving sellers personal storefronts where they list their goods for a fee of $0.20 per item.
Others may ask - Is Etsy profitable?
Yes, it is profitable. The e-commerce platform has more than 17 million active buyers from all over the world, with estimated monthly traffic of more than 198 million visits. But it's not easy to do well on Etsy. If you have a product or service that people need and do it right, you can try Etsy.
How to Start an Etsy Shop?
Now I'm going to discuss how to open an Etsy shop. You can open an Etsy shop according to this tutorial, the process is basically the same in each country, such as Etsy USA, Etsy HongKong.
Step1. Prepare Personal Information
Here is the information you will need later.
Your name, SSN, phone
ID photo (ID card/driver's license/passport, etc., choose one)
Bank card number, ABA Routing Number, SWIFT/BIC Code (US)
Credit card number, security code, expiration time
Step2. Do Market Research with EtsyHunt
Before you actually open your Etsy shop, you'll need to take a little bit of time to do your research. Because, by understanding your buyers' problems, pain points, and desired solutions, you can properly craft your product or service to appeal to them naturally.
You can get ideas on EtsyHunt - which offers free Etsy Rank, Products & Shops Research Tools.
EtsyHunt currently has data on 38,000,000 Etsy products and can update all product data on a daily basis. Here, you won't miss any niche products.
In addition, the Etsy product research tool supports four major trends of historical sales, prices, collections, and reviews to help you crack the secrets of top Etsy products.
The product detail page displays basic product information and trend graph information. Basic information of the product, including title, price, sales, reviews, favorites, store information, etc. The sales, price, favorites, and comment trends are displayed at the bottom of the details page.
Therefore, you can find answers:
What is trending in your industry and in the eyes of your buyer?
Who makes up your market and what their challenges are?
What influences purchases and conversions among your target audience?
Step3. Launch Your Shop on Etsy
Are you ready? The next is an exciting step. I will walk you through how to start an Etsy shop on the platform, just follow these five steps.

(1) Set your shop preferences. You might already be on the correct page — "Open Your Etsy Shop". Please enter your default language and the currency, in which you'll describe your items. Note that it will not affect your store whether you plan to work full-time or part-time.
(2) Enter your Etsy shop name. Now you can enter the name of your shop. Generally, you can choose any name you like, but it must conform to Etsy's guidelines.
4 to 20 characters.
No spaces or special characters.
No names are already in use by another Etsy seller.
No trademark infringement.
No profanity.
(3) List your items. Before you open your shop, you will need to create your first listing on Etsy. This includes one photo (I recommend using at least 4-5, although more is better. ), a title, item category, description, price, available quantity, and shipping costs to name a few.
(4) Set up your Etsy payment preferences. In this section, you'll need to set up how you'll get paid when you make a sale. This includes PayPal, check or money order, "other," or Etsy Payments, which is the main way sellers get paid.
(5) Set up billing. Finally, you need to set up billing, which depends entirely on your country. This fee is used to cover any costs incurred through Etsy, such as advertising or shipping fees.
Congratulation!!! You've successfully learned how to start an Etsy shop. With your shop now open, you can further customize it. Then, start selling.
4 Tips for Starting Etsy Business on the Right Foot
Have a Simple Shop Policy
Setting up a shop policy will slightly improve your shop's ranking in Etsy searches.
Here you will answer any relevant questions your customers may have about your manufacturing, processing, shipping, and payment processes. Be sure to include estimated processing and shipping times so your buyers have a clear idea of how long it will take for their items to reach them.
In addition, Etsy has a simple store policy template that you can use to quickly set up.
Write High Converting Listings
How do you attract potential customers and drive conversions? As you can tell, a great product listing will help you. I have three suggestions:
Keep your images white, light and bright. And the size of your images is at least 1,000 pixels square.
Etsy search wants longer keyword-rich titles. However, it also suggests focusing on writing short, clear, descriptive titles that make it easy for shoppers who are scanning a busy search results page to see what you're selling.
Describe the product in as much detail as possible, considering the 140-character limit. Besides, Etsy will show the first few lines on the listing page, so keep your primary information and points at the front of the description.
More importantly, remember to insert the right keywords (the phrases or words that people search for) in your listings. This will help more customers to find your store in Google or Etsy search.
You can use the keyword analysis function to find keywords with low competition, high page views, and high sales. This can bring more and more accurate traffic to your store, thus increasing orders and revenue. In addition, similar keywords can help you find more accurate tags.
Establish A Pricing Strategy
If you want to boost business and make a profit, pricing your item properly is very important.
Build Your Email List Early For Long-Term Customer Relationship
Email marketing is one of the most effective ways to build long-term relationships with your customers.
However, Etsy does not cover email marketing as part of its solution. This means you can't add your customers' emails directly to your email list. Also, you need to attract customers through some benefits (such as coupon codes).