Etsy Fees (2022): A Beginner's Guide to Etsy Fees.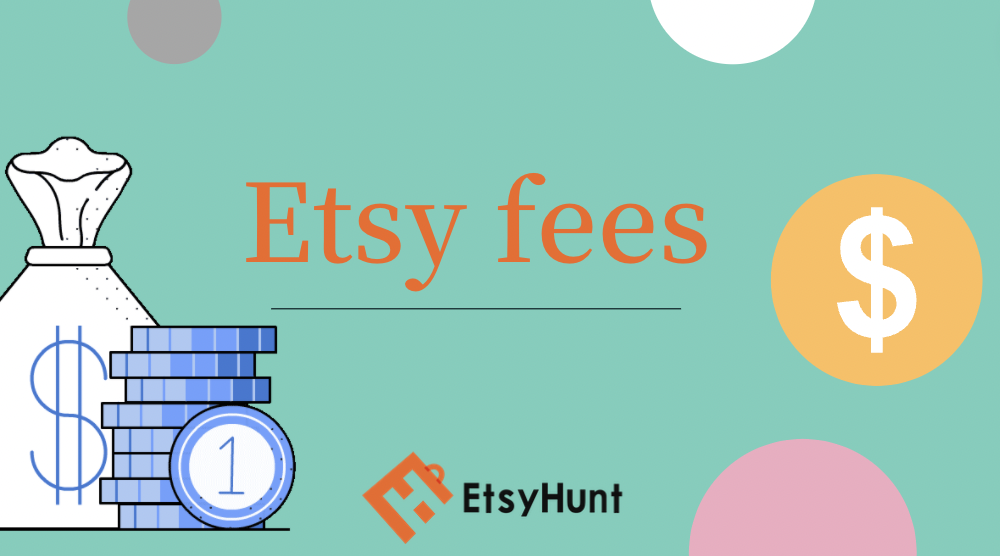 There are usually Etsy sellers who sell well, but don't get the high profits they estimated. They were shocked: where did the money go? Are Etsy charges too much, or are the operating costs too high? They spent too much money because they didn't know how to lower their Etsy fees.
How much does it cost to sell on Etsy? Opening a shop on Etsy involves a variety of costs, you'd better know it in advance! Then you can do the most for the least amount of money. All the costs for you to shop on Etsy are explained here. If you want to open a shop with the lowest cost, read it carefully!
You can click on the Table of Contents to read directly the section you are interested in.
7 Basic Etsy Fees You Must Know
Here's an explanation of Etsy official fees. We list the fees that each Etsy seller needs to pay and some special fees. If these fees are not paid on time, you are at risk of having your selling privileges revoked or accounts suspended. Being familiar with Etsy fees, you can maintain a good reputation and a stable business.
You can take a look at an overview of 3 Primary Etsy Fees before reading below:
Etsy Listing Fees
Every time you list an item on Etsy, you pay a $0.2 listing fee. If you create a listing for a product with more than 1 inventory or variation (such as other sizes and colors), the listing is considered a single listing. This fee is good for 4 months or until the item is sold. If the item is not sold out within 4 months, it will be taken off the shelf and you need to re-list it after renewal. Each renewal costs 0.2 US dollars. If you don't want to re-list items, you can turn on auto-renewal.
Multi-quantity fee
If you post multiple quantities of the same item, the initial posting fee is $0.20. When you sell more than 1 item in an order, you've already been charged for listing that first item, so you'll only pay $0.20 each for the extra quantity you sell.
Example: You listed a dress with 10 items in stock on your Etsy shop and a customer buys 2 of them in one transaction, you'll be charged $0.20, and if 3 then $0.40, and so on.
Private listing fee
When you don't want to sell an item publicly, but only to specific sellers, you can create a private listing. There is a fee of $0.20 per listing, which is only required when the item is sold.
Etsy Transaction Fees
Since April 2022, when you sell an item through Etsy, you'll be charged 6.5% of the price you display for each listing plus the amount you charge for shipping and gift wrapping.
Example: You sell a dress on Etsy for $50 with $10 shipping (paid by the buyer), so you pay Etsy $3.25 transaction fee (6.5% of the total sale price)
Payment Processing Fees
This fee consists of a set rate and a percentage fee of an item's total sale price. The rate and percentage vary based on the location of your bank account. Etsy sellers in the US will pay 3% of the total sale price, plus 25 cents.
Example: You sold a dress on Etsy for $50 with $10 shipping (paid by the buyer), so you pay a $3 payment processing fee(5% of total sales price)
Now, I believe you know the basic Etsy seller fees! Let's go through an example to see how much Etsy charges for each product you sell.
Example: Sell a dress on Etsy for $50 with $10 shipping, you need to pay a listing fee of $0.2, plus a transaction fee of $3 and a payment processing fee of $2.05, for a total of $5.25.
After operating a shop for some time, you may have new business needs such as advertising, building a website, etc., then you need to understand 4 Special Etsy Fees!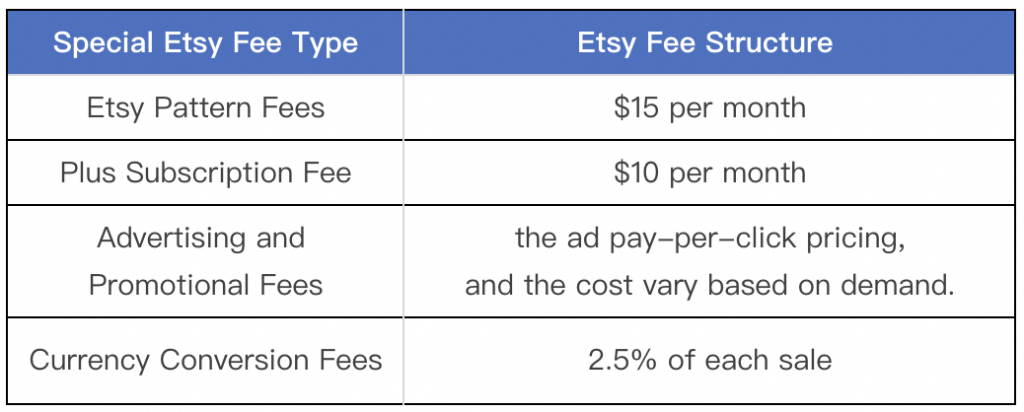 Etsy Pattern Fees
If you want to create a custom website separated from your Etsy shop, Etsy Pattern is a good tool. Etsy Pattern helps you develop your personalized shop. The site created through Pattern is separate from Etsy, but the inventory is synced with your Etsy shop. Pattern is free to try for 30 days, after which you'll be charged $15/month, plus applicable taxes.
Etsy Plus Subscription Fee
Etsy Plus is a subscription package that costs $10 a month with additional tools and is available to reputable sellers.
Etsy Plus subscribers receive the following points each month:
15 listing credits worth $3
$5 in Etsy Ads Credits
Points must be used up within one month or they will expire.
Etsy Advertising and Promotional Fees
Etsy allows sellers to choose to market their products within the marketplace through Etsy ads. These ads pay-per-click pricing, and the cost per click will vary based on demand. You can set a budget to limit the amount you're willing to pay for on-site ads each day, and Etsy will list your ads until you hit the daily maximum.
Know more about Etsy promotion: If you want to know the promotion strategies of other Etsy sellers, you can use EtsyHunt. The tool can find top Etsy products and shops, and see how they optimize product images, and descriptions.
Etsy's Currency Conversion Fees
Etsy recommends sellers list their pricing in the same currency as their payment account, which allows sellers to avoid foreign exchange fees. If you decide to list in a currency different from your payment account, you will be charged a 2.5% currency conversion fee.
6 Tips to Lower Your Etsy Fees
Knowing these fees, have you started thinking about how to lower your Etsy fees? This is an important thing for each Etsy seller to learn. Here are 6 effective ways to help you reduce Etsy fees. These methods can help you save a lot of money, let's see it!
1. Bundle Etsy listings
To show off their rich product categories, some new sellers list a large number of products. However, it will result in more listing fees. So you can combine similar categories to reduce expenses.
Example: This t-shirt comes in 8 colors, if you list 8 products for this, it will cost you $1.60, but if combined into 1 list, you will only spend $0.20.
2. Bundle your products
Etsy charges you a $0.2 transaction fee for every item you sell. If your product is often sold in multiples, you can bundle several items together and offer some discounts.
Example: This customized seed wedding gift is usually sold in multiple pieces, and the Etsy seller directly gives several fixed quantities for the user to choose from. In this way, even if the user buys 50 products at a time, the seller only needs to pay the $0.2 listing fee.
This not only saves transaction fees but also increases consumer purchases.
3. Reduce shipping fees
When Etsy charges flat-rate transaction fees and payment processing fees per sale, they include Etsy shipping in that calculation. If you can find a cheaper logistics company, you will save on these costs.
4. Turn off Auto-renew
You may think auto-renewal is convenient and save time on relisting items. However, in the case of automatic renewal, many Etsy sellers will ignore products that need to be gotten off. These products may not be suitable for Etsy or may be outdated. They will charge you a listing fee, causing waste. Turn off automatic renewal and use manual renewal, which allows you to regularly remove low-value products.
5. Offer private listings
When a customer sends you a message about a product, you can ask them which products they want to buy. When the customer wants multiple products, offering a private listing for him will lower your listing fees.
Example: A client privately chats with you and needs three dresses, if she buys 3 dresses directly from your Etsy shop, you pay a listing fee of $0.60. However, when you offer a private list for her to buy, you only need to pay a $0.2 listing fee, which saves you $0.40 in the listing fee.
6. List prices in your banking currency
Etsy will charge a currency conversion fee when your pricing and payment account are not the same. So keep your pricing country and payment account consistent.
7 Etsy Fees You Also Shouldn't Ignore
Rome wasn't built in a day, and making an Etsy shop with an impact takes a lot of effort. An experienced Etsy seller has many issues to think about, such as product research, growing Etsy sales, optimizing Etsy listings, and more. They might hire staff or use tools to make operations more efficient. This is another part of Etsy fees. We list the processes and tools that may incur costs. Knowing these fees can help you optimize the operation and avoid excessive fees.
Product research
Good products generate a lot of revenue, while bad products waste money and take up inventory. What is a good product? The answer: products that customers love. Finding a good product is difficult! It requires you to understand the needs of your customers, analyze multiple competitors' products and outpace them. To improve the efficiency of product selection, Etsy sellers often choose some tools. The tools can analyze the market and find potential products. These tools tend to charge some fees but are necessary.
Etsy SEO tools
SEO is vital to your Etsy listings, making it easier for customers to find your shop within Etsy and in general internet searches. You can use keyword tools to analyze the keywords your competitors are using, and can also use tools to match the optimal long-tail and short-tail keywords for your listing to increase listing exposure.
Etsy inventory management software
Managing a large inventory of products is cumbersome, and it can be costly if error. With the help of tools, you can intelligently manage inventory, monitor the number of live products, upload products in batches, track order status, etc. In this way, it is so convenient to manage inventory.
Email marketing software
Sending beautiful emails to your customers will bring you more business opportunities. The emails can introduce recent new products and brand events. If an email is attractive, it can increase the conversion rate of your Etsy shop. You may need EtsyHunt to export Etsy customer orders with one click, including customer emails. And you can use email tools such as Drip and Mailchimp to help you create emails and send them in bulk.
Word-of-mouth
Word-of-mouth marketing is a powerful tool for increasing your shop presence. Customers who are satisfied with your products are so important because they will bring you more customers. Now start making the most of their value!
The first is to improve reviews. You can ask for positive reviews from users who purchased the product through some plugins.
Then, for customers who already have positive reviews, you can also ask them to introduce new customers to you. When your Etsy customers bring new customers to your shop, give them incentives, such as discounts, gifts, or cash. You can use ReferralCandy to achieve this, and after a 30-day free trial, ReferralCandy plans begin at $49/month.
Think about what you need to achieve with word-of-mouth marketing, and plan your budget based on that.
Promote Etsy shop on social media
Want more people to know your shop? Let's Post your product information on social platforms! It can increase the exposure of your Etsy products and attract more attention to your brand. But creating images, videos, and uploading multiple social media takes up too much time. Some tools such as Qutfy can help you create pictures or videos, and publish them on multiple platforms. It's so convenient. Qutfy offers a free 7-day trial and its Starter costs $15 per month.
Design an Etsy shop that stands out
Unique visuals will make your Etsy shop more recognizable and attractive. Experienced sellers like to add unified fonts, product photos, color matching, etc. to their shops to convey their brand image. In this way, customers will be impressed by the shop. Let's look at a successful case:
ModParty mainly sells wedding gifts, and its colors are pure white and pink, reminiscent of a romantic wedding. The style of the pictures is simple and beautiful, which can easily impress female users.
What factors might incur costs if you want to design a great shop look like this?
Design costs: Some larger-scale shops hire professional designers to design the shop's homepage. If you have a good aesthetic, you can also do it yourself for a lot cheaper.
Picture cost: To take good-looking photos, you first need shooting equipment such as mobile phones and cameras. If you want to make your pictures more attractive, you need to retouch and edit them. Here are useful photo editing sites that might interest you.
Gimp-A free and open-source image editor.
Canva-Create amazing pictures to build your brand. It offers a free service, but also a premium service for $12.99 per month.
Compressor-Compress your image and resize images to fit any screen. The regular version is free and the premium version costs $50 a year.
Packaging Fees: Customize unique packaging for your product.
Free Tool to Lower Your Etsy Cost
Now that you know enough about Etsy's fees structure, do you want to save more for your Etsy business?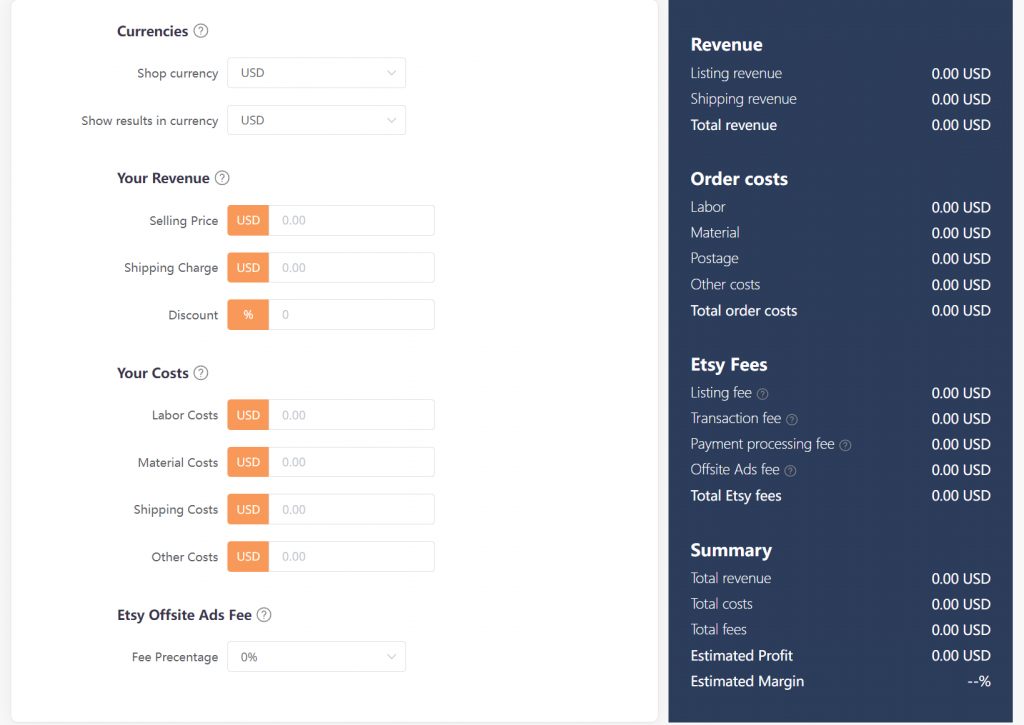 Meantime, EtsyHunt is a free Etsy rank analysis tool, getting access to over 38,000,000 product listings. You can research and optimize your Etsy SEO, product listings, and tags through it.
By EtsyHunt, you can search Etsy product sales, favorites, review rankings. You'll know which products your customers love the most. Come to find the top niche products in your category!
Etsy SEO can also be easily achieved with Etsyhunt! Would you like to see the keywords your competitors are using? Search the product name or URL in EtsyHunt, find the product, and you can see its keywords in Tags. Click on each keyword, and you can see the market attention, competition difficulty, similar keywords, etc. of the keyword. Help you make a rational decision to choose the best keywords.
In addition, EtsyHunt support follow-up reminder, including Etsy Reviews management, Etsy Orders tracking...…
Etsy is a rapidly growing e-commerce platform with 160 million customers. With EtsyHunt, you can lower your Etsy fees and grow your Etsy shops! Stay tuned to EtsyHunt as we bring you more useful Etsy knowledge.
Etsy Fees FAQs
How to pay Etsy fees?
If you make a sale while you have an unpaid balance, the net sales will be applied to your unpaid balance. You can pay your outstanding balance manually using a credit card, debit card, or PayPal.
Are Etsy fees worth it in 2022?
Certainly worth it. Etsy charges some fees, but they are within reason. Etsy has 160 million users, which brings huge opportunities to handmade sellers. As long as you operate the shop seriously, you will reap the rewards.
Which is cheaper to sell on Amazon or Etsy?
Etsy is cheaper. Amazon Homemade charges a $39.99 registration fee plus a 15% referral fee, which is more than Etsy commissions.
Why is Etsy taking so much money?
Etsy includes various fees, and knowing each one upfront, pricing, and listing your products properly can help you save money and increase your profit.