Create an Etsy Private Listing: Customize Your Order
One of the most important things to survive at Etsy is sustainability. For sustainability, you need to make sales, develop your store continuously, and get traffic. So, are you ready for a proposal that can have a positive effect on all of these factors?
Private listing on Etsy is an effective way to create a special bond between you and your customer. Research shows that the demand for personalized products on Etsy tends to increase constantly. You will also experience this trend positively with Etsy private listing.
Action that will make your customers feel special can be a key to success in Etsy. Let's think about our internet shopping; do special services make us happier? Definitely yes, and besides that, there is a bonus- loyalty to your shop. So, you will find out ' How do I create a custom private listing on Etsy? ' in our article.
What is Etsy Private Listing?
There is a way to enable custom order requests. If a customer requests a custom item or private service you can turn that request into a private listing on Etsy. You can provide a reserve listing in such circumstances.
When you enable custom order requests, shoppers see that you can create unique, one-of-a-kind products for them. These can be in custom sizes and designs, as well as a customer-specific number of orders.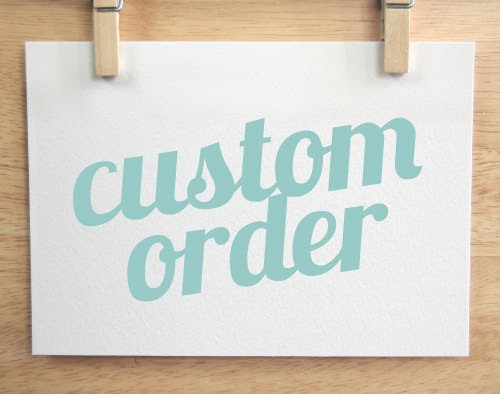 Custom-made items are only visible to you and the customer. The creation of a closed product on individual request starts the process of joint negotiation with the buyer.
The link you send is private to the customer and will not be seen by others unless you share it anywhere. So now you have created a private listing on Etsy and started the process of taking a special order and providing service to the client.
If you want to propose variants that do not require additional parameters or negotiate with the buyer, you can choose different sizes, colors, styles, etc., and use variants to suggest.
How to Enable a Private Listing on Etsy?
To make an active private listing on Etsy, you should follow these steps:
Click on the Shop Manager icon on Etsy.com.
Then you should go to Settings.
After that, you should Click on Options.
Select Enabled under Custom order requests.
Click Save at the end of the page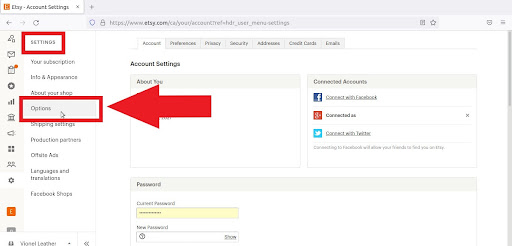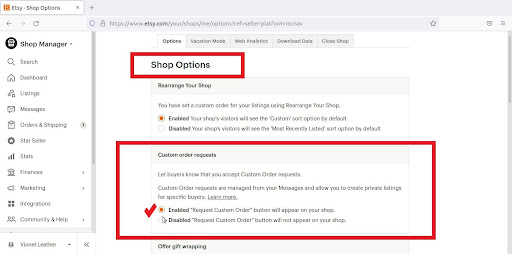 That's all. You are able to create an Etsy private listing. Now, you can offer a customized price and sales policy for only your particular buyers.
⚠️ Bear in mind that the product will not appear in the general listing of your Etsy store or search results. The Etsy private listing link you send will be specific to only that customer. That means other shoppers are not able to see this listing and purchase your item. Unless you share it somewhere else. When an item is sold, it appears on the General Items for Sale page along with other sales.
How to Make a Private Listing on Etsy?
After enabling the custom orders, it is time to make a private listing on Etsy. Linda is an Etsy seller who sells handmade bowls on Etsy. One of her buyers, Madi, sent a message to Linda for a custom item.
Linda has already enabled the custom listing on Etsy. However, she is unsure about creating a private listing on Etsy. So, Linda and all Etsy sellers should follow these steps:
1. First Go to "Messages" to read what your client wrote.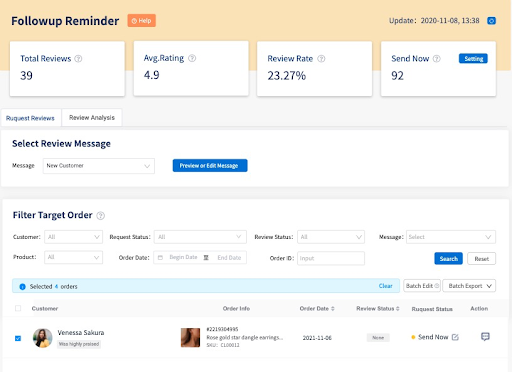 💡Pro Tip: EtsyHunt Follow Up Reminder is a spectacular tool that allows you to send a rapid, straightforward, customized message to the customer.
You will not miss any opportunity that can turn customer messages into positive comments with pre-made Etsy Hunt smart templates.
2. Here Madi, Linda's buyer, requests a custom bowl. She should tab 'Make this a custom order' button on the right side of the page.
3. Other steps are easier. Linda will follow the guide; she will fill the item title, description, shipping details, add images and publish.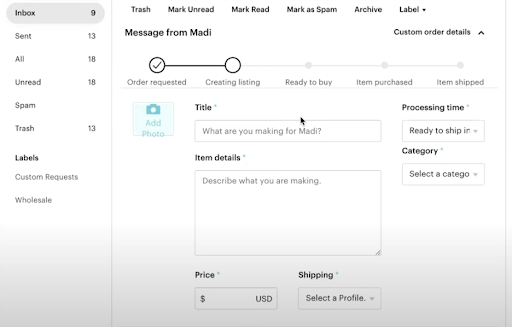 Linde created a private listing on Etsy for Madi. Now, she will prepare the item for her buyer and ship it to him. This item will not appear in Linda's Etsy store listing or search results.
There are some sales strategies that you should follow, even if it is a private listing. For example, most buyers are affected by product photography. This is the first and the most important thing that attracts customer attention when they visit your product page. Like the old adage, the first impression is the last, so you can't risk it.
Before you upload a product on Etsy, make sure you post compelling product photos that your customers will never ignore.
An attractive photo also increases the conversion rate. There is one more important job you need to do for your product. You should also enter a detailed and satisfactory explanation. The Etsy private listing does not relieve you of these obligations.
What is the Difference Between Standard Listing and Private Listing on Etsy?
Unlike standard listing, you can offer special products in your store by enabling special order requests. In the standard listing, you make a public and fixed listing. The standard listing does not promise your customers a personal experience during the design and sales process.
Private listing, on the other hand, offers options that are personalized to your customer or customized to order. If a customer is interested in a bespoke product, this request can be turned into an individual product.
It is possible to directly understand the personal wishes with Etsy Private listing. This gives you an idea of ​​personal trends. You can also take steps to increase overall conversions with this micro-experience.
Is Etsy Private Listing Worth Creating?
Customized products such as T-shirts, glasses, bracelets, and many similar products have a huge market on Etsy. Shoppers order them as a gift or purchase for themselves. Moreover, customized items come first on the Etsy bestseller list.
💰Even though custom orders take some time, Etsy sellers should create a private listing in order to get a share of this huge market. Furthermore, it also provides the opportunity to customize the number of orders and pricing for the customer.
Advantages of Etsy Private Listing
Private listing has many advantages. But what these advantages are and how much you can take advantage of is up to you. The personalized experience that covers the entire sales process in the Etsy private listing also applies to the advantages.
Increase Etsy Conversion Rate
Etsy conversion rate is known as the percentage of the successful purchase made by the buyers who view your item on the Etsy shop. This rate tells you what proportion of visitors purchases from your Etsy shop after viewing your product in an Etsy listing.
Selling customized products is very effective in converting your customers' store visits into sales. Because buyers who like your products come to your Etsy store to purchase your item. This will undoubtedly increase the conversion rate on Etsy.
Since the sold listing already attracts the buyer, it is likely that the search engine will show it high again in subsequent queries when switching to a standard listing.
✔️Need to Know: When we talk about standard listing and public listing, Etsy SEO must be taken into consideration. SEO needs to be done from the title of the shop. Filling the About Shop section and optimizing it here. Shop policies must also be filled. Unfortunately, we cannot optimize here. And all the doors open with one grip; keyword research.
💡Pro Tip: Having trouble finding keywords? You can use EtsyHunt keyword tools. By using this tool, you can reach the Google web search and Google shopping trends of your targeted keyword.
In addition to these, you can access more features like similar keywords, hot word cloud, Top 100 Best-selling Product Analysis (including category, ship time, and price distribution).
What's more, you can download all keyword ideas generated from EtsyHunt Keyword Tool based on SEO principles.
Save Money on Listing Fee: Create Private Listing Etsy
Listing an item on Etsy costs $0.20. A listing stays on sale for four months or until the item is sold. After an item is sold, a 5% transaction fee is deducted from the selling price. In a private listing on Etsy, you don't pay this money. All kinds of savings and expense cuts are important while growing your store.
The flexibility in the number of orders and pricing in the private listing Etsy also means that you can provide a boutique service to your customers. Applying different tariffs for a sale that will take more of your time and effort is reasonable behavior all over the world.
Monitor Current Trends
Etsy private listing allows you to communicate directly with each of your customers. The wishes of these people you communicate with create synergy and consumption and demand trends.
Let's say Linda takes customized bowl orders four times a week. Therefore, she decides to analyze customized bowls that are sold on Etsy. EtsyHunt Product Research Tool is astonishing for this purpose.
So, Linda types " Customized Types" to the search bar and selects " Home & Living" from the category list in order to eliminate unrelated items.
The tool lists 201 related products. Linda will examine the results and compare them with her own.
Don't Waste Time by Developing New design
Don't waste all your time on new designs. Remember that the fact that a product is sold is a harbinger of its potential to be bought by your customers in the future.
You can include a product you sell with an Etsy private listing in your standard listing with peace of mind. Because individual purchases carry the signs of mass trends at many points.
You should also add the product, which has attracted a lot of attention with the Etsy private listing, to the standard listing.
Conclusion
Etsy has always grown, and it doesn't take a magician to guess that it will continue to grow. For you to get a share of this growth, you need to keep an eye on the trends and take a position according to them.
Etsy private listing is also a developing area. Moreover, it offers you a wide range of benefits from pricing to determining consumer trends. Do not miss this opportunity and offer a private listing to Etsy customers. Do not hesitate to use Etsyhunt.com to get the technical support you need such as keyword research. Use Etsy extensions to get results with less effort.
FAQs for Etsy Private Listing
What are private listings on Etsy?
Private listing on Etsy is an effective way to create a special bond between you and your customer. The private listing link you send will be specific to only the customer. Others won't see this listing and product.
How do I cancel a private listing on Etsy?
You should copy this listing then delete the original private one. Now your listing is switched to a standard listing. Standard listing fees are now active.
How do I disable private listings on Etsy?
1. Shop Manager > Settings > Options >Shop Options
2. Select "Disabled" under Custom order requests
Is creating an Etsy private listing free?
Yes, it is free to make a private listing on Etsy.
How to Offer Personalized, Private Listings on Etsy?
Etsy allows sellers to create custom listings. Therefore, you can help your buyers personalize items by turning on Personalization from the listing page. Personalization helps buyers let you know what they want to be personalized on an item, like an engraving or pattern.
You can also offer listing variations, like color or size, or custom listings.
Is it possible to reserve an existing listing on Etsy?
Yes, you can reserve or set aside items in your shop at any time.