Seller-way VS EtsyHunt, Best Etsy Tool for Sellers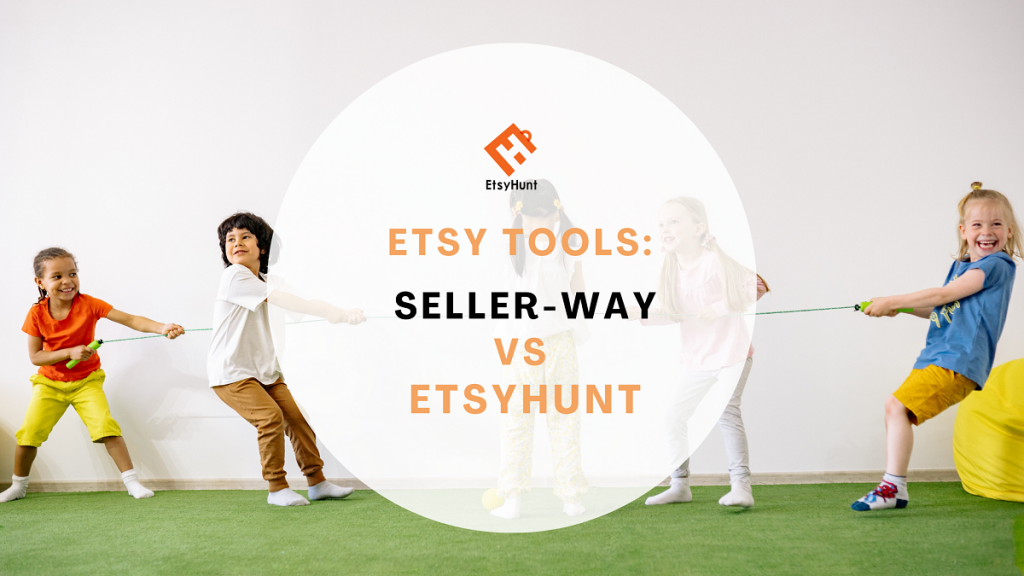 Sellers in the e-commerce industry often need some auxiliary tools. These tools often contain a lot of data and information, which can help sellers conduct product research and competitor analysis. Etsy is currently one of the fastest-growing e-commerce platforms, and many handicraft sellers have gained a lot here. So the two most commonly used Etsy tools, EtsyHunt and Seller-way, which one is more suitable for sellers? The detailed comparison content is in the "EtsyHunt vs Seller-way" blog.
Seller-way Review: What is Seller-way?
Seller-way is an Etsy analysis tool that contains a large number of functions that can help Etsy sellers perform relevant data analysis. Sellers often use Seller-way to conduct Etsy product research, store analysis, keyword analysis, store comparison and find design concepts. Of course, using Seller-way can also calculate profits and track competitors' sales. These features can help Etsy sellers better understand the Etsy market and competitors.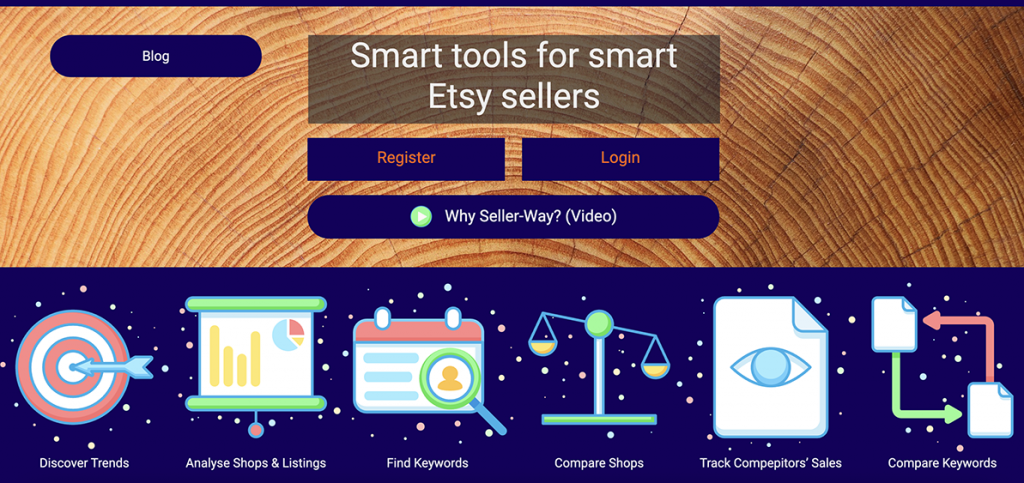 However, since the number of Etsy sellers is far less than that of Shopify and Amazon, Seller-way only has more than 10,000 active sellers with Etsy Shops using Seller-Way. Seller-way is still a niche Etsy tool.
EtsyHunt Review: What is EtsyHunt?
EtsyHunt is an Etsy product research tool. Of course, it not only includes product research. Like Seller-way, it also contains a lot of data, which can help Etsy sellers perform data analysis. EtsyHunt currently contains 30 million Etsy products. Each product has detailed data analysis, such as total product sales, weekly sales or product reviews, etc. You can easily obtain these data on EtsyHunt.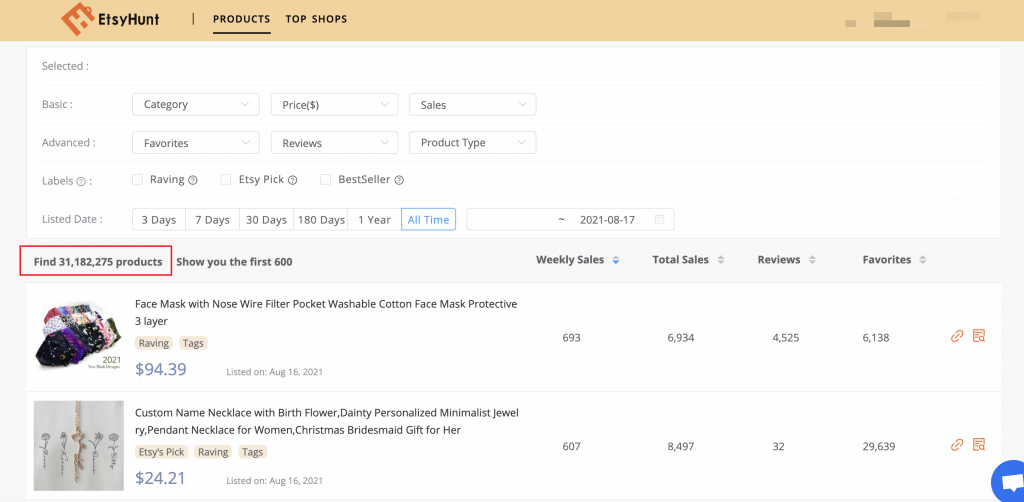 Since EtsyHunt has a large number of products, you can easily get creative inspiration here. The description of each product on Etsy is displayed in detail in EtsyHunt. You can see the label, category, or historical price of the product here.
Seller-way and EtsyHunt Comparison
| | | |
| --- | --- | --- |
| Features | EtsyHunt | Seller-way |
| Etsy products | ✅ | ✅ |
| Keyword Research | ✅ | ✅ |
| Listing Optimization | ✅ | ✅ |
| Daily Update | unlimited | limited |
| Top Store Ranking | ✅ | ❌ |
| Store Search | ✅ | ✅ |
| Etsy Competitors Analysis | ✅ | ✅ |
| Products detail | ✅ | ❌ |
| Pricing | FREE | $19.99/month |
Product database - EtsyHunt has more Etsy products
EtsyHunt has a large enough database of Etsy products. Seller-way did not show how much Etsy data they have on the official website, but EtsyHunt has collected 30 million Etsy products. At the same time, EtsyHunt has 5,000,000 new products online every day, and you can easily view the trend graph of the sales volume and the number of reviews of these products. When using the EtsyHunt product database, you can view Etsy's 16 categories. At the same time, you can filter the price range and sales volume. These are all things you can think about when conducting product research.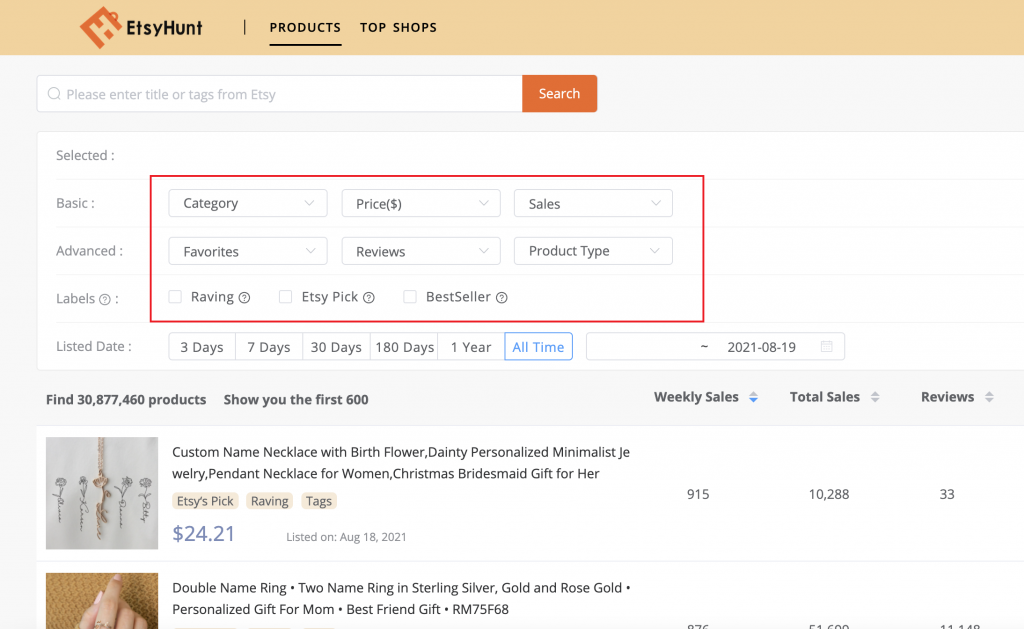 With EtsyHunt you can easily find creative inspiration. For example, masks have recently become the third place on Etsy's monthly hot-sales list. As masks are in large demand, many craftsmen can design masks into more interesting patterns. This is currently a very profitable thing. The mask searched by EtsyHunt has very high sales in the past two days, reaching about 700, which is very useful for reference.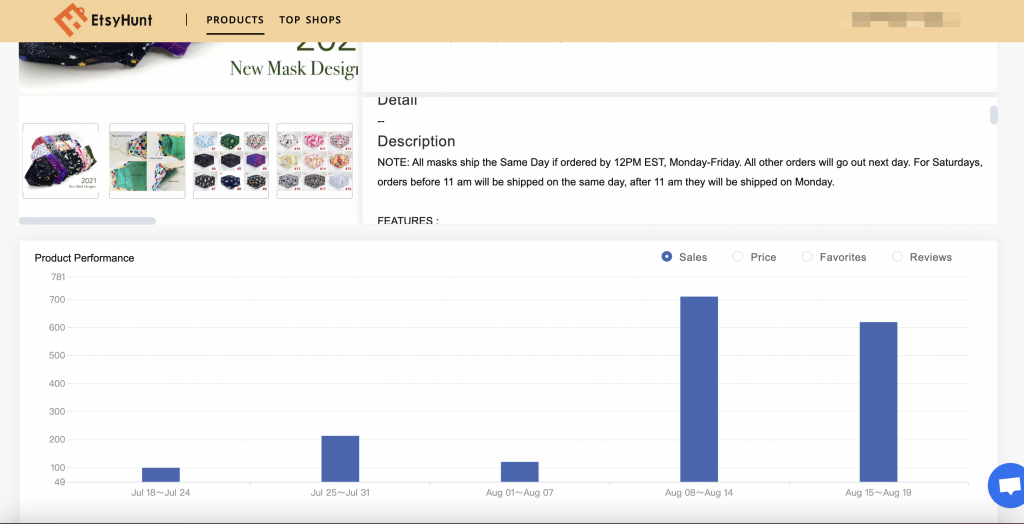 Top Etsy stores - You can find more Etsy stores on EtsyHunt
How do you find more excellent competitor stores? Check the competitor's Etsy store and you can easily get the secret of their success. EtsyHunt is currently developing store analysis and keyword functions, which will be very helpful for Etsy sellers. With this function, you can compare the differences between two stores. But before that, Etsy has listed the Top500 stores on Etsy. Here you can see the category, country, sales volume and rating of each store. These will help you.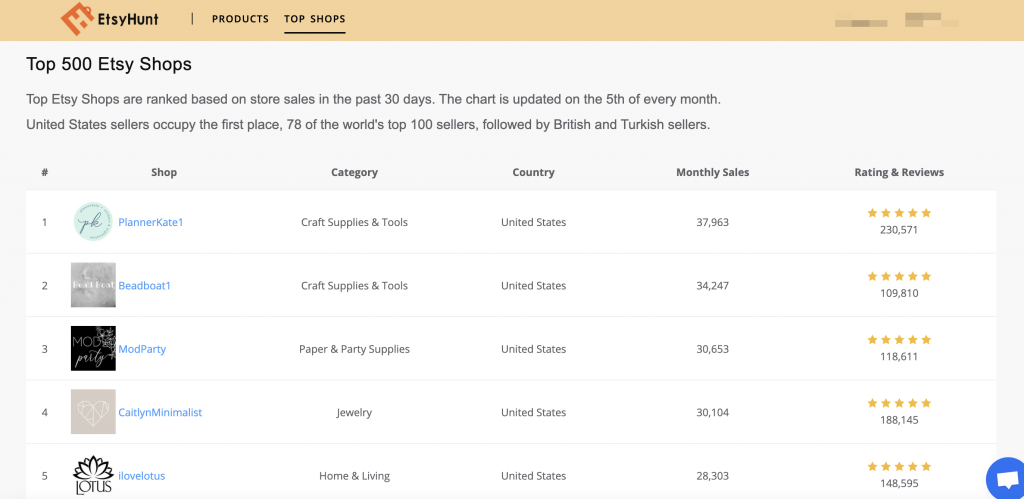 Final Thought
Seller-way is a relatively mature Etsy analysis tool, which is very powerful, but the monthly fee will also put pressure on sellers. EtsyHunt is a brand-new Etsy analysis tool. It has more functions for store tracking and product database than Seller-way, and it is free. If you need more Etsy analysis, you can use EtsyHunt and use it immediately.
Are you selling on Etsy? Join EtsyHunt to
Reduce Costs, Increase Efficiency.
Start for Free