ArtFire VS Etsy Review: Which One is Better for Online Sellers?
When it comes to opening up an online handmade crafts shop, the first problem can be the same: Etsy or Etsy alternatives. All of them offer a lot of great features and you can sell products with ease. But what are the key differences? We provide the following comparisons for you to learn more about the differences to help you decide which is best for you.
In this article, let's focused on Etsy and Artfire.
Etsy Review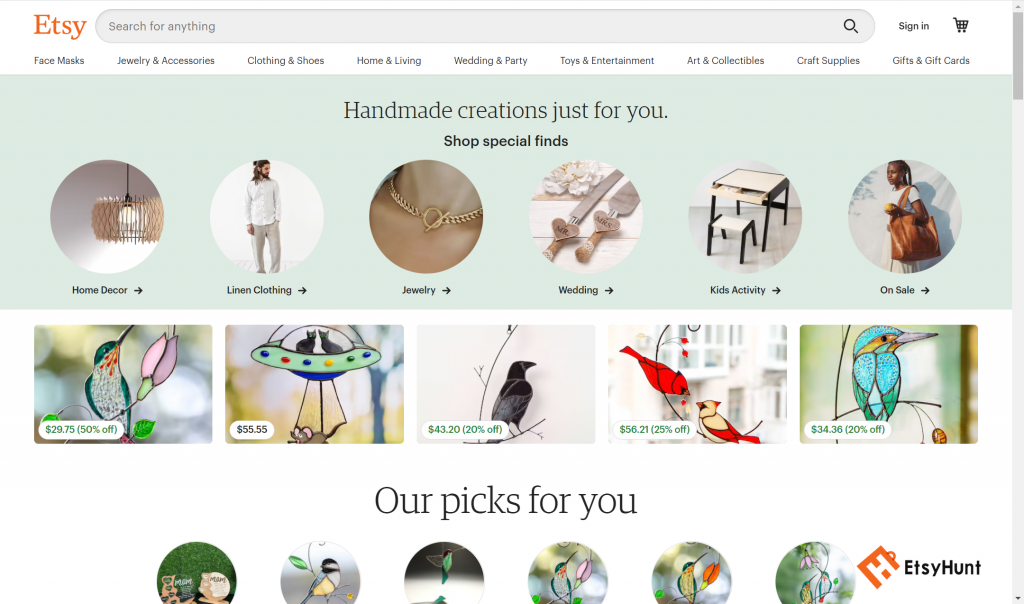 What is Etsy?
Founded in 2005, Etsy has swiftly blossomed into something like the holy mecca for crafters. This online marketplace serves to connect people from across the globe both online and offline through buying and selling products. You can sell handmade creations, vintage goods (at least 20 years old), and both handmade and non-handmade crafting supplies. Further, it's home to a millions-strong community of like-minded makers and indie DIYers.
Notable Features:
There are more than 81 million active buyers, more than 4 million sellers on Etsy and more than 81 people using Etsy as a service platform, and more than 60 million products available on Etsy.
The site looks a bit more polished than ArtFire.
Sellers have the power to offer different shipping policies for different priced items. For example, if a purchase order exceeds a certain price point, sellers can choose to offer free shipping.
As most sellers are multi-channel retailers, Etsy is for both amateur makers and e-commerce businesses.
Fee Structure for Sellers:
It costs $0.20 to list an item for sale on Etsy. Each item you list has a four-month shelf life before it is sold or deleted.
When you sell an item, there is a 5 % transaction fee and a 4.4% payment processing fee.
And if you want to advertise or promote your products on the Etsy homepage, it will cost you a specific percentage of your sales or an upfront cost, depending on the duration of the advertising.
ArtFire Review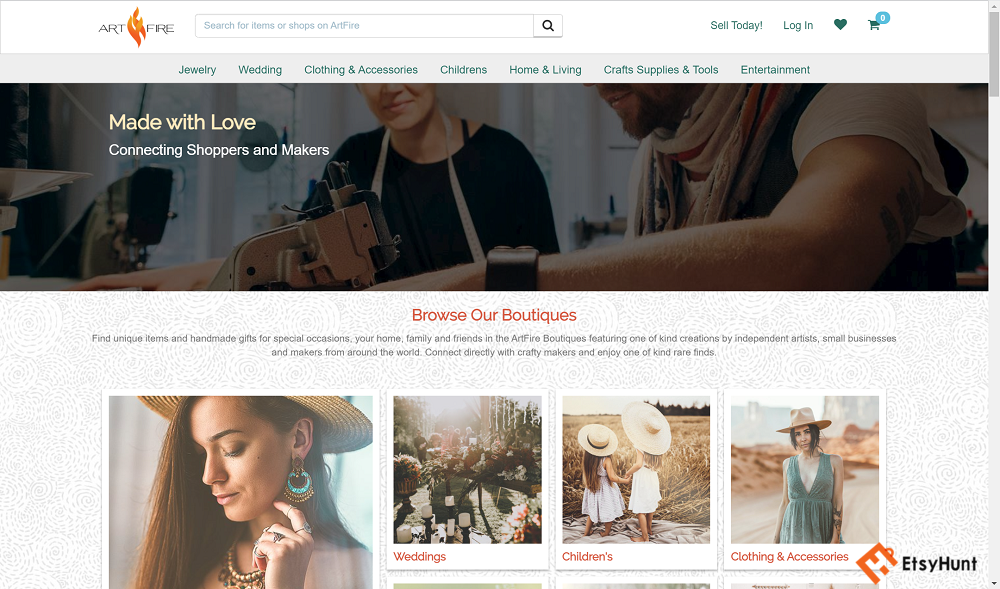 What is ArtFire?
ArtFire was launched in 2008 by John Jacobs. The goal is to be a marketplace for crafters, artists, and more to come together in one online location. ArtFire has significantly less traffic than Etsy and isn't as well-known. But it is still a great marketplace to sell vintage items, craft supplies, and handmade products.
Notable Features:
ArtFire removes the problem from promoting on the web (All your items are automatically shared to the major search engines) so you can invest extra energy developing and maintaining your business.
A sense of community is part of ArtFire's DNA. The site architecture is similar in terms of connecting buyers with virtual storefronts. And it lets customers filter their searches by merchant size, so if customers want to truly support small businesses, they are able to do that.
ArtFire shop pages and item pages are ad-free.
Fee Structure for Sellers:
Sellers pay a flat rate of $9.99 - $49.99/month to have a shop on ArtFire.
Then there are listing fees of $0.23. Once you upgrade to the middle tier, the listing fees are removed.
You also have to pay a 12.75% (or 14.75%) fee for the final selling price of the item, only payable if the item sells.
Summary
specialized for smaller, independent creators
similar fee structure
customers don't have to set up an account to buy items. Instead, they only need to input credit card and shipping information, which is one less barrier for sellers when it comes to making a sale.
Etsy
ArtFire
Prons
1. name recognition
2. a suite of powerful tools
3. rich features
1. gentler competition
2. a sense of community
3. searchable on Google
Cons
1. steep competition
2. no warehouses or delivery services
1. less name recognition
2. fewer customers
Whichever platform you choose, best of luck in your store's journey.