Big Cartel VS Etsy|Which is Suitable More?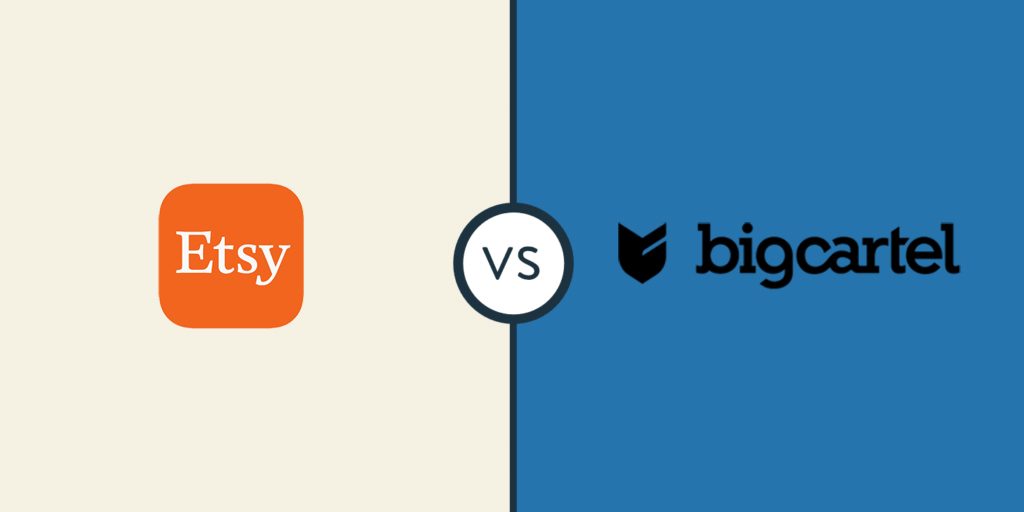 Are you a seller of handicrafts? Perhaps you are struggling on which platforms to sell your products. Now that Amazon, shopify, Etsy, and big cartel are very popular platforms, every seller will be at a loss because of too many choices. If you are an artist, Etsy and big cartel would be good choices for you. Then, for Etsy or big cartel, which platform is better? This article will bring you a detailed analysis of "big cartel vs Etsy".
Big Cartel vs Etsy - Platform Analysis
Big cartel and Etsy are both e-commerce platforms that went online in 2005, but they have had enough audiences during their 16 years of development.
But Etsy is like a huge market. You need to open a store on Etsy, and users can purchase products from Etsy. You can easily use Etsy's huge traffic to sell products. In contrast, Big Cartel offers you the opportunity to create your own: your own personal store. This is your own online place and your own domain, where you can display your products and build your own brand independently of anyone and anything else, just like Shopify. This is the essential difference between Etsy and Big Cartel.
Big Cartel vs Etsy - Audience Analysis
Big Cartel and Etsy are very similar e-commerce platforms. Their target customers are the same: craftsmen and artists. This means that these two platforms give more opportunities to artisans. If you have enough creativity then this will be your best way to make money.
But when it comes to detailed classification, we will find that Big Cartel is more used by independent artists such as musicians and designers, while Etsy is mainly used by small retailers to sell handmade and retro products. Big Cartel will be more inclined to expensive art, and Etsy's sales products are some small and exquisite handicrafts. Their audiences will overlap, but there will also be some differences in spending power.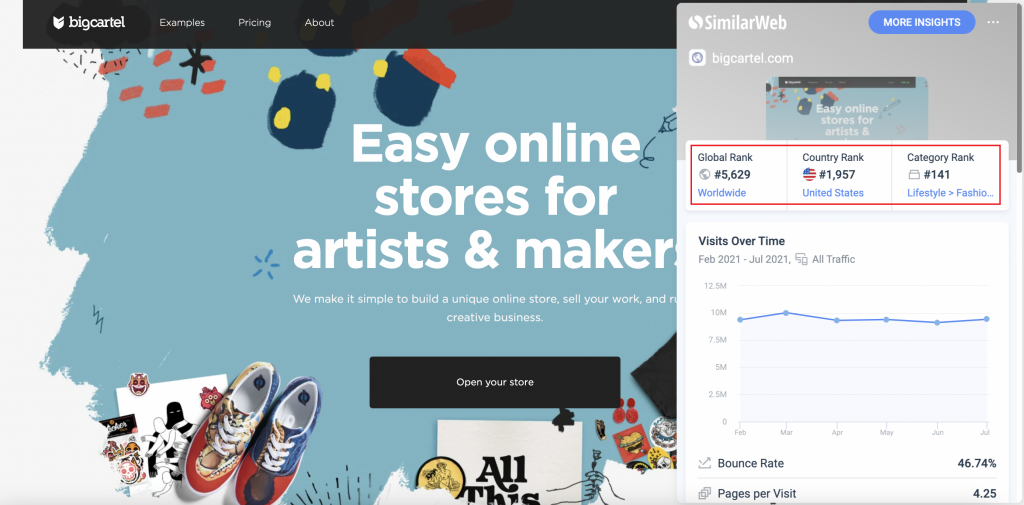 According to similarweb data, the number of Etsy audiences is about 400M, while the number of Big cartel audiences is about 10M. These data can clearly tell us that Etsy is developing better. For now, Etsy does have more room for development in terms of the number of products. At present, the Etsy product research tool-EtsyHunt has been able to display 30 million products. These data also show from the side. Etsy did have good results.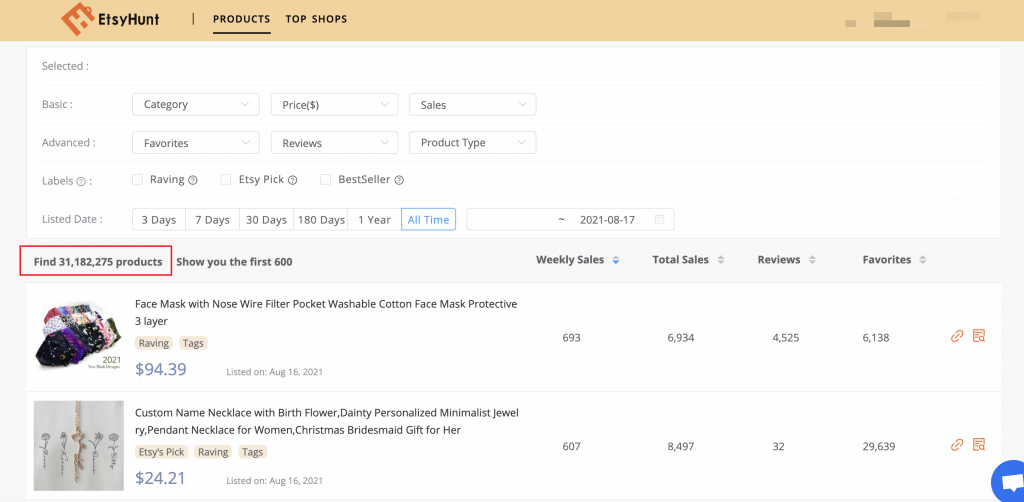 Big Cartel vs Etsy - Pricing and Fees Analysis
Due to the differences between Big Cartel and Etsy's platform strategies, their expenses will also be quite different.
Big Cartel currently has 4 pricing plans: Gold (free), Platinum ($9.99/mo), Diamond ($19.99/mo), Titanium ($29.99/mo). The free plan includes some free themes, discounts and promotion opportunities, and For shipping tracking, you cannot list more than 5 products, each with 1 picture, in short, you have very few permissions. As the payment increases, you can have more customization options. Big Cartel does not charge listing and transaction fees. For anyone operating a small business with limited funds, Big Cartel will definitely charge profits. This is good news.
Etsy pricing plans are not expensive, but Etsy has more types of fees. Etsy has 2 regular pricing plans, Etsy Standard (free) and Etsy Plus (10 USD/month). Etsy Standard is the default plan, and Etsy Plus is completely optional. Like Big Cartel, Etsy also contains a large number of permissions, which can be viewed on Etsy. It is worth mentioning that with Etsy, you must pay listing fees, auto-renewal fees, transaction fees, and payment gateway fees. Some optional fees include on-site sales fees, advertising fees, and currency exchange fees. These are things that Big Cartel does not need to pay.
Big Cartel vs Etsy - Help and Support Analysis
Big Cartel is rated 3.5/5 for help and support. Big Cartel can send emails between 9 am and 6 pm Eastern Standard Time, Monday to Friday. This means that you can only be supported during the working hours of the working day, but reports on the quality and speed of support are usually very good. It is worth noting that the phone and live chat options are not available.
Etsy is rated 4/5 for help and support. Etsy has a good support package, which is included in its free plan. Etsy includes extensive and in-depth training materials, and users can also use real-time chat and phone services to get help. Especially inexperienced retailers will find a lot of things they like in the comprehensive tutorials and "seller's manual". At the same time, Etsy has an online forum through which users can join a "team" to exchange ideas and collaborate. You can raise all your doubts here. This is a good learning tool.
Big Cartel vs Etsy - Blogging Analysis
Big Cartel does not allow blogs to be added to your store. If you want to add product introduction content, one of the ways to do this is to use WordPress to write a blog, which requires the help of external forces. A better option is to find an easy-to-use blog application and simply layout it into your Big Cartel website.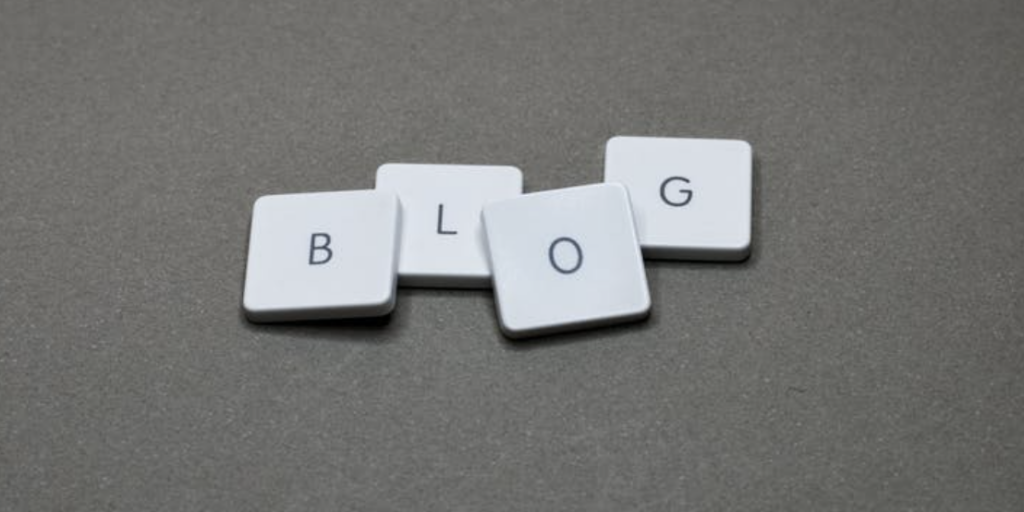 Etsy has a blog system. This is a function provided by Etsy itself. You can easily introduce your store and products to blogs. If you have enough content, these will be a good way for you to attract traffic.
Final Thought
In this article, we studied in detail the comparison between Big Cartel and Etsy's sellers. Big Cartel and Etsy are similar in terms of target audiences, but there are still some simple differences. Etsy has a larger market, but generally sells products that are compact and low-cost. Big Cartel is more suitable for artists, and the overall cost is relatively expensive.
For store operations, Etsy will also become more mature. It seems that Etsy is more fault-tolerant and more suitable for small sellers. Of course, the requirements for opening a store on Etsy are getting higher and higher, and you need to be constantly familiar with it. If you have any questions about Etsy product research, you can refer to EtsyHunt, where you can have a lot of winning product opportunities.