Etsy vs Storenvy: Which One is Friendly to Handmade Products
Are you a handicrafts lover? Do you want to let more people know about your products for purchase? If you are, Are you torn between Storenty vs Etsy? Today we will conduct a detailed analysis of these two platforms including pros, cons, and pricing. I believe with this information you will have a clear understanding after reading this article.
What is Etsy?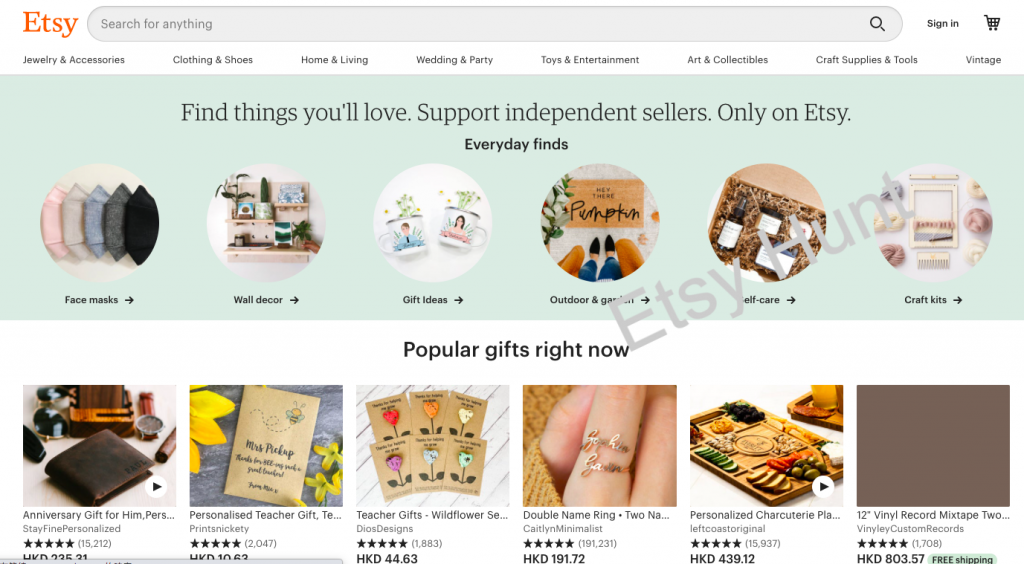 Etsy is an e-commerce platform whose main feature is the buying and selling of handicraft products. In Etsy, people can open stores and sell their own handicrafts. It provides extraordinary network services from a unique business perspective and diverse profit models. The products traded on the Etsy website are diverse, such as clothing, jewelry, toys, photography, household goods... However, these products have a common premise: originality and handcraft.
Pros of Etsy
Etsy has a very cheap listing fee. You can publish your products for only 20 cents, which is very low. Here you can find relevant Listing information about the products you are interested in through Etsy Hunt.
USPS delivery has a discount
It is very convenient to print the courier list directly on the Etsy website. It can also directly calculate the postage of the products on the shelves. Etsy can also export postage reports, allowing you to easily grasp express delivery expenses.
Provide advertising on Google products
Not all products can be enjoyed, but some of them can appear on Google ads, which is also good and helps brand promotion. If you are willing to spend money, you can also purchase paid promotion features at reasonable prices. And the natural traffic of the Etsy platform is very large.
Cons of Etsy
You cannot modify the appearance of the store or change the brand. You also have less control over the purchase process of shoppers, and in general, there are fewer tools available to help you increase users.
Etsy has rules on what can and cannot be sold. Obviously, they are committed to niche products as well as handmade, retro, and unique products. Therefore, if you want to branch and sell products outside of this scope of authority, you will be powerless.
Etsy Features
Etsy has many functions, and the meaning of these functions is that it is more convenient and easy for users to use.
Community connection and customer response
Internal analytics empowering sellers
Helpful search engine and SEO options
Feedback to improve
Easy logistics helping clients and sellers
Popular Products in Etsy
According to Etsy Hunt, the most popular thing on Etsy is stickers. Didn't you think? The fact of the matter is it's selling like hotcakes. Cute and cheap, the stickers are a hit with Etsy buyers.
Jewelry is one of the largest and best-selling categories on the Etsy platform. Etsy Hunt learned that there are currently more than 12.6 million jewelry products on Etsy. However, consumers of these products value their unique features. This just explains that although there are so many choices on the platform, sellers still have a market.
This year because of the covid-19, parents and children stay at home longer. The demand for DIY handicrafts on the platform has increased significantly than before. Of course, Etsy is a handicrafts platform, and sales of such products are usually good.
The market for the wedding supplies industry is huge, with the US alone reaching 73.6 billion US dollars. Etsy Hunt learned that with the addition of decorations, letter paper, and other related supplies at the wedding site, the average cost of each wedding was US$2,460. The size of the wedding-related supplies market on the Etsy platform also reflects this.
What is Storenvy?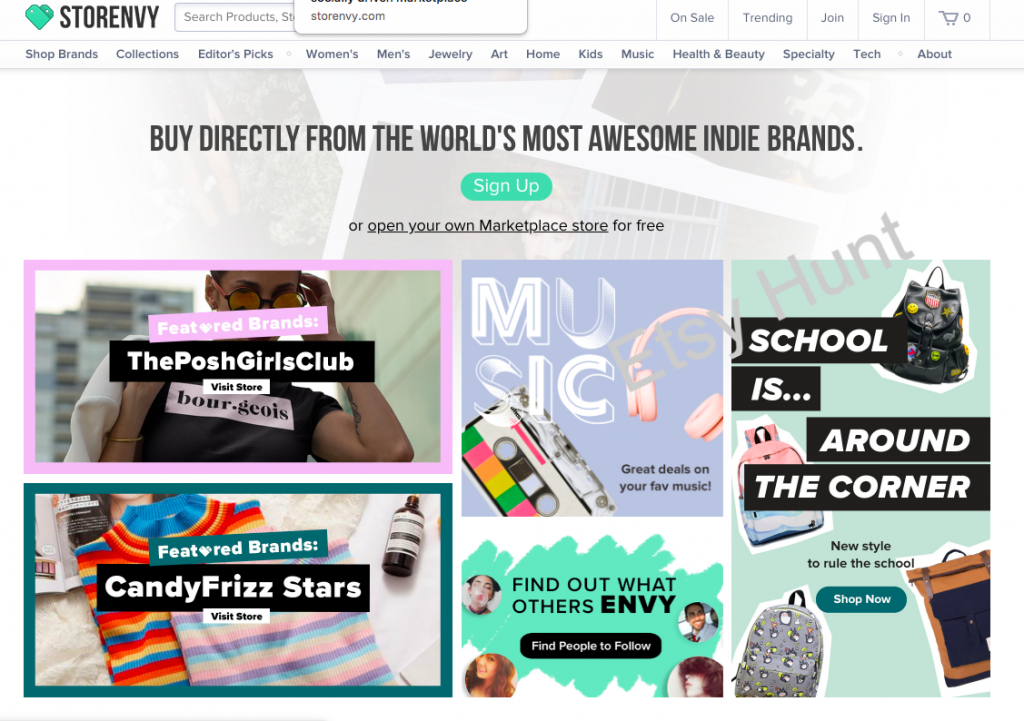 Storenvy focuses on independent small brands, new brands, and individual-style products. Sellers can open a professional store in just a few minutes. Storenvy's online store is very popular, selling categories including clothing, home furnishings, jewelry, books, and other creative products. Now,it has more than 60,000 shoppers shopping online on Storenvy. On the other hand, the website has also added social media functions to realize the sharing of merchandise among friends, so as to achieve the purpose of marketing.
Pros of Storenvy
Storenvy is no listing fee, and no limitation of listing number, products upload numbers are all decided by you.
You get access to CSS templates and the ability to create custom HTML pages.
You can create different prices 、different size products with a single item.
Cons of Storenvy
Compare with Etsy, the traffic of Storenvy is lower,but they opened a public relations department, which means Storenvy reputation and traffic will go up.
Storenvy compares with other marketplace has limited function, especially in some widgets function.
Storenvy Feature
Storenvy offers a number of product convenience features to help users to use it more easily and quickly. Here are a few salient features to help you understand Stoernvy, compare it to Etsy's product features, and see which platform is right for you.
CRM
Kitting
Multi-channel marketing
Reviews Management
Data security
Mobile access
Returns Management
Templates
Popular Products in Storenvy
Starting in 2020, as the COVID-19 continues to develop, people spend more and more time at home, and the demand for daily necessities has been increasing. Products such as ceramic cups, natural cleaning products, and colorful masks will continue to be popular in 2021.
Currently, there are more than 17 million items in the "Jewelry and Accessories" category. So it's a relatively saturated market, but within this overall framework there are many different niches and product types. You can sell delicate earrings, bead necklaces, and even custom-made metal accessories.
Toys can be made from fabric, yarn, wood, or plastic and sold as handmade. Knit toy dogs fall into this category, which also allows you to sell collected or refurbished products as antique toys.
For those who like to knit or sew, hats and scarves are a good time to get into Storenvy's sales. You can create products based on your own design. Products can be complicated and elegant, or they can be kept simple, such as selling loose towel hats.
Conclusion
If you're looking for a reliable online marketplace, Storenvy and Etsy might be the smart choices. However, before making any choice between the two platforms, you need to look at them carefully and choose which platform between Storenvy and Etsy is best for your business. Second, the most important thing is to get the best creative products on the market! If you want to learn more about the handicraft market, come to Etsy Hunt for the latest news!