Etsy vs Amazon, Which is Worth Joining?
The 2020 epidemic has changed the way many people shop, making more and more people shop online. Especially during the holidays, this growth trend is more obvious. Many online shopping sites have developed as a result, such as cross-border e-commerce giant Amazon, and a smaller but fast-growing competitor-Etsy. Both companies performed well in 2020-2021, surpassing analyst expectations in the past three quarters.
Etsy and Amazon Handmade are both great platforms but as with anything else, how do our ordinary sellers choose before Etsy and Amazon?
Etsy:
Etsy is an e-commerce platform with the main feature of buying and selling handicraft products. There are hundreds of thousands of professional and amateur artists on the Etsy website, selling a variety of homemade handicrafts, and their customers are all over 67 Tens of millions of Internet users in two countries. The product categories are: clothing, jewelry, toys, photography, household goods... But these products have a common premise: originality and handwork.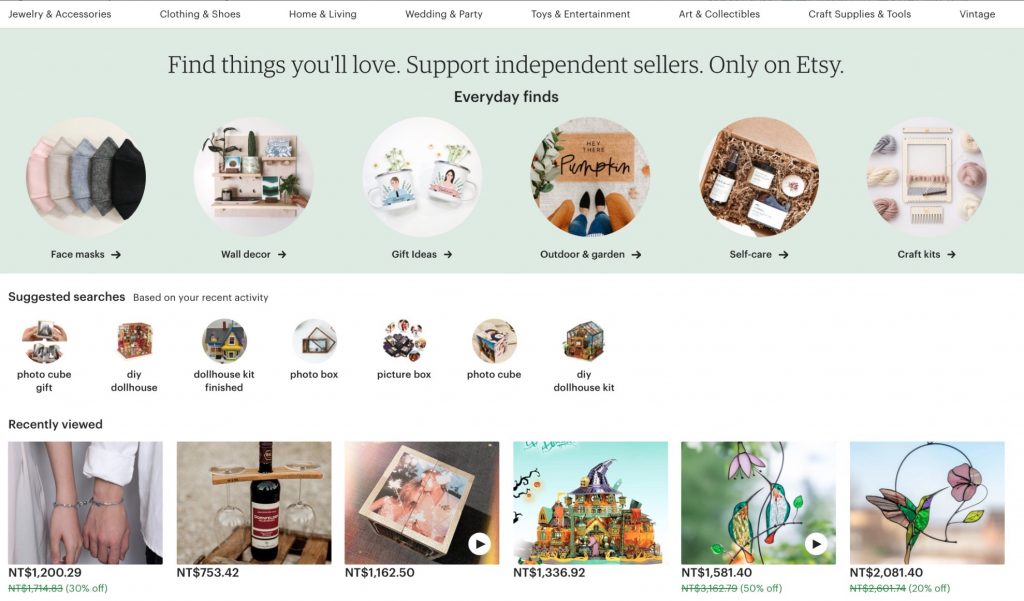 Amazon:
Amazon is the world's largest retailer that sells almost everything, selling everything from books and daily necessities. Amazon is the world's largest store, selling everything from books and daily necessities. However, as Amazon's reputation and users have gradually increased, the competition among sellers has become increasingly fierce. Amazon has a customer base of more than 300 million, among which there are more than 40 million Prime members, so the huge number of users has brought huge traffic to Amazon, so that in 2015, it launched Amazon Handmade, a microsite that allows artisans to sell their products.
Cons of Etsy:
1. Support independent sellers
Different from Amazon, Etsy is very supportive of individual sellers. As long as your products are creative and exquisite enough, they will be very competitive for a long time. If your products are mainly for women, then Etsy is definitely an important market.
2. Lower cost
The Amazon Handmade business provided by Amazon provides a free product list. But they deduct 15% of the referral fee from each product sales + shipping cost, to get some high profits.
Etsy charges $0.20 for each item that expires every four months. In addition to the listing fee, Etsy also charges a 5% fee from each sale + shipping, which is a 10% reduction in shipping compared to Amazon.
Amazon's handmade recommendation fee is only deducted from each product sale, not from your shipping cost.
3. The process is simpler
Step 1: Log in to Etsy official website, click "sell on Etsy" in the upper right corner to enter a new page, and click "Open an Etsy Shop" to enter the registration page.
Step 2: Enter the registration page, fill in the relevant information, and click "Register" to submit.
Step 3: Set preferences, such as currency, language, and choose a name that matches the Etsy store.
Step 4: Edit shop information. And add products, complete the product list, and publish the listed products to your store
Step 5: Choose your payment method and set your billing information. The preferred payment methods include the following: PayPal, credit card, electronic money order, bank transfer, etc.
Step 6: When the seller completes all the parts, click to open the online store. You can still edit your shop after it opens. Click to publish and open an online store, congratulations to your Etsy store has been opened!
Compared with Amazon's registration and shop opening, Etsy's process is simpler and faster, and does not need to provide too much official information.
4 .Payment Process faster
When you sell through Etsy, you can use the funds once the transaction is completed, so once the customer makes the purchase. Amazon Handmade's payment process is very long, and a single transaction can take up to 24 days. The payment will only be issued after the product has been shipped.
AmazonVs Etsy:Similarities
1. The way your shops are represented.
Both Amazon and Etsy are shopping platforms. On these two platforms, you can easily find the handmade products you want by searching. And equipped with professional customer service and logistics distribution.
2. Product Listings.
It needs sellersTo add the products, sellers use descriptions, numbered fields, custom prices, shipping options, etc.
First, choose Etsy to show that you are a qualified craftsman, you can first choose your own products to sell, and you can try to add some fashionable elements, pictures, and words.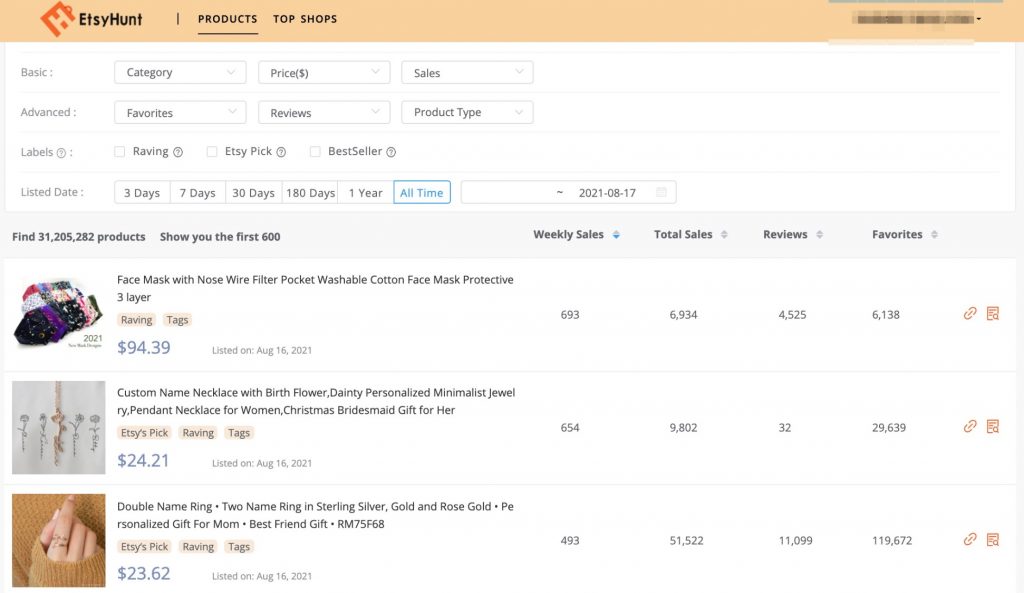 Second, you can choose Etsyhunt to choose products that are very similar to yours, and then put them on your store. This can bring a lot of product categories to your store.
Amazon Vs Etsy:Differences
1. Sign up Process.
Etsy registration and entry is very simple and fast, you can get your shop set up on Etsy in a few clicks. Very easy process. However, to register with Amazon, you need to provide a lot of materials and information, and you also need to wait at least 21 days for the review time, and some categories are not allowed on Amazon.
2. Different buyers
Although Amazon has 300 million users, they are distributed in more than 20 categories. In Etsy, almost all users are interested in handmade products.
3. Product Categories.
There are only 14 product categories available on Amazon Handmade, while Etsy offers 160 product categories.
4. Shipping charge.
On Amazon Handmade, the unit/weight-based shipping is the default model. The cost for standard shipping is $4.49, and the default per-weight shipping charge is $0.50 per pound. On Etsy, you will pay 5% transaction cost and 5% shipping charge. This is the same as the 5% transaction fee for a $35 item with free shipping.
Which is more suitable for you:Etsy VS Amazon
You can choose to join Amazon and Etsy at the same time, they bring the opportunity to showcase and sell handmade arts and crafts for creators and artisans.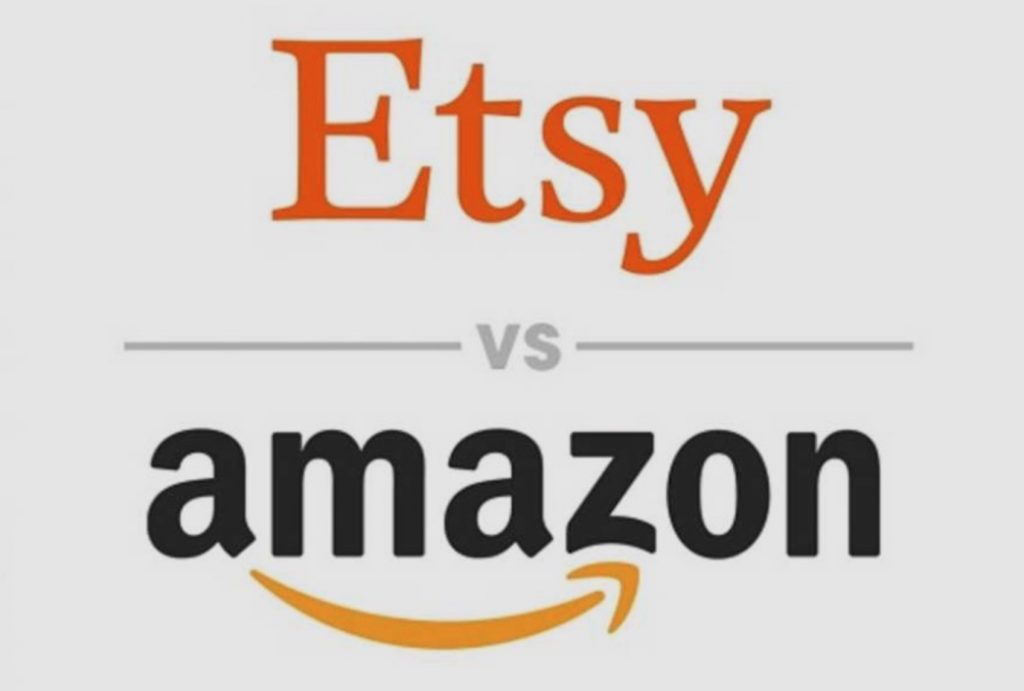 Owning a store is not difficult, but it's not easy to get desired traffic to your store.Depending on your selling needs, you can now pick what is right for you between Etsy vs Amazon Handmade. You need to comprehensively observe based on your product unit price, profit, energy and time invested