Everything‌ ‌a‌ ‌Seller‌ ‌Should‌ ‌Know‌ ‌About‌ ‌Etsy‌ ‌Tags‌
Are you an independent crafter or an artist looking to sell your goods on Etsy? Did you have a tough time reaching potential customers?
Let's face it- Every Etsy shop owner wants to make its listing more visible on Etsy research. However, only a few are successful in reaching this goal.
This is because they know how to use the best and high-ranking Etsy tags for each item. When you're just starting out or attempting to build your Etsy business, using the most popular tags may make or break it.
So, if you're wondering why Etsy tags are important and how to employ them, you've come to the perfect place.
What is Etsy?
Etsy is basically an online marketplace associated with a wide range of items. These items are vintage furniture, handmade toys, art, collectibles, clothing, jewelry, home decor, and crafts supplies. Everything available on the site is made, curated, collected, and sold by its sellers.
Moreover, these independent business owners make goods and are also responsible for managing orders and inventories. Buyers use this platform to find something unique and special.
What are Etsy Tags?
Whether you have been selling on Etsy for a couple of weeks or many years but still wondering how to make your products visible to your potential customers, Etsy tags are the first place to look.
These tags are basically short phrases or words that describe the items.
For example, if someone searches for a word lamp, you will find thousands of items. But if you search for a small lamp, fewer results will appear. Finally, if they search for a small antique lamp, fewer items will appear. This is where the best tags for Etsy can help. You may not have a small antique lamp in your title, but you do have a small lamp, giving you a maximum chance to show up in search.
So, as a seller, if you want to improve your items' visibility, you must use tags when listing your items.
Importance of Etsy tags
Etsy tags provide more details about your specific item to the shoppers. These are important for your shop's visibility as the algorithm of Etsy connects tags with the searches of the shopper.
Etsy's algorithm is all about query matching. The keywords or phrases entered by customers to find specific items match them with the relevant listing connected with the particular search. The algorithm crawls through many listings to search for tags, categories, and a title relevant to the shopper's search.
Each tag provides you with 13 chances to be found on Etsy. Moreover, they should be 20 characters long, so you can think of as many terms you want and add them to your tags.
If you don't use the tags, chances are, shoppers will find you by entering your title only.
How Do You Add Tags to Your Listings?
Adding tags to your Etsy listing is no rocket science. You just follow a few steps, and you will add the relevant tags to your listing. The following is the easiest way to add tags.
In your item listing, go to the tag field and type a new phrase
Now click on the add button
Repeat these steps until you add around 13 tags to your listing.
If you are having a tough time finding the specific tags, put yourself in the shopper's shoes. Think what sort of tags they would search for specific items.
As a rule of thumb, when brainstorming for tags. Make sure to start with the most obvious ones. Insert the tags such as jeans, male jeans, and female jeans.
The next step is to apply the tags that describe the style, such as skinny, loose fit, regular fit, and more. The last line is to mention color and material.
Once you add more products to your listing, don't forget to review your tags and add new ones according to what is trending on Etsy. This will help you to keep your listing relevant, regardless of the trend.
How to Choose the Best Etsy Tags?
Choosing the best Etsy tags that sell in 2022 depends on various scenarios. The 13 tags you choose should be relevant to the product. You can include size, occasion, style, solution, techniques, or materials. Also, keep the following aspects in mind.
Avoid repeating any tags
Use multiple words in your tags for more targeted traffic.
Always refresh your tags
Use long-tail keywords as these are more specific and are more transactional.
Etsy uses the basic word to search, so even if you are using plurals, Etsy still recognizes it.
Avoid misspelling and typo errors
Don't use tags in different languages
Use descriptive tags that describe the item accurately and clearly.
Steps on Adding Tags on Etsy Listing
As you may be aware, tagging is essential to Etsy's search capabilities. Follow these steps to tag your listing:
In the Tags section, enter a tag for your item and click the Add button.
Rep Step 1 until you've included all of the necessary tags.
You may add up to 13 tags to your listing. You should use as many tags as you are permitted to increase the likelihood of consumers finding your goods. If you're stuck for tag ideas, use your trusty thesaurus. It is also acceptable to utilize sentences.
Enter a material in the Materials section and click the Add button to identify the materials used in your piece.
Step 3 should be repeated until all necessary components have been added.
You must include tags in your Etsy item listings in addition to keywords. Etsy uses these tags to assist customers in finding your item. Because tagging is so important to Etsy's search functionality, you must utilize strong tags on your listing. When deciding on which tags to use, consider what keywords you would type into a search engine if you were looking for your goods. Keep an eye on your Shop Stats to see what search phrases people use to find your products.
How to Increase Views on Etsy Tags?
Every Etsy shop owner wants their listings to be more visible in the Etsy search results. Using the correct keyword tags for each item is a crucial strategy to improve views. These Etsy techniques can assist you in correctly tagging items to increase views and sales!
Use Keywords Phrases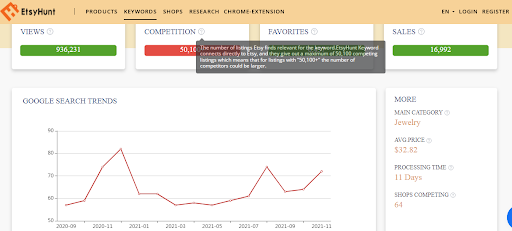 Choosing the right keywords for your listing is critical to being discovered on Etsy. Tags are only used by Etsy shoppers searching for items, and they are essential for every listing. Since Etsy switched to a "relevancy" search default rather than "recency," two- and three-word phrases now carry more weight than ever when used as keyword tags. Using single-word keyword tags in listings is certainly a good idea, but make sure to use longer phrases as well that entice buyers. Repeat the first three words of your item title in your tags for SEO purposes (if all three words fit). Then use variants of those. To get the high-ranking keywords, you can use the most effective Etsy keyword tool as well.
Fill all the space
Consider each tag as a doorway into your shop, and fill in all of the spaces. When creating a listing, this includes the "Categories" part. Choose these categories well because they will become your first three tags. If there are no terms that apply to your item in the second or third categories, those tag spaces will be ignored.
Each item has a total of 16 keyword tag spaces: three categories and 13 more that you enter below in the "Tags" section of the listing page. It's also a good idea to read through your listings on a regular basis to look for blank spaces and failed tags that may be updated.
Trends and holidays should be included
When choosing keyword tags, keep the time of year and current trends in mind. Holiday tags are an excellent way to increase views and raise your chances of being featured on the Etsy blog, home page, or in emails. On the top page, the site even offers forthcoming holidays as a "Browse" category! Etsy also publishes a helpful blog article called the "Merchandising Desk" on a regular basis, which includes forthcoming trends, seasonal themes, and popular colors.
The winter "Black Friday" and "Cyber Monday" sales are two major seasonal occasions to employ in tags. Use the phrases chosen by Etsy (and announced in the forums each year) to attract thrifty consumers searching for a bargain.
Think about Other Countries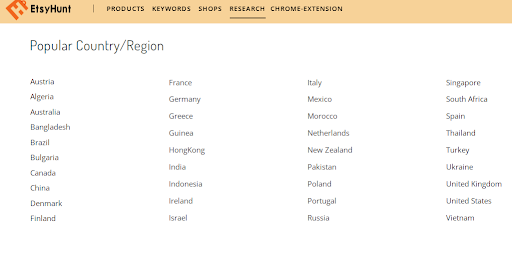 Because Etsy is a global marketplace, it is beneficial to allocate some of your best tags for Etsy to alternate spellings, languages, and regional keywords. Include variant spellings of words such as in the UK use "jewelry" and in the US, use "jewelry", as well as holidays from throughout the world (Boxing Day, Canadian Thanksgiving, etc.). Consider employing words in other languages as tags if your products match a specific foreign theme. These international Etsy suggestions work best when your item truly fits the theme or event, so apply them with caution.
Using these Etsy suggestions to select the proper keyword tags is a simple and efficient approach to generating traffic to your Etsy shop. The end outcome will speak for itself!
Improving Your Etsy Shop Rank and Visibility
Of course, as a seller, to make your products get noticed and stand out, you need a successful SEO. In order to improve the SEO of your Etsy shop, the first thing you should consider is choosing the right type of listing. Once you find your listing that matches a buyer's search, look for different factors to find how the listing should be ranked. The ranking factors on Etsy are:
Recency
Listing quality score
Shipping price
Shopper's habit
Market and customer experience score
Relevancy
Languages and translations.
When optimizing the Etsy shop, the most important thing to consider is the Shopper's habit. While you can improve the ranking of your listings, they will not be in the same position for every user. This is due to the fact that Etsy tailors its search results for each user based on their previous behavior. Even if you are unable to maintain a specific ranking across the board, you should do everything possible to be the best option for buyers.
In order to improve the Etsy shop Rank and Visibility, you have to take care of several aspects. These are keywords, optimized shop section, getting links to your listing, and of course, the tags.
Tags are an excellent way to target as many different keywords as possible, as long as they are relevant. Find as many keyword phrases that are relevant to your listing as you can. If you are looking for the best way to improve Etsy shop ranking and visibility, EtsyHunt has got you covered!
If you sell on Etsy, you know how important it is to use keywords and tags that produce results. Knowing the value of tags, EtsyHunt is the most effective tool and conducts research to assist innovative Etsy sellers in finding Etsy tags that sell in 2022.
Are you selling on Etsy? Join EtsyHunt to
Reduce Costs, Increase Efficiency.
Start for Free