SaleSamurai VS EtsyHunt, Which Is The Best Etsy Tool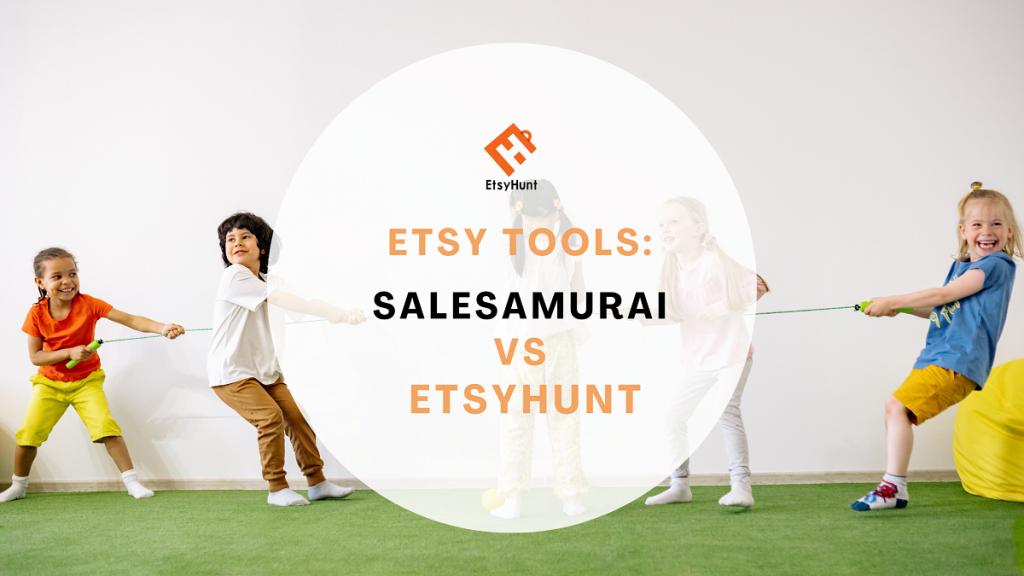 What is Etsy? Why Do I need Etsy tool?
Etsy is a US website that sells handmade crafts online. The Etsy website is not as well-known as Amazon, eBay, and other mainstream e-commerce websites, but it provides extraordinary network services from a unique operating perspective and diverse profit models.
The products traded on the Etsy website are diverse, such as clothing, jewelry, toys, photography, household goods… However, these products have a common premise: originality and craftsmanship.
Therefore, Etsy gathers not ordinary people, but a large number of creative craftsmen and talented designers. They not only create their own brands online, open shops, and sell homemade handicrafts. But also participate in online community exchanges and online activities. Get together and attend a craft fair or exhibition sponsored by Etsy.
Frankly, Etsy's value to sellers can no longer be measured by money alone, it is more of a connection with rival industrialist groups.
To date, Etsy has reached 5 million sellers. Handmade and non-handmade e-commerce newbies are flocking to this marketplace.
But where to start an Etsy business? Another group has caught on to this pain point. A number of tools and software for Etsy sellers have emerged, such as SaleSamurai and EtsyHunt.
SaleSamurai Review

Sale Samurai provides the insight and analysis needed for Etsy's sales. It uses real search data to develop business and eliminate the guesswork in front of customers.
Find High Volume, Actionable Keywords Your Competition Can't See
Creating your titles, tags, and optimizing your keywords for new listings is a breeze with Sale Samurai. Discover long-tail keywords that shoppers are searching for on Etsy, search volume, and critical information such as price, shipping days, and views per product.
Take Your Research To Etsy - Filter, Analyze, Download
Real search volume behind the keywords that are leading to sales, average shipping days, price distribution, and long-tail keyword ideas.
Monitor other sellers' listings to discover the best market price points, views per product, shipping days, and likes from real Etsy shoppers. Determine what it takes to stand out.
Market Leading Etsy Long-Tail Keyword Tool
Access Real Etsy Search Volume Data with the AI-driven keyword tool. Find high volume keyword suggestions, tags, and long-tail keyword grades utilizing the most accurate and robust tool on the market today
Automate Scaling Your Business
With the state-of-the-art uploading software, make full use of print providers that integrate directly with Etsy to place your design on hundreds of Print on Demand products that Etsy customers crave!
EtsyHunt Review

EtsyHunt is an all-in-one platform for Etsy sellers. Its database is updated daily with over 5,000,000 actual product data. As well, it keeps developing must-have tools for sellers to grow their business.
Improve your Etsy SEO Keywords and Listings
Listing optimization is the main strategy for getting noticed on Etsy. Finding your high-converting keywords and tags is the first step.
EtsyHunt makes it easy by providing keyword search trends, similar terms, and a Hot keyword cloud.
Not only that, EtsyHunt also monitors the top 100 product listings. You can find their sales, prices, views and shipping times to help you further improve your marketing strategy.
All-round Market Research by product, keyword, shop, category
EtsyHunt provide a ton of useful data to help with your Etsy business.
Produtct Database and top charts: let you know what's selling on Etsy and discover winning product ideas.
Shop Database and top charts: show you who will be your giant before the success.
Plus, you'll see basic and advanced filters including product type, price range, weekly sales/total sales, category, label and more.
Optimize your operations efforts
Follow-up reminder is one great tool to track product reviews and automate the process of getting reviews on Etsy. EtsyHunt also offers tools to quickly view Etsy.com and calculate your profit.
Key Takeaway
Are you selling on Etsy? Join EtsyHunt to
Reduce Costs, Increase Efficiency.
Start for Free