eRank VS EtsyHunt: Which One is Better Etsy Sellers Tool?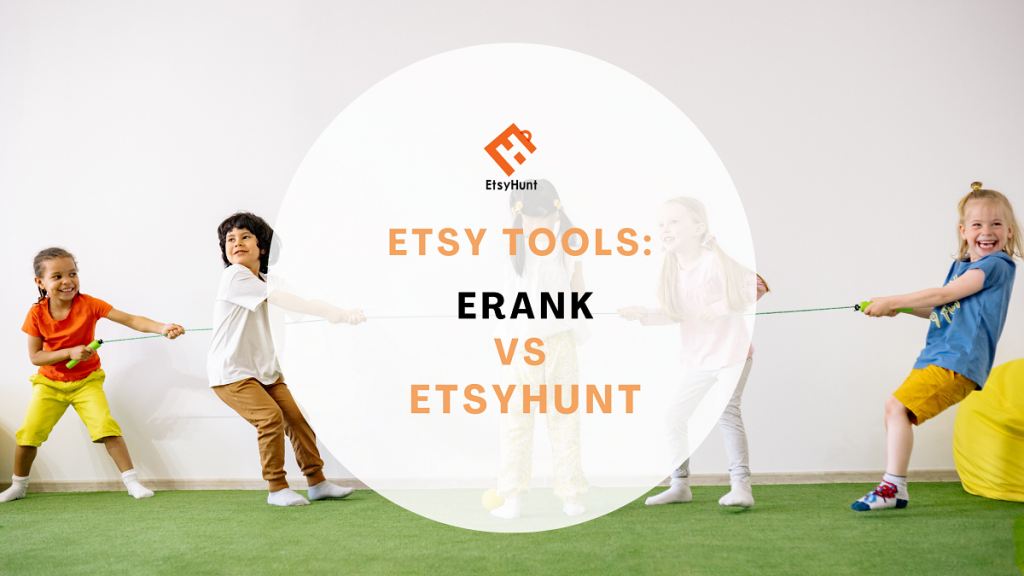 Spying on competitors and improving the shop's rankings have become the hour for successful Etsy sellers (in fact any sellers). If you know what to do to sell on Etsy, in the next step you may need Etsy seller tools and chrome Extension, including:
Discover trends
Analyze pricing
Find keywords
Optimize listings
In this article, we are going to put two great online tools head to head - eRank and Etsyhunt. Read on to find out which one works best for your business.
First of all, what exactly are eRank and Etsyhunt?
What are eRrank and EtsyHunt ?
Simply put, Etsyhunt and eRank are two seller tools that help you optimize your shop for Etsy search.
To sell on Etsy, you will have to use the most representative keywords for your products, and do it within the title of the shop, the advertisements, and of course in the tags. This will make your items get found on search results.
They do this in many different ways, but the key thing they give you is lots of information — information that you can use to:
identify product opportunities from other Etsy sellers
find out what keywords people use when searching for items
optimize listings so that it has a better chance of performing well in search results
eRank Review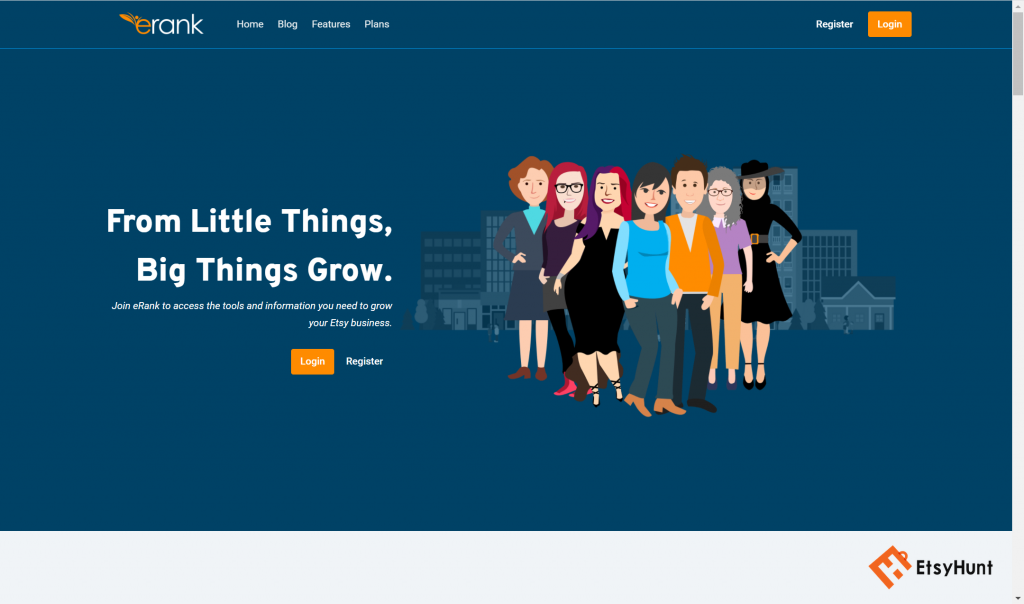 SEO is vital to your Etsy listings. eRank has a full suite of SEO tools to help you get the most out of Etsy search. It allows users to select strong keywords and optimize their listings based on what real Etsy and Google users are searching for. However, the site design can be tricky for most sellers.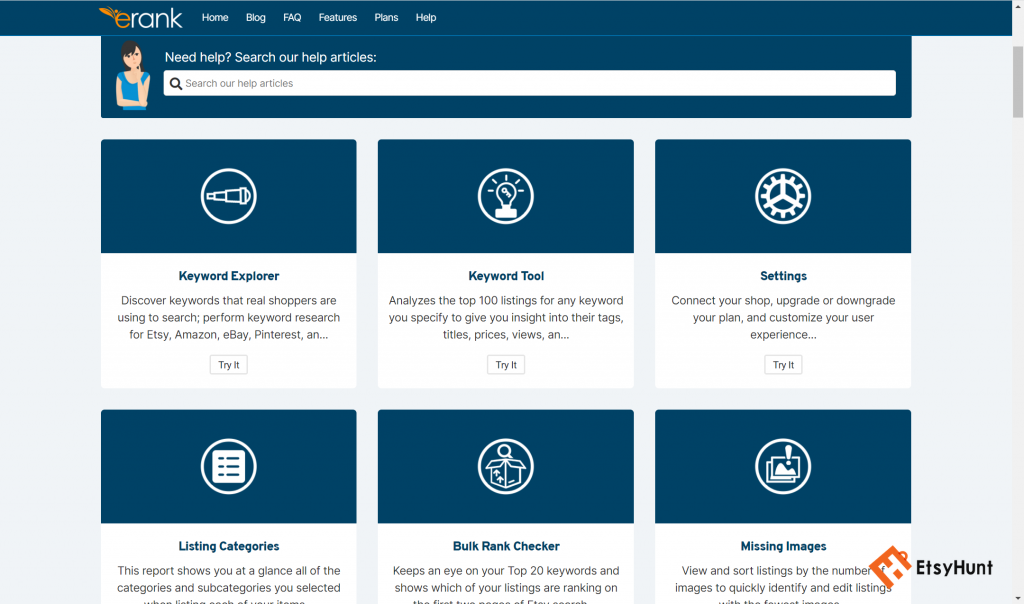 eRank Notable Feature - Keyword Research
You can find many keyword tools on eRrank - keyword explorer, keyword tool, keyword lists, compare keywords, bulk keyword tool.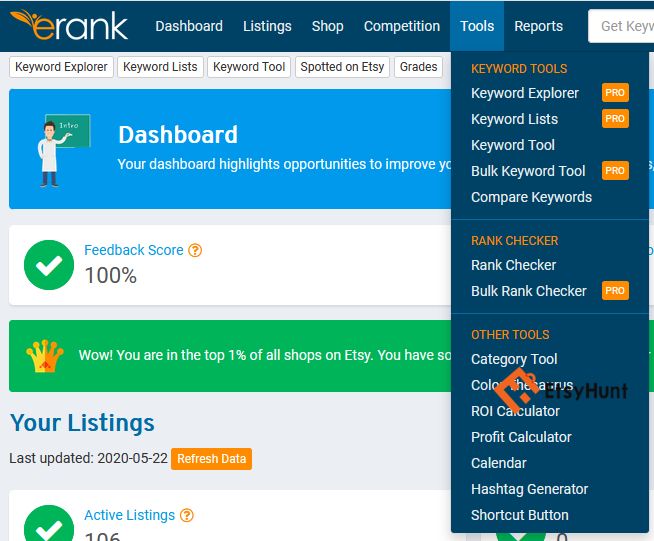 eRank performs detailed analyses of the top 100 listings found in Etsy search results for the keywords you specify. The Keyword Tool will help you get a sense of the most popular tags used by Etsy sellers, how often the keywords in those tags are searched for on Etsy, common price points, and other data to help you select keywords and optimize your listings.
Furthermore, with eRank, once you create a listing, the tool studies it, gives it a grade, and tells you why you got the grade you did. This allows you to improve your listing and get noticed by your target audience.
Premium Tips: Do not obsess over your eRank Etsy SEO grade. It is a useful tool, but there is a lot more to the search algorithm than those grades show you. For example, even if you respect Etsy's SEO best practices, once your keywords are not relevant or not bringing the right kind of shoppers to your shop – you won't get sales.
Other keyword research tools worth checking out are:
Google Keyword Planner
Google Trends
Etsy Trends
Alura
Marmalead
EtsyHunt Review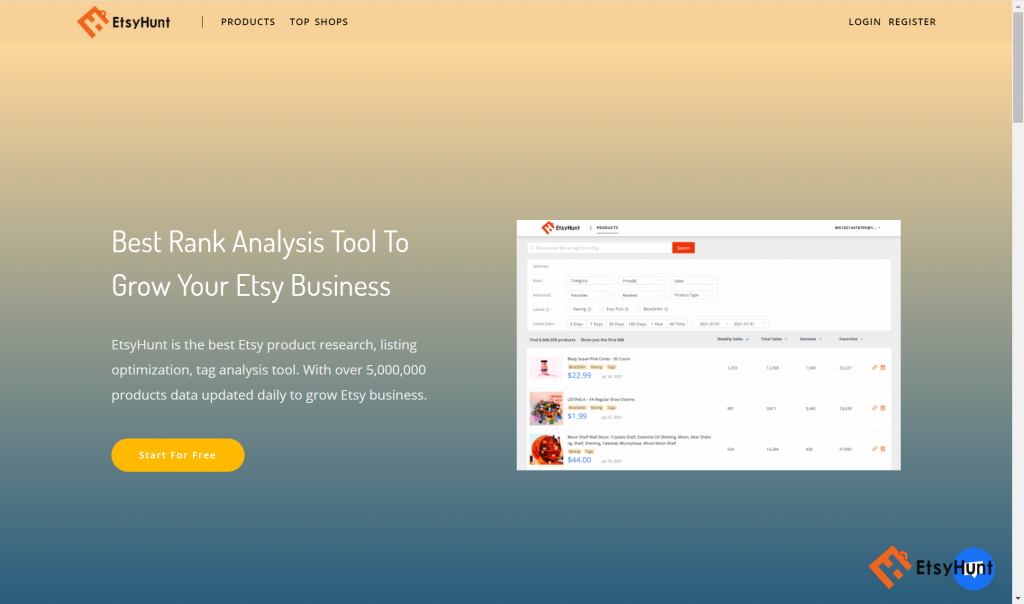 In line with Etsy, EtsyHunt boasts a clean, modern user interface that's easy on the eyes. It supports product research, listing optimization, tag analysis, and rank analysis. With 5,000,000 popular product data updated daily, it can help you to brainstorm new ideas and decide between two good keyword phrase options.
EtsyHunt Notable Feature - Product Research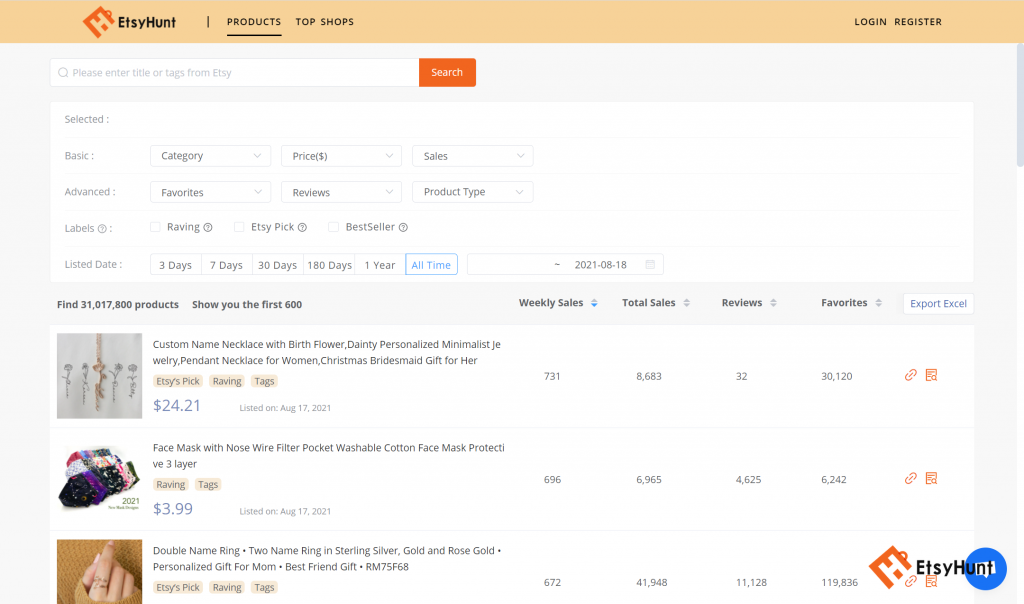 Product Research is all about analyzing current market trends to choose "winning" items – something that can generate high sales.
Using the Product Research in EtsyHunt, you have the power to scan through Etsy products by filtering key metrics such as category, price, estimated sales, rating, and more.
As you find potential products you can view the product details and their sales activity, and pricing over a period of time – which we advise you to check for a few weeks.
But, what your competitors are doing to sell the product that you have picked? EtsyHunt Shop Analysis enables you to see through your primary competitors.
You can also find Top 500 Etsy Shops or Etsy Best-selling Items based on shop sales in the past 7/30 days. Then, you can learn those best practices from them and find out ways to improve them while selling yours.
Premium Tips: There are actually two marketing strategies. One idea is to search for items that you can get for cheap and yet sell for competitive prices with a good profit margin in return. The other idea is to be special. Sometimes, sales volume does not necessarily mean huge profits. You can carve a niche for yourself and understand there's no one single factor that makes your business successful.
Comparison of eRank and EtsyHunt
| | | |
| --- | --- | --- |
| Features | eRank | EtsyHunt |
| Product Seeker | ✅ | ✅ |
| Product Trend | ❌ | ✅ |
| Shop Seeker | ✅ | ✅ |
| Shop Trend | ❌ | ✅ |
| Similar Keywords | ✅ | ✅ |
| Top 100 Listings | ✅ | ✅ |
| Most searched keywords | ✅ | ❌ |
| Keywords Tracking | ✅ | ✅ |
| Listing Optimization | ✅ | ✅ |
| Profit Calculator | ✅ | ❌ |
| Hashtag Generator | ✅ | ❌ |
| Reviews Management | ❌ | ✅ |
| Chrome Extension | ❌ | ✅ |
| Edge Extension | ❌ | ✅ |
| Pricing | $5.99/ $ 9.99 per month | Free |
Conclusion
Etsy is one of the top sites for people looking to buy art, customized gifts, crafts, handmade jewelry, vintage items, clothes, and more. For most Etsy sellers, it takes a lot of time and effort to become a best-selling shop on Etsy. We hope Etsyhunt makes it easier for you!
Are you selling on Etsy? Join EtsyHunt to
Reduce Costs, Increase Efficiency.
Start for Free