20 Profitable Ideas for Etsy Black Friday Cyber Monday [BFCM](2022)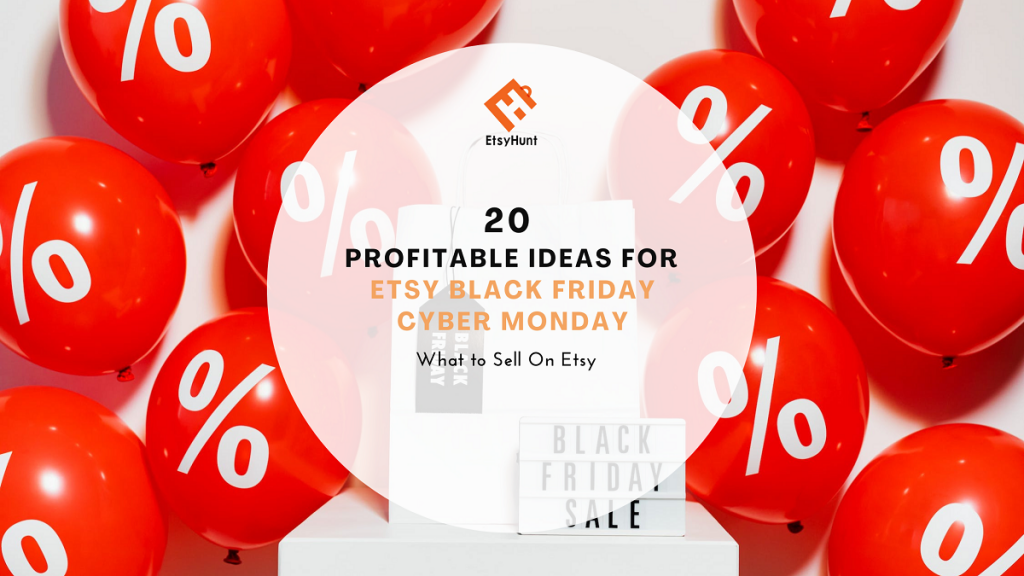 There are some special occasions for both sellers and shoppers in the online shopping world. Black Friday and Cyber Monday are the ones that get much more attention than others. They are great times for getting amazing sales.
As far as Etsy Black Monday is concerned, it is full of opportunities with customized items specifically tailored to the needs of customers. Etsy Cyber Monday week is no exception, providing shoppers with a broad range of custom-made products.
With these in mind, this article aims to give sellers a rundown of items they can make use of so as to reap the benefits of these two important once-in-a-year occasions. These ideas will definitely give sellers the edge to skyrocket their sales.
Why are Black Friday and Cyber Monday Vital for Online Sellers?
Special occasions such as Black Monday or Cyber Monday have a critical role in the overall sales of online sellers and maximizing conversion rates. These events offer great sales, discounts, or coupons for the shoppers, creating a great deal of competition among giants.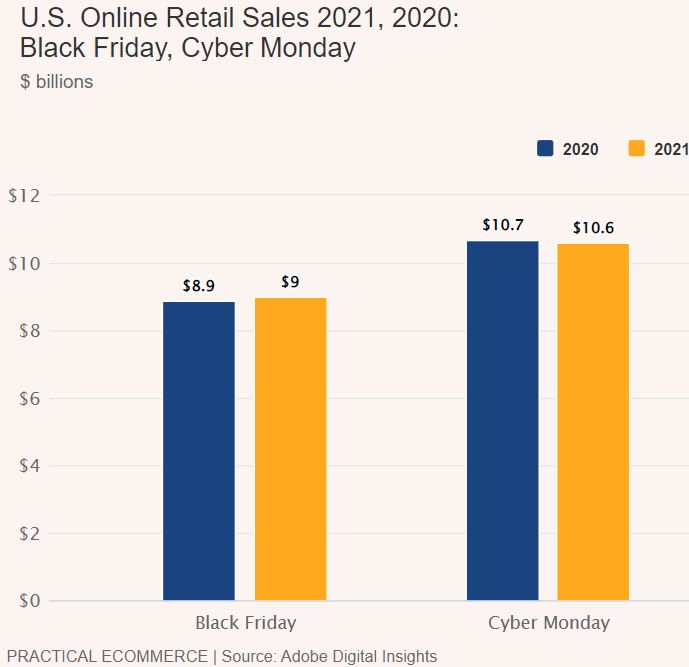 Now, let's dive deep into what statistics tell us about it:
US-based shoppers spent $9 billion on Black Friday deals and $10.6 billion on Cyber Monday week specials.
Total sales of Shopify merchants globally for 2021 were $6.3 billion.
Shopify-based businesses attracted 47 million customers and made a huge profit with a wide range of items.
In terms of average cart price on these occasions was approximately $100, helping us understand better how much traffic shops got back then.
Peak sales per minute were also as high as $3.1 million with millions of shoppers.
When are Black Friday and Cyber Monday 2022?
As far as the Black Friday holiday is concerned, it falls the day after Thanksgiving, that is, Friday, 25th of November in 2022. Cyber Monday is also after Thanksgiving, precisely put, the 28th of November in 2022. They both come with great opportunities.
What Happens on Black Friday and Cyber Monday Week on Etsy?
It is highly likely that it will be easier for sellers to attract more customers to their shops during these important days. It would be wise to remember what to sell on both occasions in 2021, enabling sellers to focus on the best-selling items only for 2022.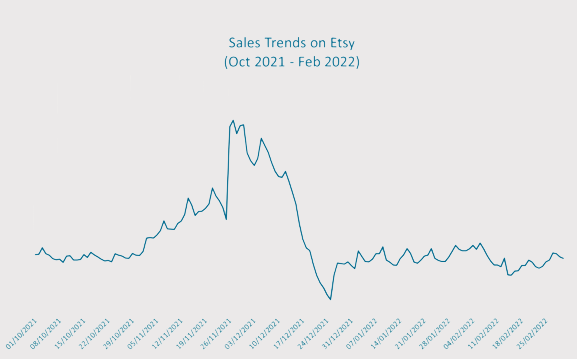 When we take a look at the figures regarding sales trends between October 2021 and February 2022 covering both Etsy Black Friday & Cyber Monday, as in the case of other online shopping platforms, the sales increased at a breakneck speed from 26th through 30th November.
Even though sales of technological products were on the rise during the period, jewelry items, sets of gifts, and customized products were much more popular, enabling shoppers to get insights into what to sell for great profits in 2022.
8 Most Searched Terms for Etsy Black Friday & Cyber ​​Monday
One of the most significant factors that determine success on Etsy is keyword research. the top searched terms according to Etsy Search Algorithm will give exceptional clues about which products are popular.
Most of the searches made on Etsy were regarding special presents, personalized items, and handcrafted gifts tailored to a particular person. Decorative products and presents for children and pet animals were also popular during these two important events.
Here are 8 most searched terms for BFCM on Etsy:
Gifts for her
Gifts for him
Personalized gift
Jewelry
Holiday Decor
Home Decor
Gifts for kids
Gifts for pets
Top 20 Etsy Black Friday & Cyber ​​Monday Deals
When it comes to searching the most popular items during these occasions in detail, EtsyHunt Product Research Tool is the perfect tool to give you exactly what you need to get the most out of it. Let's see what this useful tool can do when specifying the dates.
First things first, sales of the last seven days of the item will give you an idea about this particular product, helping you to decide whether to take it or leave it. For a broader perspective, you can also monitor the total sales of this product to see the big picture.
Second things second, total reviews about the item will be a deciding factor for you to see what people think about it. Putting a certain into a favorite section with total numbers is a significant indicator that they are likely to purchase it soon.
As the last feature, it can give you an Etsy details page, product details, and adding favorites options under the Actions section, which is ideal to delve into what matters about this specific item. It may be in your store in no time, who knows!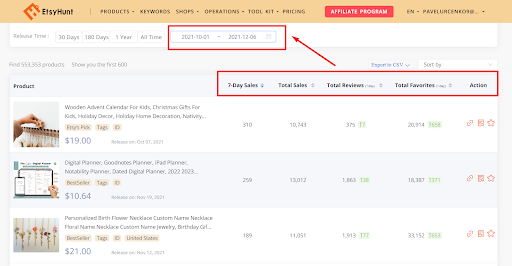 Last year's figures with regards to Etsy Black Friday ideas and Etsy Cyber Monday sale statistics can be shown in detail when we have the dates November 1st and the first week of December in 2021.
Without further ado, let us have a closer look at what these products are and how shoppers make out of them with tags, captions, and detailed statistics for Black Friday gifts and Etsy Cyber week. You will also find titles and tags for each product to get inspired from.
1. Advent Calendar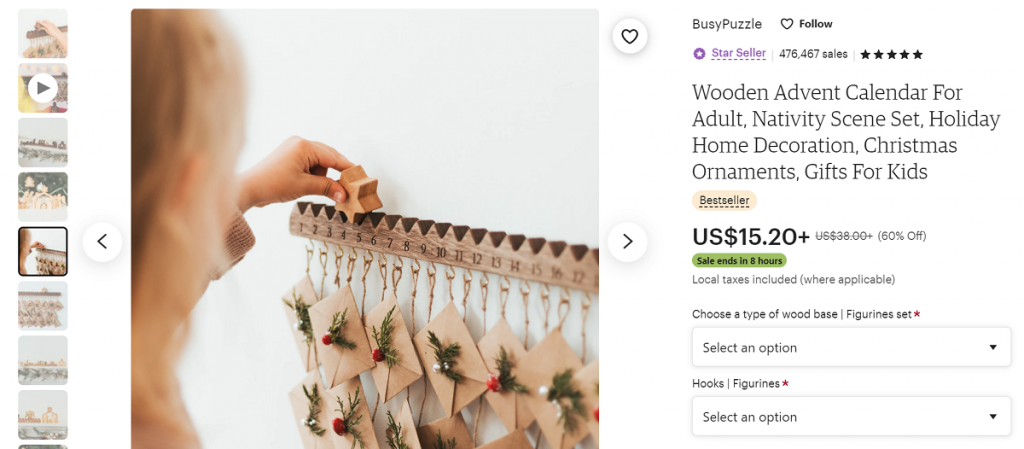 This advent calendar is specifically designed for children and generally, it is made of wood to ensure durability. It can also be used for holiday and home decoration.
The price of the item usually goes around $20. Weekly sales are approximately 300 and total sales so far reach up to about 10.750. Reviews on the product are 375 and around 21.000 shoppers added it to their favorites.
Titles used for the item are Wooden Advent Calendar for Kids, Holiday Decor, Nativity Scene Set, Kids Nursery Decor.
Tags for the product are advent calendar, wooden advent calendar, advent calendar for kids, home decor, nativity set.
2. Digital Planner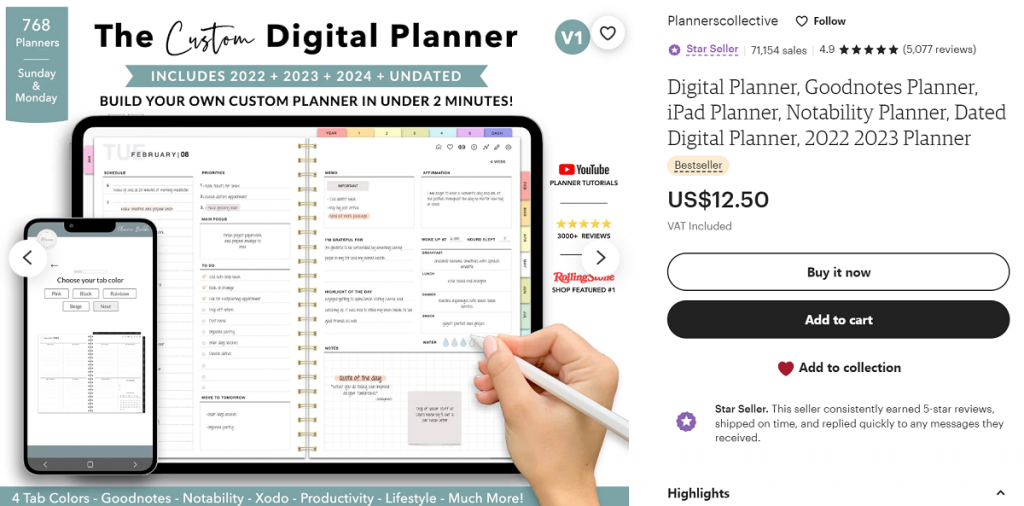 The product is a digital download and it is for those planning their time digitally and also wishes to see their schedule on their desk at any time. It is ideal for iPad users.
As for the price of the item, it is around $10, making it enticing for users all year long. Weekly sales go up to 260 and total sales make it seem a competitive key player among others with a number of about 13.000. Reviews and favorite figures are also really high compared to others.
Titles include the following: Digital Planner, Goodnotes Planner, iPad Planner, Notability Planner, Dated Digital Planner, and 2022-2023 Planner.
Tags used as follows: Digital planner, iPad planner, notability planner, 2022 digital planner, good notes template, planner digital, best digital planner.
3. Personalized Necklace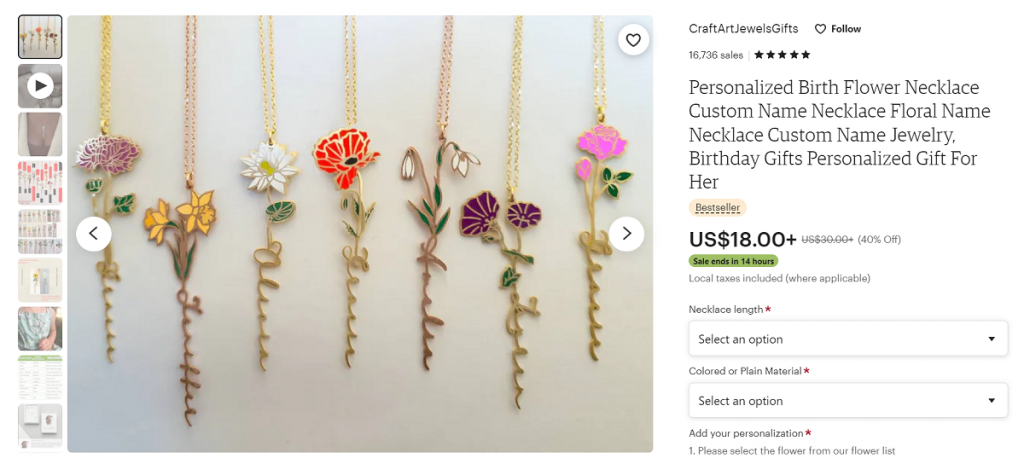 This custom-made item seems to be one of the best Etsy Black Friday deals and offers a lot of profits for sellers to meet their customers' personalized needs.
About $20 will be the price for this item. Weekly sales with a number of 189 and total sales with a number of 11.051 are powerful indicators that this product is here to stay. Having the most favorites with a number of 33.152 is one of the most significant parts of this necklace type.
Titles: Personalized Birth Flower Necklace, Custom Name Necklace, Floral Name Necklace, Custom Name Jewelry, Birthday Gifts, Personalized Gift for Her.
Tags: Custom necklace, flower necklace, birth flower, personalized, minimalist necklace, floral necklace.
4. Wooden Name Sign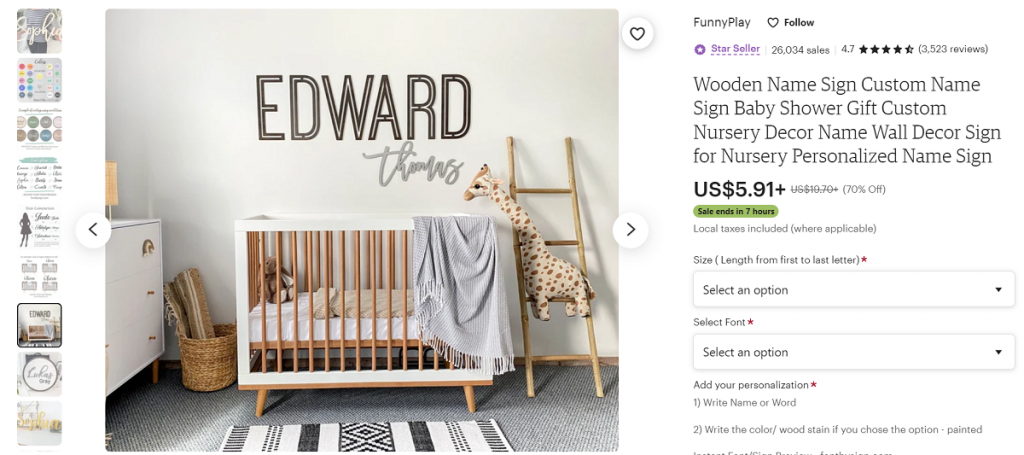 This is again focused on customized purposes. It can come in different sizes but is tailored to suit your needs with Etsy Cyber Monday deals.
The price is around $6, and weekly and total sales are 133 and 8.940 accordingly. The best part of the item is having a lot of reviews with a number of 1.653. A considerable number of shoppers added this personalized item to their favorite lists with a number of 25.359, making it a great choice for events.
Titles: Wooden Name Sign, Custom Name Sign, Baby Shower Gift, Wall Decor Sign for Nursery, Personalized Name Sign.
Tags: name sign, wooden name, wood letter name, newborn name sign, wooden sign.
5. Mini Magnet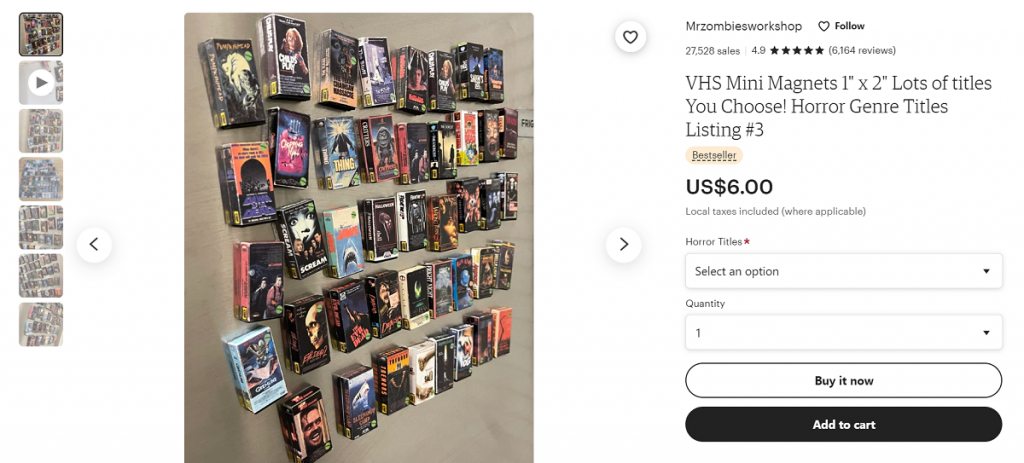 This item is aimed at personalizing your beloved ones with unforgettable memories.
With a price of $6, the product has 111 weekly and 2.222 total sales. It has 574 reviews totally and 4867 favs, making it a compelling item in the arena.
It has the title of VHS Mini Magnets.
Tags include the following: Michael Myers, magnet, horror movie, Halloween, horror, 80s horror, horror movies, VHS, mini VHS, custom horror.
6. Montessori Puzzle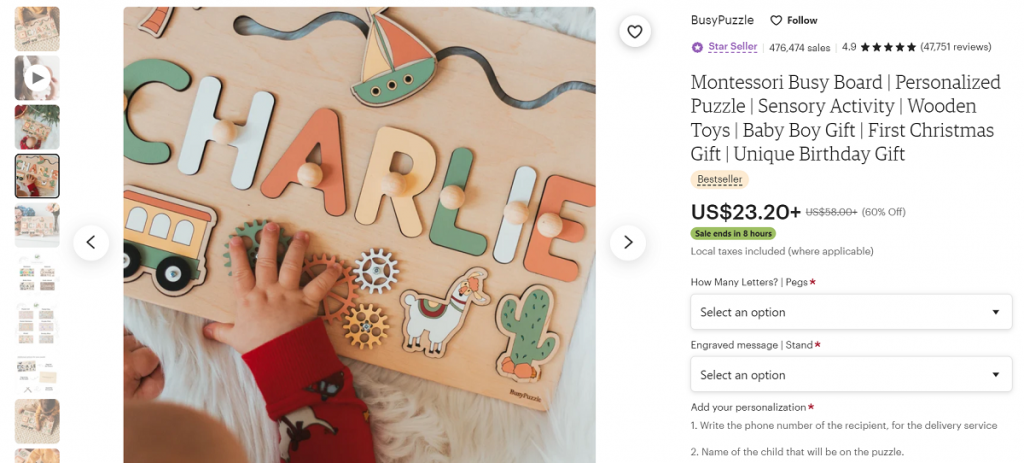 The philosophy behind toys like the Montessori Busy Boards is straightforward: Real toys. Mostly Wood. Not Too Many. It aims to improve kids' puzzle solving skills through creative types of activities.
Its price starts from $23 and changes based on the letter count. While weekly sales are 111, total sales of the item are about 8.600. Besides the number of 433 reviews, it has a considerable number of 24.670 favs. This store also has Etsy Star Seller Badge
Titles: Montessori Busy Board, Personalized Puzzle, Sensory Activity, Wooden Toys, Unique Birthday Gift.
Tags: Wooden busy board, personalized puzzle, baby boy gift, Montessori toys, gift for toddlers, name puzzle, 1st birthday gift, wood name sign, Montessori board, child nursery decor.
7. Leather Purse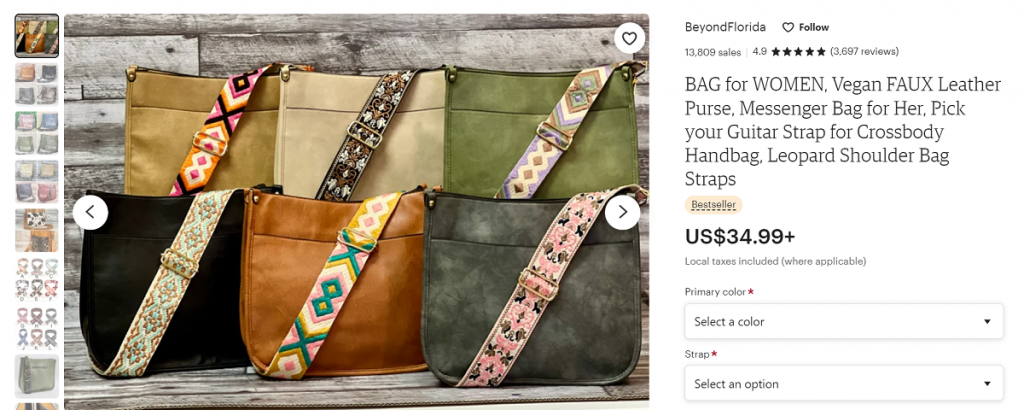 Your buyers will love these Vegan Leather Crossbody Bags. This item is customized with mobility bags, making you feel special and charming.
The price for the item is $34.99 and sales go up to 97 weekly. Total sales are nearly 2.000 and it has a good record of reviews and favs.
Title: BAG for WOMEN, Vegan FAUX Leather Purse, Messenger Bag for Her, Leopard Shoulder Bag Straps.
Tags: Bag for women, vegan leather purse, faux designer bag, messenger bag, replacement strap, cute purses, cross body bag.
8. Sunset Ring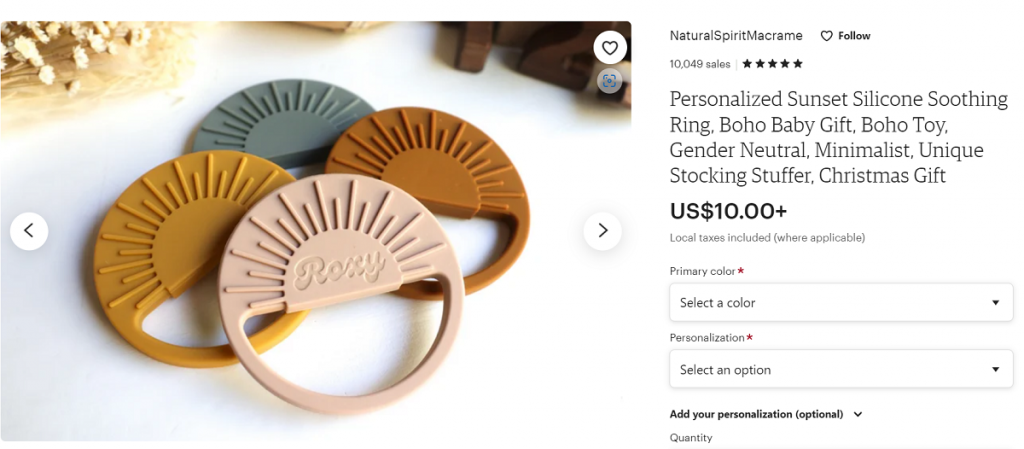 These premium silicone sun soothers are an excellent accessory for any baby or toddler. It is also a spectacular option if you want to give a thoughtful personalized gift.
The price of the product is $10. It has the number of 1.878 of total sales. In terms of reviews and favs, it is a competitive player for the best stores for Black Friday.
Titles: Personalized Sunset Silicone Soothing Ring, Boho Baby Gift, Boho Toy, Gender Neutral, Minimalist, Unique Stocking Stuffer, Christmas Gift.
Tags: Sunset, sunrise, sunshine, boho gift, engraved, personalized, personalized gift, baby gift name, boho, hippy, nineties nostalgia, sunshine theme baby, simple baby gift.
9. Initial Letter Necklace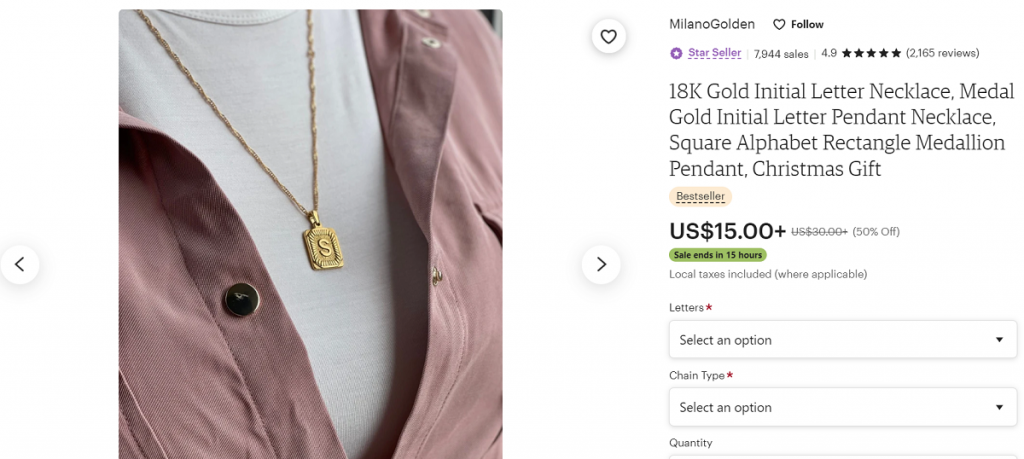 This item is aimed at making people happy through gold jewelry.
The price for the item is $15 and sales for it are quite promising with the number 2.303 total sales. 750 reviews and nearly 4530 favs are other important figures.
Titles: 18K Gold Initial Letter Necklace, Medal Gold Initial Letter Pendant Necklace, Square Alphabet Rectangle Medallion Pendant.
Tags: Monogram necklace, bridesmaid gift, gold filled necklace, initial necklace, letter necklace, gold initial pendant, name necklace gold, waterproof necklace, vintage necklace, gold chain necklace.
10. Family Birthstone Necklace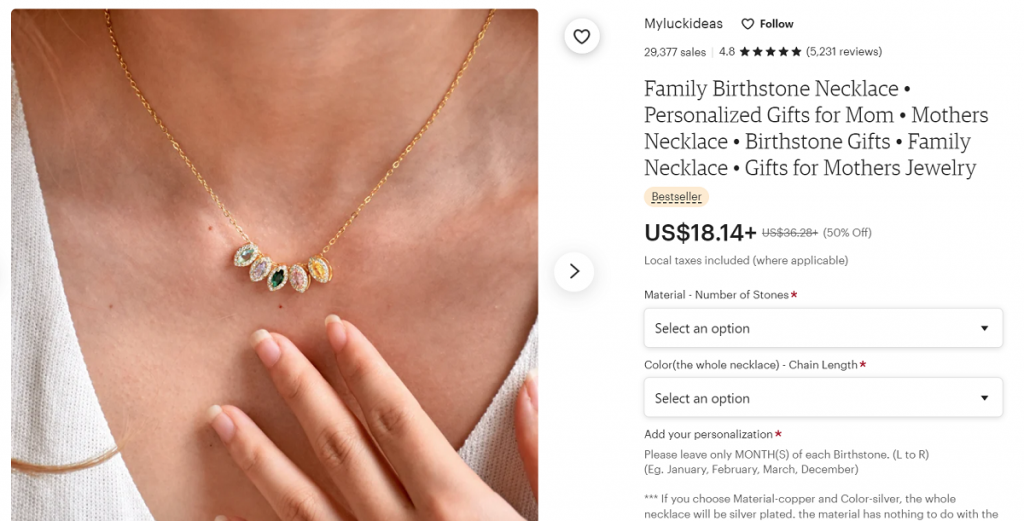 The next Etsy Cyber Monday week idea is a necklace. These necklace types are specifically designed for mothers. This pendant is uncomplicated and sparkling with one to ten customizable stones of your choice
As for the price, it goes around $16. Weekly and total sales are 88 and 2.325 accordingly. Reviews and favs are satisfactorily good.
Titles: Family Birthstone Necklace, Personalized Gifts for Mom, Mothers Necklace, Birthstone Gifts, Family Necklace, Gifts for Mothers Jewelry.
Tags: There are many related tags involved.
11. Couple Portrait from Photo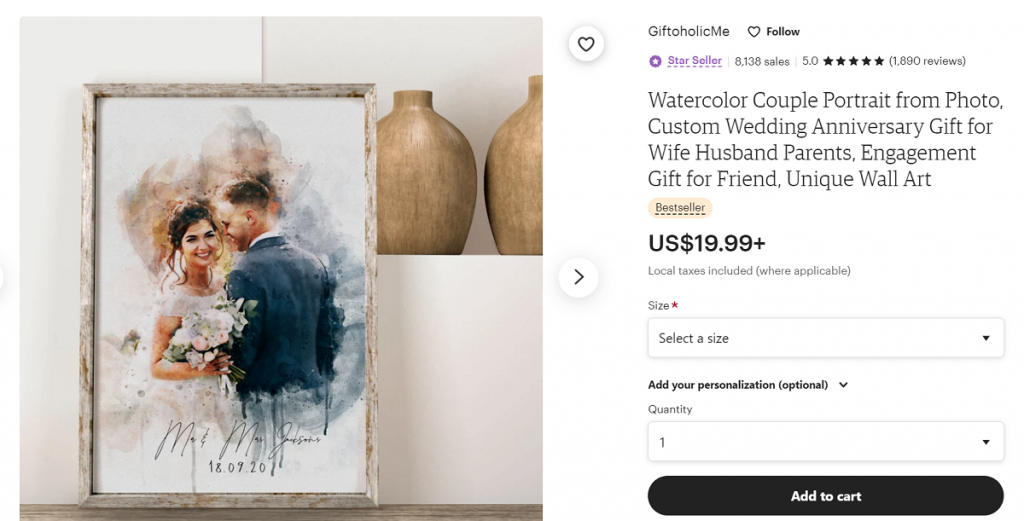 The next Etsy Black Friday idea is portrait. This customized photo portrait is ideal when it is prepared with the name on it. It is a perfect gift idea for spouns, for anniversary, a shining present for best friend's wedding, engagement gift for loved ones and many more.
The product is nearly $20. Overall sales are 3.022 and 7.380 shoppers added it to their fav list. Reviews with a number of 548 are also enough to get a general idea.
Titles: Watercolor Couple Portrait from Photo, Custom Wedding Anniversary Gift for Wife Husband Parents, Engagement Gift for Friend, Unique Wall Art.
The seller did not include any tags for this product. Use EtsyHunt - Etsy Tags Tools For Etsy Hunt to discover related tags.
12. Book Sticker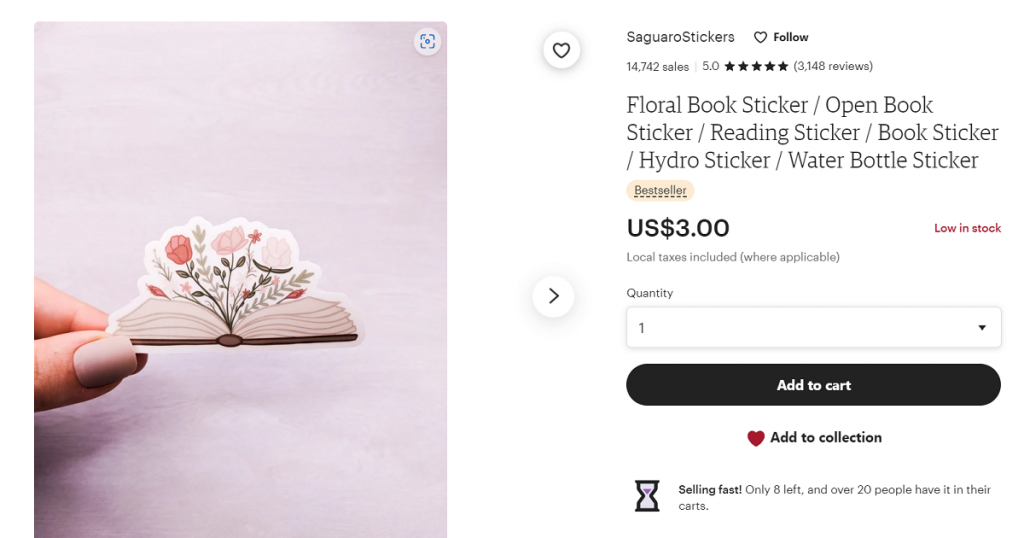 The item is perfect for bookworms. It can also be used on bottles as well.
The price is $3. 1.757 pcs. were sold in total. 289 reviews and 4398 reviews are great numbers if you take a closer look at the item.
Titles: Floral Book Sticker, Open Book Sticker, Reading Sticker, Book Sticker, Hydro Sticker, Water Bottle Sticker.
Tags: The seller did not include any tags for this product.
13. Flower Ring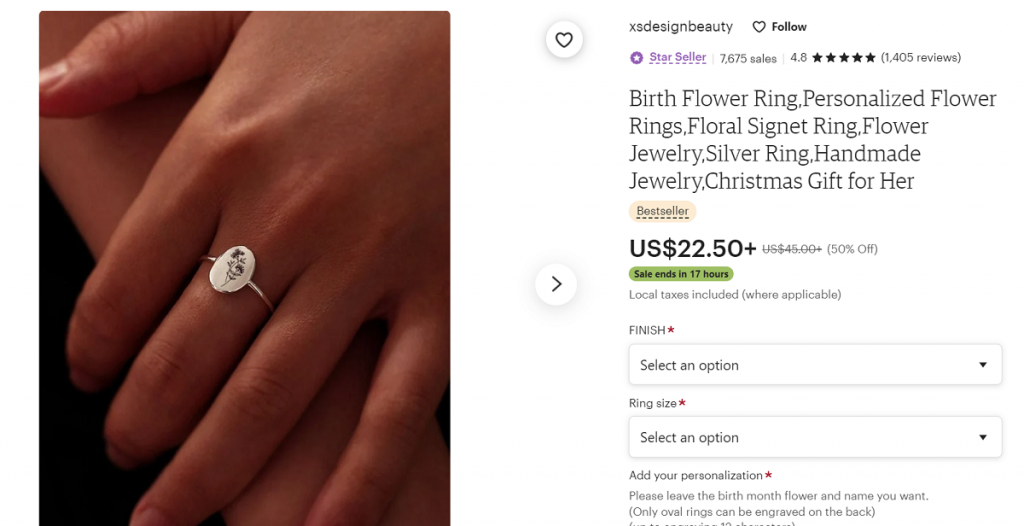 These handmade rings are great gifts, particularly for girlfriends.
As far as the price is concerned, it is around $23. Total sales reach up to 1.712. Total reviews and favs are 187 and 4.597 consecutively.
Titles: Birth Flower Ring, Personalized Flower Rings, Floral Signet Ring, Flower Jewelry, Silver Ring, Handmade Jewelry, Christmas Gift for Her.
Tags: The seller did not include any tags for this product.
14. Wooden Name Tag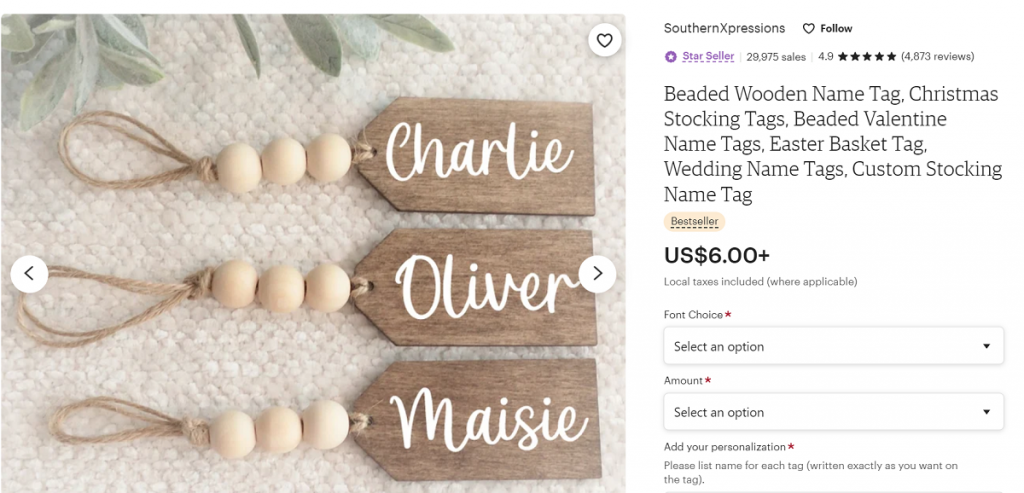 This tag is durable and everlasting as well as being enticing.
It is around $6 and has 84 weekly sales. The item has nearly 2.100 total sales and is pretty promising in reviews and favs as well.
Titles: Beaded Wooden Name Tag, Wedding Name Tags, Custom Stocking Name Tag.
Tags: Beaded stocking tags, wooden stocking tags, wooden gift tags, tags for stockings, wooden name tags, beaded name tags.
15. Car Air Freshener
The selection offers you a variety of options as a gift or for daily use.
It is nearly $11. As for the weekly sales, they go up to 81. Reviews of 286 shoppers and 4.005 favs are significant figures in this regard.
Titles: Custom Air Freshener, Air Freshener, Personalized Gift.
Tags: Custom air freshener, car air freshener, personalized gift, vinyl air freshener, car accessories.
16. Custom Belt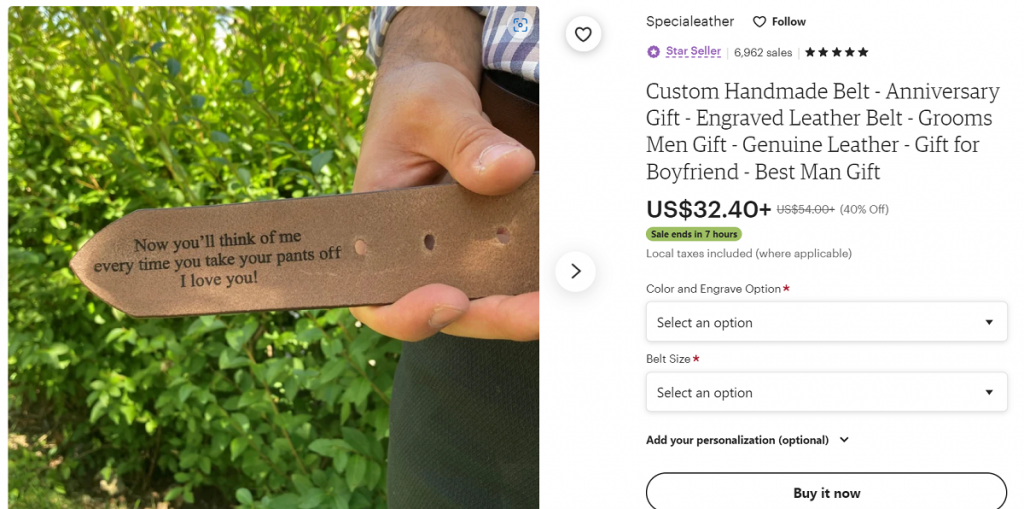 It seems to be one of the best gifts for men during Etsy Black Friday.
The item is $27. Weekly and total sales are 79 and 3.423 accordingly. Thanks to its customized nature, it has a huge number of 7.887 favs.
Titles: Custom Handmade Belt, Engraved Leather Belt, Genuine Leather.
Tags: Personalized leather, personalized belt, genuine leather belt, gifts for men, leather gift for men, belt full grain, men's belt handmade.
17. Neon Sign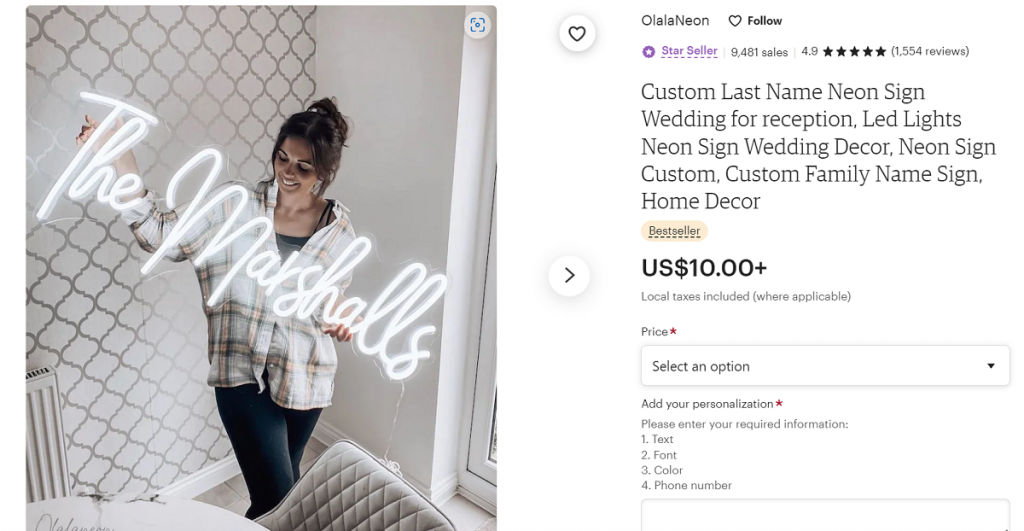 It is perfect for wedding ceremonies accompanied by Etsy Cyber Monday sales.
The item is $27. Total sales are 1.593 and it has satisfactory figures both in reviews and favs with numbers 224 and 4.113 consecutively.
Title: Custom Last Name Neon Sign Wedding for Reception, Led Lights Neon Sign Wedding Decor, Neon Sign Custom, Custom Family Name Sign.
Tags: Neon sign, wedding neon sign, custom neon sign, personalized gifts, neon bar sign, wedding name sign, wedding signs, name neon sign, custom signs, last name neon sign, neon light.
18. Hoodie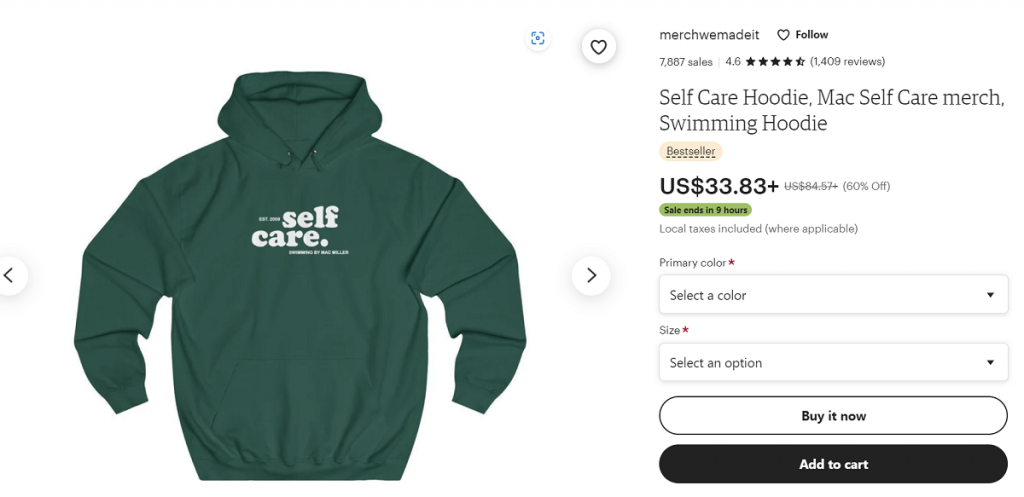 It can be a personal gift or casual wear and sounds like a perfect choice:)
This piece of clothing is about $33. The number of total sales is 1589. Reviews and favs are also significant enough to get the gist.
Titles: Self Care Hoodie, Mac Self Care Merch, Swimming Hoodie.
Tags: Mac Miller, self care, circles, swimming, Merch, hoodie, sweatshirt, hip hop.
19. Minimalist Earrings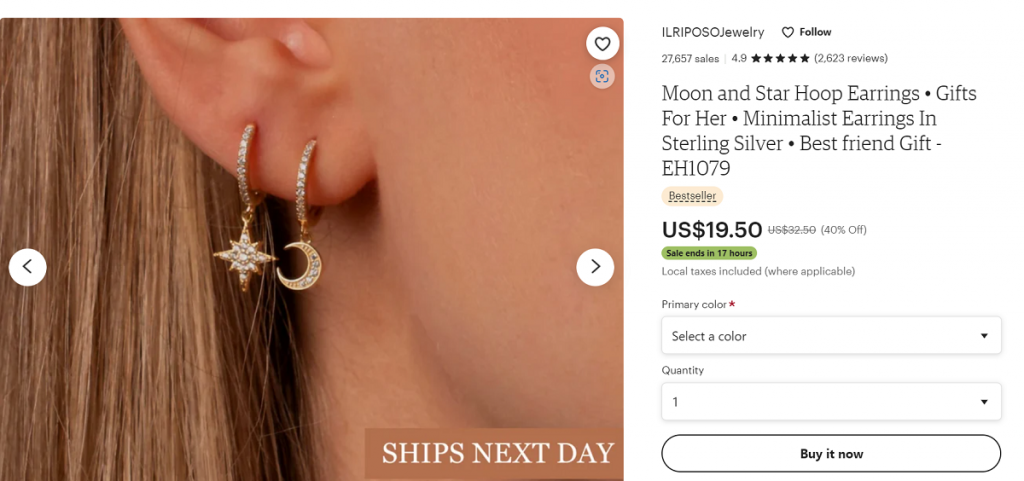 These earrings will definitely give a shiny finish on the general outlook.
The price for them is about $20. Weekly and total sales are 77 and 1.549 accordingly. The best thing about them is having a number of 4.274 favs.
Titles: Moon and Star Hoop Earrings, Gifts for Her, Minimalist Earrings in Sterling Silver, Best Friend Gift.
The seller did not include any tags for this product.
20. Leather Cat Collar
This collar will make your cat feel special for sure with their name on it.
As for the price, it is nearly $7. Total sales for it are 1.474 and it has great reviews with a number of 629. 2.418 shoppers have added this to their fav lists.
Title: Leather Cat Collar with Name, Personalized Cat Collar, Engraved Custom Cat Collar.
Tags: Cat collar, custom cat collar, personalized collar, cat collar with name, kitten collar, pet collar, cat collar leather, engraved cat collar.
Final Thoughts
As people from all around the world place special importance on these two occasions, sellers should see them as a springboard to boost their sales during Etsy Black Friday & Cyber Monday.
20 practical ideas concerning these once-in-a-year events have been shared in this article. It has become crystal clear that custom-made items and tailored products get the most attraction compared to others.
With these ideas in mind, sellers are to take advantage of them to the fullest. It would be wise to do detailed product research as we did in the article. Now may be the best time to take action.
FAQs
1. Does Etsy have Black Friday or Cyber Monday discounts?
Sure it does. It is full of opportunities with discounts and coupons. Shoppers across the globe seize the benefits of these widely available events
2. How long is the Etsy Cyber sale?
Contrary to what is expected, Etsy Cyber week will take ten days instead of eight, giving shoppers more flexibility with discounted prices.
---
Scale Your Etsy Business Now!
100K+ people are using this free Etsy seller tool. Are you next?
Get Started for Free