How to Sell Digital Downloads On Etsy: Backed by Real Cases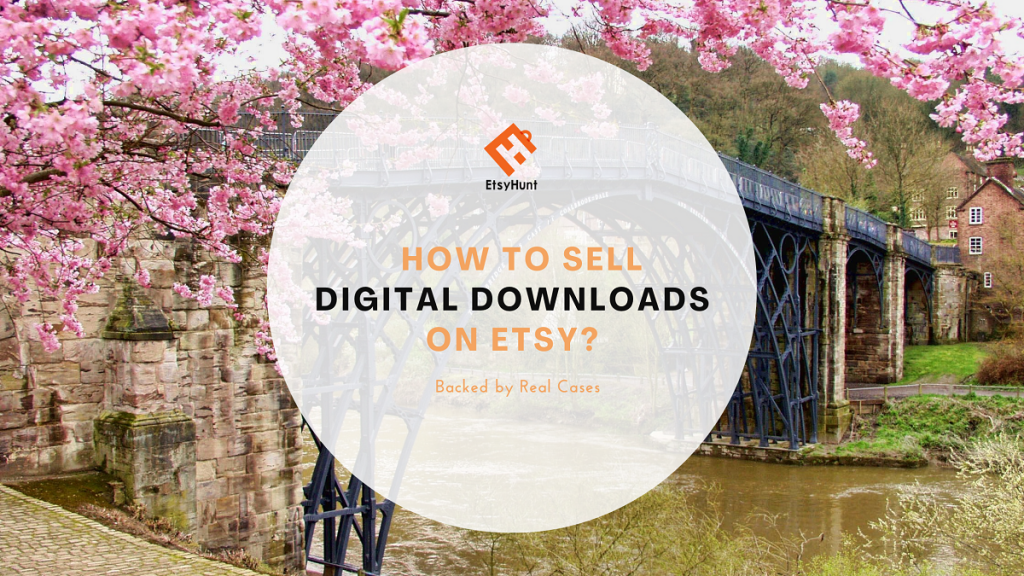 It would be a wonderful idea to learn how to sell digital downloads on Etsy in terms of reaching new shoppers, making much more profit, having a passive income, and definitely improving yourself in that particular area.
The most remarkable part of selling digital downloads on Etsy is that you do not have to deal with the issue of shipment physically. So, what about other advantages? In this article, we'll generate a detailed guide to find an answer for "How to sell digital downloads on Etsy?" with the required tools, the pros of selling digital downloads, sample products, and tips&tracks.
Selling digital downloads on Etsy
Selling digital downloads items like pieces of art, templates, or specific designs or patterns has always been popular on Etsy. But it has gained much more momentum over the last five years especially when the digital revolution has been on the rise.
Sellers on Etsy with a unique style of design, templates, and crafted materials also use it to grow their business in digital forms, meaning they turn their creativity into downloadable digital pieces of art. These include sewing designs, party templates, different types of CV genres, and much more. But, you will need some tools to create digital items.
What tools are needed to create digital downloads to sell on Etsy?
You need to have basic knowledge and expertise in this field in order to find an answer to the question of how to sell digital items on Etsy. Plus, you should have some software programs and graphic designing tools in hand so that you will be able to use your imagination and creativity to the fullest.
Some of the tools are free of charge for users to get familiar with creating an unusual design whereas in others you may be required to pay for it. In either way, those enthusiastic about selling digital downloads on Etsy have to pay close attention to designing extraordinary pieces of art.
Enough chit-chat, let us see some of the most popular ones. Because you have lots of things to fulfill in order to acquire a good conversion rate on Etsy. A learning tool is just one of them. Bear in mind that, you may always refer to the full list if you wish to delve into this incredible world of creativity.
1. Canva
This DIY (Do It Yourself) design tool helps you create the items like workbooks, Ebooks, or graphics you wish to sell on your online shop such as Etsy. Pre-made templates enable you to design your products within days.
2. PicMonkey
Another great platform to get with additional and functional templates is PicMonkey. Its unique drag-and-drop editor assists users in creating printables and graphic sets in a very short period of time.
3. Adobe Spark
It is just perfect to design social graphics, electronic books, short videos, web pages, and much more within minutes. No special design skills are required and do it your way easily and efficiently.
4. Google Docs
This free tool, like Microsoft Word, enables you to create all sorts of documents in the way you want. Worksheets and printables are prepared on this tool as well. It is also possible to add various types of fonts, images, and cliparts to customize your design.
5. Beacon
Last but not the least, this platform is ideal for creating professional lead magnets. Publishing those lead magnets on your site causes convert more website traffic into leads.
5 advantages of selling digital downloads on Etsy
Passive Income
It means it requires working as hard as you can to create your digital design. Once you have done it and made it ready for selling, you are good to go. You do not have to work on the item over and over again.
Yes, you can make some minor changes to the details or how it looks; however, it is just for a shiny finish. As long as you have a listing of the product on your online shop on Etsy, you make a considerable amount of money from it.
No Shipping Cost
Since this is a digital download or printable, the seller does not need to pay any money for shipment nationally or overseas. Shipping may be sometimes a nerve-wracking procedure both psychologically and most of the time financially if not handled with care. When you normally want to ship your item internationally on Etsy, you may be required to pay high shipment fees, custom tax, and so on.
Trustworthy platform
It has always been, and is still, a great concern for shoppers not to be able to download the item they have bought online. They may be faced with online fraud or may be exploited by some swindlers.
Etsy plays an outstanding role especially in selling digital downloads by providing the customer with full support in the sense that the platform makes sure that the shopper got the exact item he/she ordered.
No need to stock products
Warehousing and storing oftentimes cost a great deal of money. Needless to say, it is the sheer advantage of selling digital downloads on Etsy is to enjoy their imagination and productivity without stocking any physical items in their depots.
No return and refund
The most important point to consider is that once the digital items have been downloaded, no returns and refunds are accepted. It is crucial, though, that sellers on Etsy should state them clearly on their shops beforehand. Refunds, returns, and exchanges are always on the hot list when considering any change with the product.
How to list digital downloads on Etsy?
Two categories appear when shoppers want to discover how to sell digital downloads on Etsy:
Instant Downloads: These are the premade files that buyers can access in no time once they have made the purchase.
Made-to-order downloads: Sometimes buyers may specify a detailed point in a product and may want sellers to customize it in accordance with their needs.
Just to give an example, let's go with the made-to-order digital listing procedure:
Select Digital item under Type to create a made-to-order digital listing
Go to Listing Details.
Find About this listing.
Go to the When did you make it? Dropdown.
Select Made To Order.
Would-be sellers should be familiarized with the procedure of how to sell digital downloads on Etsy. In that way, they will get to know the fundamentals and details of it thoroughly. If you want to go deeper and get a full understanding regarding how to add and list your digital items, Etsy Help is the ideal place for you.
Discover Top 10 Best Digital Products with EtsyHunt
Now onto how to make it a success story with the help of EtsyHunt Shop Analyzer. Get ready to see the living proof of this growing business of selling digital downloads.
You can find many Etsy stores that sell digital downloads under the category of Paper&Party Supplies. So, you can select the category to filter results. Furthermore, you can shortlist the result by other features like total sales, reviews, favorites, labels, etc.
When you scroll down the page, you will explore hundreds of Etsy stores selling digital downloads. Click any store that you want to examine deeply. In addition, you can see each store on Etsy.
We will focus on 10 real cases that include Etsy stores selling digital downloads.
Printable Planners
Danielle Wood started designing functional planner inserts years back to help people get and stay organized. She began using the platform as a perfect starting point to boost her business and become a key international player in selling digital downloads on Etsy.
She created SewMuchCrafting on Etsy and her shop is a Star Seller, meaning that she has a history of 5-star reviews, sending the item punctually, and responding quickly when a problem arises.
She and all digital sellers on Etsy do not have to tackle shipping goods nationally or internationally in physical terms. It is a massive burden on sellers' shoulders most of the time. They just go creative by making unique designs about planners and send them to those ordering on Etsy without any shipping fees, which makes selling digitals a really appealing field of work.
Social Media Templates
Another successful sample for selling digital downloads on Etsy is creating templates for social media platforms. And CONTENTdesign is exactly the perfect place with unique designs and affordable prices. It is ideal for bloggers, branding, marketing, and much more. This shop enables you to simplify your marketing workload with ready-to-use templates.
Wedding Printables
Weddings have always played a vital part in our lives. With over 28.000 sales of wedding printables, BlushPaperieShop has been an amazing story of success creating wedding templates. The best part is that DIY is central to this shop, enabling shoppers to control both the design and printing location.
Cosmetic Label
If you are confused to find the answer to the question of how to sell digital downloads on Etsy, cosmetic labels can be a perfect choice. OliviaLabelFactory is a great shop on both labels and waterproof name stickers. These handmade labels offer a great variety of product selections. All you have to do is to use them in the correct place and make your items shine!
Phone Wallpapers
When it comes to creating wallpapers for phones, it is Dayana's job at DayanaStudioArt to design hand-drawn artwork with love and passion. In addition to being a bestseller on Etsy, she also focuses on customized wallpapers to meet the expectation of her customers.
Logos
Every business has to possess a good-looking logo to present themselves with an outstanding appearance. For this, Micklogo is here with amazing logo alternatives ranging from pre-made ones to custom logo designs. The team in the shop will certainly give your brand a perfect look!
Business Cards
The shop amyableprints from India creates excellent business card solutions for your business. The items presented in the shop are handcrafted and tested to meet buyers' business needs. It is aimed at helping small business owners with basic, elegant, and easy-to-use business templates and designs which are completely customizable and may be printed at the comfort of their home.
All of the products are instant downloads, meaning shoppers do not have to wait for downloading for a long time. Hence, this can be an amazing alternative to selling digital downloads on Etsy.
Cafe/Restaurant Printables
Restaurants generally display cool menus to attract customers. uPrintables is of great help to owners in this regard. It enables buyers to customize their menu printables to suit their specific needs with its instant downloads.
Resume Templates
If you have graduated recently and are searching for a professional-looking resume, GetLanded is the ideal place for you with unique template designs. It also provides you with a ton of killer tips to use. The employer is more likely to say YES to your application form.
It offers you a great variety of different resumes in different branches. GetLanded is a star seller and takes you to a higher level in creating and customizing your resumes perfectly.
Zoom Background
Last but not the least, Zoom and other online meeting platforms have been in our lives since the pandemic hit the world. When you want to show your personality and would like other people to get to know you better, Waudle is here to help you out with amazing background styles.
Conclusion
Having the knowledge of how to sell digital downloads on Etsy gives potential sellers the edge over other selling methods. It is not only because there is no shipment fee but also it enables you to design unique pieces of art, templates, printables, and much more.
There are incredibly useful and easy-to-use tools and programs for potential sellers to be aware of how to design and imagine items that are unusual in some way. Tools like PicMonkey and Google Docs allow you to push and challenge your limits as much as you can.
If you would like to be a key player in terms of selling digital downloads on Etsy, you may get to know how to list your items on the platform. Of course seize the advantages to do that such as no shipping cost, no need to stock, etc.
Ultimately, ten successful sellers have been pinpointed to show how to sell digital downloads on Etsy. These entrepreneurial strategies give potential sellers insights into this world of selling digital printables. Let your imagination and productivity flow and have a shiny finish on Etsy.
Are you selling on Etsy? Join EtsyHunt to
Reduce Costs, Increase Efficiency.
Start for Free