What to Sell On Etsy and How to Optimize Your Shop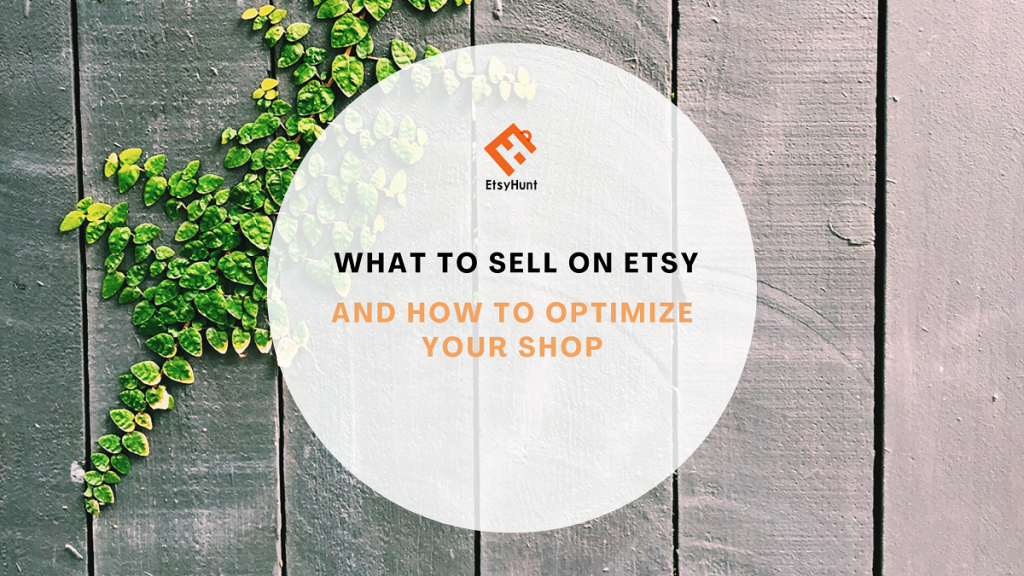 Etsy is one of the best digital shops for people to list their products. Buyers can browse large catalogs including different products: from furniture to jewelry, clothing, art, or toys. Everything is adapted for the buyer's necessity, so they do not have to search elsewhere.
How to Start Selling on Etsy
For those newcomers looking to know what to sell on Etsy, it is important to mention that before jumping right into it some things need to be addressed.
Etsy is a trendy and trustworthy platform with millions of active shoppers daily. It's the perfect spot for those handmade artists, custom-made and vintage lovers.
Setting up an account to start selling is very easy compared to other shop platforms. All users need is an active mailing ID and items ready to be sold to begin using Etsy.
Fees apply to 20¢ per listing, and these are valid for four months. After that, creating a shop is simple: choosing the preferences, language, currency and location are straightforward steps.
Then, a name needs to be chosen for the shop. It's advised to pick a catchy one for users to remember. Reflecting on what the user sells is also a good idea.
Adding photos, descriptions, and tags along with the price for each item is the following step before the last one: setting the shipping and payment method. Different angles and good-quality pictures are necessary since it gives the buyer an idea of what he is looking at.
Choosing What to Sell with EtsyHunt
Sometimes, setting up a shop and listing products isn't enough to get a store running smoothly. But there is no need to worry. There are many online tools to improve analytics and sales. One of them is EtsyHunt.
These analysis tools provide many benefits not only for customers who want to search faster and more effectively but also for sellers. Its world's largest database of Etsy products allows users to surf through millions of listings and optimize them by comparing tags, fees, keywords, and operations.
Etsy Shop Ideas
It is important not to copy from others, but to take inspiration. This is very simple to do with EtsyHunt. The shop analyzer gives users an almost endless list of products related to what they're looking to sell.
You will also be able to see the large number of businesses that make up the platform. Check what they sell, how their products are displayed, and how they write their bio. This can give you an overview of how to set up your shop and what to sell on Etsy.
The resource also lets users filter for more deep research, such as where the shop is from, its reviews, how many favorites it has, and if it's a star seller.
What to Sell on Etsy
Since it's a huge place, millions of items are available to search for. Thanks to EtsyHunt, it is very simple to know which products sell more, giving a big advantage in order to increase sales. This is the list of the most sold products on Etsy:
Craft and Supplies
Handmade Items
Jewelry
Wedding Decor
Accessories
Party and Planner Supplies
Clothing
Vintage Items
Home and Living
Art
Craft and Supplies
Among all the categories that stand out on Etsy, craft and supplies are the most searched ones. Users can sell many things that fit this category, including crafting essentials, miniatures, different kinds of tools, beads, and more. Stickers, many types of charms, hooks, and claws also fit this tag.
Stickers are the top sellers and the stars of the show in this category. They are sold extremely fast because of their cute and sweet designs, able to personalize almost anything. Also, people can't get enough of them.
Other supplies like sewing products compete face-to-face with stickers. This activity is one of the most common handcrafting types, and many shoppers sell it. You can get your own sewing supplies and create pieces of clothes to sell yourself with it! Needles, kits, and treads have almost 5 million views monthly.
Do you have no handcrafted supplies and don't know what to sell on Etsy? You're covered too. Fabric supplies such as face masks, dog collars, leather, and linen are also requested. With more than 2 million viewers monthly, this market could be a good option to start a shop.
Handmade Items
Many buyers usually feel connected to those items that other users usually make. Paper designs, pedants, metal jewelry, and handmade stickers are the most sold products in this category.
For example, birth flower handmade necklaces, natural crystal beads, and personalized vegan soaps are the top trending ones in this tag. Along with rings and other metal jewelry, they all sell more than 120+ items weekly and more than 2000 monthly, making it a good shop starter option.
Jewelry

Being another of the most appraised sections of Etsy, jewelry categories have a lot of products to search for. Most of it is self-designed and heavily customized, with minimalistic designs. There is a huge amount of users with creativity, making them perfect custom jewelry creators.
The most sold pieces of jewelry are necklaces and rings. Inside this category, the top picks are monograms, name necklaces, and bands from personalized jewelry shops. At the same time, Necklaces occupy more than 57% of the sales in this category.
Another experienced Etsy shop tip is to include elegant or theme-fashioned jewelry boxes along with the sold product. It adds a nice presentation to the item and a first good impression to the person who opens it.

Wedding Decor
People love planning weddings with anticipation, and Etsy can be the perfect place to find what they're looking for. There are many ideas to take from Shop sellers to create and sell products that will help buyers to throw their parties. Wedding card invitations, dresses, and much more are usually handcrafted.

The image shows that the numbers in this category are extremely good. With a whopping 10 million views and more than 7000 monthly sales, starting to sell wedding products is a very good idea. Keep in mind that competition is also very high, so the product needs to be of high quality in order to succeed.
Themed weddings seem to be a trending topic too, where Etsy shops offer combos and sales of a specific theme. Destination, vintage, eco-friendly, woodland, and circus are the most picked wedding themes.
Accessories
Accessories are always trending items in every shop, and Etsy isn't the exception. Trendy caps, hats, scarves, bands, pins, cufflinks, crowns, and many more things can be found. It is possible to also filter by age, and find anything suitable for toddlers, children, and adults.
EtsyHunt analysis shows that products with the baby tag are the ones that people request more. Reaching almost 4000 sales per month and more than 5 million views, accessories for babies are really popular and profitable to sell.
Baby accessories come in many designs, styles, colors, and shapes, so defining the shop's theme is the starting point to give buyers an idea of what you sell. Adding new styles can be risky, but sometimes the payoff can lead you to initiate a brand new trend!
Non-related baby and clothing accessories also seem to be very trendy nowadays. Small trinkets like customized keychains, pin badges, and hair clips surpass the 110 sales per week mark and have a peak of 12k monthly.
Party and Planner Supplies
A lot of paperwork can be sold on Etsy. Catchy, cute, and brilliant calligraphic designs with planners and papercraft are sold daily. Many people use them as party decorations thanks to their many styles. Scrapbooks, stamps, and party cards are the most picked options for customers and shops.
The party supplies category also has a decent amount of sales, reaching almost 4000 monthly sold items. It has more than 5 million views per month and the competition isn't high compared to other tags.
Planners aren't left behind either. Whether virtual or physical, they reach a huge peak of 10 million views monthly. Monthly planners, life, wedding, stickers, stamps, no matter what their types are, it will be hard to fail in this category. Sales reach a monthly basis of at least 1000 per tag.
Clothing
Etsy sellers offer many types of clothing, for toddlers, children, women and men. Typographic ones, custom dresses and trendy picks to show off at the street or a party. Searching through the big collections assures that everyone will find something adapted to their color, liking, and size.
Also, EtsyHunt's research tools show that there's a huge demand for clothing, especially for babies. Since it is very common for family and friends to gift clothes when a baby comes into the world, it can be a good option for sewers.

By analyzing the data provided by the tools, it is obviously clear that there's an insane amount of people that search for baby clothes. On the other hand, sales are not that high, probably because users can't find what they're looking for or don't like the style.
That's the perfect moment for you to analyze what causes that, checking the competition and trying to improve on what others are failing. Doing so might earn you a great sales boost, along with earning good profit and fame.
Vintage Items
Etsy also allows a place for those old items that may be useless for someone but a treasure for others. People searching for what to sell on Etsy should definitely check out this category. Vintage clothes, jewelry, or any kind of collectibles are listed and sold.

Many products conform to this wide category of old-fashioned items. However, EtsyHunt research shows that black and white wall art, vintage photos, collages, and old jewelry conform to the top with more than 5k sales monthly, reaching peaks of 12k.
The list is incredibly long, and with more than 6 million views per month, it is a go-to tag if you have antique items you don't use and want to sell.
Home and Living
This category offers furniture and a wide range of items for every occasion and place of the house. While the most sold items are wall decors, prayer beards, dining, servings, and outdoor gardening, there are many more to search for.
Art
Artists who want to sell their drawings or handcrafted sculptures can list their articles on Etsy. There are unique sets of art, from digital prints, paintings and illustrations, to buy or get inspired from.
Wall prints with motivating phrases and animal art are the most demanded products, judging by their relevance and demand. The total sales of these types of art are over 10.000 per item, and almost each of them sells at least more than 50 per week.

While it is obviously noticeable that some products seem to have more success or demand than others, newcomers should stick to what they are good at. Handcrafting items where you have no skill is not probably going to give you a lot of profit, even if the tags reach 100 million views.
Doing what you're good and skilled at, even if the sales of that category are low, is more likely to give you more fame and money. You will be able to earn a name of your own and establish a niche of sorts where people will demand your high-quality products.
What You Can't Sell on Etsy
Now that you know what to sell on Etsy and about the many categories with almost endless opportunities it offers, it's vital to also remark on what cannot be sold. Violating these terms that the user accepts may end up with the related profiles being closed and unavailable.
Any type of drug, no matter if it's medical or recreational, is strictly forbidden. This, of course, includes tobacco and alcohol. Products related to animal fur or similar will be taken down. It not only applies to animals but to human remains too.
Items that promote, support, or glorify hatred and violence are not allowed. The inclusion of hazardous materials, recalled items, illegal products, weapons, and highly regulated objects is also banned. These regulated items not only apply to a country but to international regulations too.
Any sort of mature content such as pornography or gore is strictly forbidden. Used intimate items or exploitative products cannot be sold either. With that said, Etsy allows certain kinds of mature content but places restrictions that people need to disable to access it, in order to avoid offending any visitor.
Tips to Optimize Shop Sales
These are other tips that, along with using our EtsyHunt tool, can boost sales, engagement, and visibility for your shop:
Hire Photographers
It is widely known that a visually appealing presentation of a product can greatly increase a product's sales. Customers want to know everything about the item they could potentially buy, and the best way of doing so is through photography.
Consider hiring an expert photographer or using a good camera to take shots of the product. Hero close-ups with a clear (preferably white) background are the best option. A good quality provides the user a chance to zoom in and check every detail.
Take Your Time to Make a Good Shop
Creating a shop shouldn't be a rushed thing. Take a good time to think about how the shop is going to be named, what to sell on Etsy and how to attract customers. Thinking of a list of words that could describe your shop, style, and products can help to come up with a good name.
It needs to be catchy, non-rude or offensive, and very easy to remember. Users will automatically look for it if they can keep it in their minds.
Make Use of Social Media
For those looking to improve their visibility, it's important to remark how crucial social media can be for someone's success. Platforms like Instagram, Facebook, Twitter, or Pinterest are great visual media places to promote a product and gain a huge amount of followers.
You can even make use of it not only to promote but also to show off yourself and earn a name. Publishing steps about how the product was made, personal pictures, or tutorials also work to engage more personally with viewers.
There are even more tips to know about for social media newcomers. Posting often is vital to keep the audience growing. Never forget to answer comments, share stories and make good use of hashtags since it does wonder.
Using Etsy Ads
Sometimes investing a bit of money can give that small boost needed to give the shop the visibility it needs. Etsy advertisements can really aid a new store with no customers or reviews.
It boosts visibility by putting your listing items on the main page and on other relevant categories. Another tip used by experienced sellers to help increase future organic searches and improve the general ranking is asking customers for a review.
How to Raise and Keep Your Reputation with Etsy Star Seller Badge
Every newcomer that wants to learn how to sell their items on the platform has to focus on the best service possible. This is very important for anyone looking to know what to sell on Etsy.
There are many reasons to do it, especially because it's the right thing to do. Also, such excellence allows shops to earn a badge to show off, boosting the visibility of their great products and customer service.
In order to achieve it, shop sellers also need to have their accounts ordered and meet the minimum standards applied. It's vital to apply these methods from the start for your new shop to achieve the badge the fastest way possible:
Message Response Rate
This refers to how fast the seller replies to the customers. In order to achieve the badge, shops need to have 95% of direct messages replied to in less than 24 hours. It is possible to improve this by using the auto-replies service, but it only works for the initial response.
These auto-replies work only for five days and need to be reset after that. Most experienced users recommend always replying manually and setting up an auto-replies service during weekends after Friday.
Shipping Items on time
There's an account section related to every order of a shop. It displays every product tracked and its shipping times. There are two sections: on-time dispatching and tracking. The first one is related to the time a seller has to process the product and dispatch it.
Tracking is included with an Etsy label or certain products when they are above a certain price that varies from country to country. In order to get the badge, every product needs to be dispatched and received at the established times by the shop.
Good Rating
A set number of good rating products, especially 5-star ones are needed to apply for the badge status. 4-stars or less are not taken into account. In order to achieve it, answering fast, creating good quality products, and reading reviews is vital.
You can also use the EtsyHunt follow-up reminder tool to categorize all reviews and get a more panoramic view of what people think of your products.
Sending your customers a message showing them your appreciation for purchasing your product and asking for a good review works too.
Delivered Orders and Sales
Completing orders and making them ready to deliver is another big part of the badge process. At least 10 orders need to be successfully done within a specific period of time to apply. The same goes for sales. A certain number needs to be completed (canceled orders don't count).
Final Thoughts
Thinking about what to sell on Etsy is not always an easy task. There are millions of shops and products, and it can make newcomers feel overwhelmed. But with the proper guidance of tool resources such as EtsyHunt with a few other tips, it is possible to succeed.
Choosing the right shop name, offering a good quality product and the correct targeted audience are also key to boosting your business. Remember also that looking for new ideas and inspiration is ok, but never copy other people's products.
If you don't know what you could start selling, never forget that the EtsyHunt tool provides every info that you need! Its powerful database and sources will let any user see reviews, sales, prices, fees, and many other useful tips.