Etsy Valentine's Day Guide for Sellers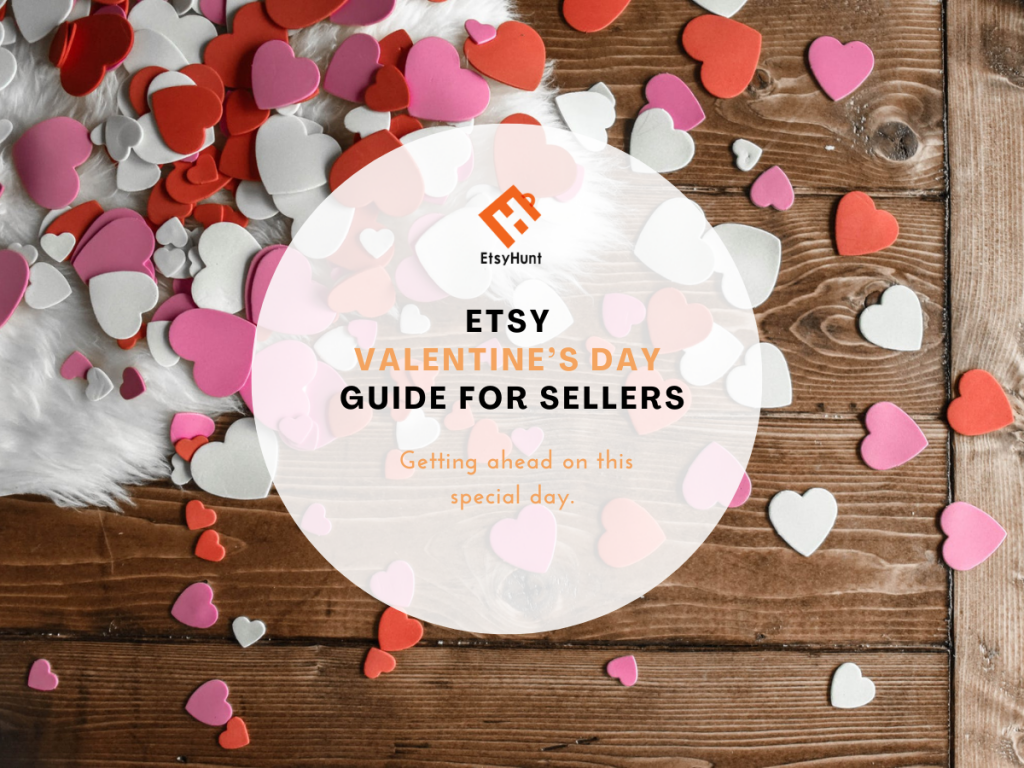 Valentine's Day is a lucrative holiday that you should not overlook. Because it is immediately following the busy holiday season in December, your first instinct may be to relax in February.
However, you should not. This Etsy Valentine's Day could be the best you had just with a little marketing initiatives and some tweaks to your Etsy SEO.
Getting ahead on this special day is a simple task. All you need is some forethought and some love-themed branding. You're already on the right track if you're reading this Valentine's Day marketing guide.
● Why is Valentine's Day a good holiday for your business?
● Which love-themed products should you promote this holiday?
● How to Promote Your Etsy Valentine's Day Products.
● How to get your Etsy Valentine's Day gifts recommended by Etsy.
Etsy Valentine's Day Marketing Guide
There's no denying that Valentine's Day is a gift-giving celebration that almost every brand can support. Marketing your products for Etsy Valentine's Day is similar to promoting your products for any other holiday. However, there are some specific matters you should pay attention to in order to get the most return on investment.
Here you have some simple steps to getting the most out of your Etsy Valentine's Day marketing:
Promote Relevant Etsy Valentine's Day Gifts
Valentine's Day gifts on Etsy can be difficult to find. Shoppers will be looking for the ideal gift for their loved one in two distinct categories:
Let's take a closer look at them:
Love-Themed Etsy Valentine's Day Gifts
These are products that have been created specifically for Etsy Valentine's Day. They include hearts, cupid's arrows, roses, Valentine's Day candy, chocolates, and anything else that represents the Valentine's Day spirit.
These are also Etsy Valentine presents that are simply romantic in nature. They're personalized lockets and jewelry, sewn teddy bears, and personalized gifts for that special someone in your life.
In general, these Etsy gifts are the simplest to market for Valentine's Day. If you sell similar things in your Etsy shop, make sure your holiday keywords are available by the time shoppers begin searching on Etsy.
It is worth promoting any products that are related to anniversaries, the general feeling of love, or romance, on Etsy to make the most of Valentine's Day.
Not Love-Themed Etsy Valentine's Day Gifts
That is, anything else available on Etsy. These are the types of gifts that people look for on their birthdays, Father's Day, Mother's Day, graduations, anniversaries, bar mitzvahs, promotions, Christmas, and so on.
Custom wooden knick-knacks, handmade shoes, picture frames, knitted scarves, anything you can think of. What makes these ideal Valentine's Day gifts is the fact that they are considerate.
Anyone can purchase a teddy bear online. However, the genuine ones will take the time to consider what is important to their significant other. If that occurs to be a product you sell, make sure they'll find it in the Etsy search.
Don't worry if you're having trouble coming up with ways to make your listings exude love and romance. Look through your inventory for pink, rose, love-heart-shaped, or sold in pairs products and variants.
Make Your Etsy Valentine's Day Listings As Sweet As Possible
Once you've decided which products to sell on Etsy for Valentine's Day, you'll need to add some sweetness to your listings. This is simple to accomplish in just three steps:
1. Start With the Physical Product
Start thinking about how you can incorporate Valentine's Day themes into the creation of whatever products you sell on Etsy.
Engrave romantic quotes and poems on red and pink yarn. If you are looking to sell a love-themed gift on Etsy, make sure your listings fall into this category.
2. Move on to Your Copy
When your product emanates love, it's time to update your Etsy listing's title and description. You want to show your customers that your item is exactly what they need for their loved ones.
Don't be afraid to use keywords related to the holiday in your title. However, before you start tossing keywords into your listings at random, you should conduct keyword research in EtsyHunt.
Once you've determined the best keywords for your listings, modify your titles and tags to aim these new Etsy keywords.
When creating descriptions and titles for your Etsy Valentine's Day gifts, keep the following in mind:
● Is your Etsy Valentine's Day gift reasonably priced, or is it a romantic gift?
● How does your Valentine's Day gift convey to the recipient that they are unique and deeply loved?
3. Your Product's Photos Are Important
When a client comes across your Etsy listing, the title and image entice them to click on your product. Which is the main reason why these two complement each other. If you update your listing pictures for Valentine's Day, your Etsy Valentine's Day marketing will become even more effective.
Emphasize your shot's lighting to give off red hues, or take photos of an embracing couple with a focus on the personalized bracelet you sell.
There's a reason marketers spend lots of time crafting a narrative around whatever they're selling. Shoppers, especially on Valentine's Day, want to experience an emotional connection to the gifts they buy for their loved ones.
This is a holiday in which you must depict undying love. One of the most effective ways to accomplish this is through product photography.
If you don't have the resources or the time, you don't have to make new photos from scratch. To catch the attention of scrolling Etsy shoppers, just by adding a few love hearts and cherubs can be enough. However, please leave the clip art aside and keep your designs clean and tasteful.
Use the Proper Valentine's Day Etsy Keyword Tags for Your Listings
It's important to update your titles and descriptions to include Valentine's Day, but don't forget about the Etsy tags.
When it comes to Valentine's Day shopping, many people are at a loss for what to get their loved ones.This is where they'll turn to Etsy, searching for "Valentine's Day Gift" and "Valentine's Day Gift for Her."
Sure, they'll be inundated with random product ideas as a result of this search. However, if you target one of these keywords, there's a chance they'll come across your product rather than your competitors.
You'll be in a good position to have more eyes on your product if your labels, titles, and descriptions are all updated.
EtsyHunt Keyword Research
In order to get your job simplified, EtsyHunt provides you with a tool capable of analyzing keywords and allows you perform keyword research.
The EtsyHunt's keyword tool is easy to use and you can search for any specific keyword and get some suggestions/similar ones to use. For this example we will search for "Valentines Day gifts":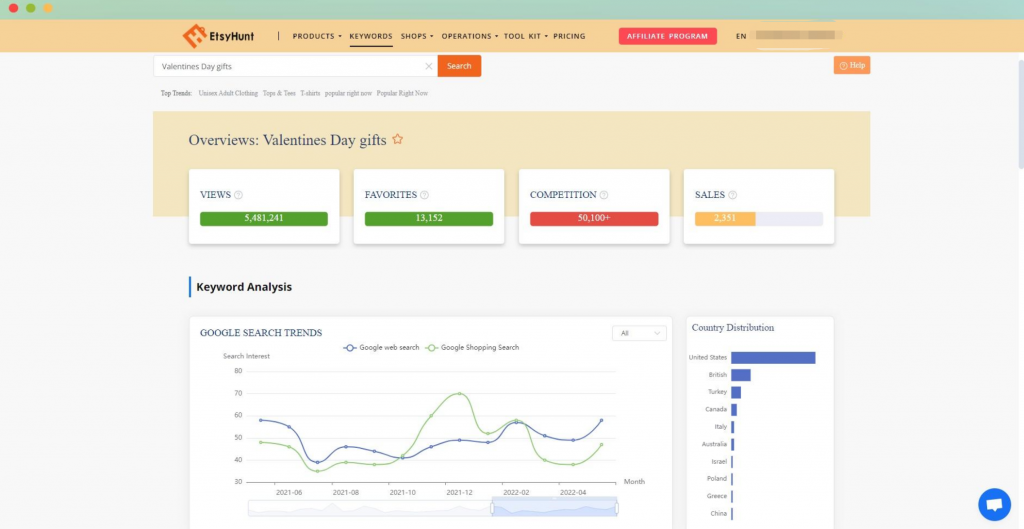 As you can see, it'll provide you with very relevant information, but also, and priceless: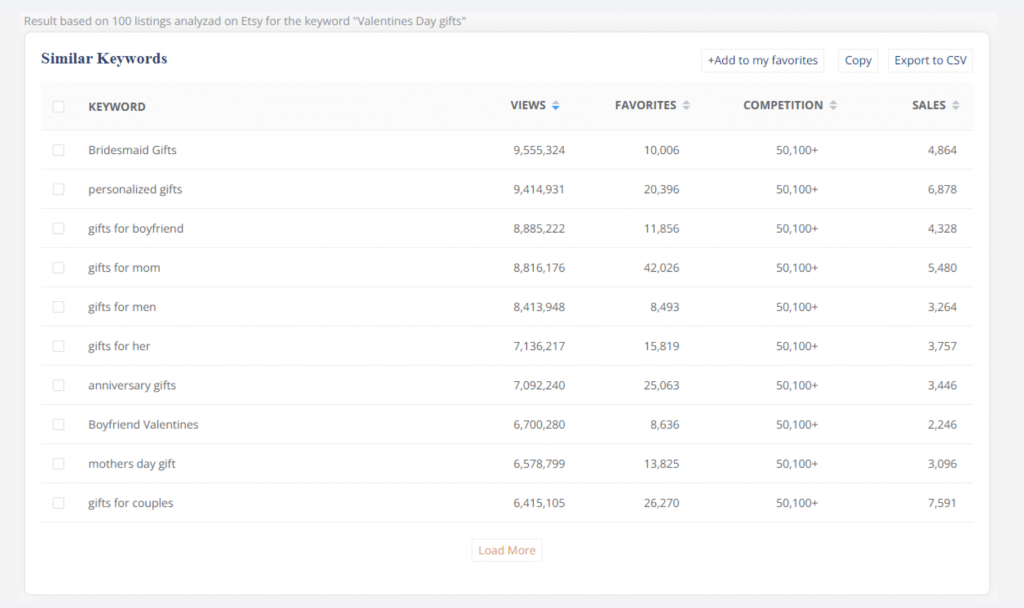 Similar keywords that you can use in your listings to increase the chances of Etsy shoppers reaching your items.
Always State Delivery Dates for Your Etsy Valentine's Day Gifts
When a customer purchases a product for Valentine's Day from you, it is your responsibility to ensure that they receive it on time. And hopefully before this special day night.
However there will always be customers that begs for their order to be delivered the next day (because they're in the dog house). While the shopper is certainly wrong to wait until the last minute, you should save yourself the hassle of a canceled order or negative review.
All you have to do during this holiday is pay extra attention to your turnaround and delivery times. Update your processing times in the appropriate sections of your Etsy shop, and make sure to include estimated delivery dates in your shopify store or even a listing photo.
Also, if you're running Etsy internal or external ads or social media campaigns, remember to make sure to stop advertising your Valentine's Day gifts. Once the last possible day to purchase and deliver it in time for this special day has passed, keeping them up would give the wrong idea to the buyers.
For instance, if you make a product that takes a week to make and another week to send, you should cut advertising 2 weeks before Valentine's Day. Unless you have stock.
Duplicate Efforts in Social Networks
Visual cues associated with Valentine's Day include flowers, hearts, reds, pinks, and cherubs. Use these themes to showcase your products on social media in the days leading up to the celebration day.
Holiday-themed social posts featuring your Etsy products are an excellent way to convert your social media followers into customers.
Run an Etsy Valentine's Day Promotion Before the Celebration Day
Time-based sales are an excellent way to capitalize on FOMO (Fear Of Missing Out). With a little imagination, you can merge FOMO and emotion to draw more attention to your products and increase sales. Use clever phrases to persuade your customers to act right away:
● "Last opportunity for romance"
● "Don't let this Cupid's arrow pass you by."
● "Love and good gifts cannot be rushed."
Let Etsy Promote Your Valentine's Day Gifts for You
The benefit of being prepared for the holidays ahead of time is that Etsy will be more likely to notice your shop. After that happens, you might get your items featured in their advertising material.
Etsy has traditionally created Valentine's Day gift guides and other promotional materials in the first two weeks of January. That means your Etsy Valentine's Day items must be available in your store by the end of December.
Don't let any more time slip by. The sooner you start planning for Valentine's Day, the better!
The Best Etsy Valentine's Day Gifts Ideas
If you're still not sure what items to offer in your Etsy listings for Valentine's Day, here are some good ideas that can help you get started.
Valentine's Day is typically associated with romantic relationships, but it could also be the ideal time to show everyone some much-needed love. And what better way to honor a loved one on this day than with a personalized gift?
Bath Bombs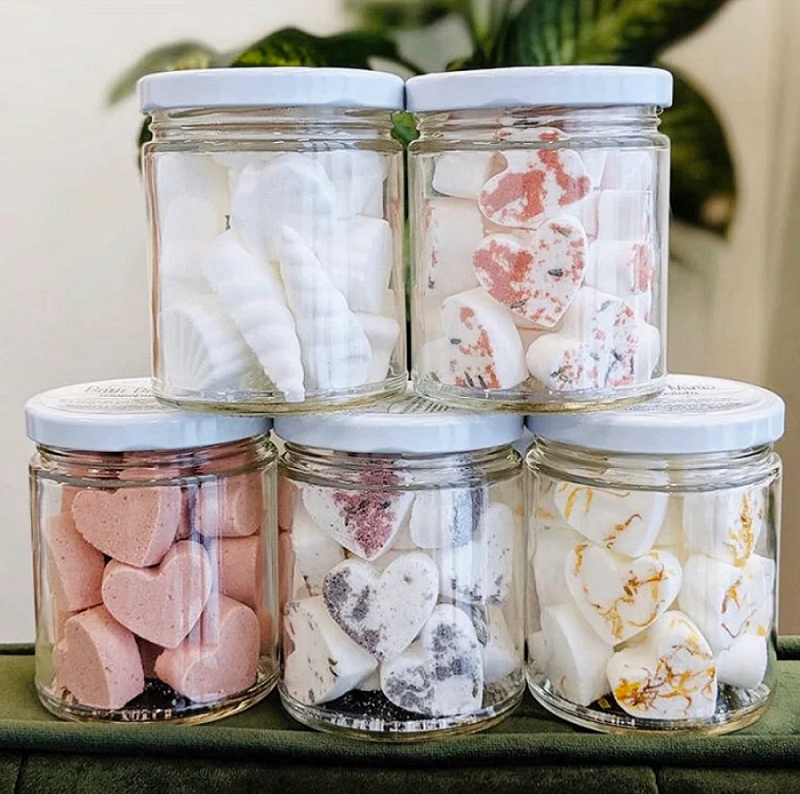 If someone is looking for Etsy Valentine gifts for someone who is serious about self-care, there are plenty to choose from. Because of their adorable shape, color, and sultry scent, a hand crafted pink heart shaped bath bomb is sure to win them over.
Custom Ring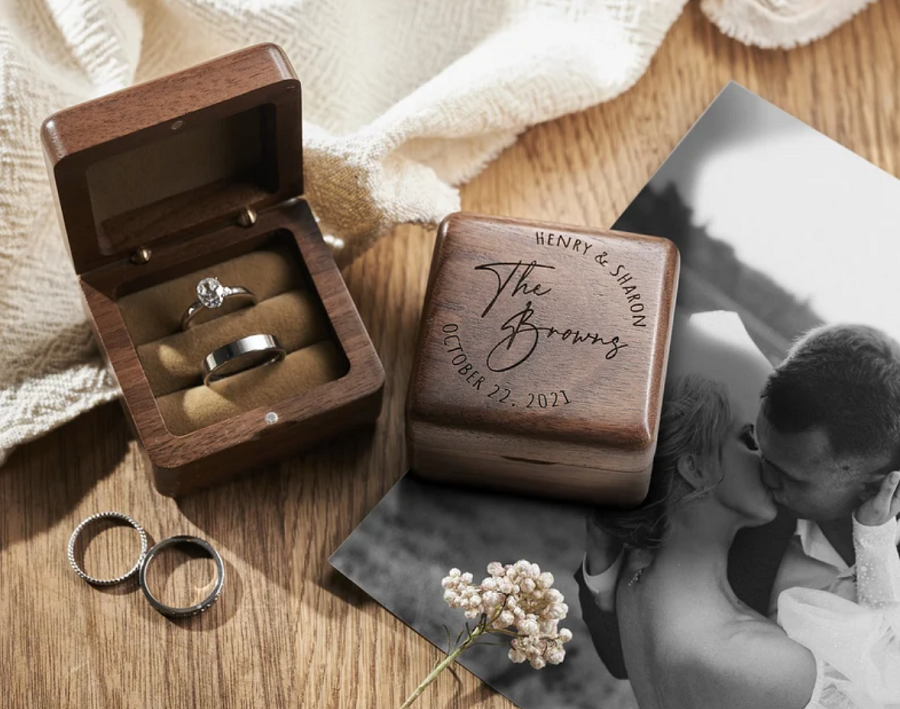 A wonderful way to show how much someone means is with a gorgeous pair of personalized rings. With a proper design, fine handcrafting material choices, and personalized hand-engraved inscription your product will shine.
Natural Spa Set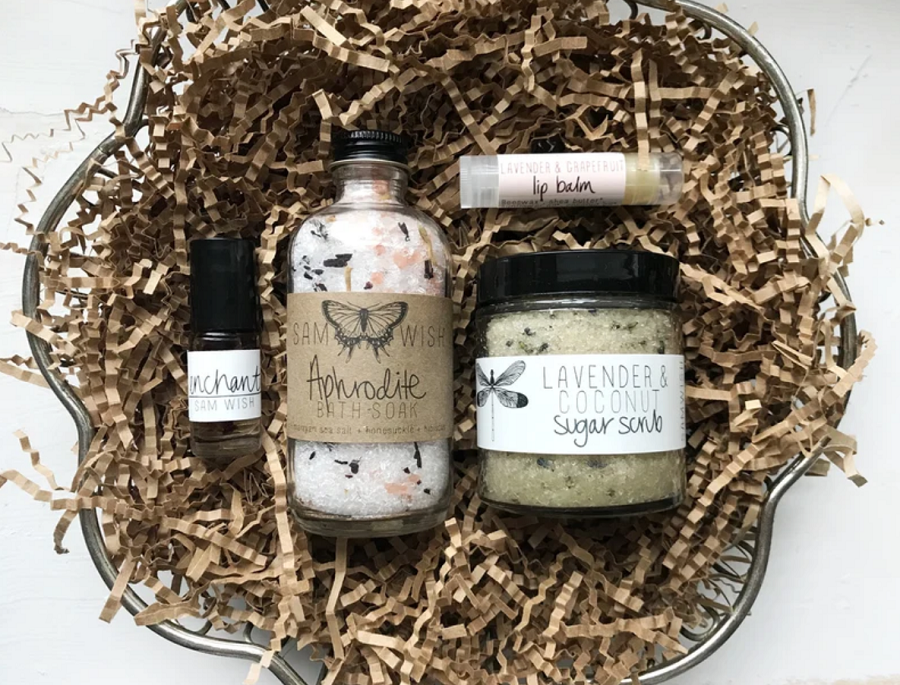 This Etsy Valentine's Day gift will appeal to those looking to give a delicate but meaningful gift to their loved ones. A lovely present for mothers and women in general. It will be a best-selling spa set if you include some wooden wick soy candles, two tropical flower bath salts, and a lavender bath bomb.
Personalized Valentine's Day T-Shirt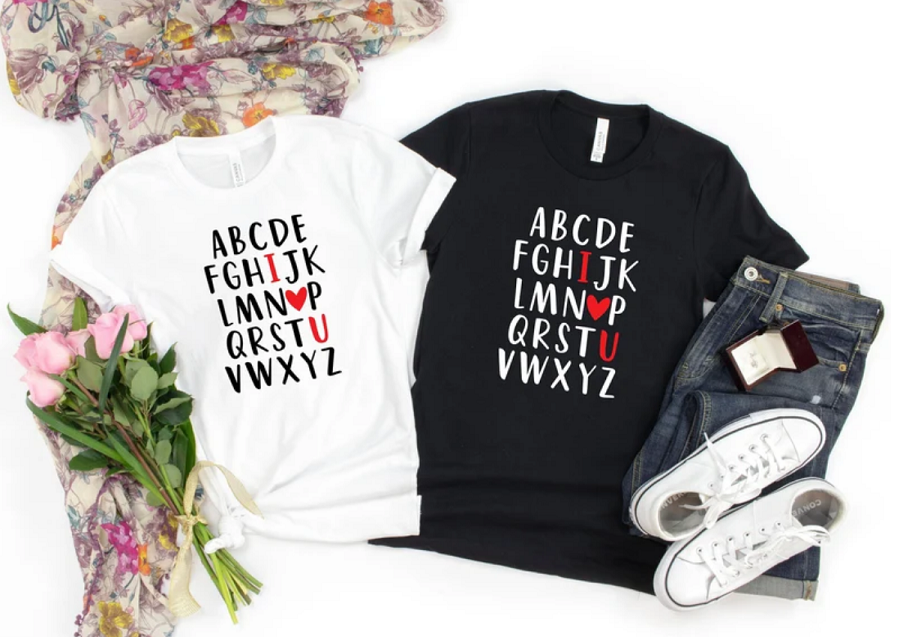 A cute alphabet shirt would make a great gift for friends or couples. The letters "I" and "U" are colored in red, and the letter "O" is replaced with a heart, revealing a lovely message across the front of the shirt.
Heart Necklace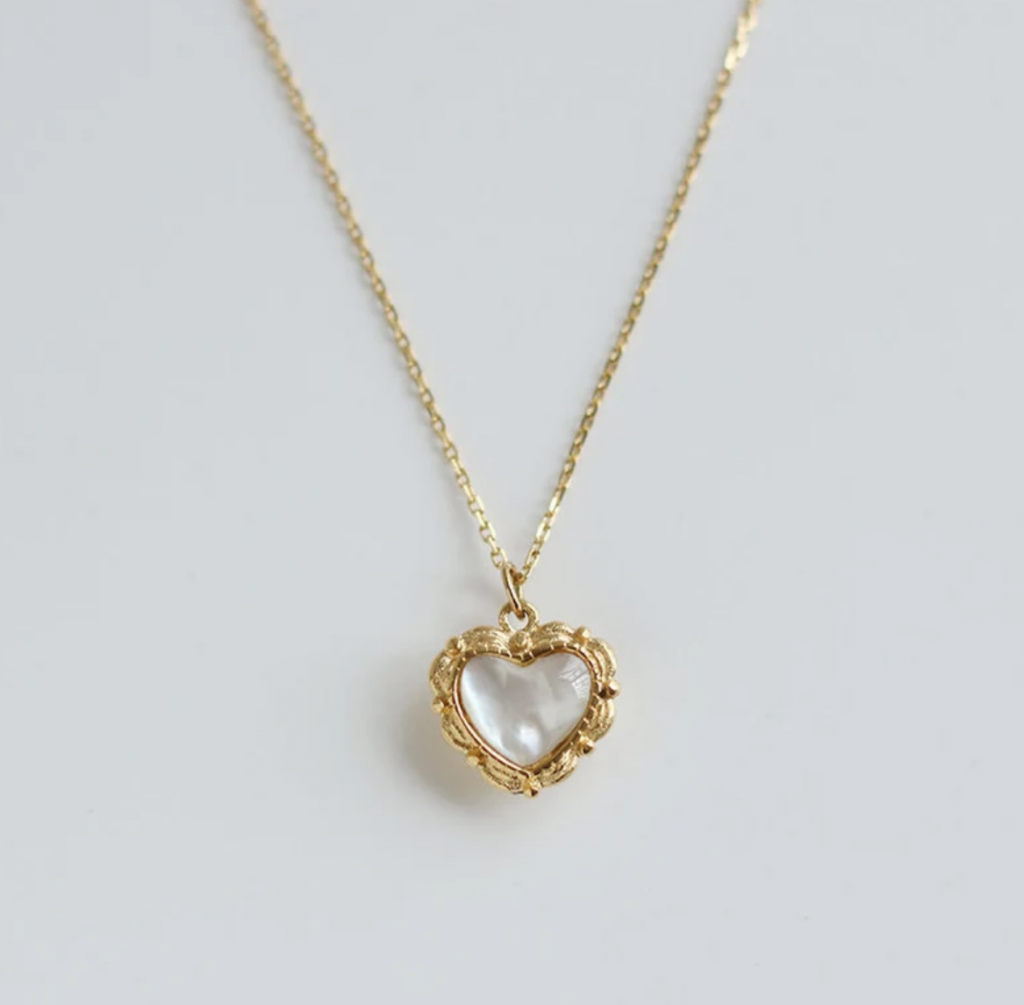 For those who prefer more minimalist looks, a lovely heart necklace is ideal. Offer the option to personalize the charm with a name, symbol, special date, or fingerprint after selecting the crafting material.
Personalized Linen Apron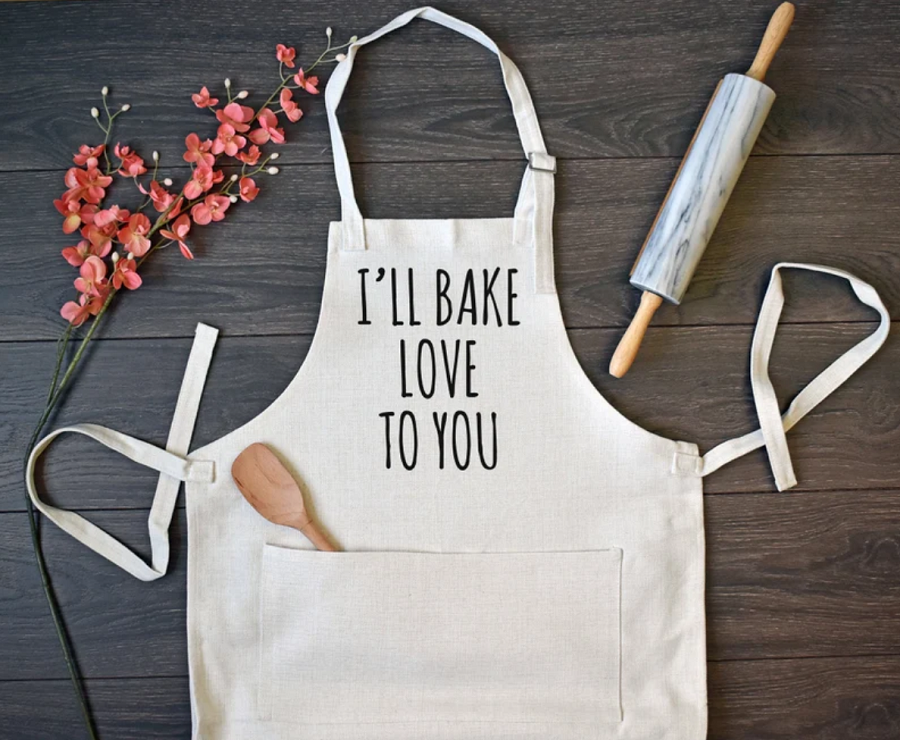 An airy linen design to refresh the home chef's apron collection. The apron will be a wonderful addition to the cooking routine if you craft it with minimalist-style design and lightweight linen fabric. Plus the possibility of adding the name of the recipient.
Valentine's Day Gift Box
There will be those who are unsure what to give on Valentine's Day. This lovely little gift is suitable for any special lady in everyone's life. It's an all-in-one Etsy Valentine's Day gift that should be able to be shipped directly to the recipient.
For example, the gift box could include some truffles, a compact mirror, and a heart necklace, everything in a decorative package.
Now It's Your Turn
Follow these Valentine's Day marketing ideas and, if necessary, some Valentine's Day gift ideas. You'll have a meaningful advantage over the competition thanks to these tools. However, as you saw, making the most of this holiday will ask some fine-tuning (and planning) for this specific celebration.
Take advantage of your competitors next year by using the tools that EtsyHunt provides you and the knowledge shared in its blog, good luck!
Are you selling on Etsy? Join EtsyHunt to
Experience Hassle-free Selling on Etsy
Start for Free