How to Make a Good Etsy Listing?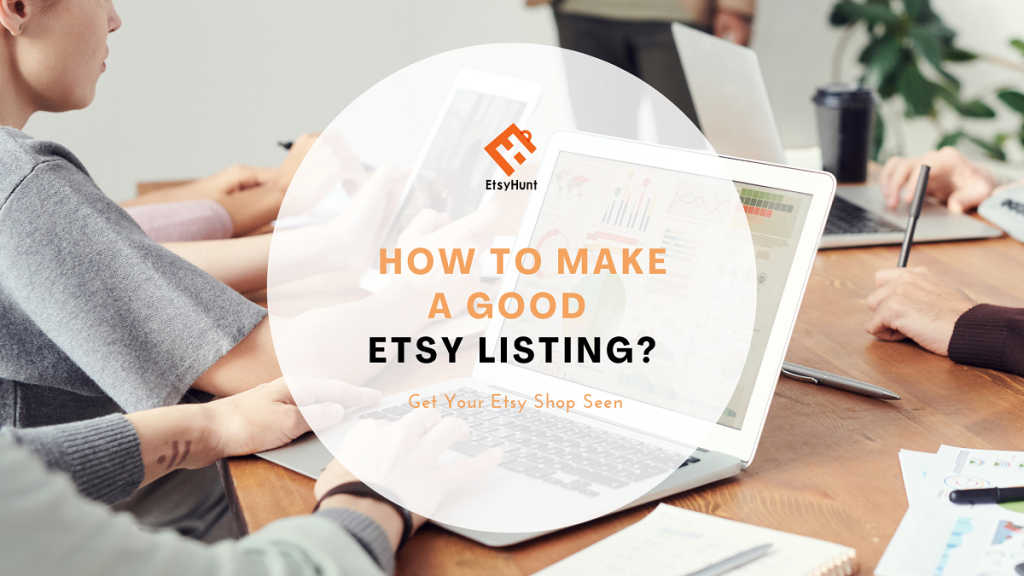 As a seller on Etsy, optimizing listings is daily work. However, many newcomers are still baffled by how to optimize listings on Etsy.
How to get my Etsy listing seen? Why do my products lack exposure after putting on sale? Why the clicks are few?
How do I increase my conversion rate on Etsy? Why do people browse and add my products to the cart but don't buy them?
Today, let us see how to solve these problems.
How To Get My Etsy Listing Seen?
To start, we are all familiar with the three parts that make up a listing, which are the Title, the Image, and the Description. We all know that we should make efforts in optimizing these parts. The label, the image, and the price first determine customers' first impression of your products and whether they want to browse for detailed information. The description text and historical comments from customers on the listing page come next, very much determining whether customers have the willingness to purchase.
Let us first talk about the image.
We have to be extremely careful in the selection of pictures. You'd better demonstrate your product real, including but not limited to photos from all angles of the product, with scenes and product details. If possible, you could make your photos look posh by using a professional camera and photo-editing them slightly.
Then it comes to the optimization of the description in a listing.
In this process, we know that we should use simple and clear words, but feel short-handed in vocabulary when writing the description. In fact, it is very crucial to add keywords in order to boost clicks. The more relevant the words in the listing are to the words searched by customers, the more likely that your products will be exposed.
Let us focus on how to optimize listings step by step with Etsy Rank tool - EtsyHunt.
Firstly, open the keyword function, type in the general keywords of the product, and click 'search'. For example necklace.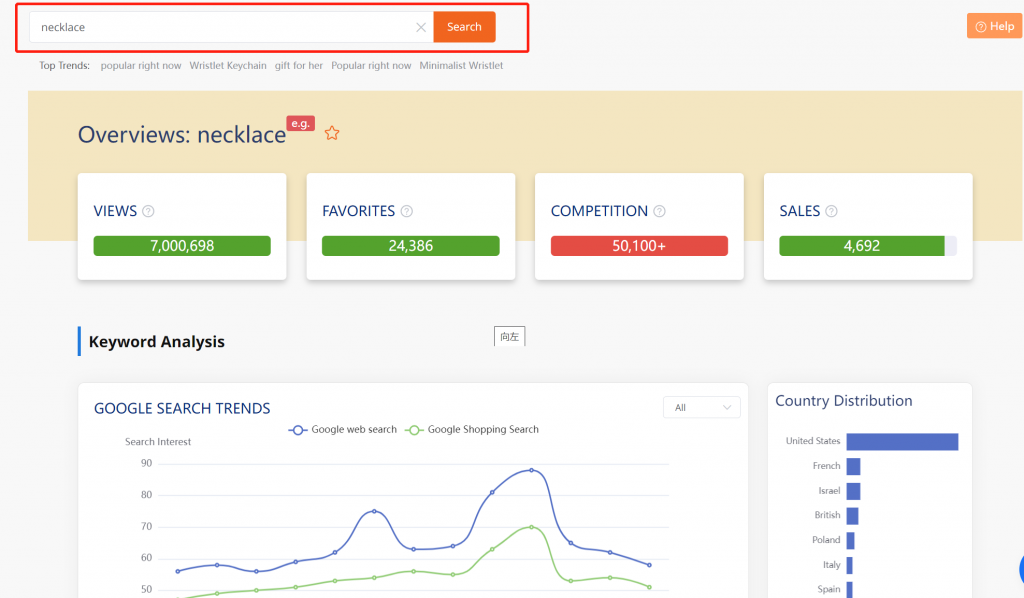 Scrolling down, we can see a list of relevant keywords.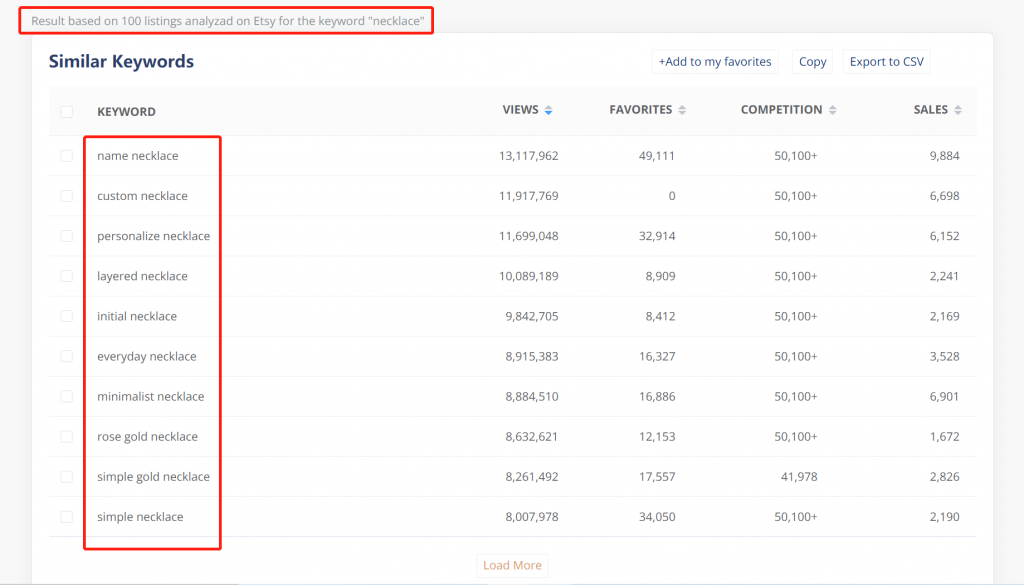 These are all relevant words to your product. You can insert them into your description according to the level of relevance. Notice that listing keywords is not enough, you should honestly describe the shape, functions, and applicable scenes of the product and make sure that it is easy to understand.
At the same time, your competitors are your best advisor.
In the EtsyHunt Product Research module, you can search for similar products/shops to find inspiration from their tags and description. Try to summarize and imitate their ways of writing.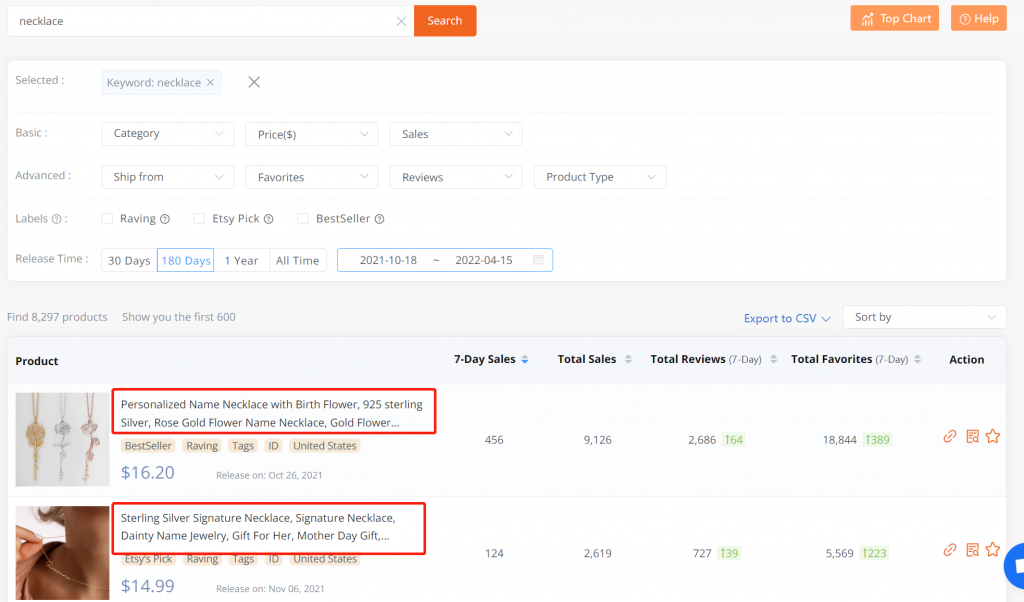 If you find the result not accurate enough and doesn't match your product, try to add some adjectives to make search results more accurate. Also, you can see some more accurate filtering options on EtsyHunt, which makes it more convenient for you to find valuable similar products.
You can summarize and note down the keywords that suit your product most and make proper modifications. Insert them into your listing to enhance the chances of being seen.
Up till now, these are all basic and common operations, you may say. True, these are the most basic optimizing methods. However, starting from these simple optimizations, adding and linking them up, your listings will witness a dramatic improvement in quality over time.
Apart from basics, what else can we do?
You must have already discovered that there is an optional item of Tags to fill in. You can add no more than 13 words or phrases. If you ignore it or fill it in with random words, that would be a huge waste.
Etsy Tags are similar to the search terms of other E-commerce platforms. The keywords filled in Tags can also be captured by the system and compared with the searching words of customers, then the listings will be displayed in the order of relevance. Thus, it is very helpful for us to improve the exposure of our listings. It is suggested that you must fill in all the tags.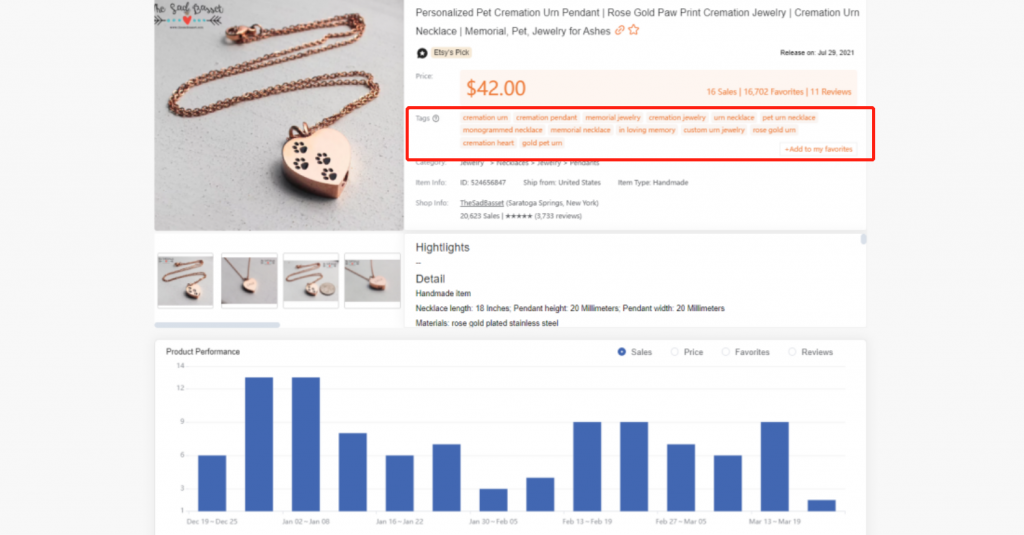 Now the keywords analyzing tool EtsyHunt comes in handy. No matter what pages you are searching, EtsyHunt will capture useful tags for the product, which is of great help for you, saving you from racking your brain to fill in all the tags. It can quickly improve your work efficiency since you only need to collect those suitable tags and fill them in.
If you have installed our EtsyHunt plug-in, you will see, clear and straight, the tags summary of products and the relevant exposure data down the picture when you are browsing the product page.

Besides, there is a point that is easy to be ignored. After uploading images, we can add text to describe, which not only provides help to those people with special needs but also affects the SEO on external search engines. It's better not to repeat too many words from your listing in the description. You can describe the image in detail. After all, all the words are valuable and must be in good use to enhance the quality of the listing.
How Do I Increase My Conversion Rate on Etsy?
Now here comes the second problem: Why do people add my products to the cart but don't buy them?
It's actually a common problem. Under this circumstance, at least the product image and title have been presented to relevant customers. They are willing to click for detailed information. If we think from the buyer's perspective, why don't I buy this product? There are roughly three reasons:
The price of the product is higher than my expectation, or there are other products with better cost performance
The actual function of the product (which is displayed in other images and detailed descriptions) is not impressive to me
I just want to wait and see before purchasing.
To tackle this, we may try to search for our product using keywords to compare our product with its neighboring products from multiple dimensions such as price, image, detailed description, etc. Ask yourself whether the customer has a better choice and think like a customer. The solution will be clear.
Little tips here. You can also constantly browse the Etsy Community, in which you can find discussion posts on various topics and join the teams that are helpful to you.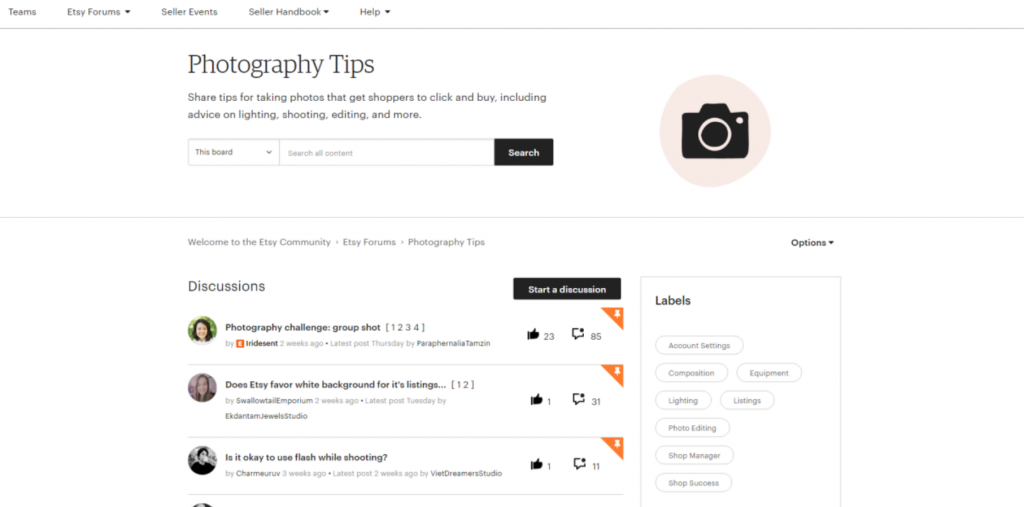 There are a wide variety of Teams. In team Promotion, for example, sellers can like each other's products, which is friendly in promoting the activeness of new listings.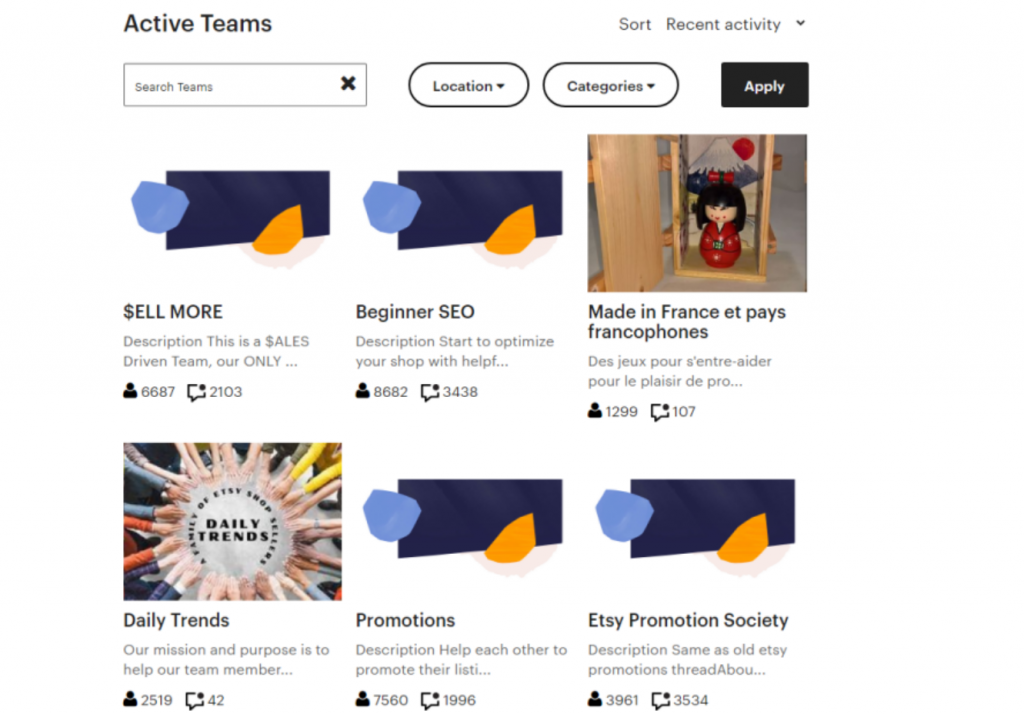 Key Take Away
In conclusion, the optimization of listings lies in every detail, be optimizing keywords and descriptions, refining images, or improving options in the Manager. Efforts should be put into every part of the operating process as long as you run the shop.
It should be noted that you cannot modify or optimize your keywords or other indicators multiple times in a short time, because the system takes time to capture your modification. You need to give the listing some time after a small edition to see whether its performance is positive in a week or a ten-day period. If you constantly make changes to your listing, it has no use for SEO.
Besides, as a seller, you should also pay close attention to the changes in the policy of the platform and make sure that you are operating legally without violating the regulations of the platform. In this way, you can operate your store well in the long run.
FAQs About Etsy Listings
How to add Videos to Etsy listing?
From an edit listing page, click Add a video if you'd like to add a short video showcasing additional details about your listing. Click Choose to upload your video.

How to create a custom listing on Etsy?
Here is the step-by-step guide:
Click "Shop Manager".
Click "Listings".
Click a listing you want to add personalization to.
Under Inventory and pricing, toggle Personalization to "On".
Next to Guidelines for buyers, add text to help the buyer know what details to add, like the engraving or pattern they want personalized for this item.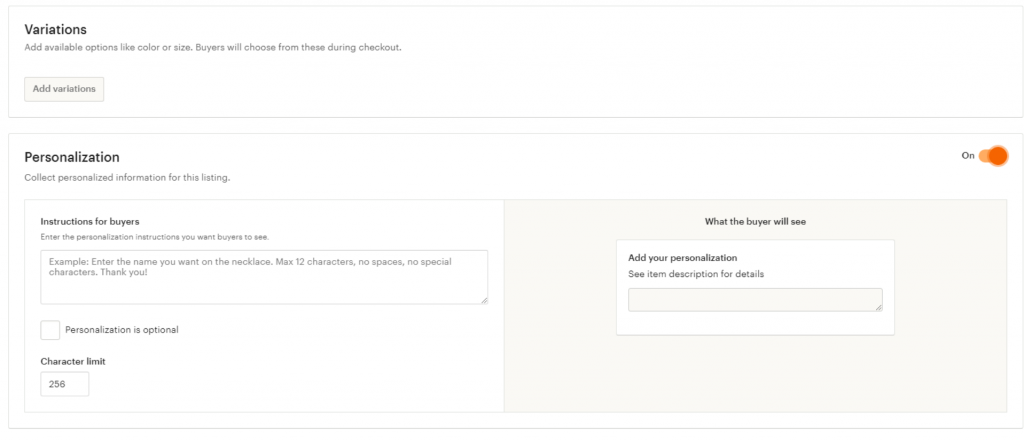 How much does Etsy charge per listing?
You will be charged a fee of $0.20 for each link you post, valid for four months, within which you can choose to automatically renew or deactivate before it expires.
How to make a private listing on Etsy?
Here is the guide for all Etsy sellers to create a private listing:
Click "Shop Manager"
Go to "Settings" and click "Options"
Select "Enabled" under Custom order requests.
A Request Custom Order link will appear on your shop homepage, when a buyer clicks it, they'll see a window where they can describe what they're looking for and the date they need it by (if there is a deadline).
*If you need more information, send your buyer a message to work out the details.
Why was my listing deactivated by Etsy?
There are two possible reasons for this:
A listing stays active for four months. If your listing doesn't sell during that time, and you haven't set it to automatically renew, it expires.
If a listing violates Etsy's policies, it may be deactivated.
Check your email inbox for a message from Etsy. If you're unable to locate an email about your listing, check your spam or junk mail. If you can't find a relevant email, or the email you received is from noreply@etsy.com, get in touch with Etsy Support by clicking Contact Support at the bottom of this page.
How to report an Etsy listing?
To report an item on Etsy.com:
At the bottom right of the listing page on Etsy.com, click Report this item to Etsy.
Scale Your Etsy Business Now!
80,000+ people have used this free Etsy seller tool. Are you next?
Get Started for Free