Amazon Handmade vs. Etsy: How Similar or Different Are They?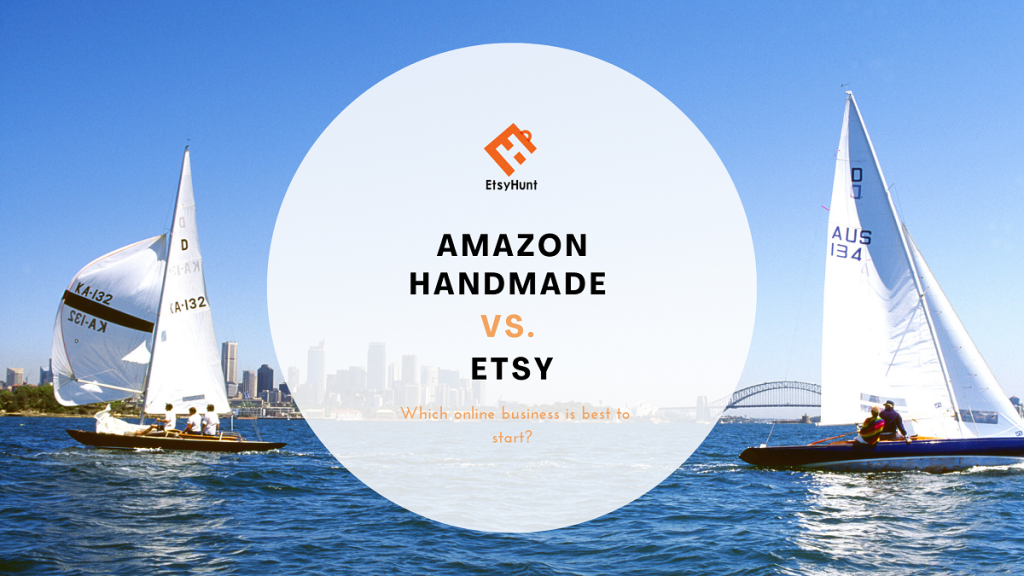 Creating an online store on Amazon Handmade vs Etsy can be highly lucrative for artists and entrepreneurs who create art, clothing, home decor, or other items.
Online storefronts such as Amazon Handmade and Etsy have allowed such creators to expand their business and become accessible to a wider range of customers than a brick-and-mortar store or word-of-mouth commissions from a limited audience.
If you're looking to take your art business online, you may be wondering which of the two platforms is better for you. We're here to help you out as we break down the pros and cons of each so you can make an informed decision.
Etsy
Etsy has dominated the "handmade" market since its inception in 2005. Its 5 million artisans account for the sale of around 45.6 million products.
With steady growth in popularity, it has transformed from an online flea market to a Wall Street hero.
The platform generated $1.72 billion in revenue in 2020 and $717 million by the end of 2021. These statistics are awe-inspiring and clearly illustrate the popularity of the platform and the potential for success for artists.
With 81.9 million active shoppers, Etsy blends eCommerce with the uniqueness of artisan flea markets and fairs. It is an incredibly beneficial platform for customers and sellers alike, whether they are solo entrepreneurs or small business owners.
If you're looking to join the Etsy marketplace, here are some things you should consider:
Pros of Selling on Etsy
Large and Established Customer Base
Etsy has been the go-to marketplace for those who want exclusive, niche products for well over a decade. This means that it already has an established audience and customer base actively interested in the type of products sold here.
This could save entrepreneurs and creatives a lot of time and effort as far as developing an audience goes, as they can tap into an existing market with unique products.
Built-In Analytics
Analytics are extremely helpful in enabling you to track your progress and understand what works and what doesn't. You can use these metrics to grow your business and increase sales by driving traffic to your Etsy store.
Collaborative Seller Community
While most eCommerce platforms have cut-throat competition, Etsy is more of a community of artists and small businesses. This means users are generally more helpful, and there is an opportunity for individual artists to collaborate.
Monetize Pastimes and Hobbies
An Etsy store is relatively easy to set up and use and has a simple design. You can monetize your pastimes without investing too much time creating your store and maintaining it.
It is a platform to sell products you may create as a hobby, which you otherwise would be unable to find buyers. For example, if you make resin jewelry as a hobby, you might find more buyers on Etsy than on other platforms.
Easy Availability Of Resources
Many successful Etsy sellers share their experiences online and helpful tips and tricks of the trade. Searching for "Selling tips on Etsy" will yield thousands of results.
You can refer to these resources to grow a successful business even as a beginner.
Convenience and Accessibility
Your Etsy account can be synced across multiple devices, and you can easily create listings from anywhere. It's also a great way to conduct business at your convenience. You are your boss, and you are free to decide what works for you.
Helpful Algorithm
Unlike many websites and eCommerce platforms that only reward larger accounts and make the popular shops even more popular, Etsy's algorithm allows newer accounts to get their fair share of visibility and traffic. This means that you don't have to struggle to draw leads to your new store.
Cons of Selling on Etsy
Saturated Market
Etsy has millions of active sellers, some of whom have already established a name with loyal clientele. Your chosen niche may already be quite saturated, making it highly competitive.
Copycats
When you sell products on Etsy and gain a following, you run the risk of people copying your products, product descriptions and listing content, and even your product photos.
Before you start working on Etsy, consider using Etsy Seller Rank to find your potential competitors.
Standardization
Etsy's simple design is a double-edged sword as the standardization leaves little room for branding and personalization.
Aside from the images and written content, most listings are styled the same, so they look incredibly similar.
Amazon Handmade
Despite the central platform being a mammoth in the eCommerce industry, Amazon Handmade has yet to match up to Etsy. Ten years its junior, it only sells around 198,000 products each year.
Since its launch in 2015, Amazon's worldwide selection has increased by 200%, and its active makers have increased by 750%. In addition to these statistics, over one hundred makers have already crossed the $1 million mark in annual sales through the platform.
The platform connects customers with micro-businesses and provides them with the tools necessary to scale their growth.
If you wish to join the Amazon Handmade marketplace, here are some things to consider:
Pros of Selling on Amazon Handmade
High Sales and Built-In Traffic
As the largest eCommerce platform, Amazon has a massive audience that you can tap into when you open your store.
Convenience of FBA
Fulfilled by Amazon, or FBA, provides convenience to sellers for shipping, tracking, and other logistics. This eases a significant part of the burden of running an eCommerce store.
Juried Categories and High ROI on Ads
Amazon is very vigilant about which users can qualify as a handmade store, and the categories under these are strictly monitored.
Additionally, the return on investment is exceptionally high for Amazon ads, which means you have a reasonably fair chance of growing your business despite the competition.
Cons of Selling on Amazon Handmade
High Commission Fees
Amazon has an extremely high commission at 15%, eating into your profit margins. You may have to raise your prices to make up for it.
Lenient Return Policies
Amazon's lenient return policies and affinity for siding with the customers in most cases can be a massive disadvantage if you have to face unnecessary returns without valid reasons. This could reduce your profits and affect your stock.
Algorithms
The Amazon algorithm is highly competitive and can be challenging to crack. This means that no matter how unique or attractive your products are, if you cannot work around the algorithm, your sales may not reflect.
Amazon Handmade vs. Etsy: How Similar or Different Are They?
Like all online marketplaces and eCommerce platforms, Amazon and Etsy share some similarities. However, they are vastly different despite these similarities.
We've covered some aspects you should keep in mind below when selecting which of the two platforms to focus on.
Similarities
User-friendly designs - Amazon and Etsy have relatively simple designs, so your listings will not get lost in a confusing interface. The purchase process is simple and easy to use for all customers.
Listing content - Listings on both platforms have a similar format and contain the same elements: product images, a detailed description, and prices.
Easy to set up and maintain stores - Amazon and Etsy are relatively simple platforms to browse and use. Sellers with no familiarity with web development can easily create accounts and list their products.
Differences
Experience - Etsy is older than Amazon by a decade and has specialized expertise in working with artists and independent businesses, giving it an edge in many aspects.
Top-selling products - The most popular categories or products on both platforms vary. Amazon's top products include party supplies, jewelry, prints, stationery, decorations, etc. Etsy's top categories include bath and beauty, home and living, jewelry, art, party, home decor supplies, clothes, etc.
Different definitions of what qualifies as "handmade" - Amazon is particular about what qualifies as handmade, while Etsy is a lot more inclusive in comparison. For example, Etsy allows the sale of handcrafted items made and/or designed by sellers. Meanwhile, Amazon Handmade is strict about its policy that the product should be made entirely by hand, hand-altered, or hand-assembled by the seller. If the Amazon Handmade seller has fewer than 20 employees in their company, the product can also be made by an employee. Essentially, Etsy allows sellers to have their designs or products mass-produced by third-party manufacturers, thus making it more lenient than Amazon, which requires sellers to actively be involved in the making process.
Costs and fees for transactions, listings, and shipping - The platforms ask for different fees that may depend on the product being sold.
Customer base - Etsy's customer base is more niche, while Amazon has a large audience of all kinds of customers as it is an eCommerce mogul.
Conclusion
You have complete freedom to select between Amazon vs Etsy to sell your products, as both platforms are giants in the eCommerce industry. You may use both and divide your attention equally or use one primary platform; you can also save on listing fees by selecting a single go-to store for all of your products.
Take your Etsy shop to the next level by connecting it to Amazon! You'll be able to reach a wider audience and sell more products, while still maintaining that personal, handmade touch that makes Etsy so special. What are you waiting for? Get started today and start selling your products from Etsy to Amazon!
Regardless of which platform you choose, it is crucial to consider the factors outlined in this article to know what you're in for.
Are you selling on Etsy? Join EtsyHunt to
Experience Hassle-free Selling on Etsy
Start for Free