Etsy Trends: 40 Etsy Thanksgiving Day Ideas
The roast turkey, gravy, and the rest of the menu are only a small part of Thanksgiving Day. It will always be a great choice to include one (or more) of these Thanksgiving gift ideas. Try some of these Etsy Thanksgiving Day centerpieces, ornaments, or cozy autumn-inspired Thanksgiving decorations.
40 Etsy Thanksgiving Day Ideas
Let's give a little review to some of these Thanksgiving items trending on Etsy.
1. Grapevine Cornucopia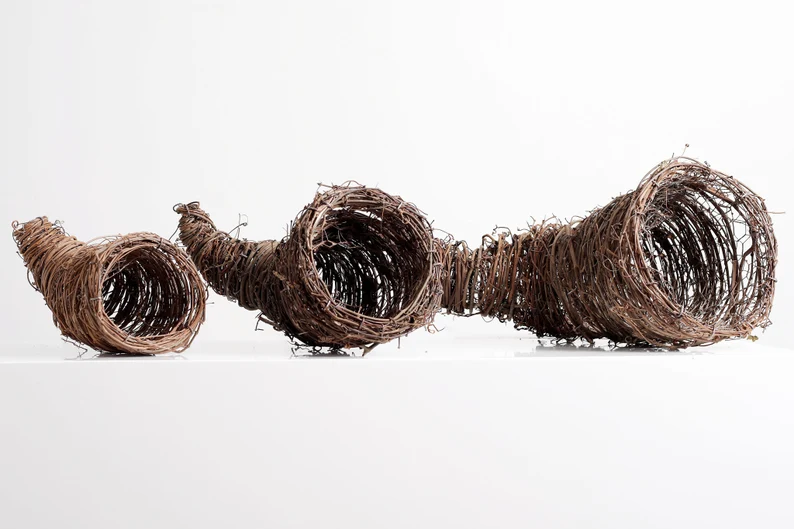 Set the table this fall season with this Natural Grapevine Cornucopia Basket. Fill it with your favorite holiday decorations or some velvet pumpkins.
Each Cornucopia is made entirely of natural grapevine and is the ideal piece for your Thanksgiving table or buffet.
2. Fall Flowers Centerpiece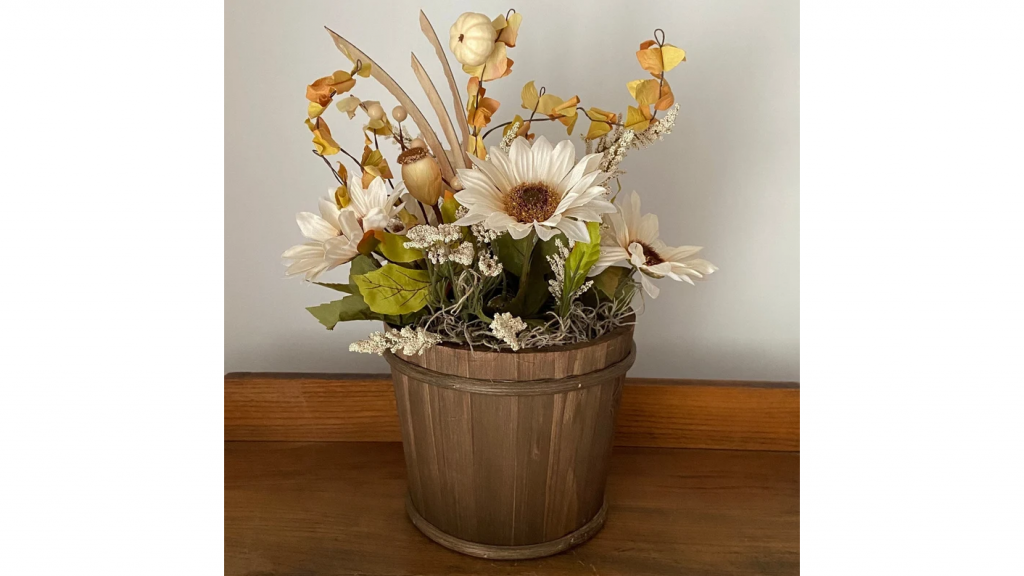 This silk flower arrangement is ideal for any Thanksgiving table or decoration! It is inspired by fall flowers and will make a statement in any room you choose to put it in. The florals are displayed in a lovely rustic wood basket.
3. Velvet Pumpkins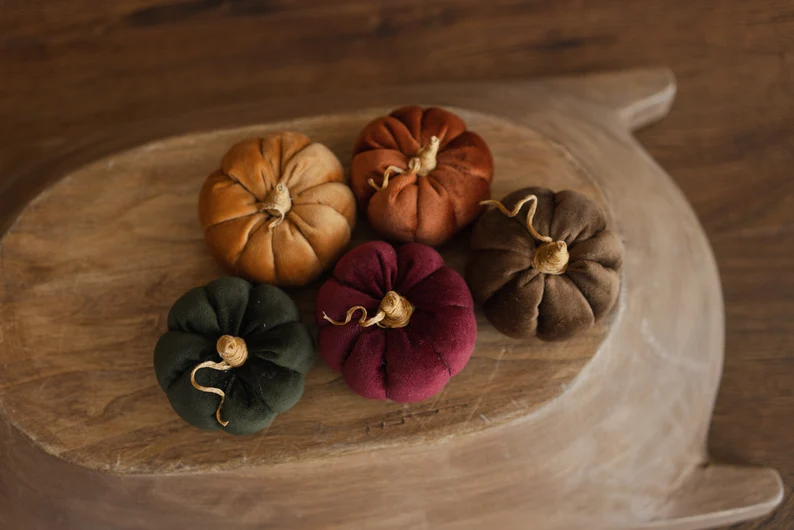 These adorable small Velvet Pumpkins are perfect for Thanksgiving props or table decorations this year. They have natural pastel and soft shades that are ideal for taking photos because they do not drop reflections and are also very easy to mix and match.
4. Cinnamon Fall-Themed Candles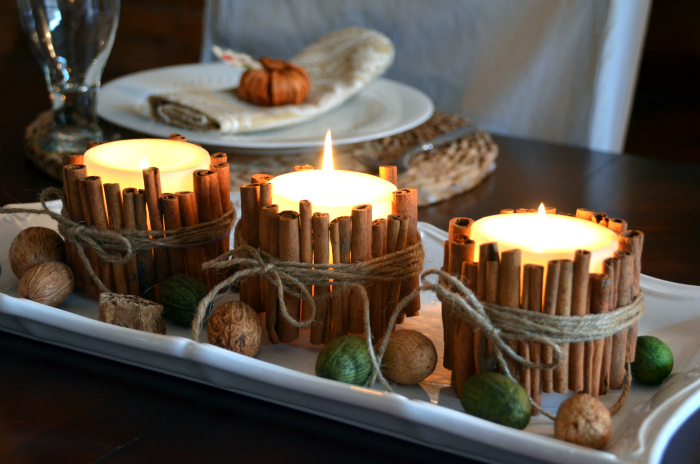 You don't need to wait for Valentine's Day to get romantic. These cinnamon stick candles are gorgeous and very aromatic. It's a simple but nice centerpiece for the dining room table during Thanksgiving dinner or throughout the fall.
5. Wicker Cornucopia Basket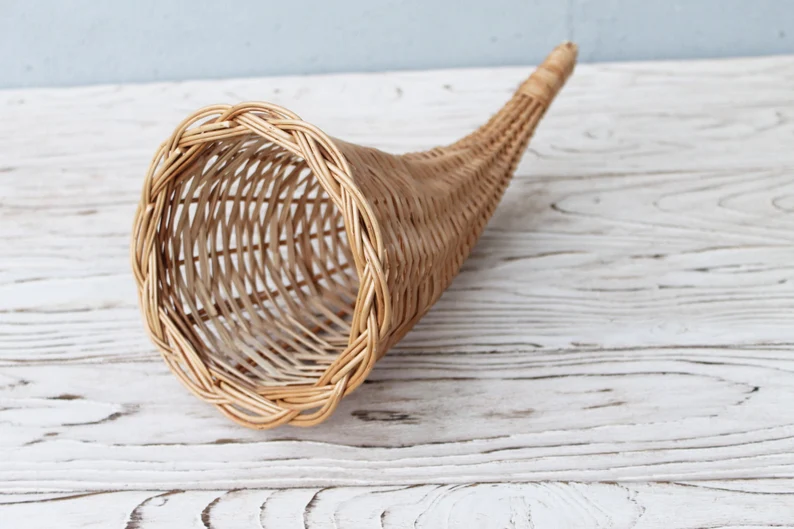 This large braided cornucopia is made entirely of hand-picked natural vines on the riverbanks. It can be used to hold flower arrangements or as a centerpiece for a Thanksgiving table with some seasonal fruits and vegetables.
6. Thanksgiving Napkin Rings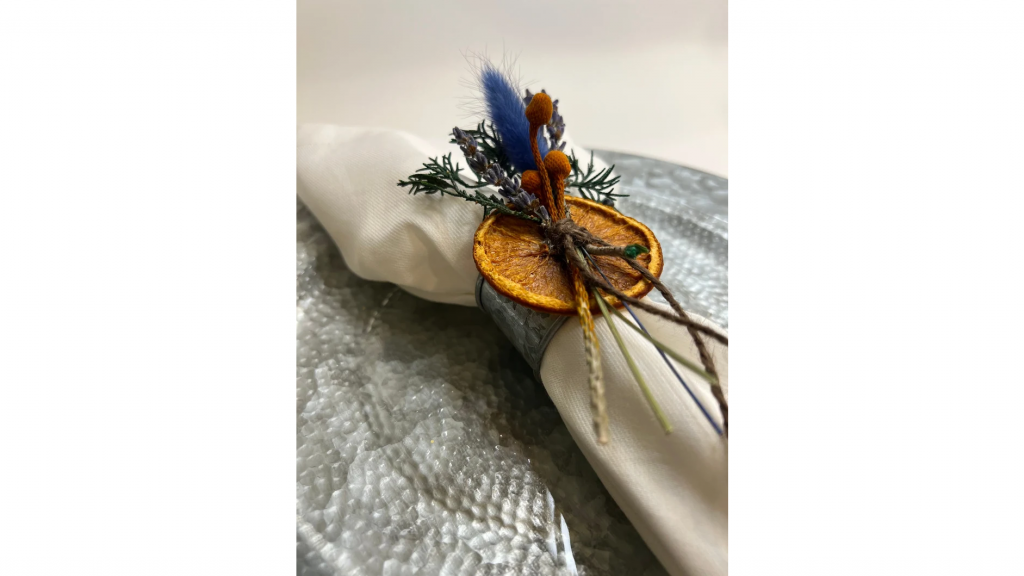 With these spectacular napkin rings, you can take your Thanksgiving table to the next level. These napkin rings will smell great and look great on your holiday table.
The mini bouquet clusters are made up of dried lavender, brunia and phalaris, a preserved juniper berry branch, and a dried orange slice, all held together by a metal ring.
7. Pumpkin Fall-Themed Candle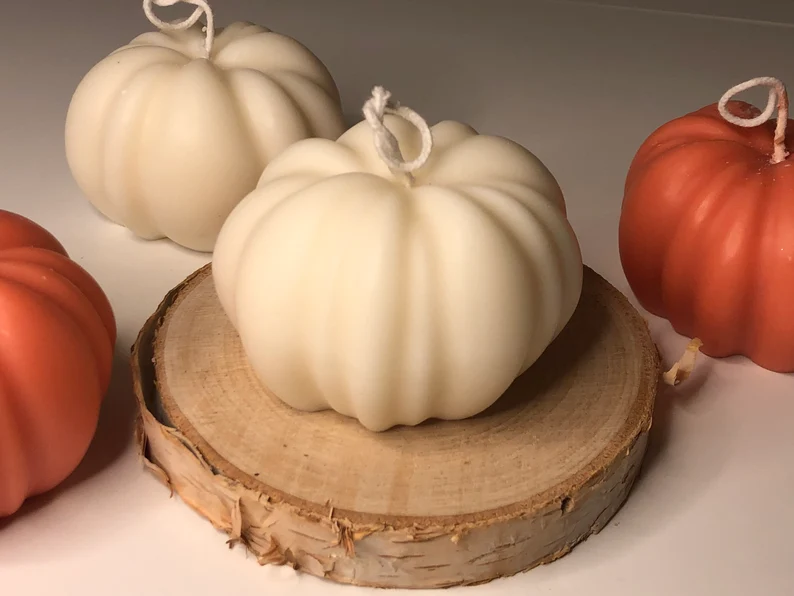 These Pumpkin Candles are ideal for adding to your Etsy Thanksgiving Day decor or gifting to friends. They also can be used on Halloween so if you want to use it in both festivities, make sure to have plenty of them.
Because each candle is hand poured, each piece is truly a one-of-a-kind artisanal product. As a result, minor flaws such as small air bubbles and color variations may appear. But that only adds to their individuality.
8. Thanksgiving Wine Bag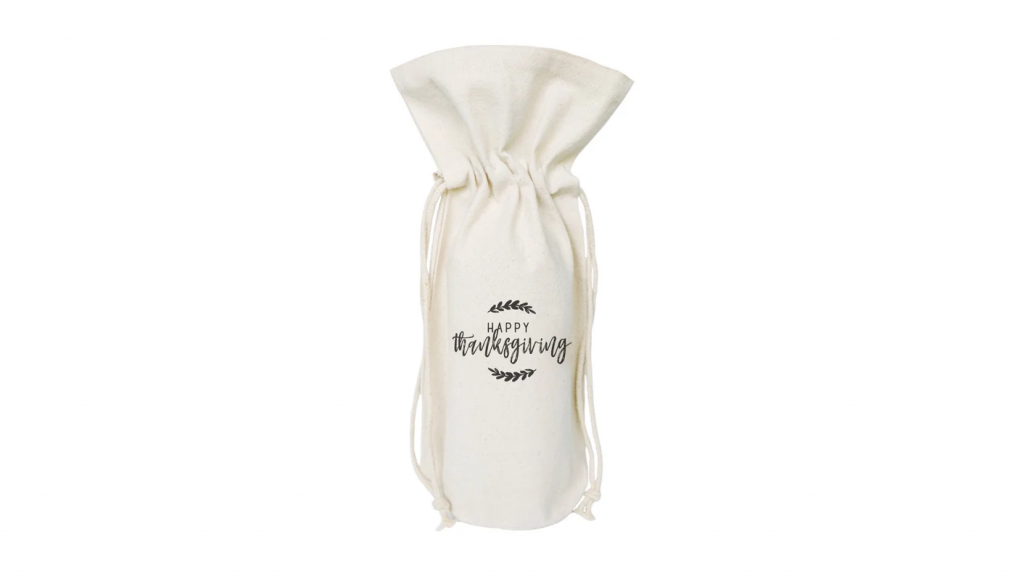 Toast your host or guests with these 100% cotton canvas Thanksgiving wine bags. These wine bags, printed on high-quality canvas material, are the perfect addition to your classy fall and Thanksgiving party decor.
These wine holders can be washed and reused because they are reusable, eco-friendly, and machine-washable.
9. Linen Thanksgiving Napkins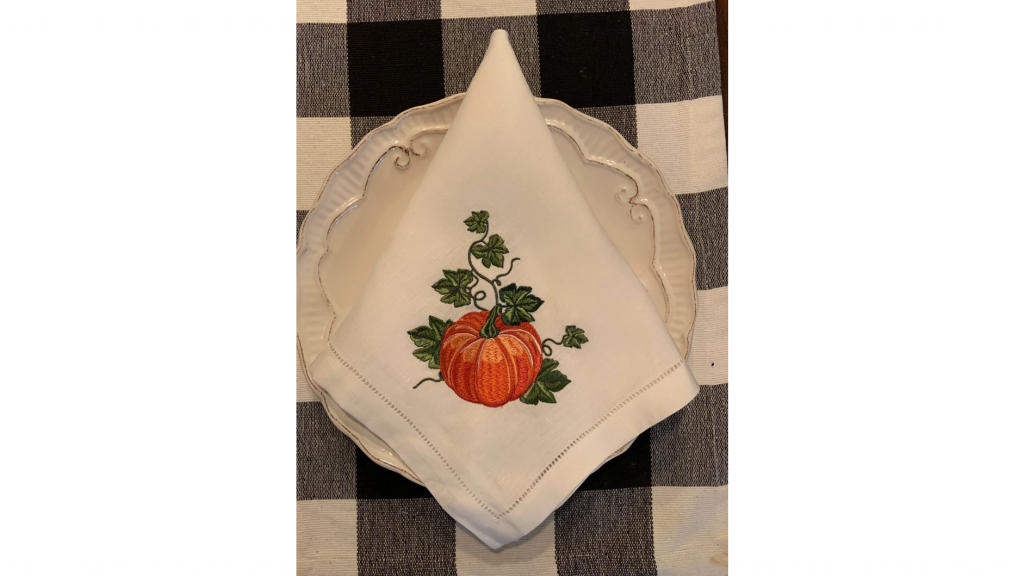 These are beautiful hand-embroidered linen Thanksgiving napkins featuring an elegant pumpkin, perfect for use during fall and especially at Thanksgiving dinner.
10. Custom Thanksgiving Place Cards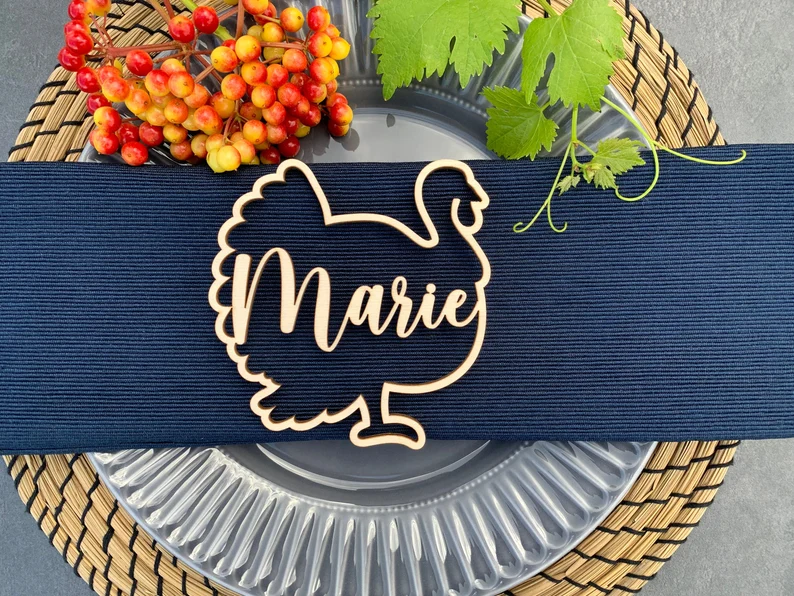 Give your table a personalized touch with these personal Thanksgiving name cards. All are made of Baltic birch plywood, laser cut with the name of your choice upon request.
11. Fall-Themed Table Runner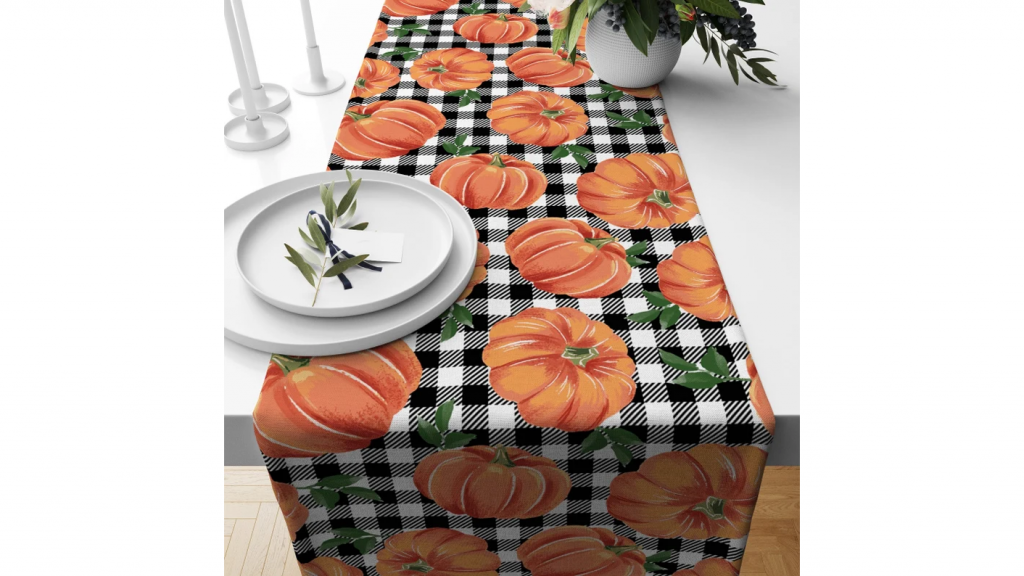 Imagine these fall-themed table runners welcoming your family and friends to your Thanksgiving table. This is a high-quality farmhouse table decor with withe and orange pumpkins and a fall-colored checkered design.
12. Thanksgiving Garland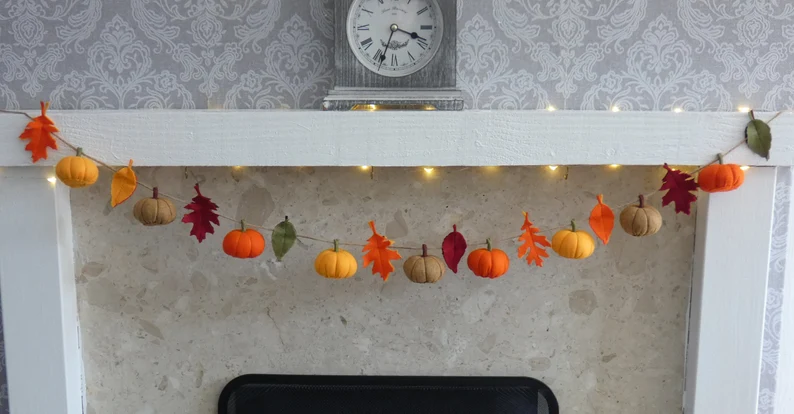 This will look great on any wall of your choice in your home as a Thanksgiving decoration. Autumnal-colored items in orange, green, brown, yellow, and burgundy were used to create this piece.
The Garland was created with medium-sized pumpkins and a variety of double-sided felt leaves. These are stitched to the Garland, and the pumpkins have been sewn on the jute thread that holds everything together. This way it'll look very nice and harmonic on your Thanksgiving decorations.
13. Door Decoration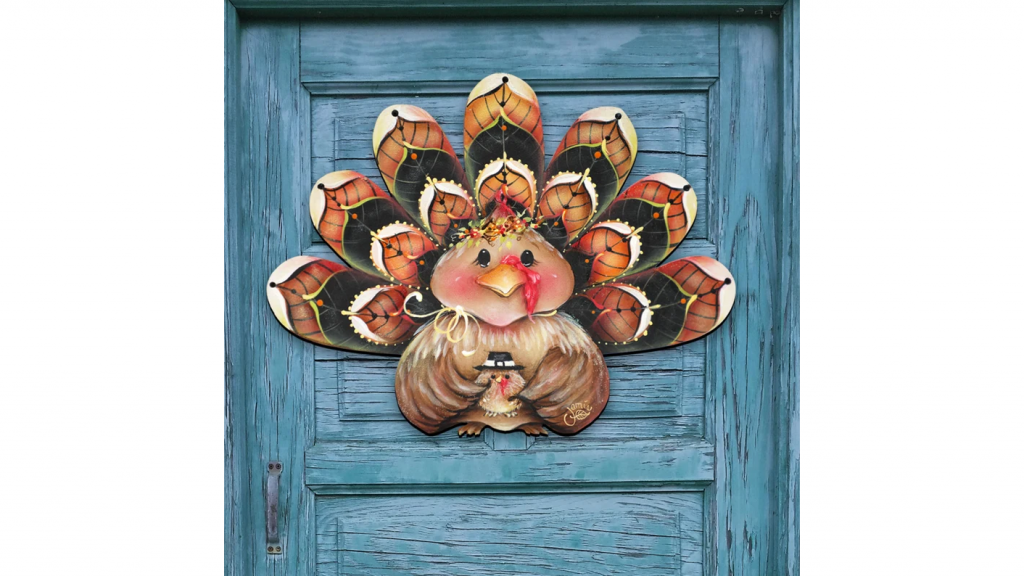 Decorating your house for Thanksgiving is a special moment for families, as you can develop your style and cultivate a holiday art gallery for all to enjoy. Begin with this piece, which combines watercolor, acrylic, and oil painting mediums to create a distinct painting style, that will make your home stand.
14. Fall-Themed Porch Decor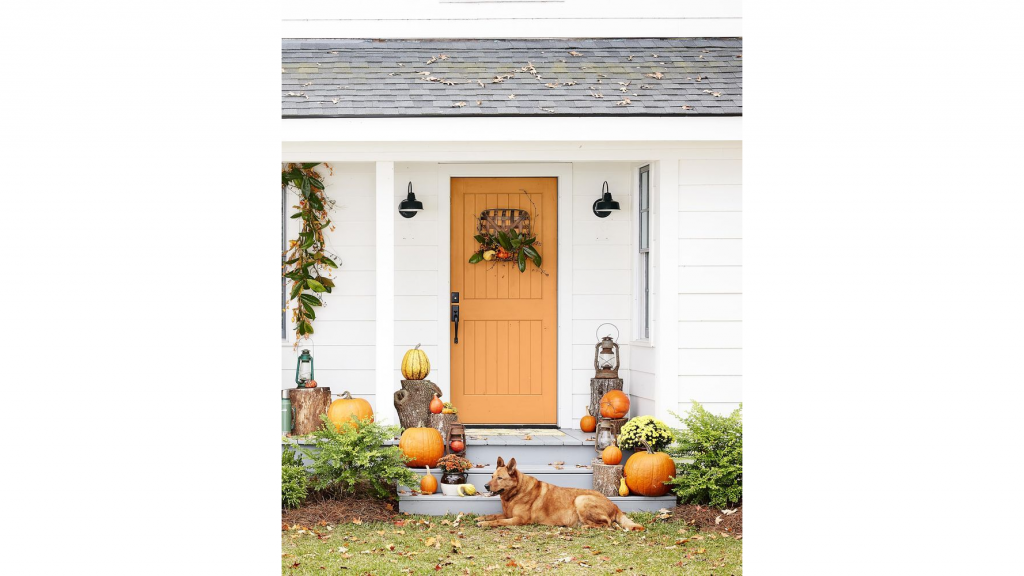 A tobacco basket brimming with mini pumpkins, gourds, magnolia leaves, and a garland dotted with bittersweet vines. In addition, a few wood logs and a scattering of pumpkins are all you need to make your entrance hall the most inviting on the block.
15. Pumpkin Place Card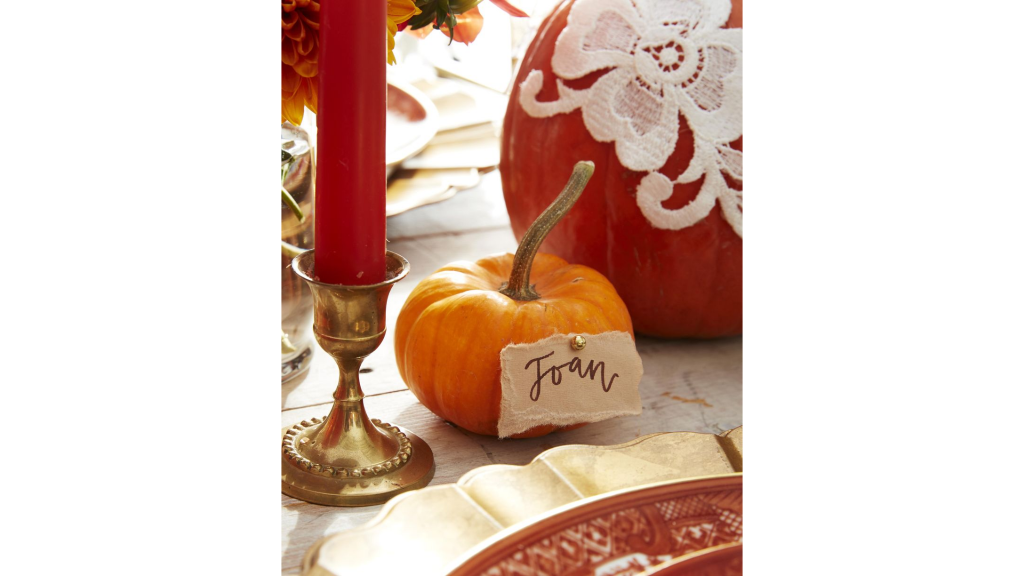 A fancy gold push pin, rough torn card stock, and a cute mini pumpkin are all that this name card requires to be amazing. Use it to assign places for your guests, family, or friends, so everyone knows where to sit in a very Thanksgiving manner.
16. Wool Thanksgiving Pie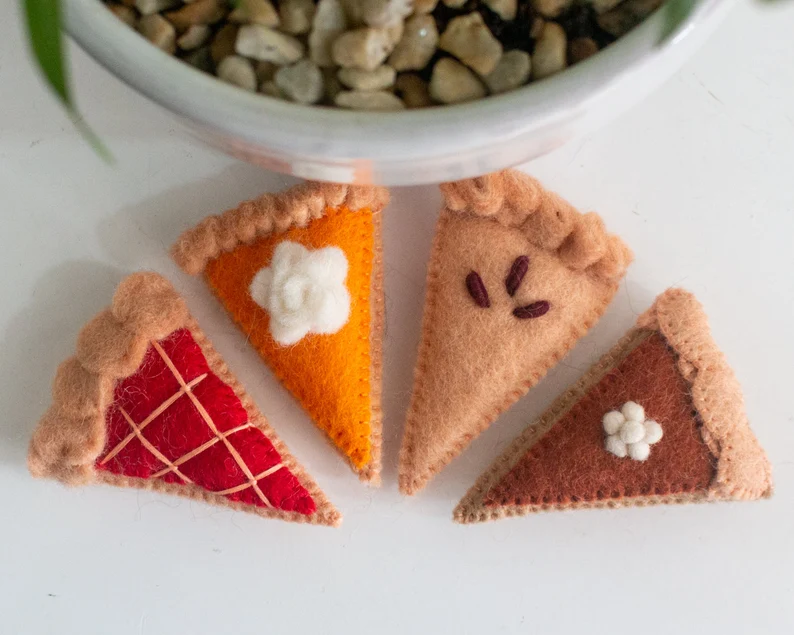 This festive felt pie will entertain and educate your children this Etsy Thanksgiving Day. Use it to keep your and your guest's children entertained during pretend play. This realistic-looking fake pie is a fun way to help your children's minds develop.
17. Thanksgiving Turkey Decor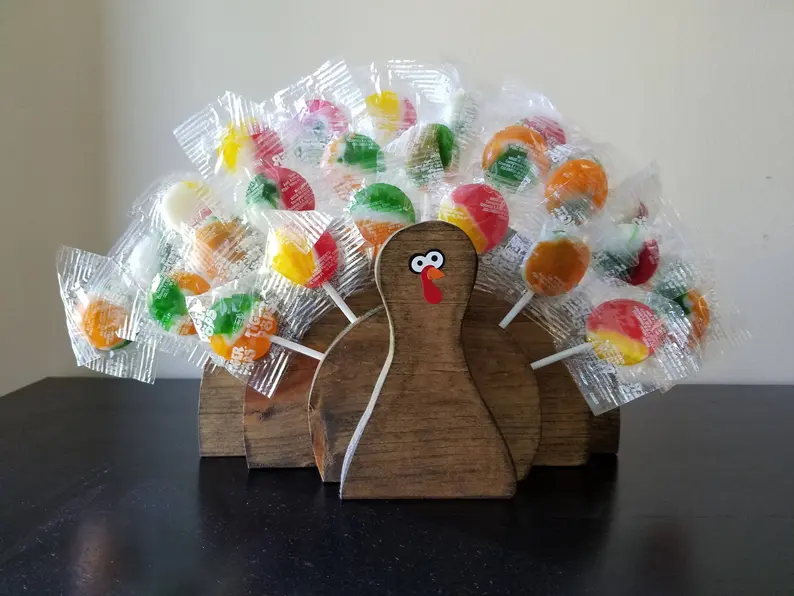 The original Tom Turkey meets the ideal Thanksgiving dinner guest. This handcrafted turkey will look great on your entryway table, the kids' Thanksgiving table, or even the adult table. In addition, Tom Turkey will look great on a business' front desk or anywhere. He truly is the ideal Thanksgiving or Fall decoration.
18. Fall-Themed Door Hanger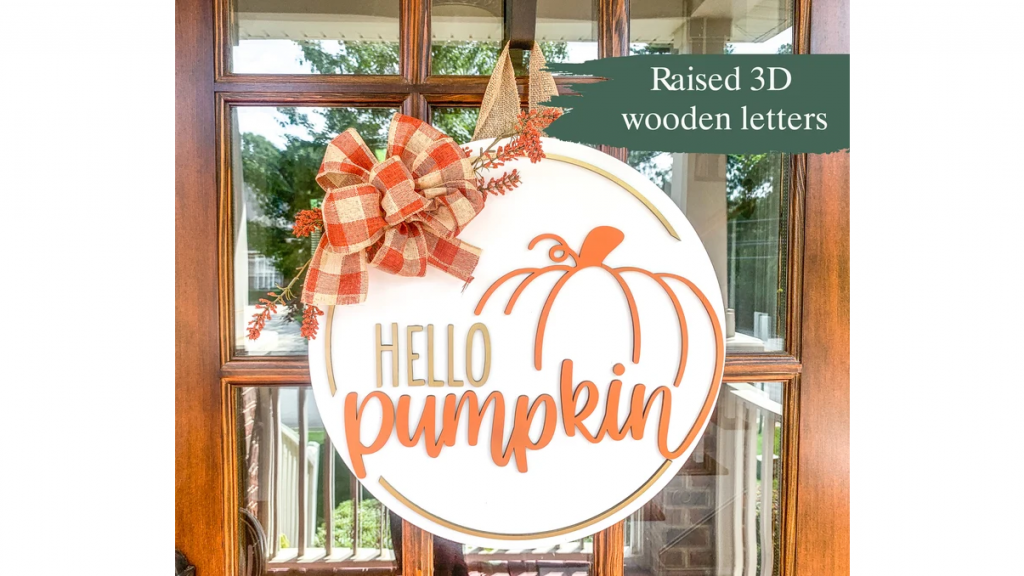 If you think your front door is ready for Thanksgiving, this super cute door hanger is the perfect sign to show it.
19. Harvest Leaf Paper Banner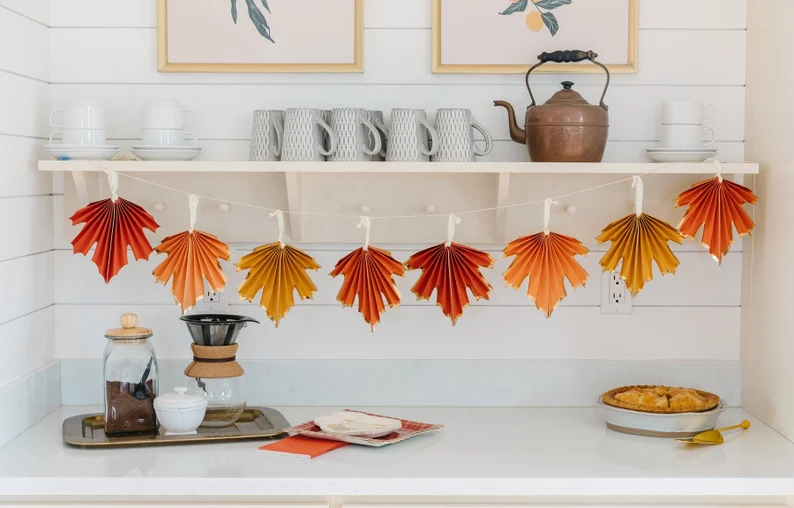 When Fall knocks at your door it is better to celebrate it. And what is a better way to celebrate than decorating your house with this beautiful harvest leaf paper banner with gold foil accents for Etsy Thanksgiving Day.
20. Pine Cone Wreath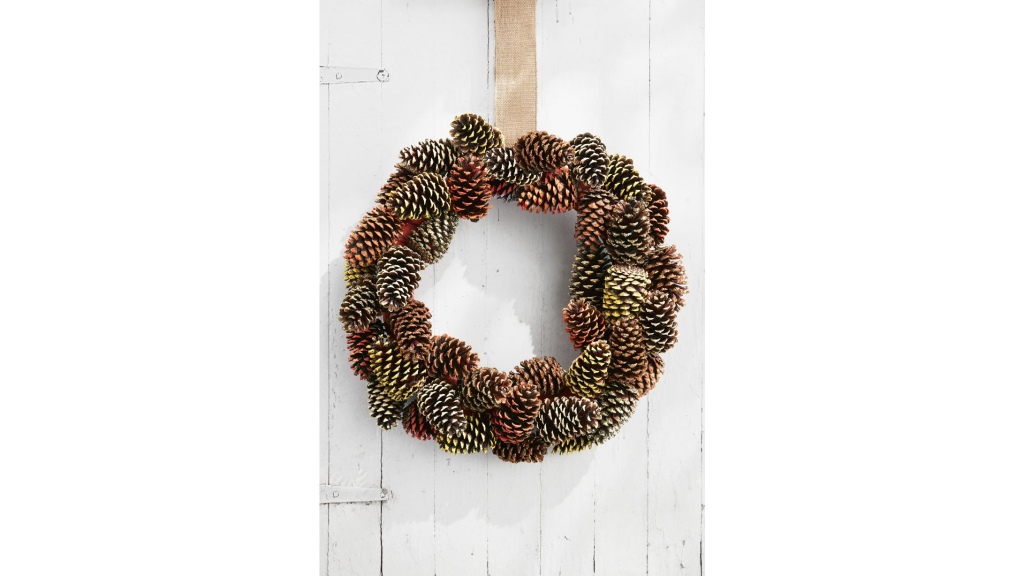 This is a natural ornament. The wreath was made with natural pine cones. All pine cones are hand wrapped together to form a lovely wreath shape.
21. Apple Candlestick Holders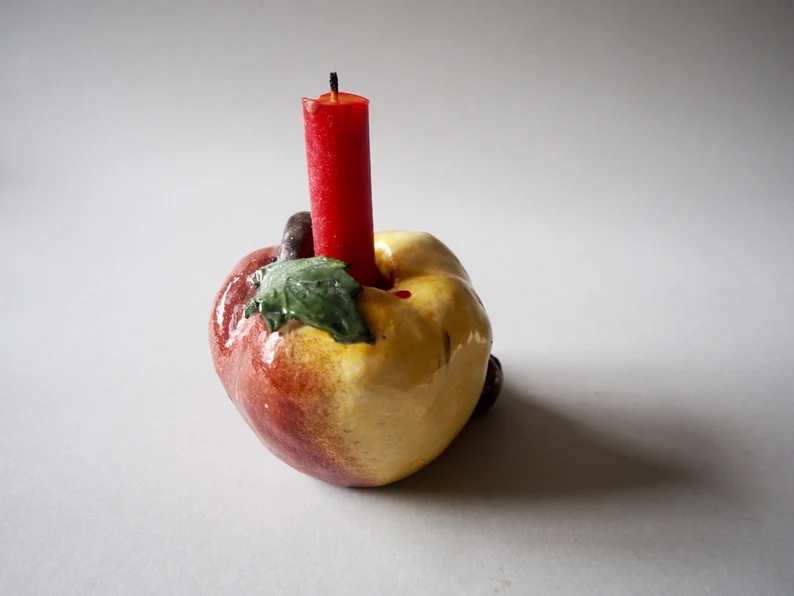 Your Thanksgiving table will not need any other candlestick holder with these one-of-a-kind, vintage apple and walnuts pattern ceramic handmade candle holders.
22. Paper Leaves Wreath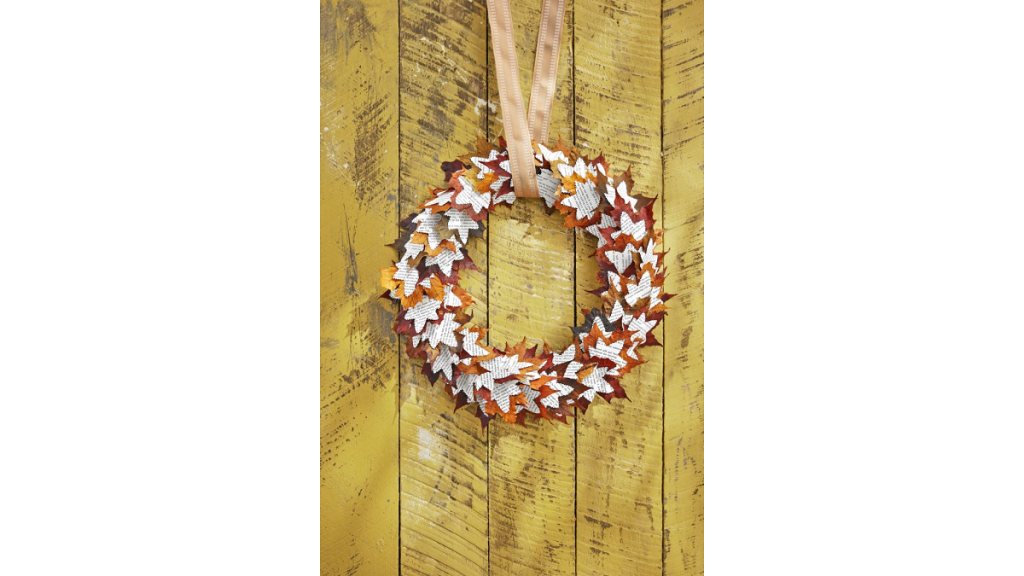 Greet your Thanksgiving attendees with a wreath inspired by fall foliage. Although it appears simple, it is an excellent decorative piece in your Thanksgiving decor inventory.
23. Wheat Cloches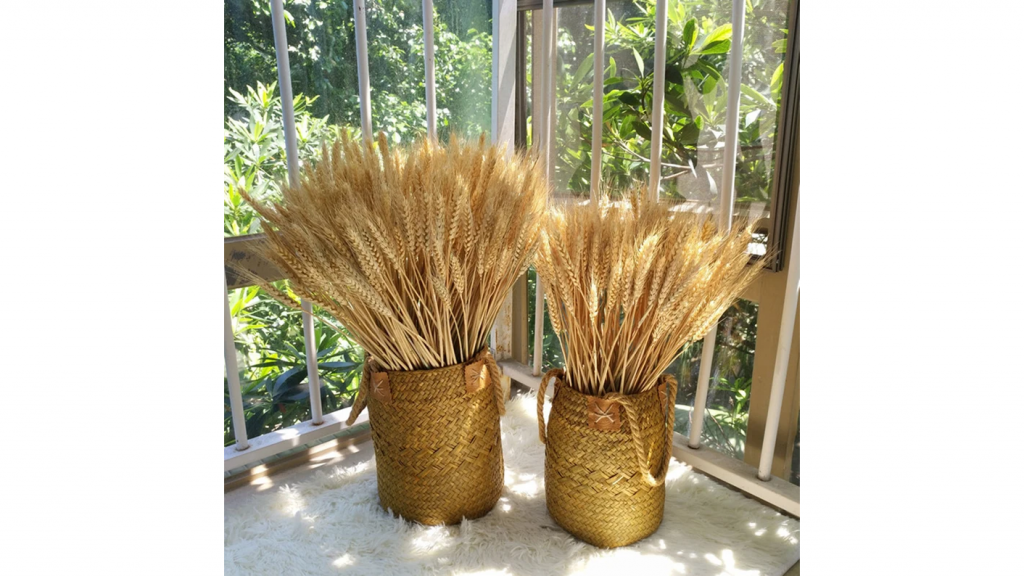 These wheat cloches will give refined and natural touches for a sophisticated farmhouse feel. Because they are natural products, their size and length may vary, but you can easily trim them to the desired length.
24. Ornamental Rainbow Corn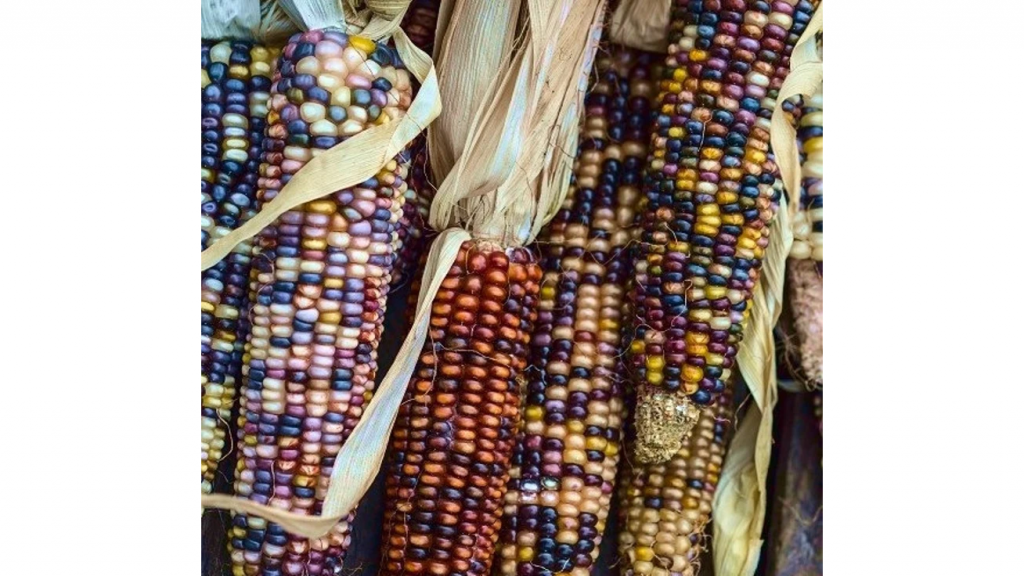 The name "rainbow corn" refers to the multi-colored cobs with each grain a different color. The name accurately describes the beautiful look of the translucent grains in a wide range of yellow, pink, blue, and intermediate colors.
You can place them as standalone decorations, mix them with some pumpkins, and put them inside a cornucopia.
25. Natural Dried Wheat Flower Wreath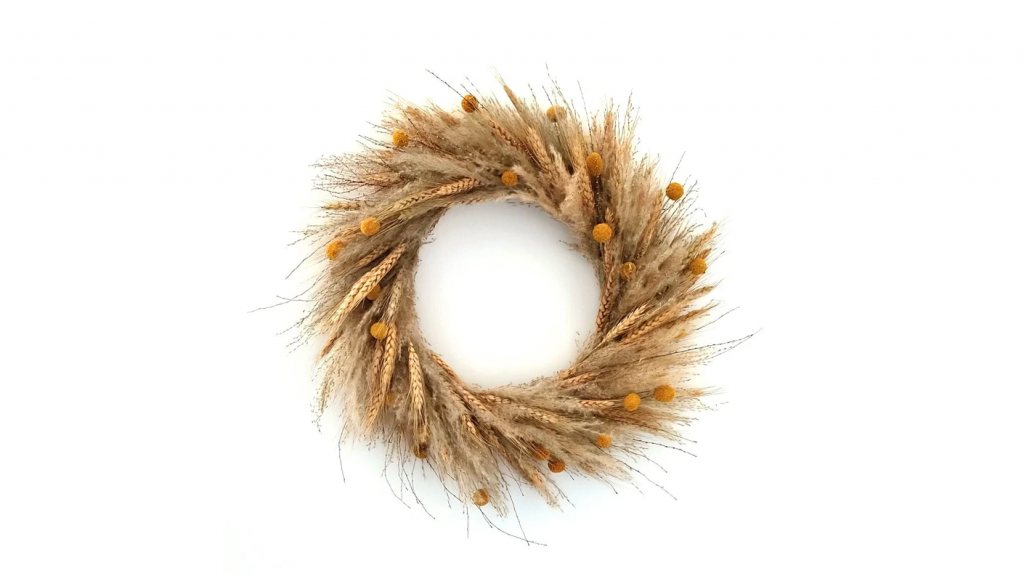 This seasonal embellishment can be used to dress up plain chair backs. A dried wheat wreath will give a welcoming beacon to any home, as bright and beautiful as summer sunlight. Wheat is also a symbol of abundance and generosity.
26. Flint Corn Wreath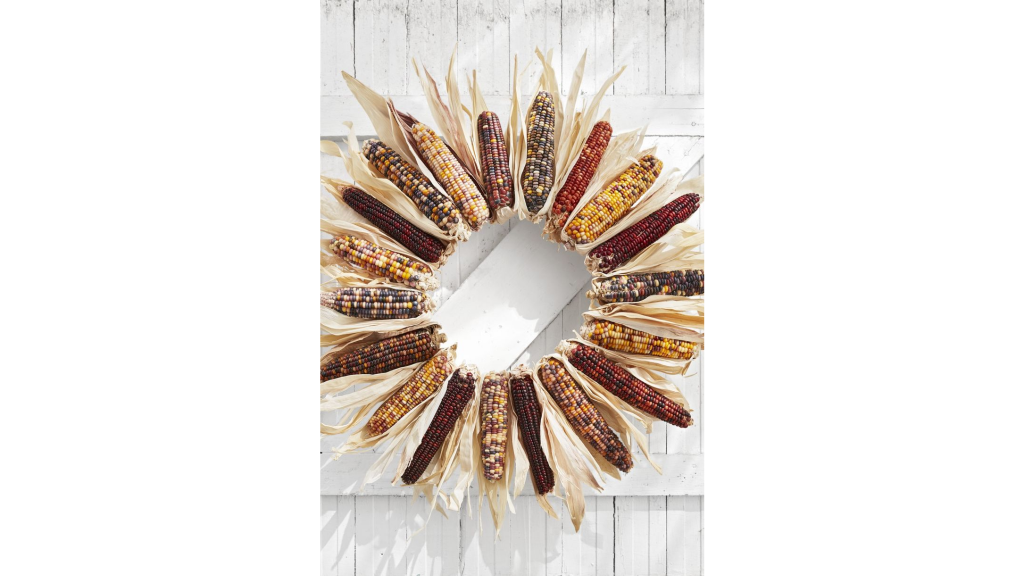 If you want a seasonal wreath that is both beautiful and simple to make, try this simple version made entirely of Indian corn.
27. Pumpkin Napkin Ring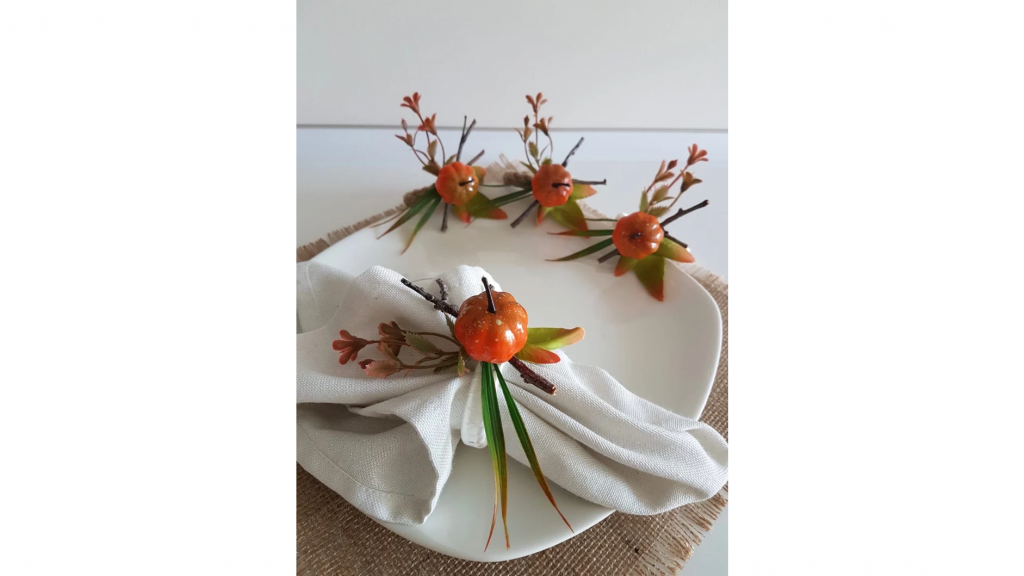 Consider using these Thanksgiving pumpkin napkin rings as table decor to impress your family or guests. These rustic jute rope faux acorns, with faux maple foliage and greenery, are the ideal dining accessory and kitchen decor.
28. Corn Centerpiece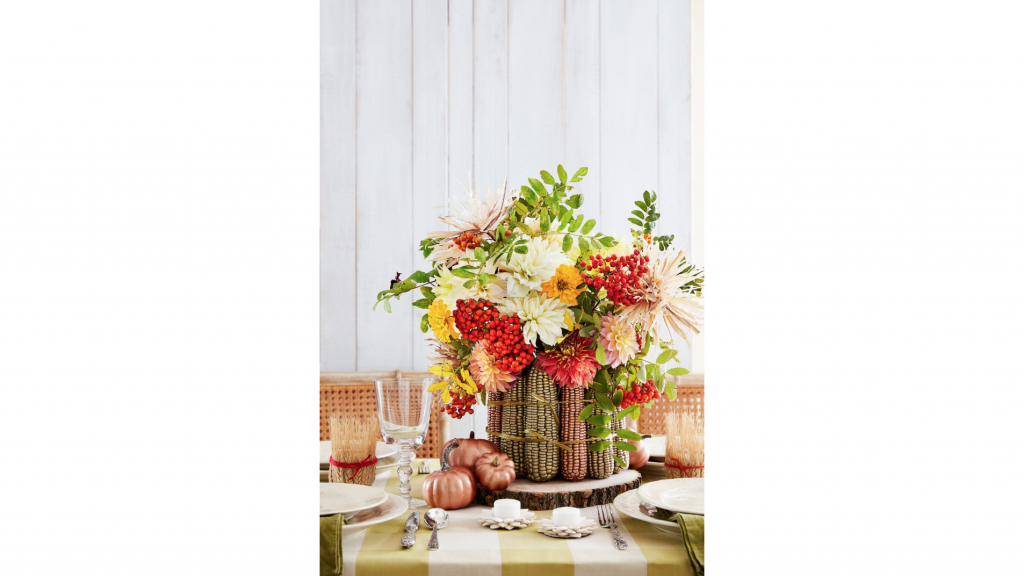 For Thanksgiving, it's mandatory to have a few cobs of corn, and while more, the better it will be. The holiday staple felt original, fresh, and inspired when coated with silver paint and placed around a lush bouquet. You can add seasonal flowers as desired; this sampling includes zinnias, dahlias, and mountain ash berries.
29. Leaf Mason Jar Labels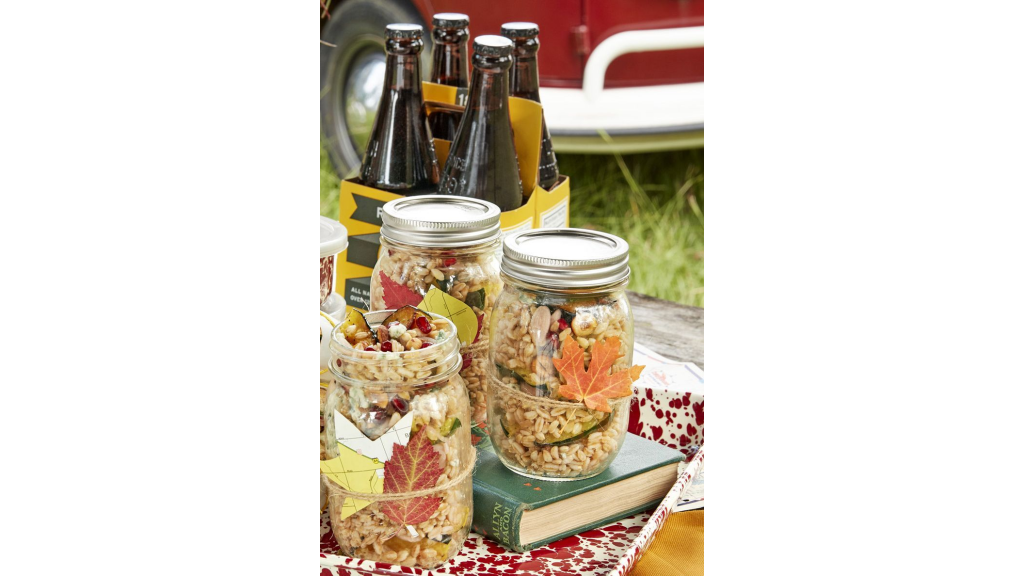 Send guests home with these adorable twine-wrapped Mason jars with leaf decorations. Whether you use vintage maps cut into the shape of leaves, craft leaves, or real leaves, you're bound to get some compliments on these beauties, particularly if you allow friends and family to fill them with leftovers.
30. Thanksgiving Pumpkin Centerpiece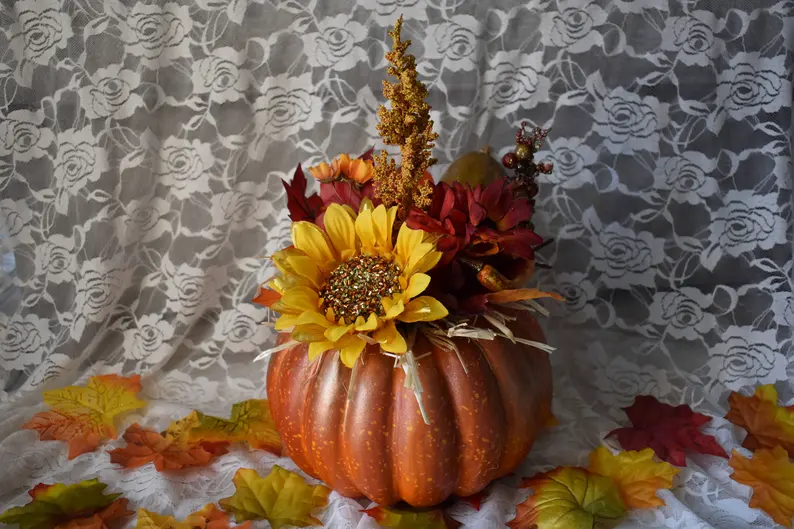 This item would make an excellent Thanksgiving dinner decoration. It is made up of individually colored floral and fall pieces. You can select either a white pumpkin with golden speckles or an orange pumpkin with golden speckles. This item was thoughtfully arranged to complement any fall-themed home.
31. Happy Thanksgiving Napkin Rings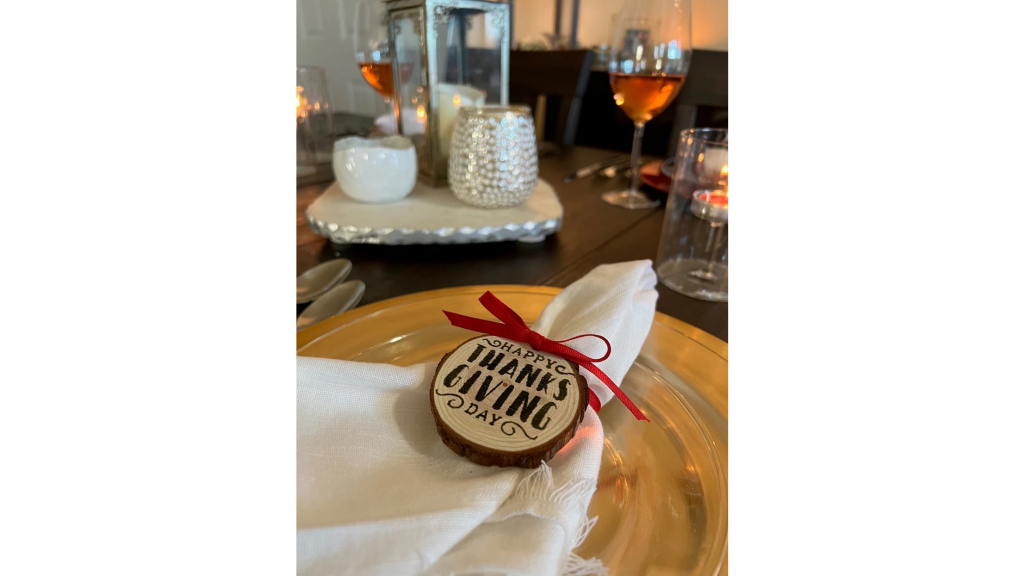 Choose from three different wood burnt styles: "Happy Turkey Day" (with a picture of a turkey), "Happy Thanksgiving Day," or a personalized name timber round with a pumpkin under the name.
32. Mini Turkey Pumpkins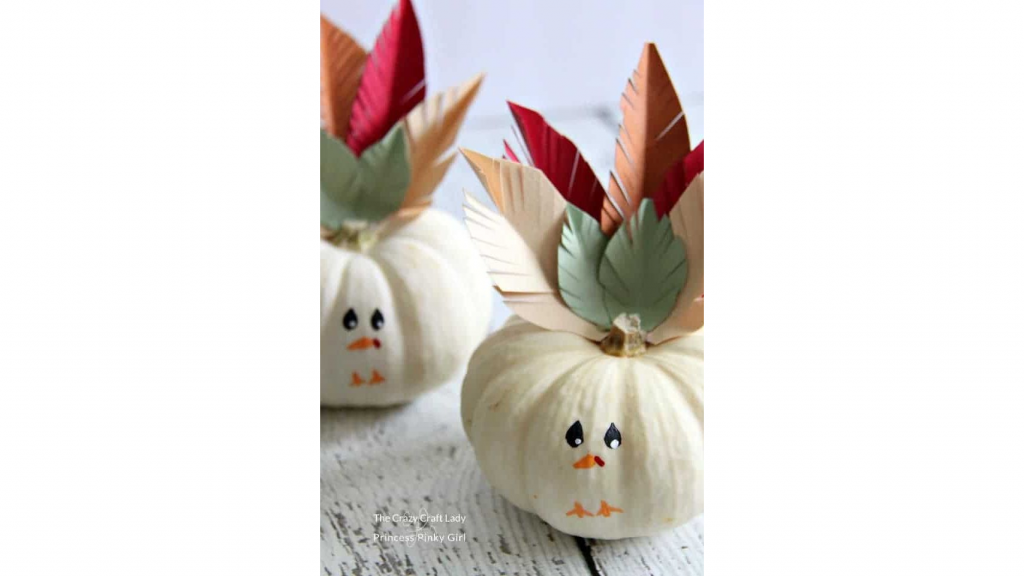 The pumpkin decorating ideas don't have to stop after Halloween. Just look at these perfect Thanksgiving décor pumpkins that turned into turkeys.
33. Thankful Centerpiece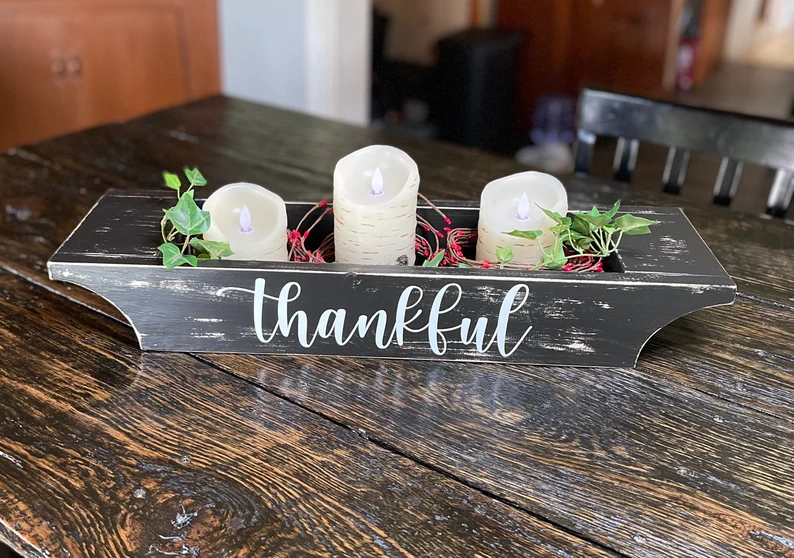 This rustic farmhouse centerpiece box will take your breath away. It is personalized with "thankful" and "blessed" on the other. The ends are rounded in a sleigh fashion. It's perfect for a living room side table centerpiece, mantel decor, or a Thanksgiving dining table centerpiece.
34. Thanksgiving Pie Banner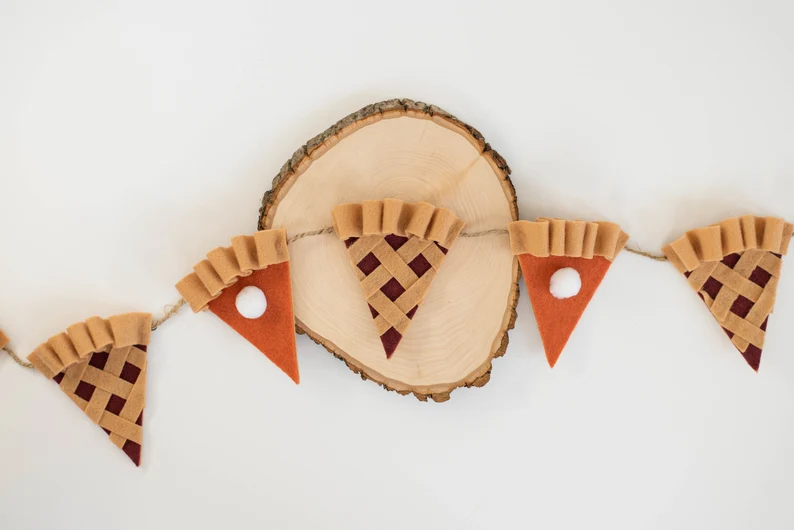 This is an adorable and enjoyable way to decorate your home every Thanksgiving. Display it on your stairwell or mantle for a fun Fall addition. Each garland includes felt pumpkin pie pennants and berry pie pieces, all in the shape of a triangle.
35. Thankful Turkey Activity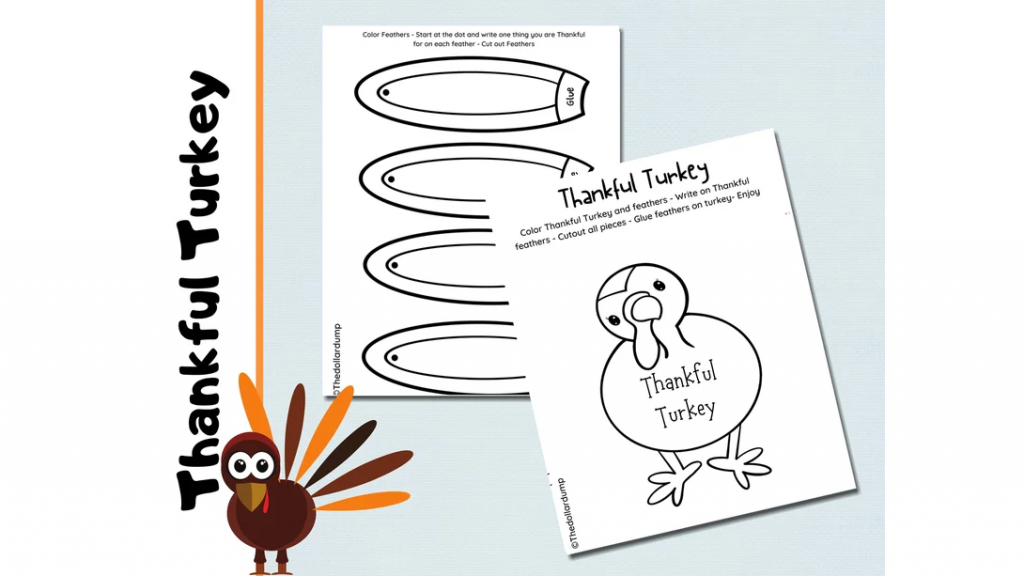 Make a Thanksgiving Turkey. This is an excellent activity for children to do during the Thanksgiving holiday. Kids can personalize their turkey by painting and writing gratitude on the feathers. The turkey is drawn with broad lines, making it simple for young children to color and cut out.
36. Thanksgiving Signs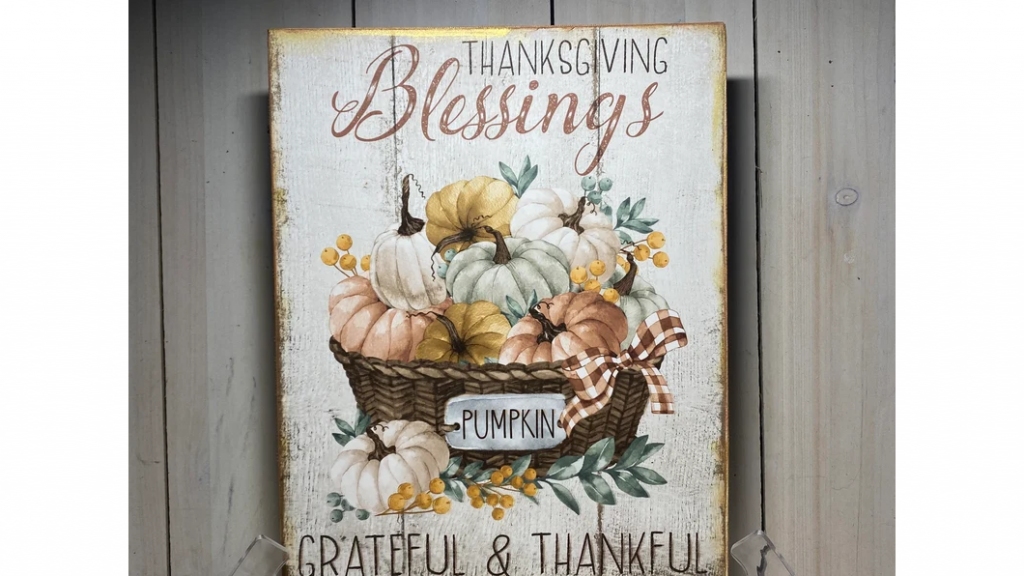 This Thanksgiving sign features a pumpkin basket and the sayings "grateful & thankful". It looks great on a shelf, mantle, or on top of a table. It could also be hung on a wall or hung from a window. It comes with a hanger. It also has the ideal size for storing with your other treasures in a display cabinet.
37. Mini Pie Box Place Cards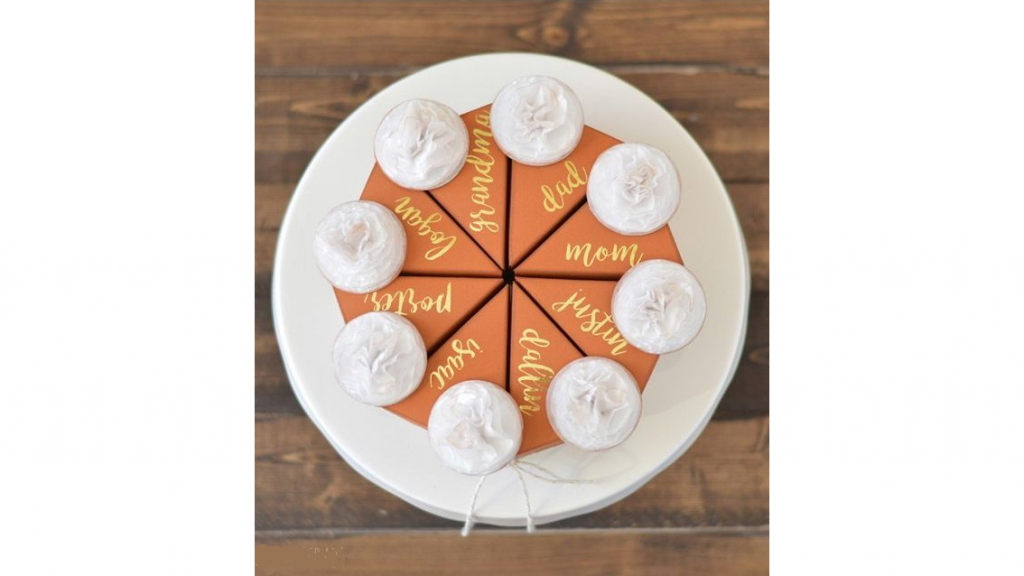 These place cards will be a welcomed addition to your Thanksgiving table, whether you're hosting a small or large gathering. It will also give the attendants an idea of what to expect for dessert.
38. Thanksgiving Seasonal Centerpiece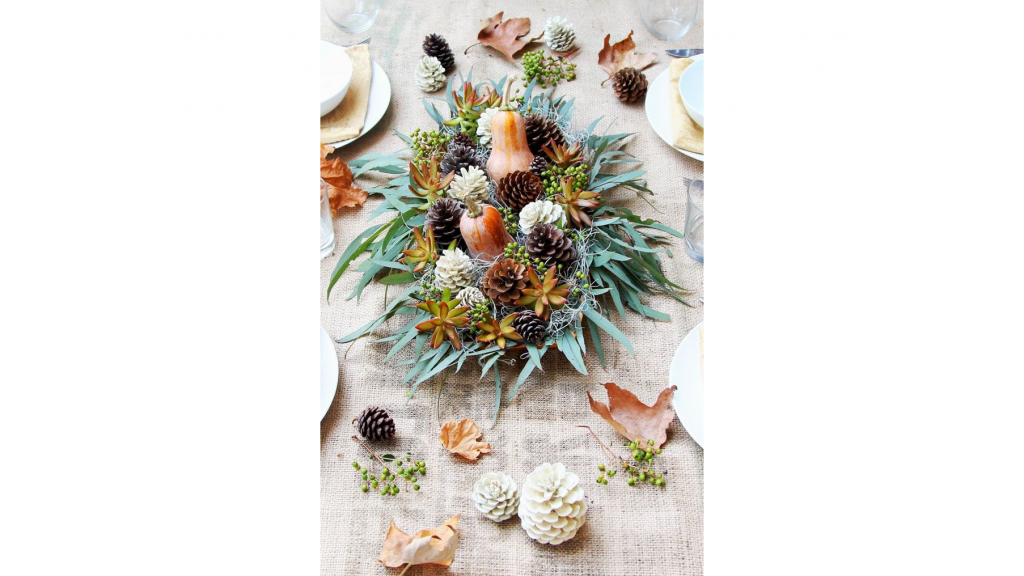 Every Thanksgiving table requires a seasonal, lovely centerpiece. That's why you'll adore this one, which features gourds, pine cones, and foliage for the ultimate fall nod.
39. Pumpkin Pie Friendship Necklaces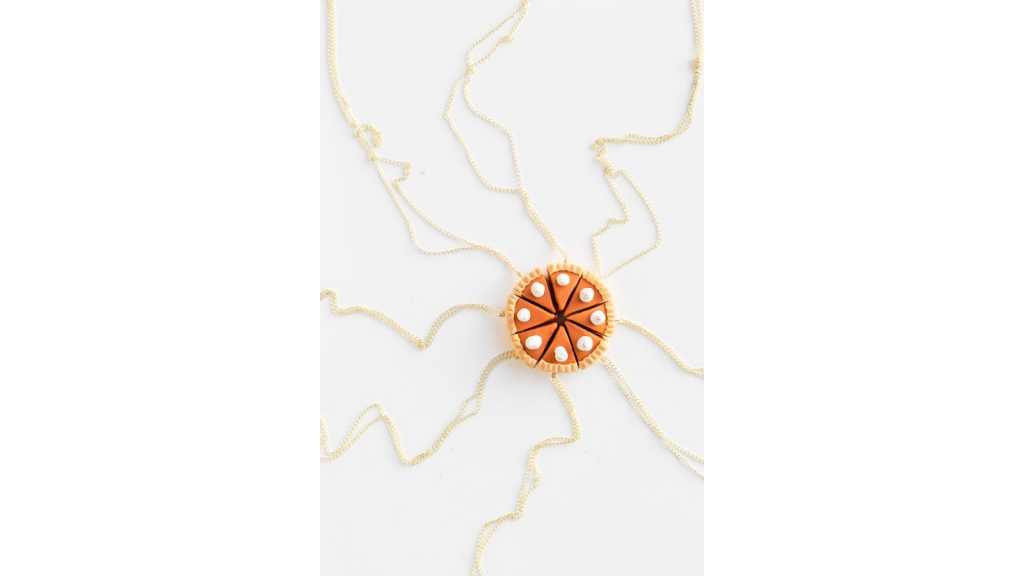 Friendship necklaces have never tasted so good. These ones come together quickly, and your friends will be overjoyed with this gift.
40. Warm Greeting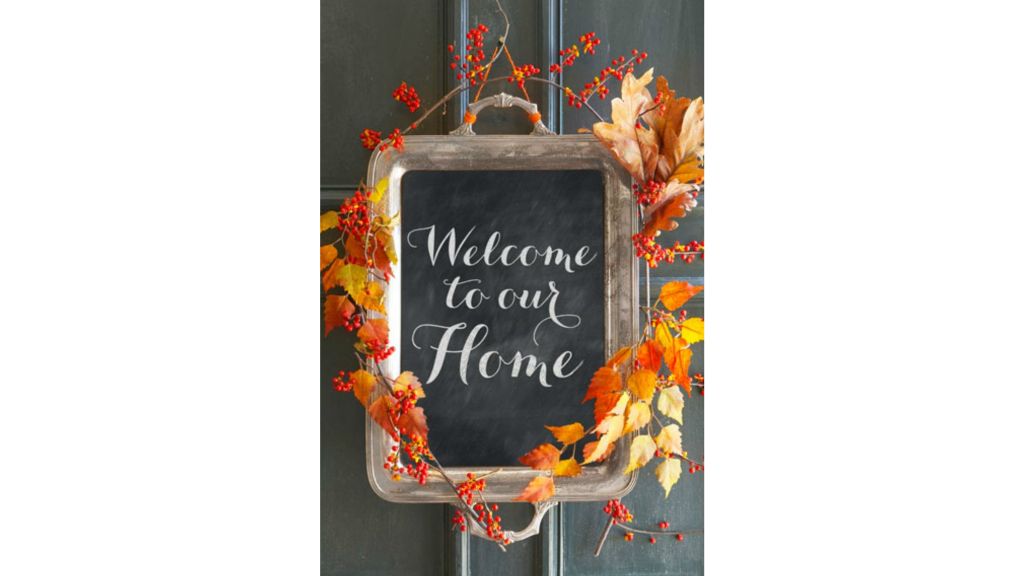 This charming option for a fall wreath will greet guests. It's just a layer of chalkboard paint on the inside of an old tray with some bittersweet berries and autumn branches on the sides for a seasonal touch. However, it is lovely and gives a warm feeling when you see it.
In addition, for the holidays, it can be replaced with evergreen and holly.
How to Find the Best Etsy Thanksgiving Day Gifts Ideas?
We have listed 40 Etsy Thanksgiving Day gifts and decorations ideas, but it doesn't have to stop there. The possibilities of crafting, buying, or DIY Thanksgiving gifts are countless and not all of them can be named.
However, this doesn't necessarily mean that you aren't able to conduct additional keyword research. With the EtsyHunt Database Tool (for Etsy or Amazon Handmade), you can search through all Etsy listings, so you don't miss any.
Just give it some keywords to work with. For instance, we used "Thanksgiving decor" and it found 67,642 products matching those criteria.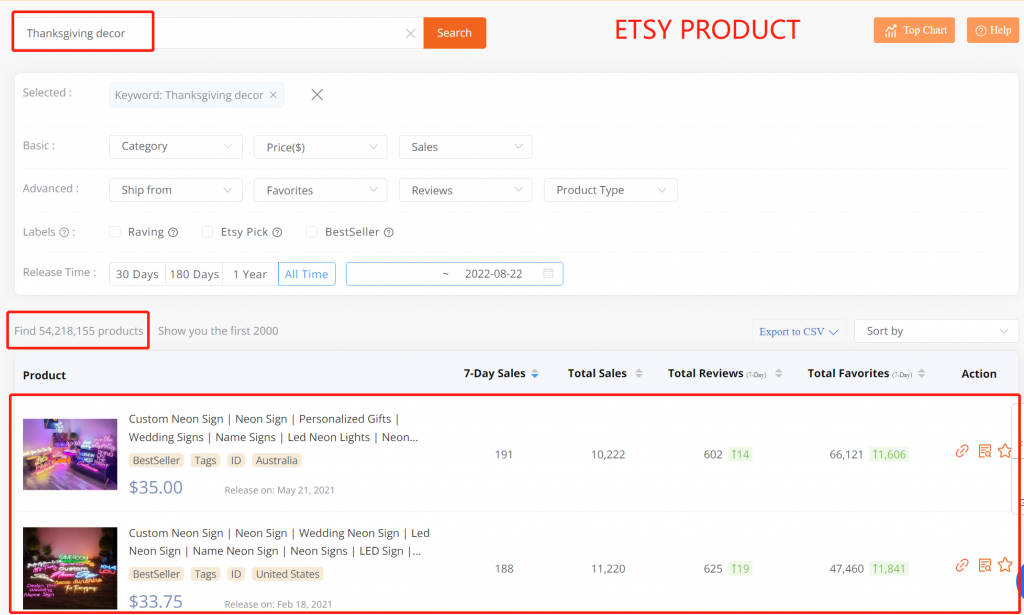 There are 438 products for "Thanksgiving decor" from Amazon Handmade Database Tool.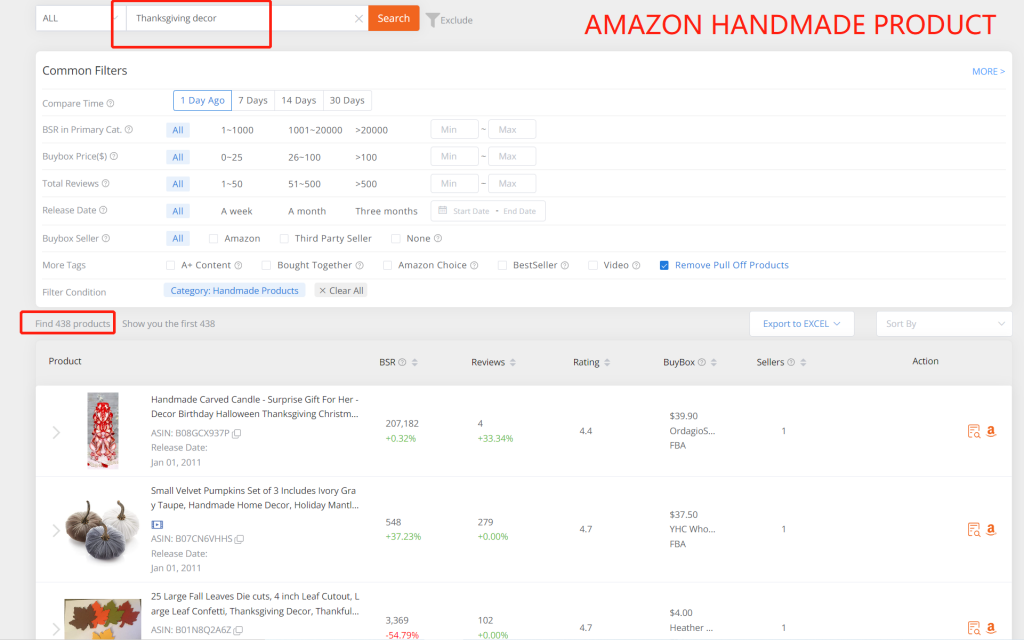 It is a lot to review and there should be at least a bunch of stunning ideas.
Conclusion
Have a good time decorating and making your home beautiful for Thanksgiving! Feel free to use the EtsyHunt database tool to find more traditional Etsy Thanksgiving Day decorations or just any that we didn't list here.
Thanksgiving is a very meaningful time of the year. Enjoy the beautiful centerpieces, colorful decorations, and delightful food, but mainly, enjoy being close to your loved ones.