Etsy Trend: What Is Trending on Etsy In 2022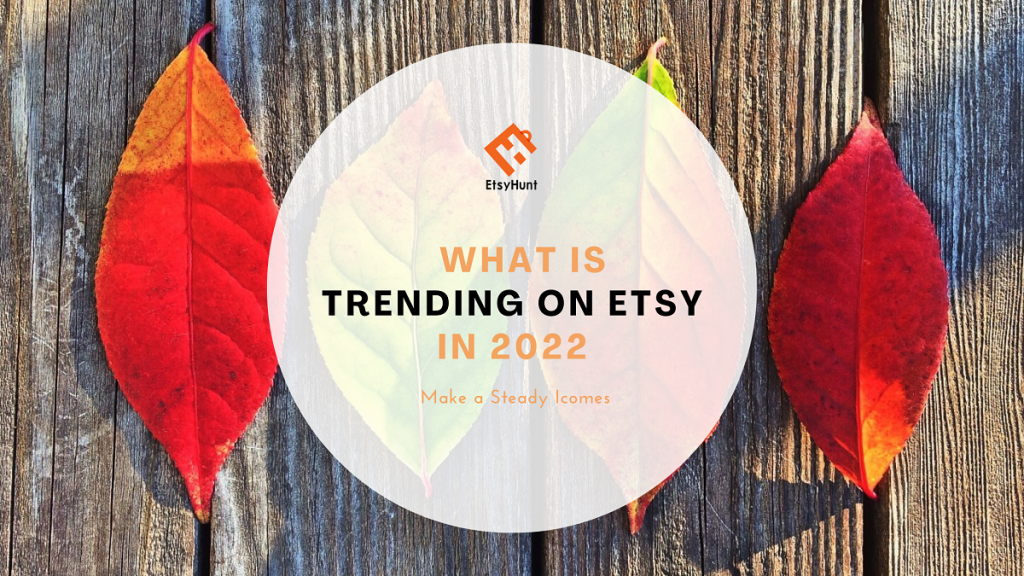 Etsy is a unique marketplace where most customers come to look for items that might not be sold elsewhere. That means it has a completely different trend compared to other e-commerce sites. Any guess on what is trending on Etsy in 2022 so far?
Let's unpack the trend of 2022.
💡 If you want to sell on Etsy, checking out the trending items on Etsy will help you finetune your strategy and make a steady income in the long run.
5 Trending Categories On Etsy with 10 Trending Products
Etsy is known for selling handmade goods, vintage items, and craft supplies. Using EtsyHunt statistics, we found that the five most popular categories are Wedding, Paper & Party Supplies, Home & Living, Jewelry & Accessories, Craft Supplies & Tools.
Wedding
Unique and personalized designs are the two things that set wedding items on Etsy apart. ModParty is the top Etsy store that is famous for its personalized wedding items. ModParty made a total sales of 1246.5K within seven days. Some of the best-sellers include bachelorette party favors, wedding favors, gift ideas, and many more.
Party favors are a popular sub-niche in the wedding category. The bridesmaid drink pouches were in big demand in the last months. It is expected to make a great hit since the review and favorites are continuously growing.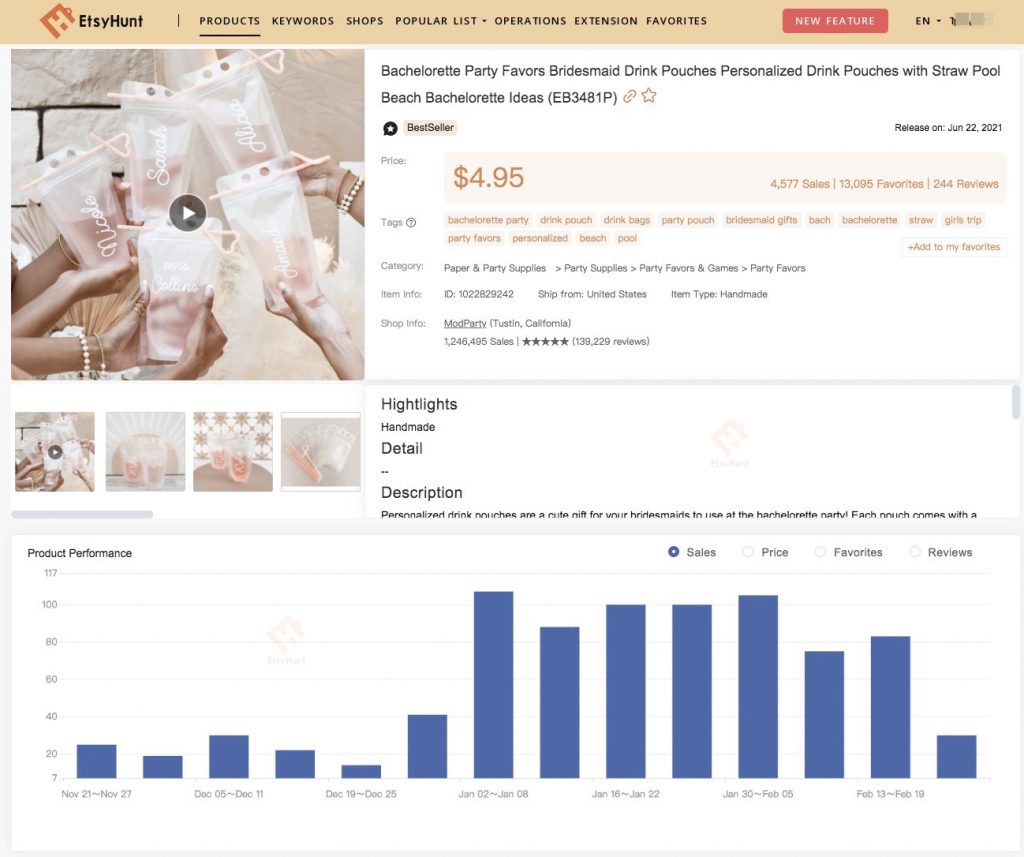 The home-style travel map is on top of the best-sellers within the category. This map is fully customizable with 7 different backgrounds available and 11 customizable nameplates. The multiple variations make it a good fit item for home decor.
Paper & Party Supplies
As we just passed New Year and Valentine's Day, it is not surprising to see a huge demand for Paper & Party supplies, as shoppers were busy with hosting and seeking items for occasions.
Paper & Party Supplies is the top category for Valentine's Day and New Year as demand for home decor, gift wrapping, and cards. Due to the impact of the global pandemic, many people are still celebrating holidays miles apart. We are seeing an increased demand for handwritten cards coming from the occasion opportunities(Valentine's Day) as well as to bridge the distance.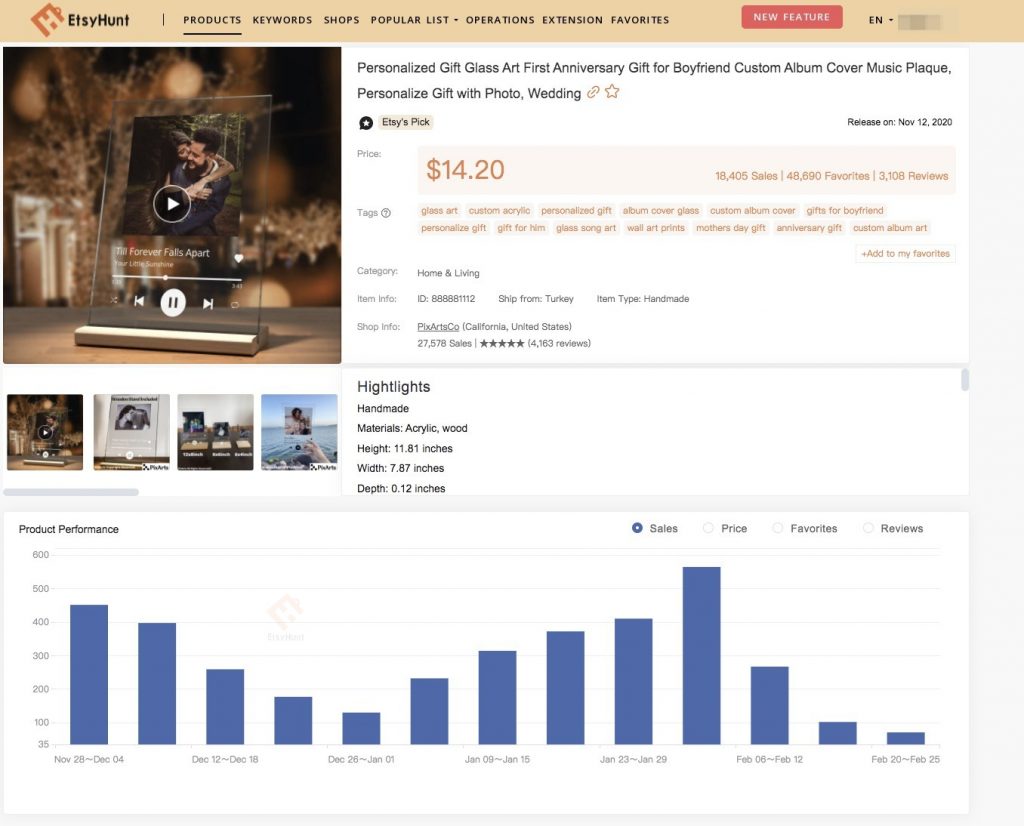 The digital planner is another trending item under the category "Paper and Party Supplies". It is the typical item that we will see a huge order in December and at the start of the New Year. We love making plans for New Year to start the new year on an optimistic, organized note. Therefore, it is expected to see a digital planner on top of the trending chart.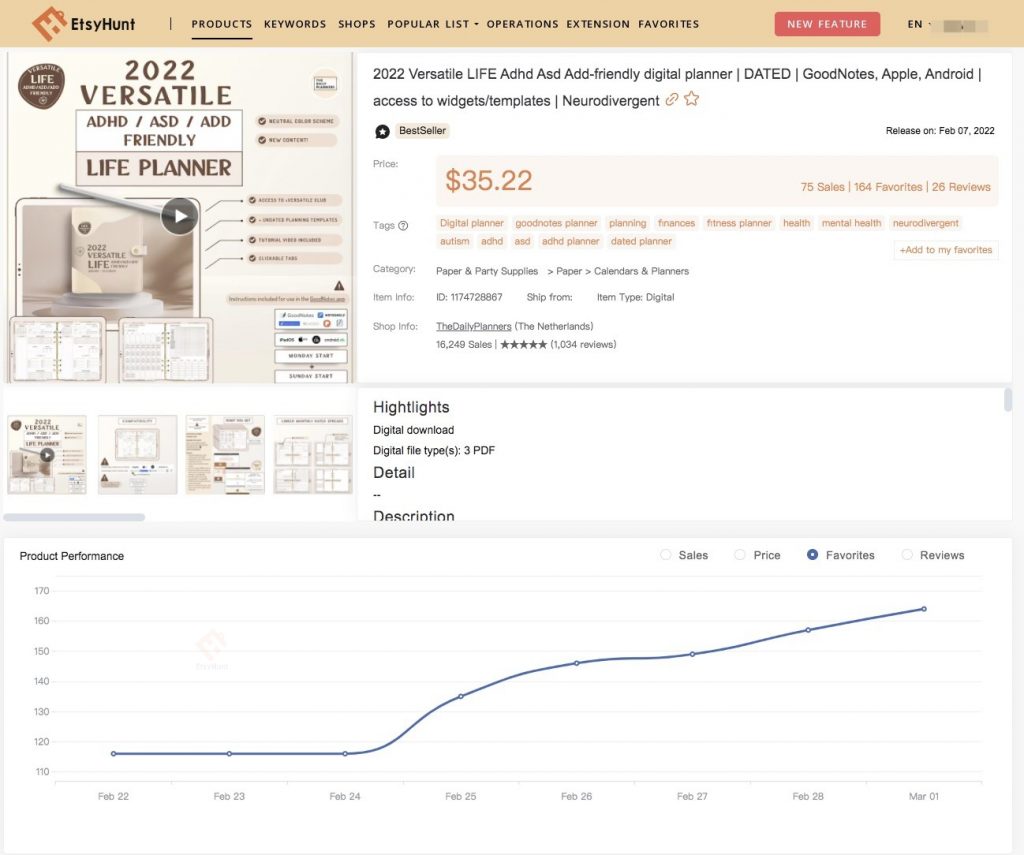 Paper and Party Supplies have an all-year-round demand. The items serve a wide range of purposes and occasions such as goal setting and celebration. The best about the "Paper and Party Supplies" category is that the trending items are predictable.
Home & Living
Home & Living is an ever-green category that is responsible for many best-selling items on Etsy. According to Statista, Home and Living is the most popular category, that is accounted for 25% of Etsy sales. As the new year kicks off, people will want to refresh and optimize their living spaces, especially there are still many people working from home. Therefore, people will be looking for items with the flexibility to suit living and working arrangements, making their home a versatile space. We will continue to see a growing trend of home improvement driving consumer purchases.
The jumbo clothespin towel holder showed steady growth in sales, a continuous increase in favorites and reviews. The product highlights its material - premium wood - which is going to give the holder a consistent appearance and color.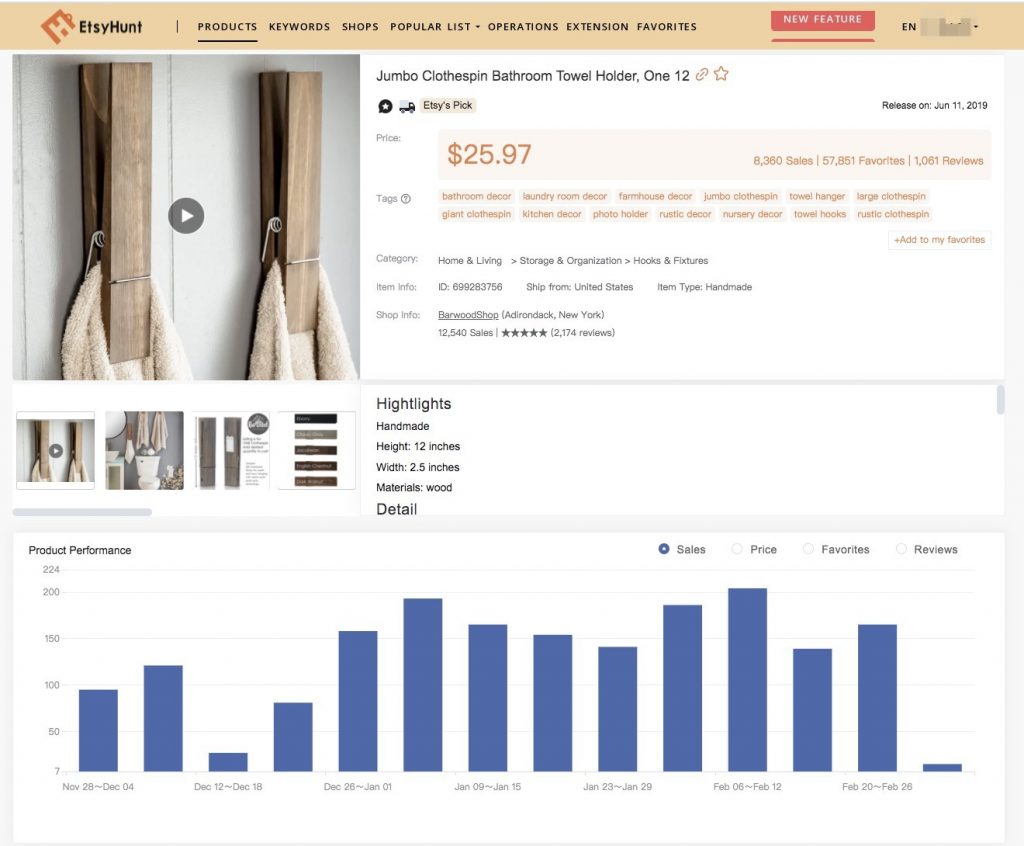 A personalized gift glass would be a sweet gift for the significant one. It is also a delightful home decor that serves the purpose of a home, a space of memory. As EtsyHunt's trending chart shows, personalized items that are designed for home decor are now dominating the "Home and Living" category, such as customized blankets. People are looking for more unique home decor items.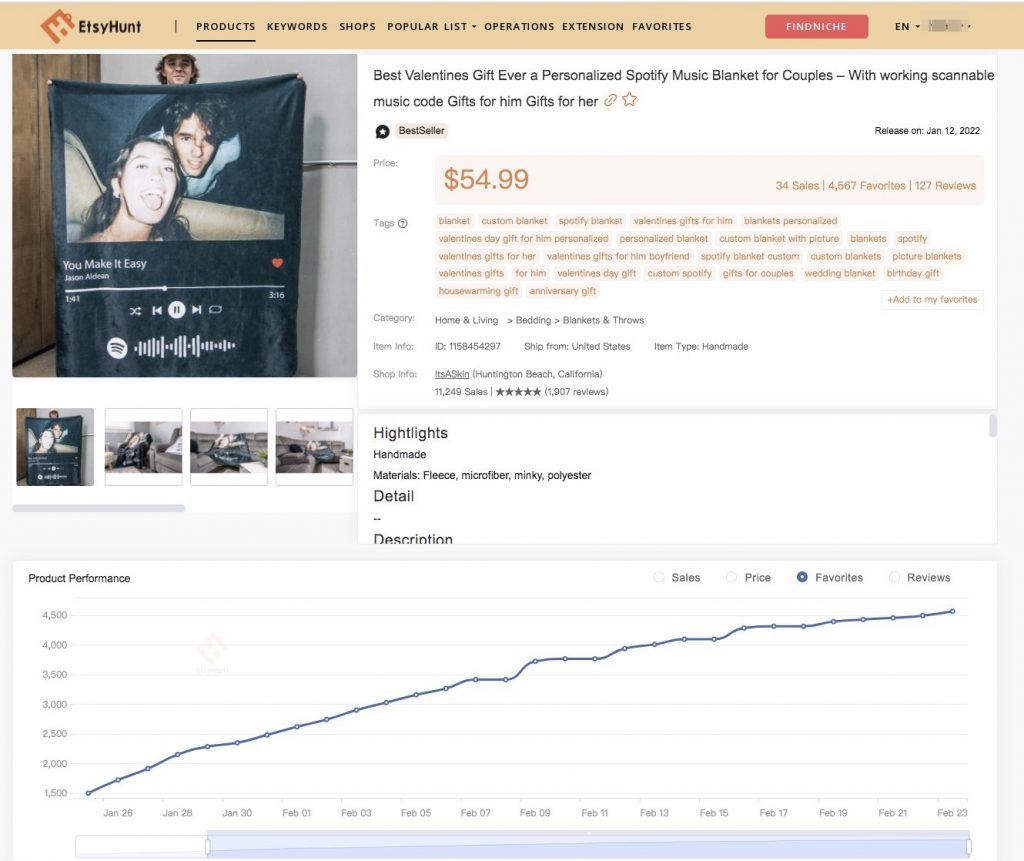 Jewelry & Accessories
Besides "Home and Living", "Jewelry and Accessories" is another classic Etsy trending category. According to EtsyHunt, four out of ten trending products are under the "Jewelry and Accessories" category. As we look deep into the category, we found these four items that are featured on the "Top Chart" and "New Trending", showing that they are in-demand and on-trend.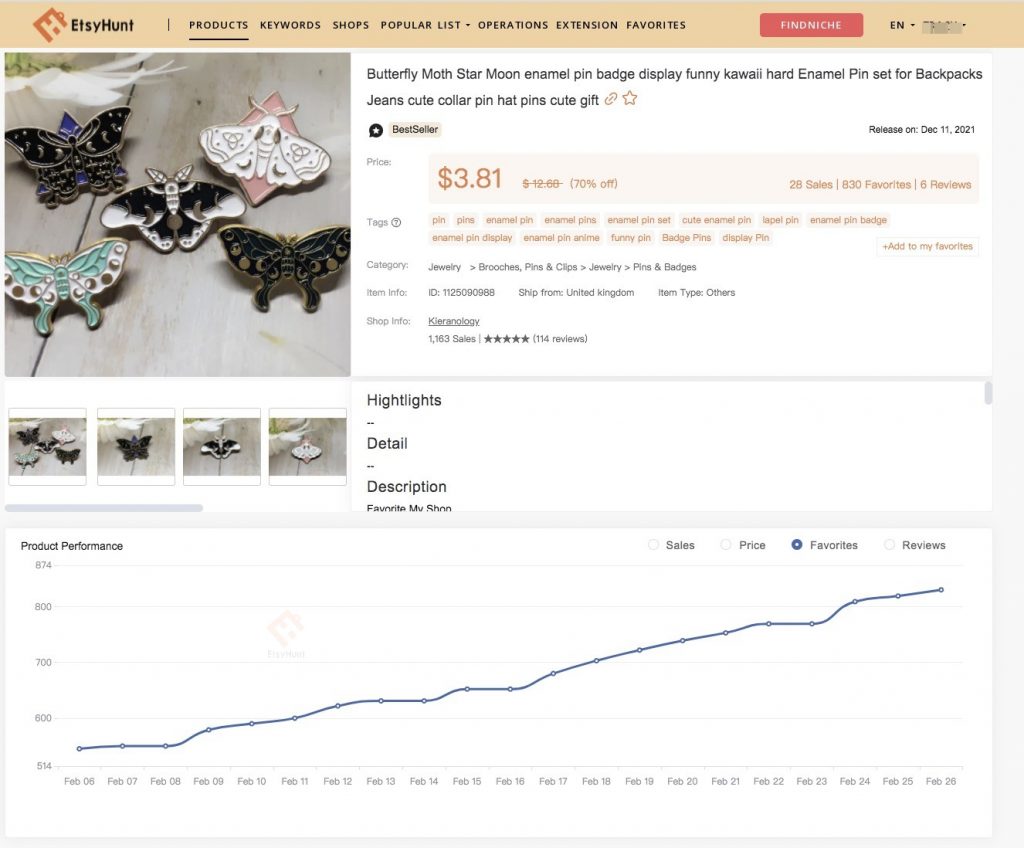 This pin set showed an 18% growth in the last seven days, with an increasing number of favorites. The pin set serves on multiple occasions, and they are perfect for decorating on jeans, jackets, pants, hats, and much more! We continue to see brooches showing up as the trending products under the "Jewelry" category.
In addition to pin, the novel shape is another trend in the "Jewelry" category. For instance, the animal teeth bite earrings. They are light and easy to wear. They are especially appealing to pet lovers. The cuteness bit makes an elevate to your daily outfit.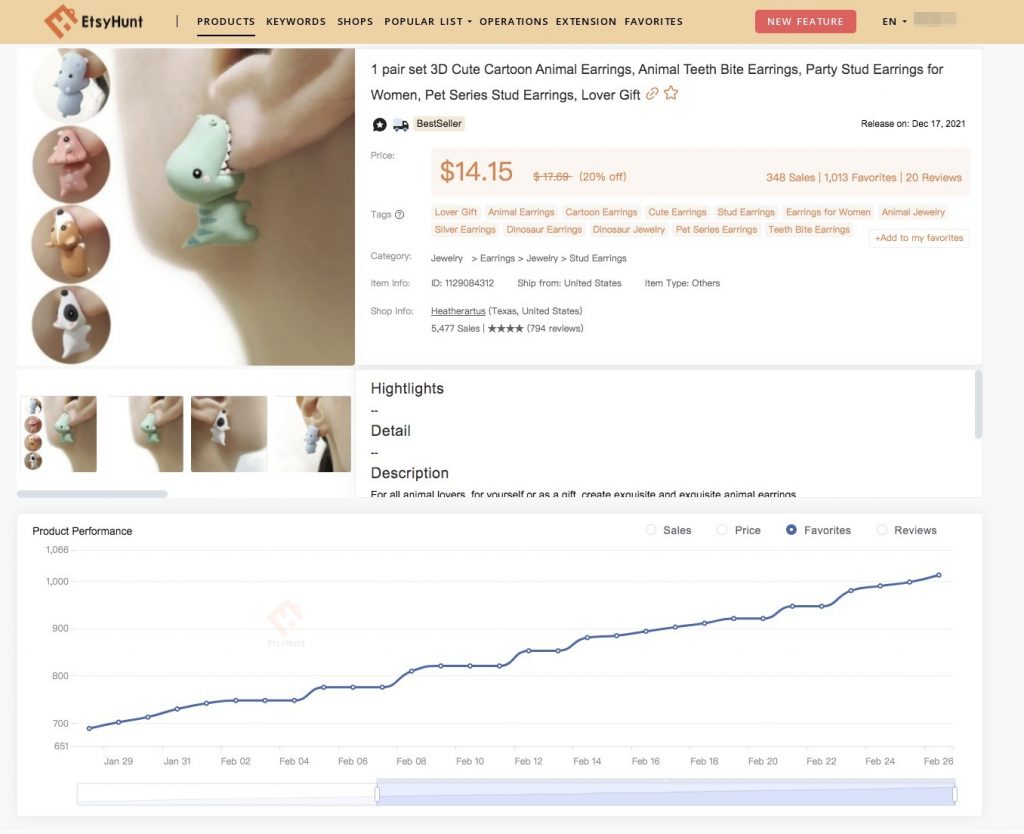 Craft Supplies & Tools
Craft Supplies and Tools are the necessities for hand makers, and therefore no wonder craft supplies and tools are the trending categories on Etsy given the number of artists and craftsmen selling on Etsy. According to EtsyHunt shop ranking, the first top seller on Etsy belongs to the "Craft Supplies and Tools" category. The store is PlannerKate 1. It made a total sale of over 1,800K in the last seven days. What makes the "Craft Supplies and Tools" a trending category is that you don't need to have a talent of a craftsman to make it big here, while your items are largely demanded by visitors on Etsy since Etsy is the platform for people who love arts and crafts.
The "Craft Supplies and Tools" covers a wide range of products and you can easily find a sub-niche to start with.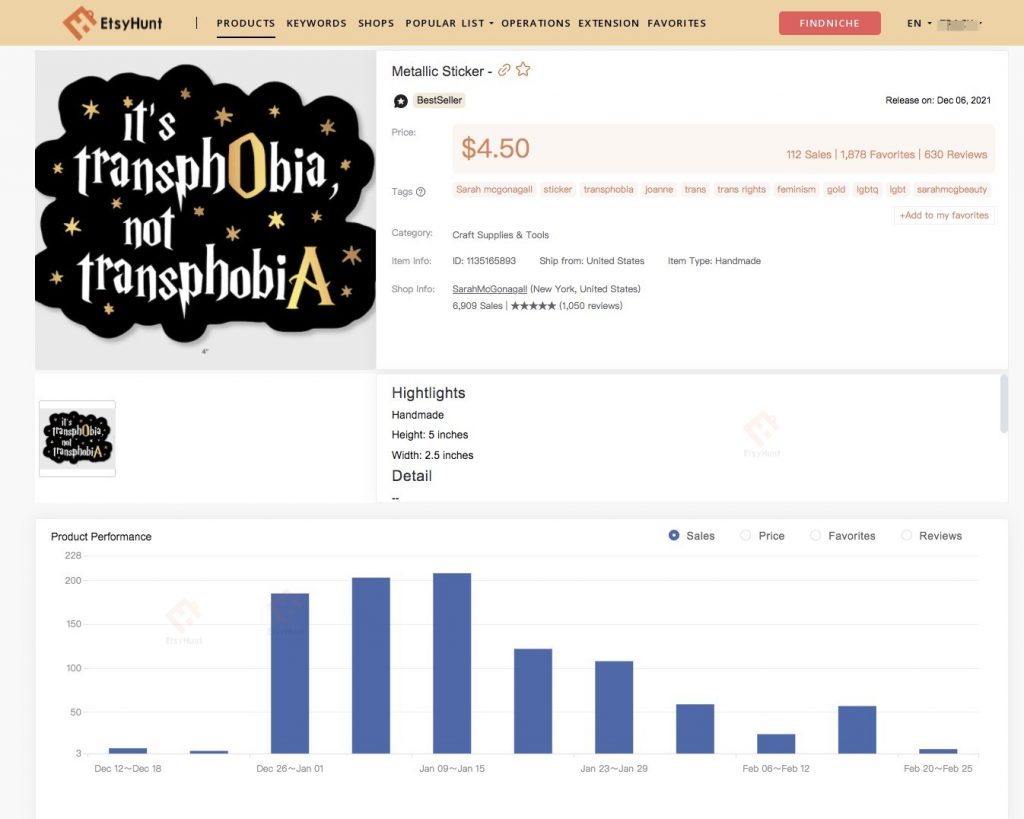 Sticker is a trending niche. You can play around with the texture of stickers. For instance, this metallic sticker raised to become a trending product showing that shoppers are looking for more tactile elements for their crafting practice.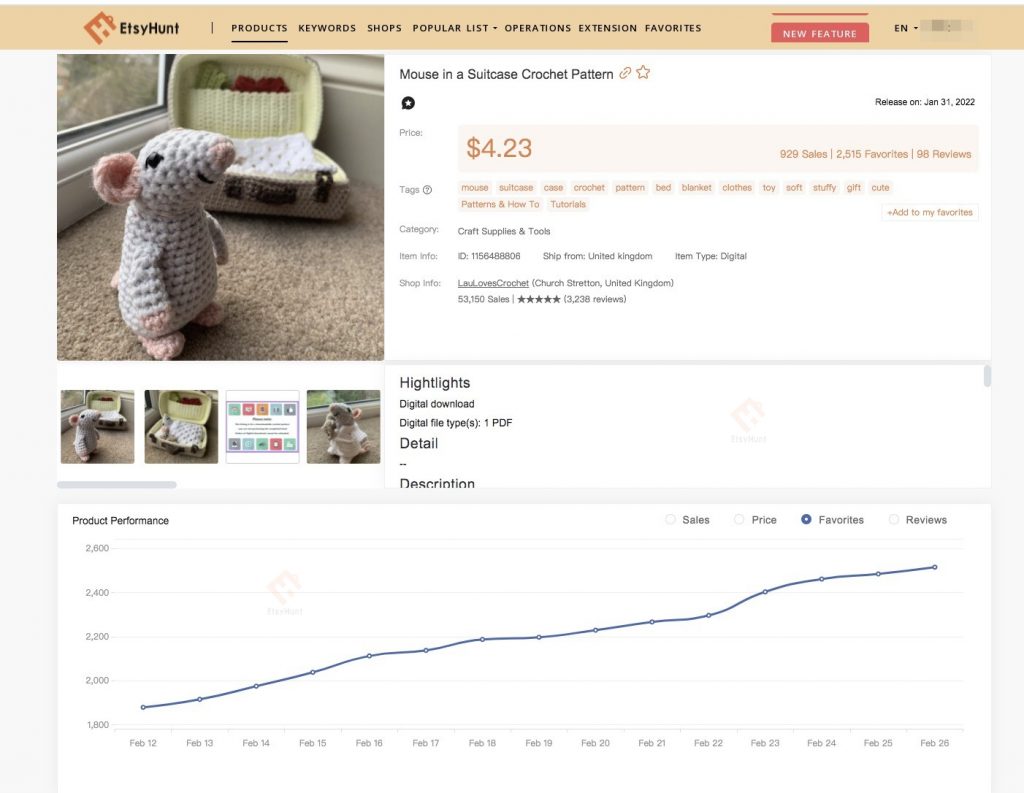 Knitting and crochet tutorial is another on-trend niche. Look at this cute mouse pattern. I am especially hooked by the listing description where it said "This pattern is for an opening suitcase as well as a mouse to live inside it with all the necessary outfits and accessories!".
How to Find What's Trending on Etsy?
EtsyHunt is a tool dedicated to Etsy sellers. It has a large database and sorts data in a logical way that helps sellers to find the trend without a hitch. Here, introduce three approaches to help Etsy sellers find out what is trending on Etsy.
Check out the popular list
EtsyHunt features a chart of products "New Trending" showing a list of products that are on-trend. It is almost the simplest way to discover Etsy's trending products. Click onto the product, EtsyHunt will show additional information and data about the product. You will see the product sales, price, reviews, and favorites.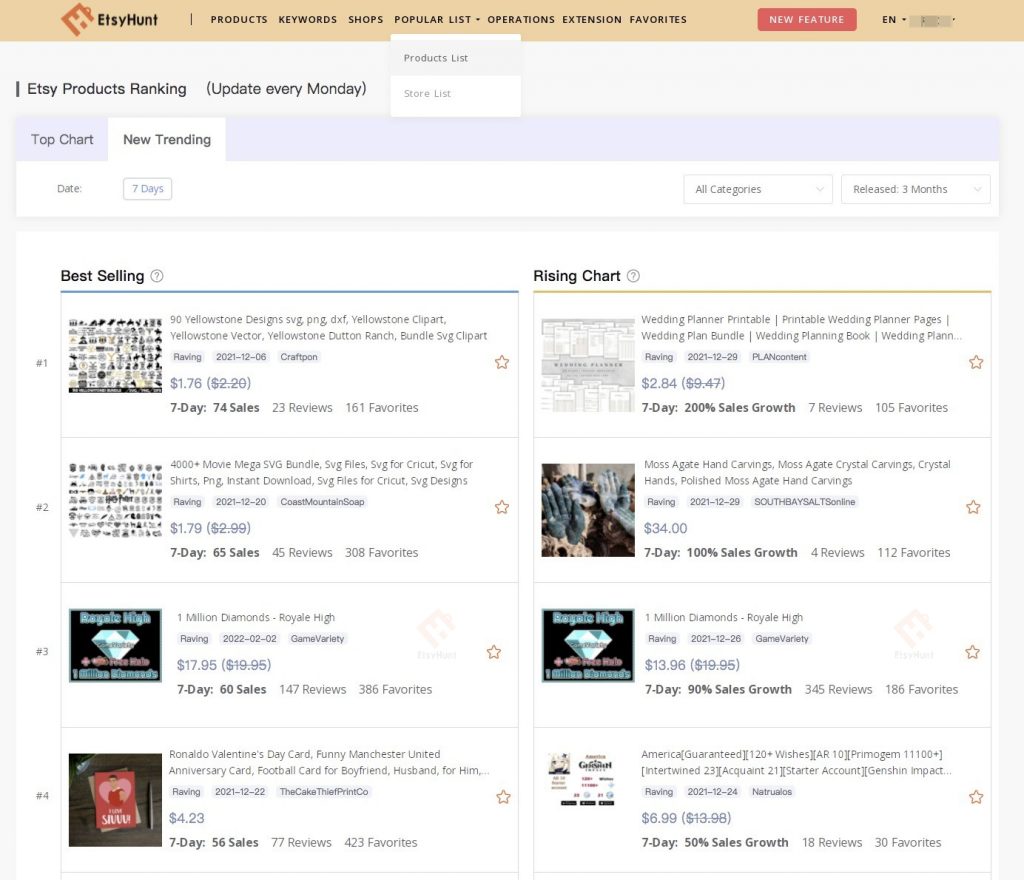 Search by the trending stores
Another way to find what is trending on Etsy is to see what the top stores are selling, and what are their best-sellers. Check out the "Shops" feature on EtsyHunt to look up the top stores. EtsyHunt allows you to narrow down the result by its basic and advanced filtering search.
If you want to see the most popular products for a specific country, simply click on the country name.
It also supports exporting all the data. You can find the best-sellers of the top stores by clicking on the icon "Product list" to get the best-sellers of that store.
Look up Etsy trending keywords
The third way to find trending products is to actually make use of EtsyHunt and Etsy's annual report. Etsy makes a report to predict the keywords of the trend each year. What you can make out of it is to put the keyword in EtsyHunt. EtsyHunt collects data of the top 100 best-selling products that include the keyword. For example, I pulled out the 2022 marketplace insight report from Etsy. It shows me that "90's punk" is trending tags, and "velvet chokers" has a 365% year-to-year increase in search on Etsy.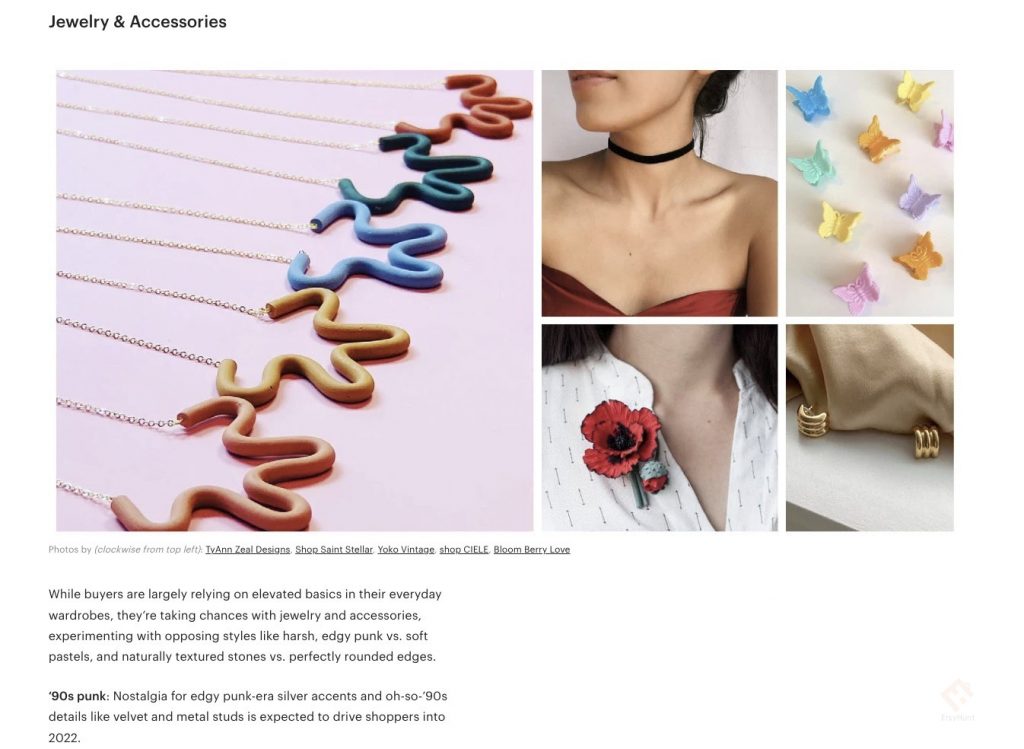 Then, I put "punk" in the search bar of EtsyHunt under the "Keyword" feature. First, it showed me an analysis of the keyword. Then, as I scrolled down, it showed me a top 100 best-selling products with the keyword "punk". I was able to see the number one best-selling product and clicked to see more information about it.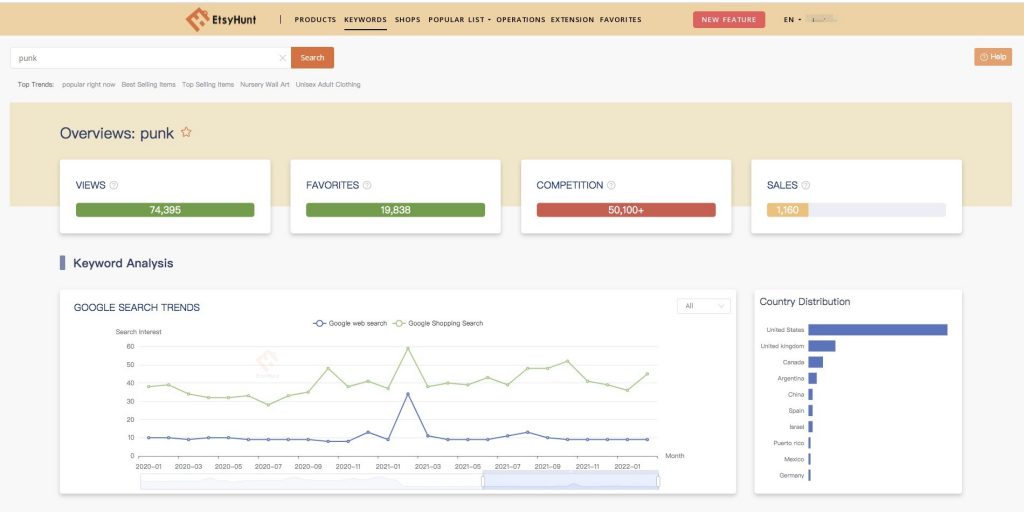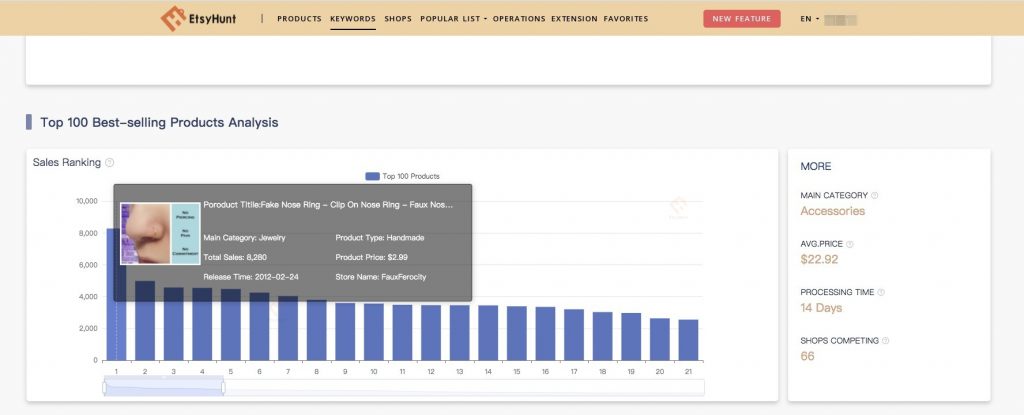 Final Thoughts
It is important to understand what is trending on Etsy as the New Year starts. You want to grasp occasion opportunities (i.e. Valentine's Day, Mother's Day, Father's Day, Halloween, Thanksgiving, Christmas, Black Friday(BFCM) and New Year.) and read the information that comes from your competitors (search their best-sellers) and Etsy's annual report to get the pulse of your buyers. Utilizing a research tool such as EtsyHunt can make the task of finding trending products easier. Especially when you haven't come up with a specific product or niche.
---
Are you selling on Etsy? Join EtsyHunt to
Experience Hassle-free Selling on Etsy
Start for Free