Etsy Rank Analysis Tools
Improve your Etsy shop rank and visibility
Backed by data from 27,000,000 product listings, EtsyHunt makes it easy to research and optimize your Etsy SEO, product listings and tags.
Start For Free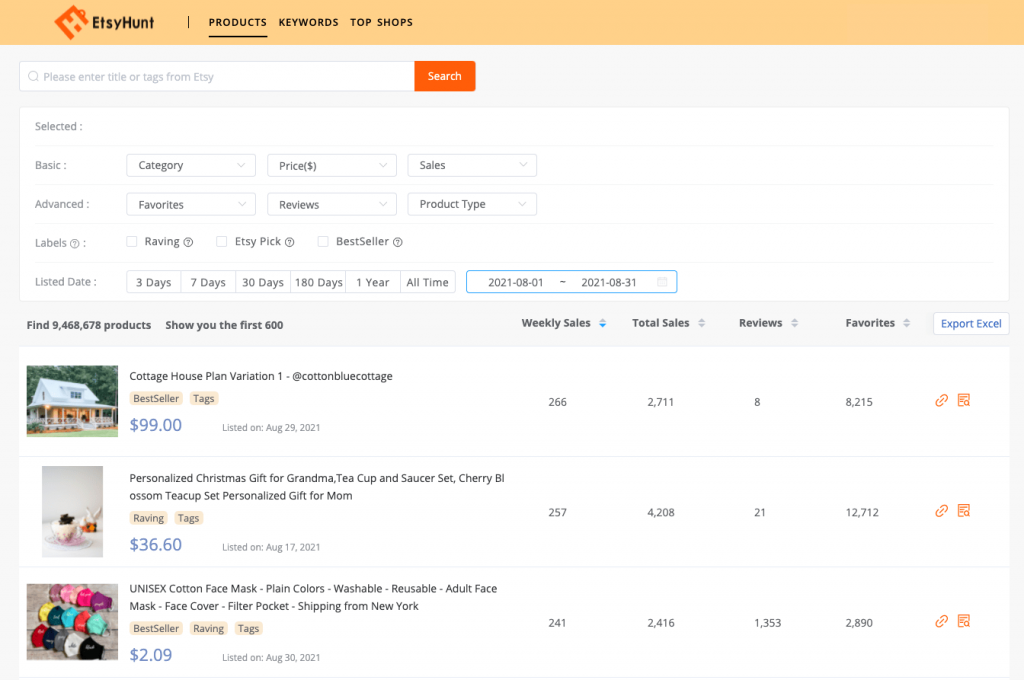 Services
What EtsyHunt will bring you?
---
Start with a free account and explore all the features you need to grow your Etsy shop.
Product Research
Know what's selling on Etsy and then figure out what to sell on Etsy.


Keyword Research
Find the right keywords for your Etsy listings with a tool made specifically for Etsy.


Top Charts
Inspire sales inspiration through top trend chart
and new release chart.


Best Etsy Shops
Analyze top Etsy sellers idea and adjust your business strategy.


Figure out Top Etsy Products
√ EtsyHunt currently has 27,000,000 Etsy product data and can update
all product data every day. Here, you will not miss any niche product.
√ The Etsy product research tool supports four major trends in historical sales, price, favorites, and reviews, helping you crack the secrets of top Etsy products.
Start Product Research Now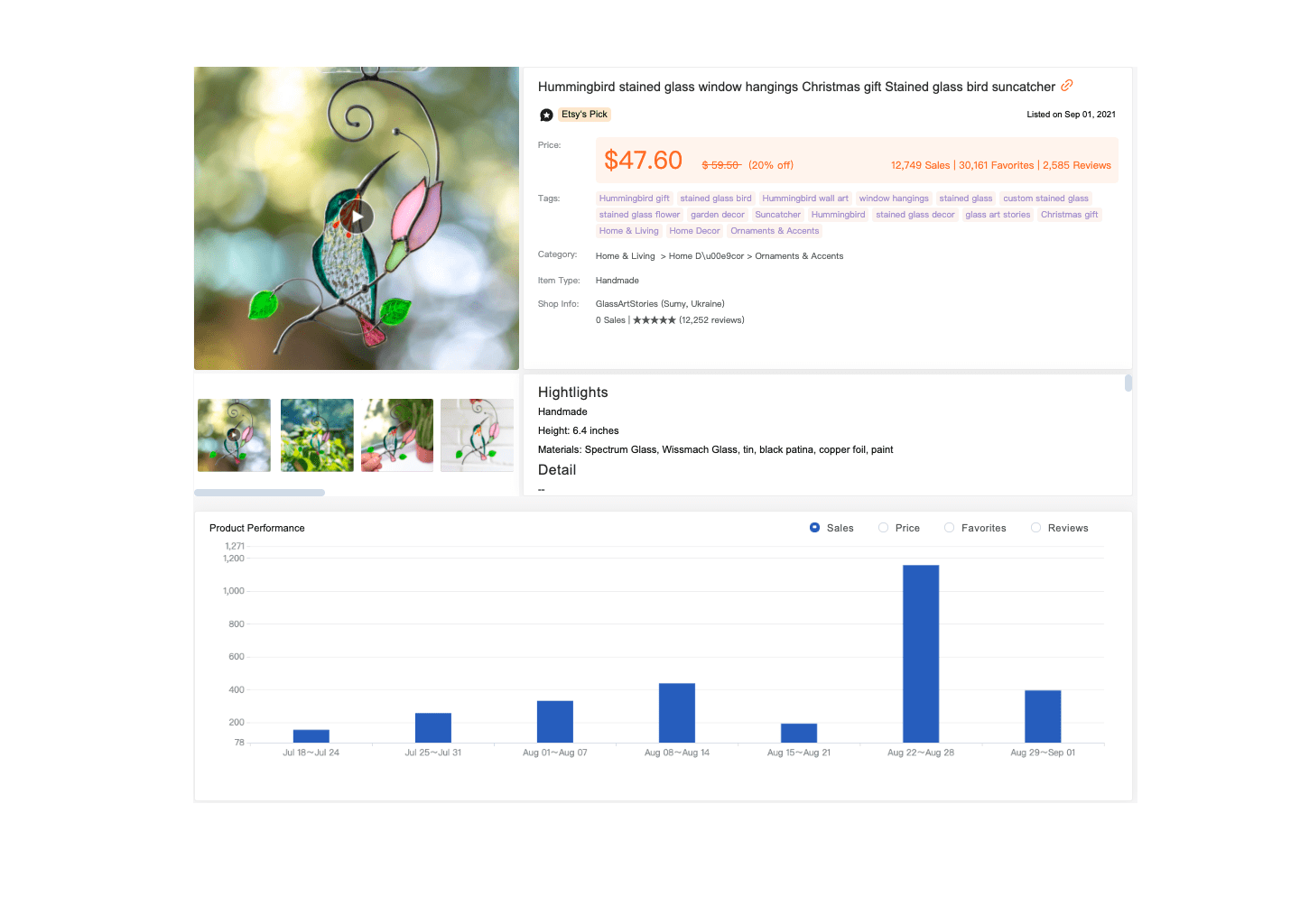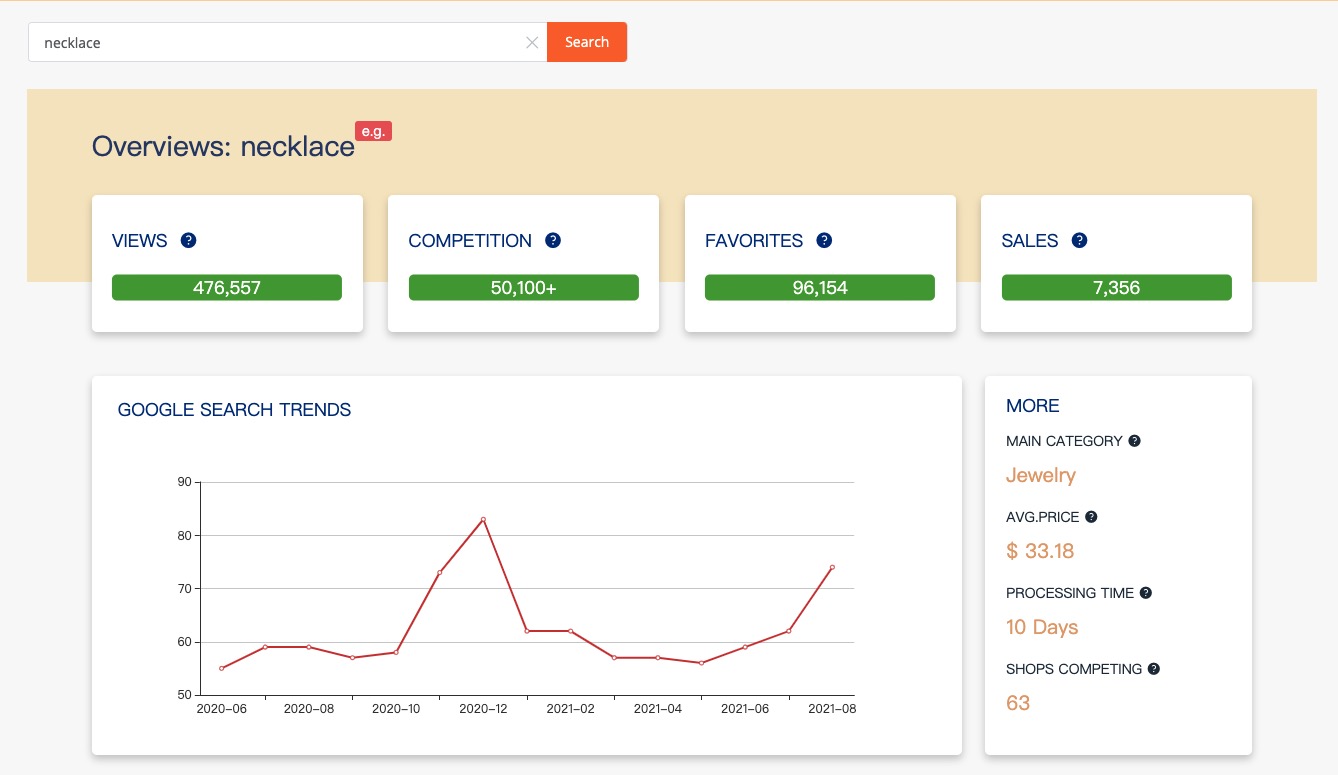 Improve your Etsy SEO Keywords
√ The Etsy Keyword tool shows you the keywords actual shoppers are using to search. Try to compare search phrase metrics side by side to identify the best keywords for your Etsy shop.
√ Also, this tool will give you insight into your Etsy listings: how to write your titles, what tags to use, how to price the items.
Explore Best Keywords Now
Discover Best Etsy Shop Ideas
√ What to sell on Etsy? There's practically an endless list of good Etsy shop ideas to choose from. EtsyHunt is designed to help you narrow down the popular categories or products.
√ Spend some time browsing our list of Etsy's Top 500 shops in the past 30 days, including their sales, categories, tags, listings and reviews......
Get Top Sellers Now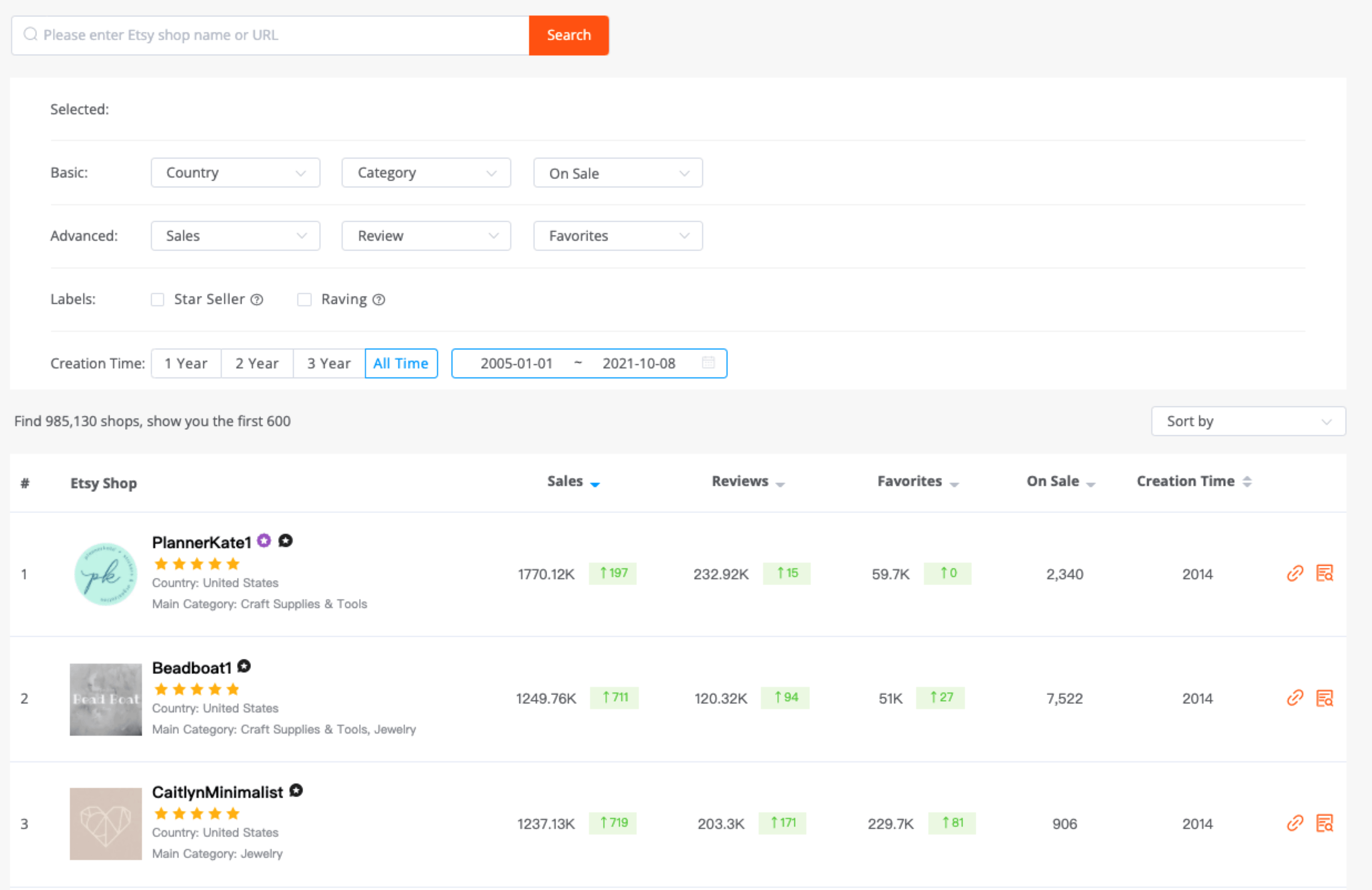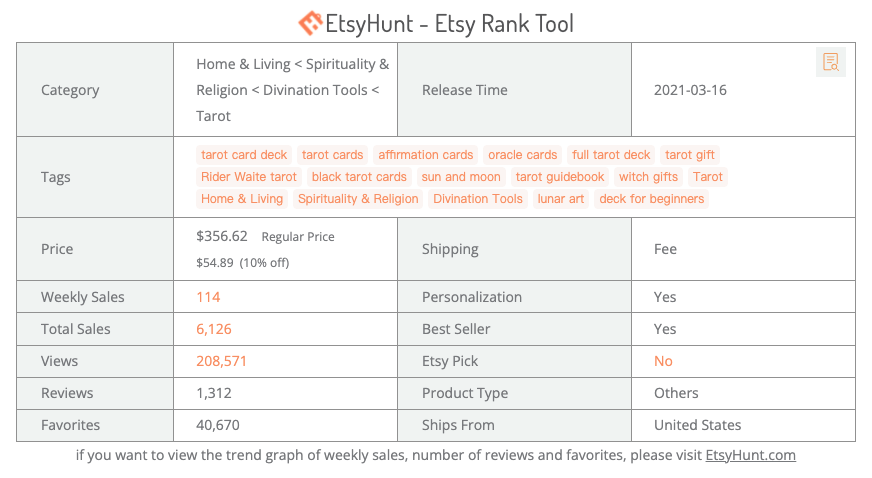 Quick View Tool for Etsy Sellers
√ Increase your product research efficiency by at least 200%.
√ The popularity of products or stores is judged by the following dimensions: Page Views, Weekly Sales, Total Sales and Release Time.
√ No account required. Just install and start viewing.
Chrome Extension
Edge Extension
Join EtsyHunt to explore better Etsy shop ideas!
What People Say About EtsyHunt?
---



EtsyHunt is an extremely valuable tool for evaluating the level of competition in a niche on Etsy. I would highly recommend it to anyone wanting to sell on Etsy.



I just had my 15,000th order and went from "has sold more items than 85% of other sellers on Etsy!" this month! Things are going faster and faster as I improve my business on EtsyHunt.



Love the software and support!
The data is displayed in a fashion that is easily consumable. I use this tool daily in my Etsy business and wouldn't be able to live without it!
FAQ
Frequently Asked Questions
---
Got a question? We've got answers.
EtsyHunt is an all-in-one platform for Etsy sellers. It supports Etsy rank & product research, Also, there is a list of Top Etsy shops for better Etsy listing & tag analysis.
Every day, we process 5,000,000 popular Etsy product listings. Based on these, we update weekly sales (estimated) and other metrics for Etsy SEO.
Currently, we discovered 2,700,000+ listings from Etsy. At the same time, there are 3,000,000 Etsy products added every day.