Etsy Message to Buyers Examples: Offer Great Customer Service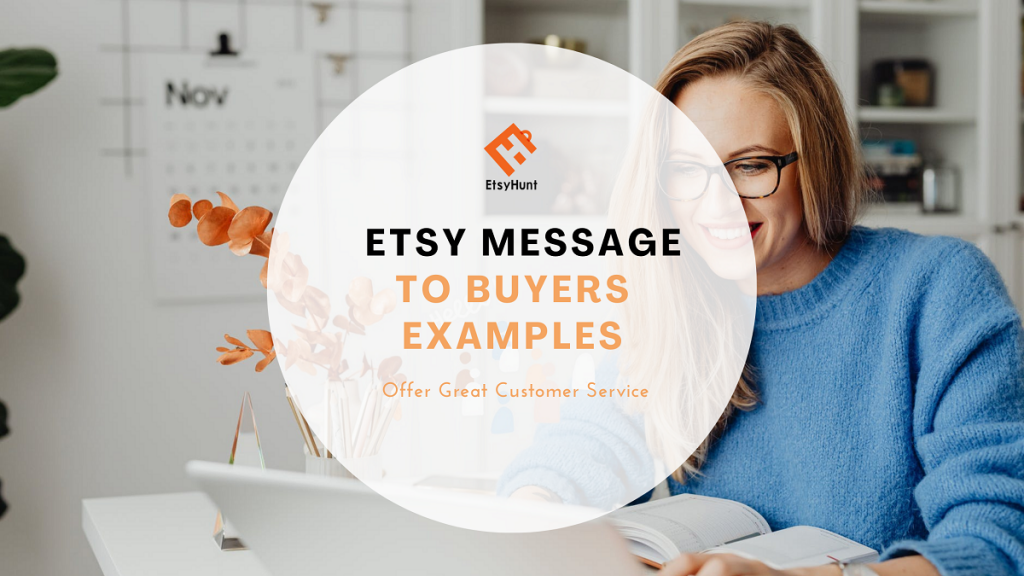 Shoppers who visit your Etsy store will place an order if they like your listed product. After completing the payment, Etsy will send an order confirmation email to buyers. Standard shopping procedure works and you won't have any interference as an Etsy seller up to now. However, a place is reserved inside the confirmation email sent for Etsy Sellers. This is exactly where you will impress your customers: Message to Buyer.
So, how can an effective message be sent to buyers? What are the most impressive Etsy message to buyer examples? Continue reading our article to offer great customer service on Etsy.
You can click on the table of contents to read directly the section you are interested in.
What is a Message to Buyers on Etsy?
Etsy Seller Handbook define Message to Buyers as:
"The Message to Buyers is a short note you can include in the Etsy order confirmation email that your buyers receive after purchasing."
When sending a message to buyers, you can thank them for purchasing your products. Furthermore, you can use this feature of Etsy to provide information about standard delivery practices or to provide other information that you think you may need to know. You can also briefly include your Etsy store's refund policy.
💡 Pro Tip: The best way to ask clients for leaving a review is a message to buyers feature.
You must be aware of the importance of reviews as an Etsy Seller. You can eliminate bad reviews and acquire good one. But, you should follow a proper strategy in your message.
How to send a message to buyers as an Etsy Seller?
Murat is an Etsy seller and he sells genuine leather items on Etsy. He analyzes his Etsy store's views vs visits every week. Then, he finds out that his Etsy shop needs to be boosted for maximizing sales.
Murat discovers that a message to buyers may assist with requesting clients to leave a review. Consequently, good reviews can turn into purchases. So, Murat finds a way to accelerate his Etsy orders. However, how can he do that?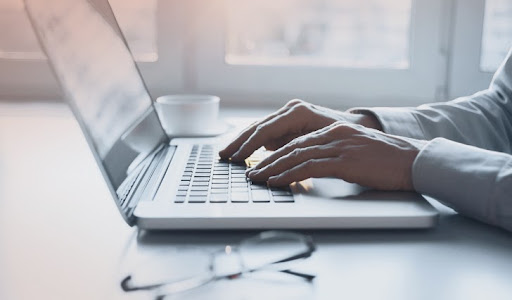 💡 Keep in mind that there are two options to send messages to buyers. The first one is a general message and will be sent to all shoppers that purchased items from your Etsy Store. On the other hand, you can also send separate messages to buyers whoever you want. Let's see how?
Message to all clients that shopped from your store
Etsy includes this message on receipt pages and email buyers receive when they complete a successful purchase from your shop. Thus, you should know that this message will be addressed to all your clients. You should give cover topics here instead of custom messages.
Murat wants to add a cover message to all his shoppers. So, he and also all Etsy sellers must follow these steps:
1.Navigate Shop Manager > Settings > Info & Appearance.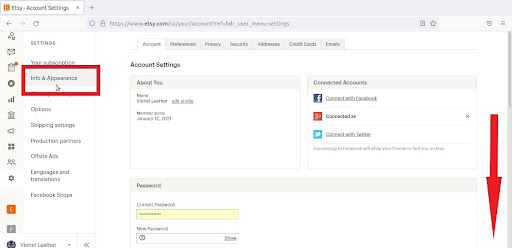 2. Scroll down to the Message to Buyers field.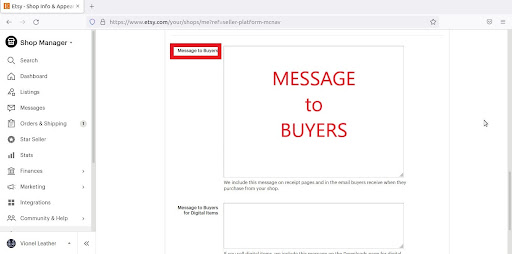 3. Do not forget to click Save Changes
Separate message to your Etsy clients
This type of message can be thank you message, shipping notifications, tracking information, invoice or any other types of custom messages.
One of Murat's clients ordered a handmade leather Bible cover. Then Murat packaged his item and shipped it to his customer. After the bible cover reached the customer, he asked Murat to send an invoice again.
Murat will send the invoice again. Furthermore, Murat wants to transform this request into an opportunity for thanking his client and asking for a review. But, how can he accomplish it?
Here is the guide for all Etsy sellers to send a private message to specific clients:
1.Go to Shop Manager, Tab Orders & Shipping.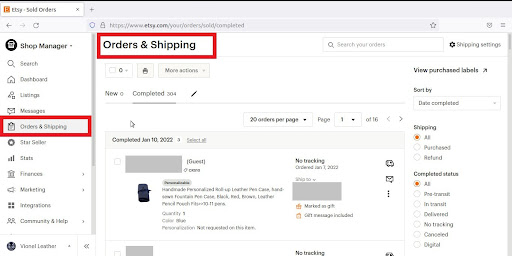 2. Select the order you want to contact a buyer about.
3. Click the Message button on that order.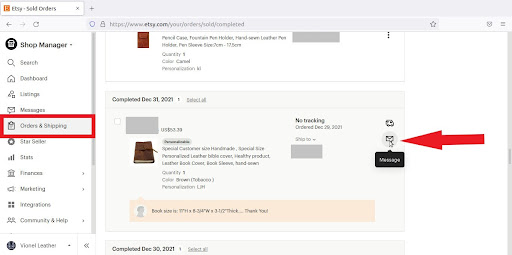 4. Determine your message and type it in the textbox.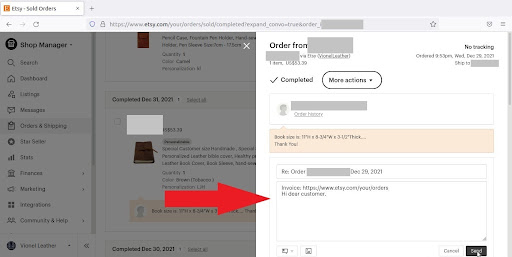 If you come to Step 5 but are not sure how to write effective messages to shoppers, then analyze messages to buyers examples on Etsy.
Etsy Message to Buyers Examples
If you are unsure about what to write in a message to buyers field, the greatest way is to get inspired by Star Sellers. You can use the handy EtsyHunt Shop Analyzer tool to make your job easy.
Inspired by Etsy Star Sellers
If you need to be inspired by Etsy Sellers to write marvelous notifications to buyers, what can be better than Star Sellers?
✔️Need to Know: Star Sellers have an outstanding track record for providing a great customer experience—they consistently earned 5-star reviews, shipped orders on time, and replied to messages quickly.
Murat marks the label as "Star Seller" and selects Etsy shop creation time as "3 years" on Shop Analyzer. Then he analyzes the results: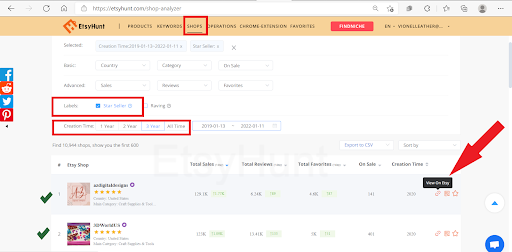 EtsyHunt listed the Star Sellers with these stats below:
Total Sales (7-Days)
Total Reviews (7-Days)
Total Favorites (7-Days)
On Sale (How many items are selling)
Creation Time (Etsy store)

Moreover, there are 3 icons on the left side of each listed store. First one will be a direct link that enables you to view related stores on Etsy.com. Middle one that works with the EtsyHunt Keyword Research Tool in a coordinated way is used to see the "Product List". The latest one is to be selected for adding stores to favourite list.
Moreover, there are 3 icons on the left side of each listed store. First one will be a direct link that enables you to view related stores on Etsy.com. Middle one that works with the EtsyHunt Keyword Research Tool in a coordinated way is used to see the "Product List". The latest one is to be selected for adding stores to favourite list.
So, Murat decides to view the top seller in the list on Etsy and click the first icon. Then he analyzes azdigitaldesigns . Abby, the owner of a to z digital designs, wrote a long message to buyers on her Etsy store.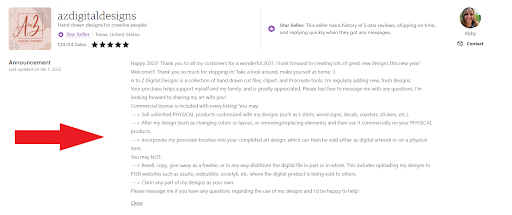 Here is the Abby's message to Buyers example:
" Happy 2022! Thank you to all my customers for a wonderful 2021. I look forward to creating lots of great new designs this new year!
Welcome!!! Thank you so much for stopping in! Take a look around, make yourself at home. 🙂
A to Z Digital Designs is a collection of hand drawn cut files, clipart, and Procreate tools. I'm regularly adding new, fresh designs.
Your purchase helps support myself and my family, and is greatly appreciated. Please feel free to message me with any questions. I'm looking forward to sharing my art with you!
Commercial license is included with every listing! You may:
---> Sell unlimited PHYSICAL products customized with my designs (such as t-shirts, wood signs, decals, coasters, stickers, etc.).
---> Alter my design (such as changing colors or layout, or removing/replacing elements) and then use it commercially on your PHYSICAL products.
---> Incorporate my procreate brushes into your completed art design, which can then be sold either as digital artwork or on a physical item.
You may NOT:
---> Resell, copy, give away as a freebie, or in any way distribute the digital file in part or in whole. This includes uploading my designs to POD websites such as zazzle, redbubble, society6, etc. where the digital product is being sold to others.
---> Claim any part of my designs as your own.
Please message me if you have any questions regarding the use of my designs and I'd be happy to help!"
Even though Murat does not sell digital items on Etsy, this one is still a great example for him because Abby's message consists of a well structured outline. Greeting all customers and showing appreciation by thanking them, briefly explaining items list and shop policy.
Then Murat decides to discover the second Etsy store in the list: 3DWordUS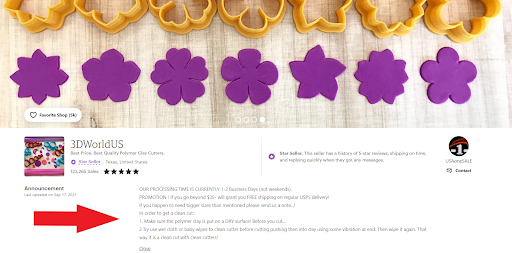 Let's examine the second example of message to buyers on Etsy:
OUR PROCESSING TIME IS CURRENTLY 1-2 Business Days (not weekends).
PROMOTION ! If you go beyond $35- will grant you FREE shipping on regular USPS delivery!
If you happen to need bigger sizes than mentioned please send us a note...!
In order to get a clean cut:
1. Make sure the polymer clay is put on a DRY surface! Before you cut...
2.Try use wet cloth or baby wipes to clean cutter before cutting pushing then into clay using some vibration at end. Then wipe it again. That way it is a clean cut with clean cutters!
This Etsy shop prefers a short message. The message contains Processing time, Free Shipping offer, notifications for items.
Murat gets confused and decides to discover more Etsy stores.
Inspired by Etsy Raving Sellers
Raving badged sellers on Etsy are other inspiring sellers since they are rewarded thanks to getting positive reviews. Hence, they offer amazing customer service. And, why is "message to buyer" not part of it?
✔️Need to Know: Sellers that get multiple 5-star reviews in the past 7 days deserve a "Raving" badge.
Murat marks the label as "Raving" and selects Etsy shop creation time as "All Years" on Shop Analyzer. Besides, he filters the shops that have more than 10.000 views. Than he analyzes the results: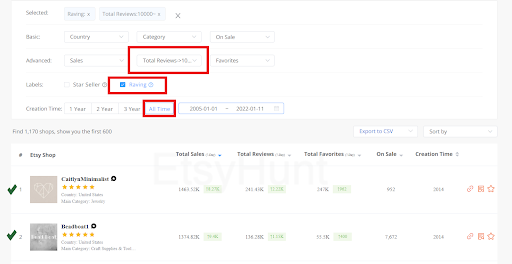 First, find out what Kate, the owner of app name, wrote: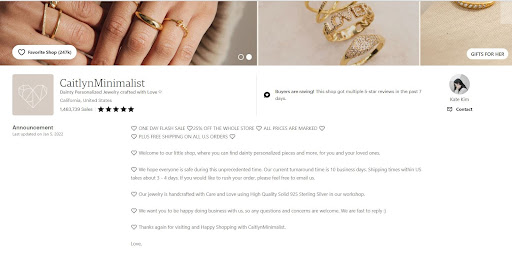 Let's focus on Kate's message to buyers example:
🤍 ONE DAY FLASH SALE 🤍25% OFF THE WHOLE STORE 🤍 ALL PRICES ARE MARKED 🤍
🤍 PLUS FREE SHIPPING ON ALL U.S ORDERS 🤍
🤍 Welcome to our little shop, where you can find dainty personalized pieces and more, for you and your loved ones.
🤍 We hope everyone is safe during this unprecedented time. Our current turnaround time is 10 business days. Shipping times within the US takes about 3 - 4 days. If you would like to rush your order, please feel free to email us.
🤍 Our jewelry is handcrafted with Care and Love using High Quality Solid 925 Sterling Silver in our workshop.
🤍 We want you to be happy doing business with us, so any questions and concerns are welcome. We are fast to reply 🙂
🤍 Thanks again for visiting and Happy Shopping with CaitlynMinimalist.
Love,
Kate comes up with a flash sale and free shipping offer in her message. Then she salutes her clients, explains the shipping process and details for her goods. It is a spectacular example for all Etsy sellers.
Murat will have a closer look on the second shop in the list and determine his own message to buyers text. Now, it is time to analyze Beadboat1.
Here is the Katy's text on Beadboat storefront for example of message to buyers:
❤❤❤❤ ATTENTION CUSTOMERS ❤❤❤❤
❤❤❤❤ PLEASE MAKE SURE YOUR ADDRESS IS CORRECT BEFORE SUBMITTING YOUR ORDER. ❤❤❤❤
We use as little plastic as possible.
Please read all our policies and our return policy before purchasing.
We are working extremely hard to process your order on the same day, and we usually get the order out the same day. But our standard processing time and shipping time still apply.
****Processing and Shipping time****
- Processing 1-3 days
- Shipping time- 1-7 days (my vary depending on USPS). Not responsible for delays due to USPS, sorry.
***Working, Shipping and Processing days****
- Monday through Friday
****Wholesale Direct Delivery Time****
- Shipping time- 4-8 weeks
Katy begins his writings with notification to customers. Furthermore, Katy indicates that he takes care of plastic usage. Then, Katy explains the store's shipping and return policies.
What should Etsy message to buyers include?
After Murat scanned many examples, he explored that his message to buyer should be consist of:
Greeting all customer and showing them appreciation,
Offer flash sales, promotions or free shipping
Briefly explain shipping process and refund policy
Summarize item list and their features
Add notifications for items if needed
Final Thoughts
There are many ways to impress your customers and get them to purchase from your Etsy store again. Providing excellent customer service is unquestionably one of them. This is where Etsy Message to Buyers plays a crucial role. If you review good examples and follow the steps we outlined in the article, it's not a tough job to get great feedback.
FAQs for " Message to Buyers" on Etsy
Can I edit " Message to Buyers" after I first created it?
Yes, It is possible to edit or change your text from the Message to Buyers field on your Shop Manager
Can I send customized messages to any of my clients?
Yes, you are able to send separate messages to your clients through Shop Manager > Orders & Shipping.
Are you selling on Etsy? Join EtsyHunt to
Reduce Costs, Increase Efficiency.
Start for Free