How to Cancel an Etsy Order? Before & After the Cancellation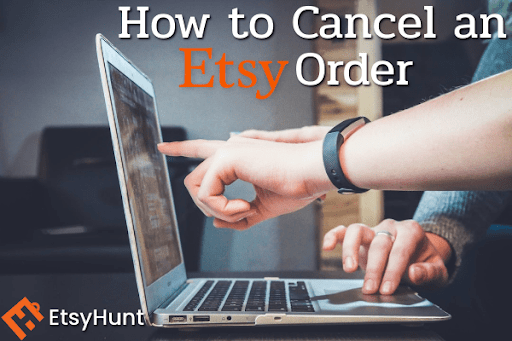 Canceling an order on e-commerce platforms, namely Etsy is always an option. This canceling process has two parties: sellers and buyers. Both parts are expected to know the basics and details regarding the cancellation of an item on Etsy. So what will happen after canceling an order? Refunds, returns, or exchanges will be the issues both the seller and the buyer have to discuss in detail, elaborating on deciding what to do next in cooperation.
Explore the ins and outs of how to cancel an Etsy order as an Etsy Seller in this article.
Who Cancels Orders on Etsy?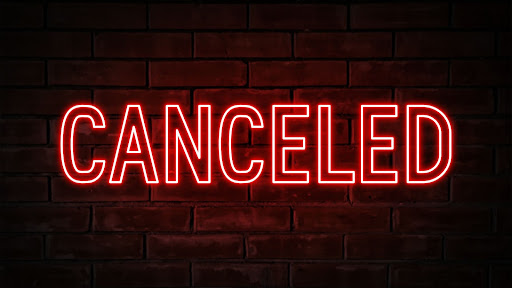 The shopper visited your Etsy store, liked your item, and ordered it after completing the payment process. However, the order needs to be canceled due to a reason caused by you or the customer. If this is your first time encountering this situation, there are many things you need to explore.
First of all, it is important to know how to cancel an Etsy order properly. This cancellation has two main parties: buyers and sellers.
⚠️It is the seller's job to cancel an Etsy order.
If a buyer has purchased an item and would like to send it back to the store, the only way to do that is to contact the seller. In this regard, being able to keep in touch with the sellers plays a vital role in maintaining communication and keeping the cancellation process smooth.
For the seller's part, it is important to know that their transaction meets the criteria required. A seller may be required to request refunds for the shipping labels that haven't been used. They also need to keep some information for future issues.
You should also get familiar with the shopper's side because it would be great customer service to explain detail when you are asked. Buyers may request a cancellation of an item on the platform by sending a message to the seller. Upon canceling a transaction, the buyer will receive a full refund for what they previously ordered.
How to Cancel an Etsy Order as a Seller?
Here are the steps that are determined by Etsy Seller Handbook to cancel an item order:
Go to Etsy.com, find Shop Manager.
Click on Orders & Shipping.
Choose the Cancel an order page, click on the three-dot icon next to the order you would like to cancel, and select Cancel. Please note that you can only do it on your desktop computer.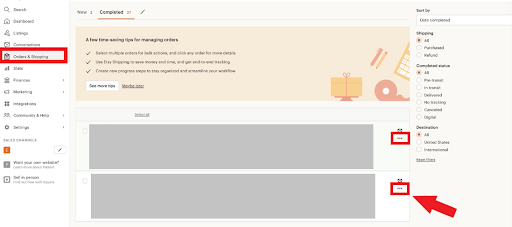 Another option is to use desktop and mobile web in addition to item 3. You do it by finding the Order Detail overlay and clicking on More actions. Then, select Cancel.
Choose a reason why you have canceled the order among the options. It is only then you'll be able to see the refund amount due to the buyer.

In the text box below the buyer's refund total, you can specify a message to your buyer if you wish.
Finish it by clicking on Cancel order.
Etsy Payments method seems the most convenient one as the transactions take place immediately. Yet, other payment methods such as PayPal require the same refund payment system. The seller can view canceled orders Orders & Shipping under the Complete section.
How Does the Cancellation Policy on Etsy Work?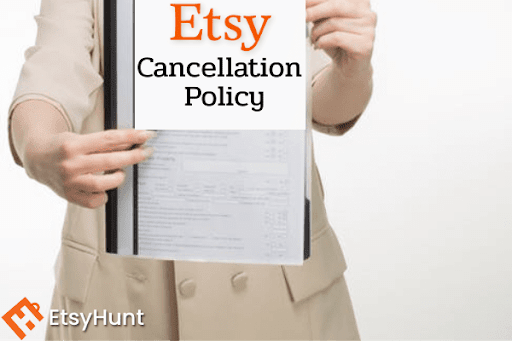 Sellers may occasionally be required to cancel a transaction upon the request of buyers. Buyers are to send direct messages to sellers to start the process of cancellation such as how to get a refund on Etsy. The circumstances described in Etsy Cancellation Policy are as follows:
The buyer did not pay for the item. (Please note that the seller may mark a buyer for a payment not received, chargeback, or canceled payment.)
Both parties have agreed to call the transaction off before the item has been shipped, and the seller has provided the buyer with a full refund.
The seller may refuse service to the buyer, and if the buyer has already paid, the seller has issued a full refund, including shipping.
The buyer did not get the product(s) ordered, although the seller issued evidence of Etsy shipping, and the seller has provided a refund for the product.
If both parties have come to an agreement that the buyer could return the item to the seller for a refund, cancellation may take place. In this case, the seller receives the returned item and issues a refund to the buyer for the item.
Etsy Sellers have to make sure that in addition to knowing how to cancel an Etsy order properly, they also need to understand that all cancellations of the items should meet the policies of the platform
Refunding a Shipping Label
Sellers have to make sure that they request refunds for any unused shipping labels regarding the order, and collect any data from the order that you may need for further use. This is the way how to request a refund for a shipping label:
Go to Etsy.com, find Shop Manager.
Select Orders & Shipping.
In case of not seeing the order in the first tab, choose Completed.
Click on Refund under the shipping label number on your order.
If the shipping label has not been used to send your package under the following time constraints, requesting a refund is always on the table.
USPS: less than 30 days
FedEx: less than 30 days
Global Postal Shipping: less than 30 days
Canada Post: less than 15 days
Royal Mail: less than 15 days
Australia Post: less than 15 days
Yakit: less than 15 days
When it comes to canceling any refund request, there is no specific way to do that. Yet, if the package has shipped and the seller has requested a label refund for that, it will be automatically denied by the system.
Sending Messages to Buyers Before Canceling an Etsy Order
Figuring out how to cancel an Etsy order is here to stay. It is the sellers who can contact shoppers before any cancellation. Sellers are able to communicate with buyers only through the Messages feature on Etsy. It is under Your Account and gives them the opportunity to access different functions of messaging such as cancellation, thank you messages with buyers.
Etsy Message to Buyers: A Perfect Way to Offer Great Customer Service
When a normal selling and buying procedure continues on Etsy, the seller usually does not interfere in it. However, you can also make some difference with little moves. That is exactly where the Etsy Message to Buyer feature comes in by offering great service to shoppers.
It is a great chance for sellers to ask buyers to leave a five-star review on the item and the service.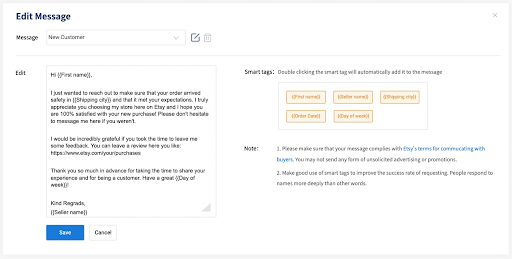 Sending a message to buyers is done in two ways: general messages to all shoppers and separate messages to buyers that you would like to send.
Message to all customers having shopped on your store
This message is sent to every shopper who has purchased an item in your store. It incorporates a cover message most of the time. And this is the way a seller sends a message to all customers:
Separate message to your Etsy clients
This message type is intended for thank you or appreciation messages, notifications regarding shipping, tracking info, invoice, or any other sorts of customized messages. You can take the following steps to send a separate message:
What Aspects Should Etsy Message to Buyer Involve?
Last but not the least, a well-prepared Etsy message ought to include the following:
✔️Greeting all customers and demonstrating your appreciation for the purchase
✔️Offer flash sales, promotions or free shipping alternatives
✔️Describe the shipping procedure and Etsy refund policy in short
✔️Provide the fundamentals of the product list and their characteristics
✔️Set up notifications for items if necessary
Refunds, Returns, and Exchanges upon Cancellation on Etsy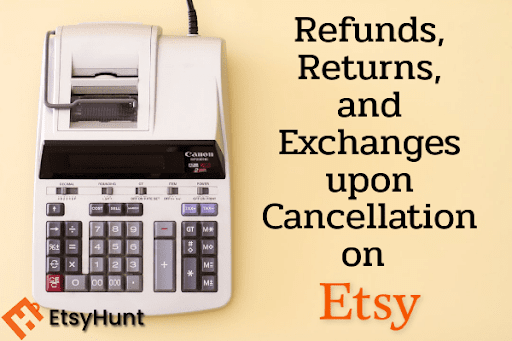 You will find independent sellers on Etsy who run their own stores, meaning each seller is in charge of setting up their own policies related to refunds, exchanges, and returns. Individual policies will vary from shop to shop.
As a seller on the platform, you're supposed to clearly state if you accept returns or not, the time limits in which you might accept a return, and who will be responsible for paying for the price of return shipment for any products sent back to you.
Should you have a return agreement with a buyer through Etsy Messages or Etsy's case system, you may be required to fulfill that agreement including issuing a refund for the returned product(s) and providing Etsy with evidence of shipment for a replacement item.
A Full or Partial Refund for An Order?
Here is how you refund an order fully or partially:
Go to Etsy.com, and find Shop Manager.
Choose Orders & Shipping.
Select the … (ellipsis) icon next to the order item you want to refund.
Find Issue a refund.
Specify a Reason for issuing a refund and provide an optional Message to the buyer.
Select the box Issue a full refund if it is the entire amount. If not, specify the Amount to refund next to the item.
Choose Review refund.
Finish it by clicking Submit.
Renewing Etsy Listings after Canceling an Item
So, what now? Right after you have called off an item, you need to renew its listing. Renewing a listing means forging a new listing date and a new expiration date, that is it is valid for 4 months.
FAQs for Etsy Order Cancellation
1. How do I pay for a refund?
If you don't have enough funds in your Payment Account, your credit card on file will be charged the remaining amount of the refund.
2. How will I know my request was approved regarding refunding my shipping label?
Once approved, you'll receive an email from Etsy, and there will be a credit on your Etsy bill listed as "[Your carrier] Shipping Label Refund." If you purchased parcel insurance on Etsy, you would receive a separate credit on your bill listed as "Shipsurance Parcel Insurance Refund" or "Canada Post Coverage Refund," depending on your carrier.
3. What can I issue a refund for?
You can issue any refund in accordance with your shop policies. You can also issue refunds if:
If you agree to issue a refund to the buyer
If the buyer is overcharged for shipping
If the buyer forgot to apply a shop coupon
Conclusion
In this article, you have learned a great deal about how to cancel an Etsy order in accordance with its policies. It is the seller who can cancel the item upon the request of the buyer. Both sides on the Etsy platform are expected to know how the cancellation procedure works.
It is equally vital to send messages to the buyer to notify them of the cancellation process and it may sometimes be a great opportunity to use messaging to thank the buyer over their purchase or to come to terms with them about the canceled item.
In this regard, refunds, whether full or partial, returns, and exchanges are the issues to be negotiated next. After it is over, it would be wise to renew the listing carefully. That's it, you are good to go!
Scale Your Etsy Business Now!
60,000+ people have used this free Etsy seller tool. Are you next?
Get Started for Free