Etsy SEO: Discover How Etsy Search Algorithm Works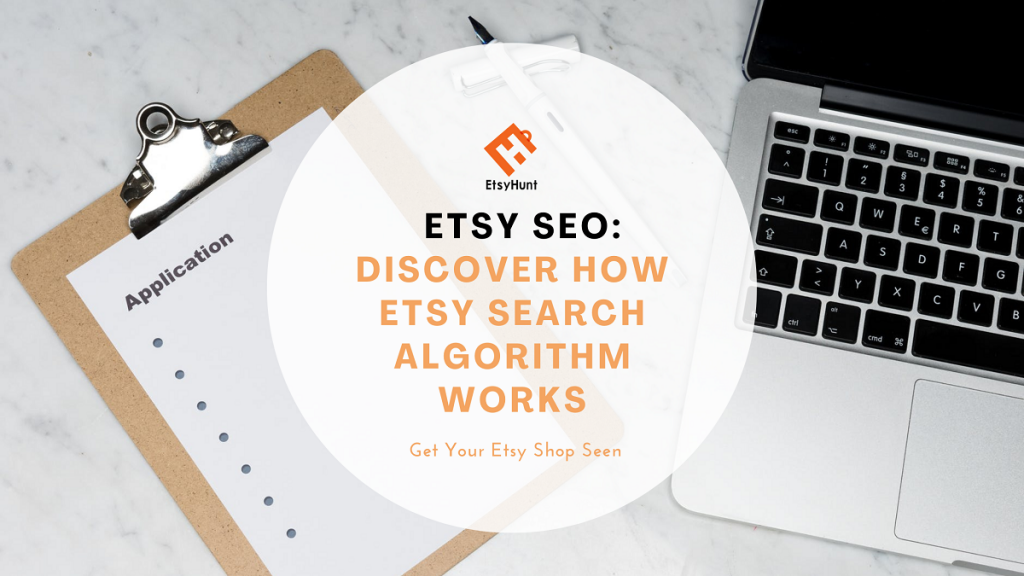 Have you ever thought about what happens behind when a shopper types a few words on the search bar and makes a search?
The shopper gets the results best match his/her search query. Even if there are millions of shops and more products, the shopper tends to buy the one on the first page.
SEO stands for "Search Engine Optimization." Hence, sellers should optimize their product listings according to Etsy SEO criteria. But how?
This article will cover how to get to the first pages as a seller in a way that encourages the customer to purchase it as well. In other words, you will discover SEO on Etsy.
How does Etsy Algorithm work?
Etsy search has an algorithm that is designed to match buyers with the items they're looking for, by making it easy for them to make a purchase. Etsy does it in both two ways: Query Match and Shop Rank.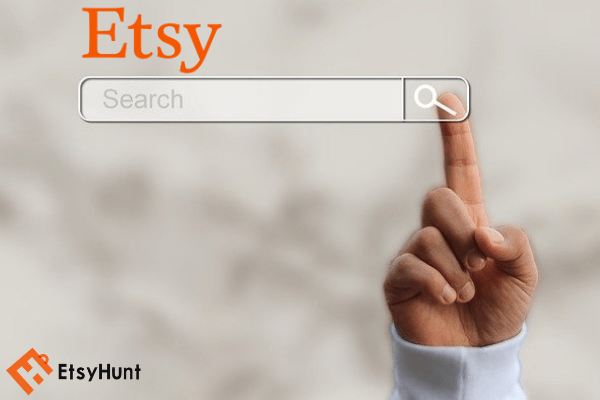 Before implementing SEO best practices, it is vital to comprehend how the Etsy search algorithm works. Thus, let's dive into significant parts.
1. Query Match
When a customer enters a search query on the Etsy search bar, the algorithm looks at the 4 main milestones:
Categories
Attributes
Titles,
Tags that the seller added to get matching keywords.
So, we should talk about these four topics in order to raise your sales by increasing the visibility of your listings that match the query.
Categories
Categories work like tags in Etsy SEO. Try to add the most specific option available for the item you're listing. Adding more specific categories will give you more opportunities to match with the searches.
In that way, you will compete with fewer sellers. Besides, when you add specific subcategories to your listings, your items are included in all the categories that the subcategory is nested within.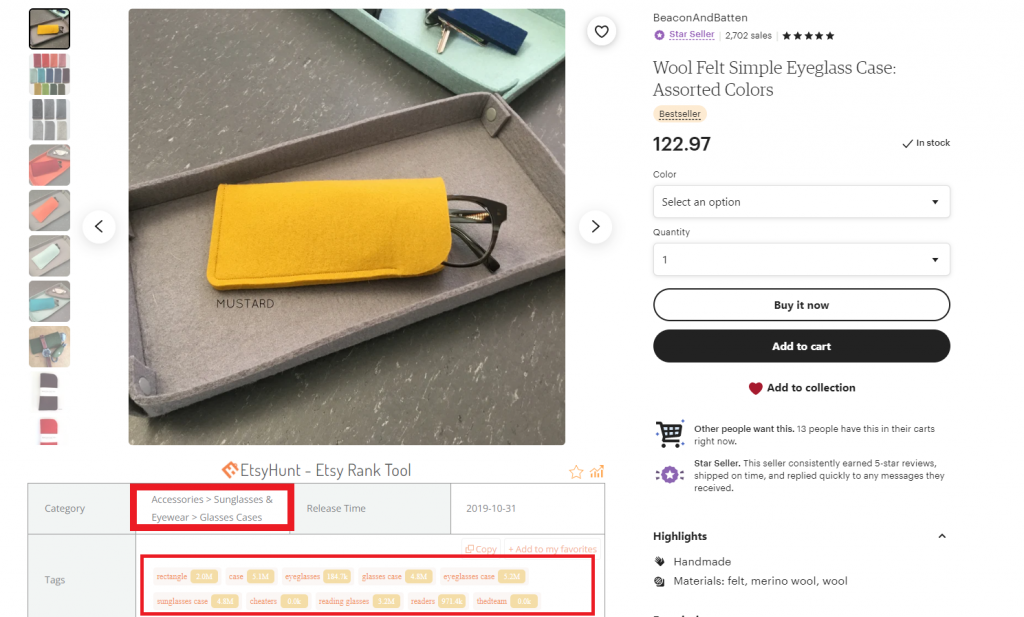 For example; if you are selling a glasses case and you follow this way: Accessories > Sunglasses & Eyewear > Glasses Cases
Now, your listing is related to all the categories. Since categories act like tags and you should not use them again and again in your tags.
Your category is glasses case and even if you don't use a tag like "glasses case", Etsy still matches your listing to the searches for a glasses case.
Attributes
Attributes play a distinct role in powering category-specific filters that connect relevant listings to relevant buyers when it comes to SEO on Etsy. The category you select for your items determines the attributes you can add to the item listing.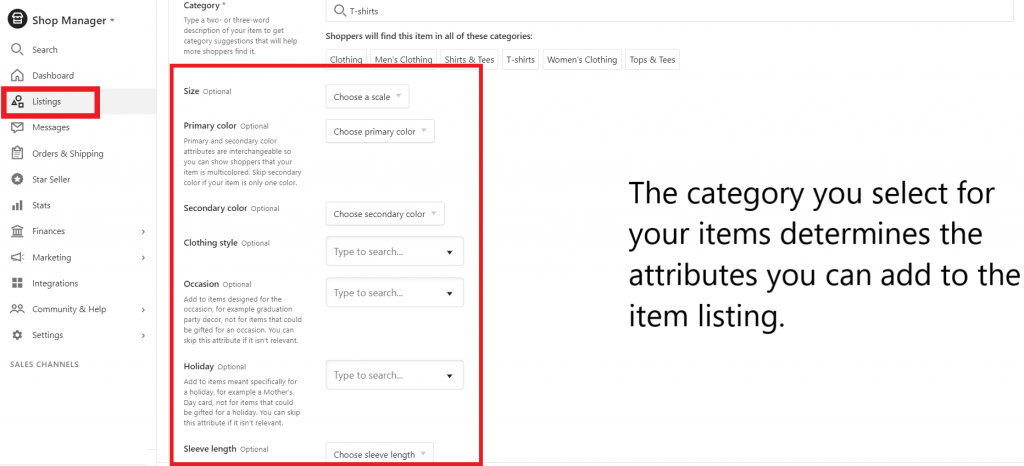 They can be typical attributes or more general. They may be just color or material such as red or wooden. They may be more specific like patterns on your product.
"Attributes are like free super tags", explains Jenny Benevento, Senior Manager of Etsy's Taxonomy team from Etsy Handbook. Attributes work like tags as well. You should utilize them as much as possible due to being capable of using only 13 tags.
No need to add tags that are exact matches for attributes you've already added. For example, if you add the Boho attribute to your t-shirt listing, you don't need to include "Boho" as a standalone tag. You can still add it to a multi-word descriptive tag, such as "boho loose t-shirt."
💡Pro Tip: Use always relevant options.
For example, you are listing a handmade, mint-colored plate. However, the color "mint" is not a selectable option for the Color attribute.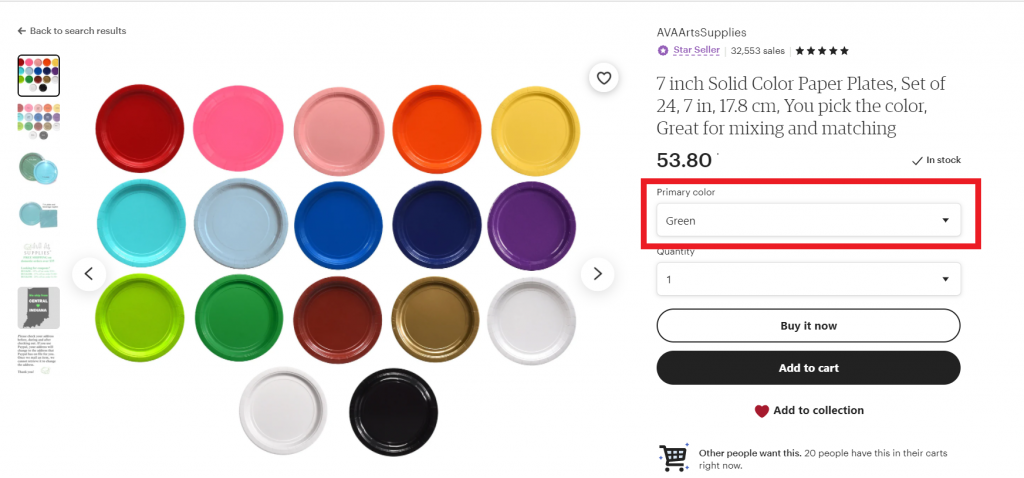 Choose the color that you think would be the closest to mint. You can select "Green" as your option for the Color attribute.
If you find that your unique color label is a critical search term as well, you can add "mint plate" as a listing tag for your item.
Titles
Keywords in the title are just one of the SEO factors Etsy looks at which can help you match with a shopper's query. Etsy search looks at all the information you add, including your categories and attributes, to find keywords that match a shopper's search.
How to title Etsy listings?
The title should be short, clear, and descriptive. So, make it easy for shoppers who are scanning a busy search results page to see what you're selling.
Select keywords that best describe your item. Buyers see your title first when browsing, especially on mobile devices.
Punctuation and some symbols can be used in titles to separate phrases. Etsy search will not care about them. Here are some examples from top Etsy sellers.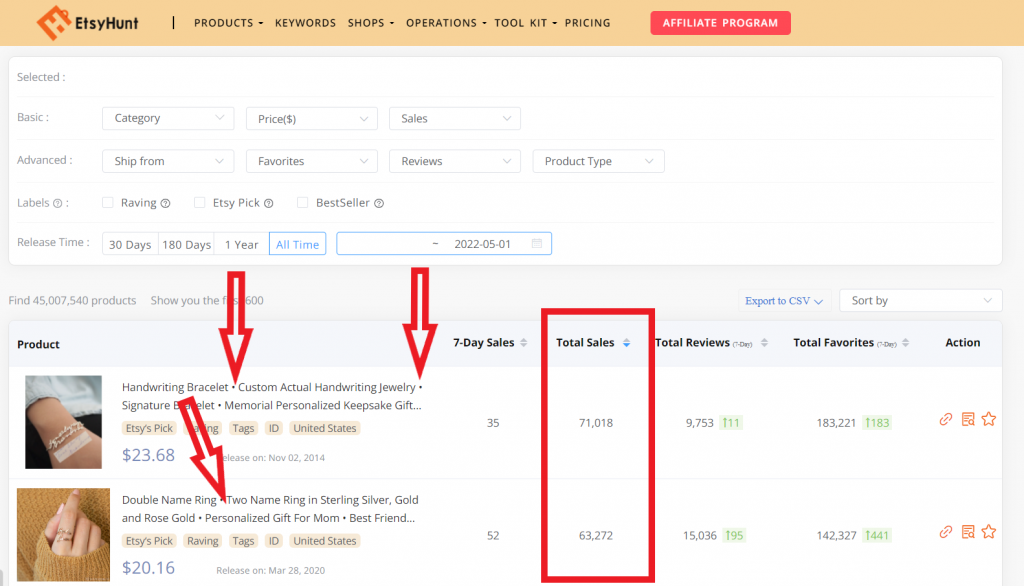 Keep your customer in mind and include your most descriptive keywords.
💡Pro Tip: Buyers tend to turn off the listing when they see long titles due to getting confused.
Etsy Shop Title Examples
Let's analyze the unsuccessful Etsy shop title example that buyers do not like:
"Handmade watch strap leather men's watch strap personalized leather watch strap"
This title, however, still contains important keywords and covers the basics including material and recipient, and can be understood in an instant:
"Personalized handmade leather men's watch strap"
Furthermore, it is suggested that you should analyze Etsy shop title examples of the shops which have good sales. You can use Etsy Shop Analyzer by EtsyHunt for this study.
Tags
Tags are paramount keywords in Etsy SEO that work behind the scenes. You are allowed to use a maximum of 13 tags per Etsy listing and they do not need to be the words that describe your product directly.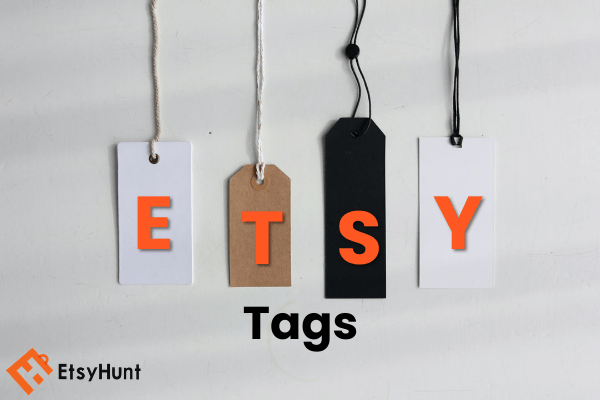 10 Exceptional Tips for Etsy Tags
Use all 13 tags in order to increase the being noticed opportunity.
Single-word tags always have high competition. Use multi-word tags like "custom book cover" instead of "custom" and "book cover". Do not forget that it must be up to 20 characters.
Etsy Stats give you information about what to do with tags about how to refresh them. Begin refreshing from the less searched tags.
The product may consider a regional phrase. For example "Hair Tie" and "Hair Thing". Do not consider small differences like " Color" and "Colour". Etsy makes it work for you.
Buyers search for specific products like " Metal Wall Decor" instead of "Wall decor". So, use long-tail keywords.
No need to repeat tags. Try to combine tags like "Soft Cotton Towel" instead of "Soft Towel" and "Cotton Towel".
As it is described before, categories and attributes act like tags and do not use the same word for them.
Don't make misspellings even if Etsy tries to correct them in the search.
The titles and tags you add should be in the language you choose when setting up your shop. Etsy translates it.
Plural or singular work the same.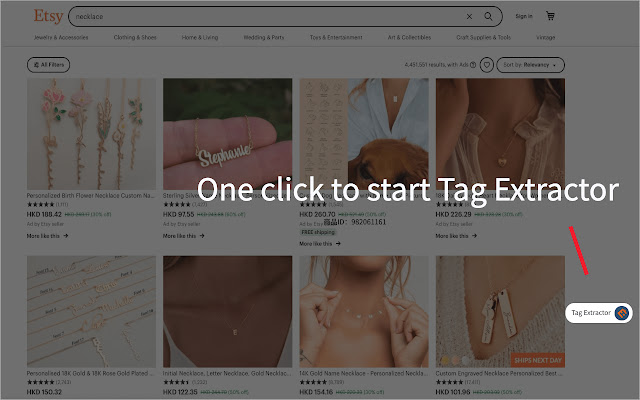 7 More Bonus Tips as SEO Best Practice
Use a few descriptive tags which support the category.
Add tags that highlight how it's made or what's unique about it.
Think about customers and decide "who it is for" and add it to your tags. Gifts for parents, gifts for nephews…
Adding occasion-based tags to your listings is one way you can reach shoppers looking for items that might be appropriate for an occasion, but not designed specifically for it. Christmas, anniversary…
Add tags that describe the size and shape of your products. Big size t-shirt, tiny pen…
Describe it in your tags if it may solve a need for buyers.
Use tags that describe the unique style of your products so shoppers who know what they're looking for can find them. Rustic table, rug design pillow…
2. Shop Rank
"Once we've gathered all the listings that match a buyer's query, we use the information we have about each listing and shop to rank the listings so people browsing Etsy see the items that they are most likely to purchase earlier in the results." explained in Etsy Handbook.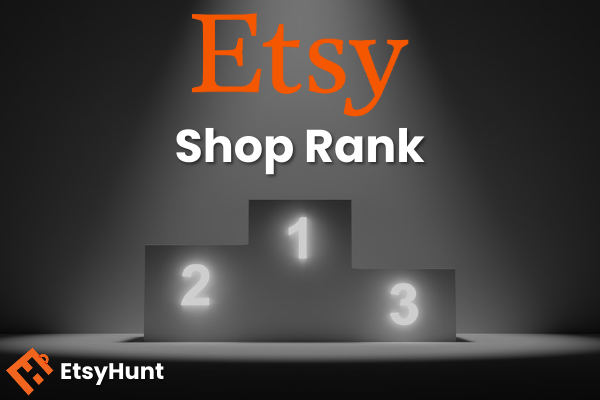 So, What are the factors for ranking? Keep on reading:
Relevancy
As your listing appears in the search results more, it's seen as more relevant to the search.
Listing Quality Score
Etsy looks at the conversion rate for this factor. The customers click your listing and buy it. As much as they buy more per click, this rate is higher. This means your item is what they want and Etsy boosts your such listing.
Recency
When you create a new listing, Etsy wants to give it a quality score. Etsy makes it by giving growth to your listing in order to observe how buyers interact with it.
It is not recommended to get this boost by renewing the Etsy listing or creating new listings. Etsy suggests focusing your time and efforts on improving your tags or working to help increase your conversion rate.
Customer and Market Experience Score
It is a significant topic when it comes to how to rank higher on Etsy. Etsy looks at the experience of the customer when they shop.
"Getting great reviews, having complete shop policies, and adding an about section positively impact your search ranking, while recent cases opened against your shop and intellectual property infringement issues can hurt your search ranking."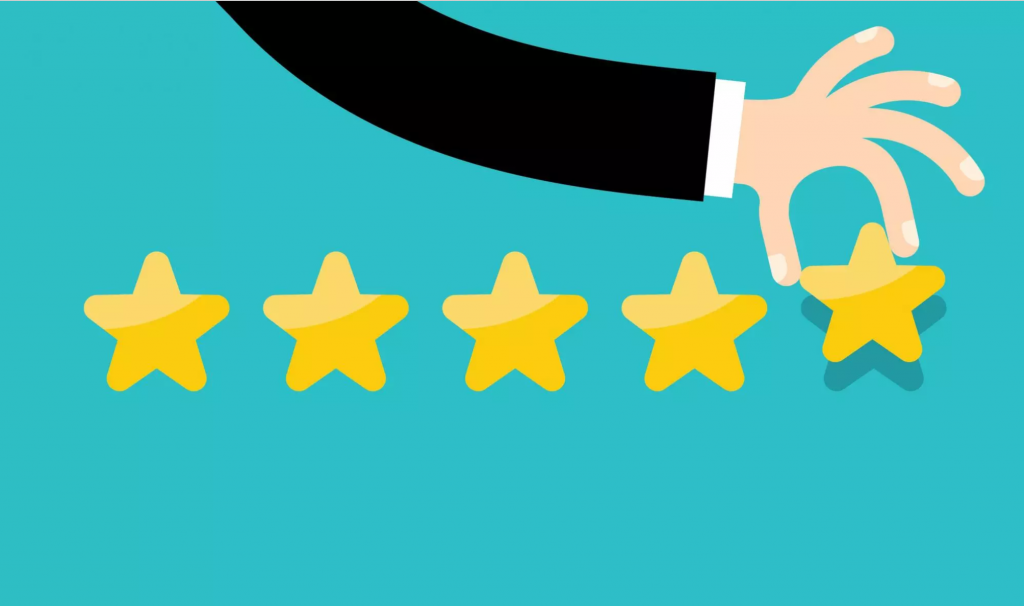 All this advice combines on Etsy Star Seller Badge. Thus, you should target to acquire this badge to provide great customer care.
Shop Location
Many shoppers from the EU, Australia, and Canada declared that they like purchasing from sellers based in their own countries or neighboring countries.
Shipping Price
Shipping price is one of the most important factors for buyers.
According to analysis, it is uncovered that shoppers were 50% less likely to buy an item if they thought the price of shipping was even a little bit more expensive than they were used to.
In addition to this, Etsy Free Shipping Guarantee for US gives you a priority for US searches. It includes email marketing, social media, and television ads as well.
Digital download items are also included for this priority due to having no shipping costs. Even if you don't make it free shipping, lowering the shipping prices helps to improve your search rank.
Translations and Language
Etsy does translation after you choose your shop language.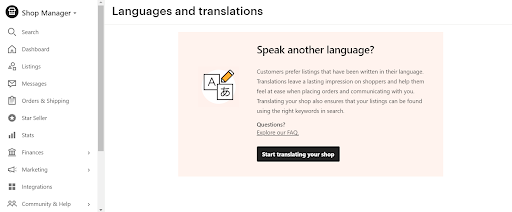 Moreover, if you speak multiple languages, you can add your own translations to your item listings. Translations you add yourself tend to be higher quality and sound more natural so they often outperform machine translations.
Buyers' Shopping Habits
" Our Context Specific Ranking technology learns what buyers are interested in to show them the items they're most likely to purchase." says Etsy.
It means that when you search your items on Etsy with the same search terms as another buyer, you will not see the same results.
Thus, It is not a reasonable way to search your items on Etsy in order to understand where it appears. Instead, It is wise to analyze it in Stats to get ideas on how to renew Etsy listings according to shopper's trends.
Final Words
The ultimate goal of sellers on Etsy is to increase their sales. The most important way to do this is to discover Etsy SEO and apply it to the product listings. In this article, you will learn how the Etsy search algorithm works, tips, and useful information to get noticed by customers.
However, bear in mind that SEO is an area that requires constant updates and is shaped by your competitors. That's why you should constantly check your item listing and renew it when necessary.
FAQ
When the topic comes to SEO on Etsy, there will be numerous questions from Etsy Sellers. We can answer some of them here:
What is the Difference Between Etsy SEO and Amazon SEO?
Amazon SEO
Successful Amazon SEO comes down to knowing what Amazon's algorithm wants from you as the seller, which ultimately comes down to making Amazon's customers happy. Your product page can be optimized in various ways, but they all come down to two main factors: relevance and performance.
Etsy SEO
In short, it is how Etsy's website magically knows what items someone is looking for when they are searching and using keywords (which are not just "words" but are just what you call the phrase/words someone types in when they are searching).
In fact, it isn't magic – it's simply just a matter of you having the right keywords in your tags and titles. You have to have the exact search phrases in your title and also match your tags.
How to Get Your Etsy Shop Seen?
Find the best keywords for Etsy
Optimize the key components of your listing
Beef up the content of your listing
Keep your customer and market experience score high
Offer competitive shipping prices
How to Get Noticed On Etsy?
Link your Etsy store to your own website or blog to increase your store's traffic.
Pay for Etsy ads to quickly move your listing to the front lines.
Optimize the title of your products and the available tags that you can use.
Scale Your Etsy Business Now!
80,000+ people have used this free Etsy seller tool. Are you next?
Get Started for Free