23 Etsy SEO Tips to Improve Your Rankings on Etsy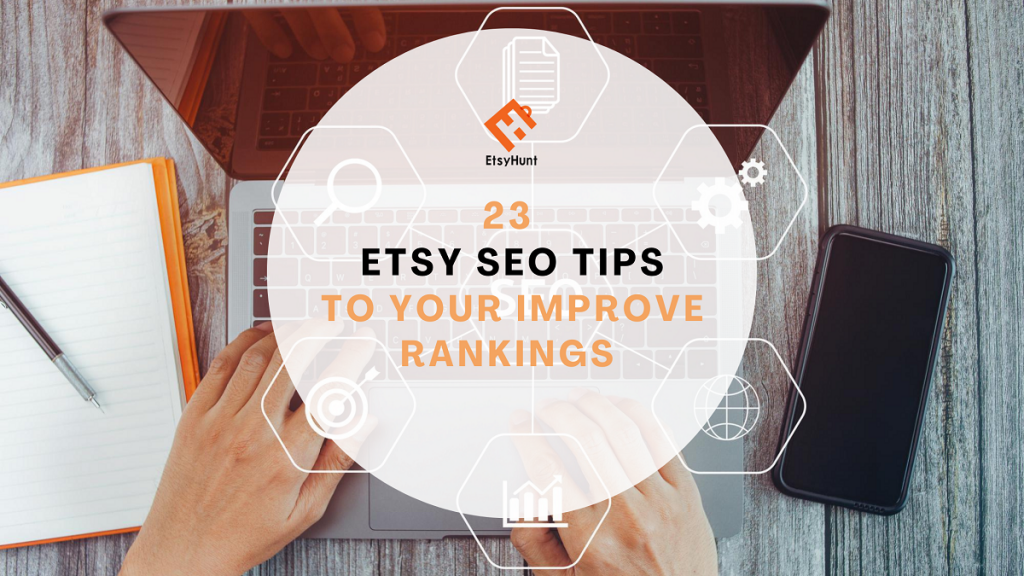 Ranking high in search results as an Etsy retailer can be difficult, especially if you're new to the platform. As a result, starting an online business from scratch can become a hard task.
The fundamentals of SEO, on the other hand, are simple to grasp. Once you've laid the groundwork, you'll find it simple to add the details in your own time.
More relevantly, sometimes the basic fundamental is all you need to give your Etsy store the highest opportunity of increasing store views and sales.
Here, you'll learn how the Etsy search engine works as well as the factors that influence search ranking. We'll also go over best practices for expanding your Etsy company and boosting overall sales and profit.
23 Etsy SEO Tips for Beginners
Certain Etsy SEO tips can be implemented when developing your marketing approach for your Etsy store. These suggestions will drive more traffic to your store and direct potential clients to your listings.
1. Use the Correct Keywords
Keywords are phrases or words that describe your service or product. Keyword research is your best ally when it comes to improving your Etsy SEO. It is the procedure of searching for and analyzing terms entered into search engines.
By performing keyword research you'll notice, among other things:
What people and potential clients are looking for
How many times a specific keyword has been searched by potential clients
The likelihood of appearing on the first page of search results.
If you're unsure where to start with Etsy keyword research, there are numerous Etsy SEO tools available online. Maybe the best Etsy SEO tool for increasing traffic to your Etsy store is EtsyHunt.
With EtsyHunt's keyword research tool, you can search an extensive database of 38 million products for your desired products.
Keyword research also allows you to investigate multiple parameters such as favorites, competition, views, and sales. These parameters can be thought of as an excellent way to find your ideal product by using some keywords.
2. Place Your Keywords in Relevant Positions
While using the right keywords is important, so is where those keywords are located. The keywords you want to use should ideally appear at the beginning. This allows the Etsy search algorithm to quickly determine your listing and match it to a user's search query.
For example, if you sell crystal-beaded bracelets, include the most significant and pertinent keywords within the first few tags and at the start of your description.
This is known as keyword front-loading, and it is a useful technique for catching the attention of your potential buyer. The result of your keyword research will heavily influence whether a keyword is deemed important or relevant.
3. Name Your Etsy Store to Represent What You Sell
The title of an online store tells potential clients exactly what it sells. So don't pass up the opportunity to give your shop a fitting name. The title of your store page will be centered on this name, and also it will be the first information any user notices when they visit your shop.
Here's an example: Diamondful is an Etsy seller of diamond jewelry. You can tell by looking at its store that it sells diamond-related products. From its name to its logo, everything has a consistent tone.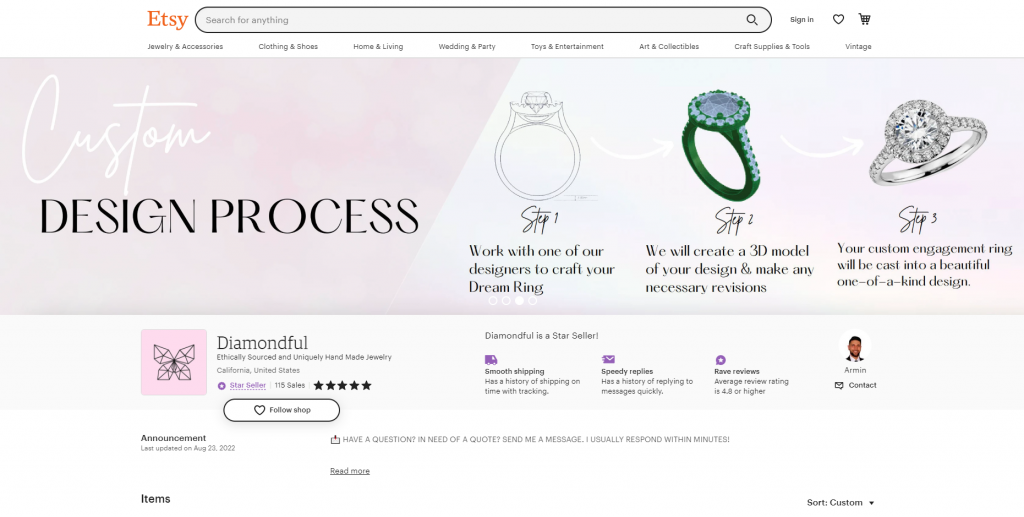 Giving your products a noteworthy and relevant name will make it easier for them to be found in search results.
It's worth noting that when you create or modify a new store title, or change an existing one, you can see how it will look in Google search results. This way, you can make any needed adjustments before saving your settings.
4. Use Brief but Detailed Product Names
The title of an item is an extremely crucial piece of data for a listing. The title of your listing defines where it ranks on Etsy, so it is critical to choose and arrange relevant words correctly.
Your title tags' first words should be the words that your viewers are most likely to write into a search box. When describing your merchandise to a prospective buyer, begin with the most important details and use only one language.
5. Offer Desirable, In-demand Products
Make a list of everything in your Etsy shop or everything you want to sell. Consider turning the product into only one primary keyword, e.g. "sun dress."
Finally, enter this keyword into Etsy's search bar to see what results you get. What you're looking for is the number of results and the reviews that each listing has received.
You could also use EtsyHunt's product database tool. It works similarly to Etsy's search engine, but it offers valuable information in a faster way. You simply put the keyword in the search bar and you'll see the results with info like the number of favorites, sales, etc. and you can sort them as you wish.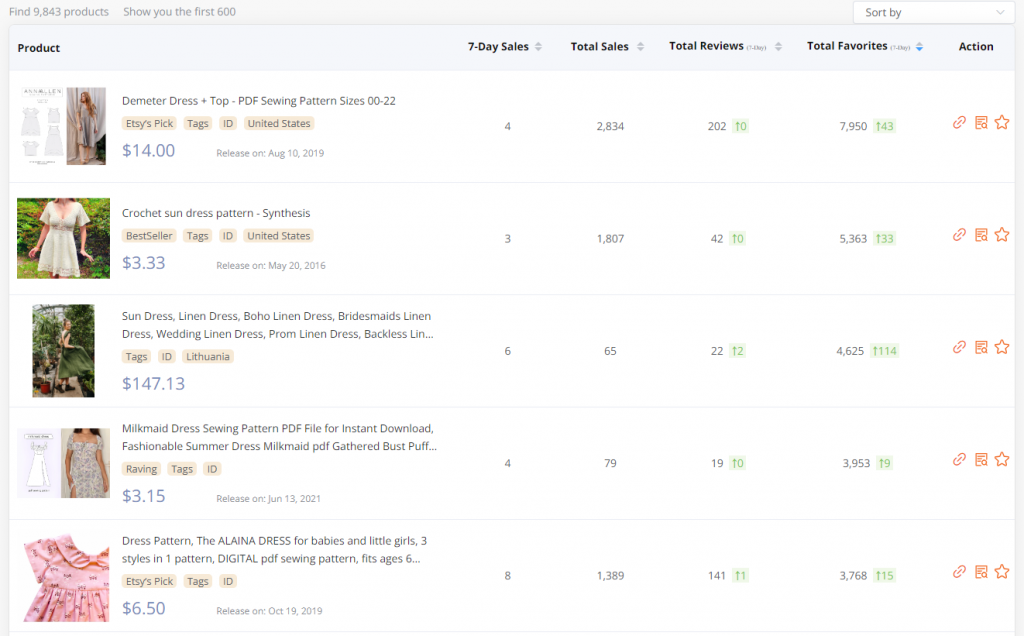 With all of these things together you will be able to determine how desirable the items you wish to sell are. The more results and top-selling listings a keyword has, the more popular it is.
If that number is excessively large, such as several thousand results, you're probably dealing with an oversaturated niche. Getting discovered in a highly saturated niche can be just as difficult as finding success in an undersaturated niche.
6. Use Keywords in Product Titles
According to Etsy's help documentation, exact matches are prioritized high in search results. As a result, it's best if you use the main keyword that your target buyer uses to find your product.
7. Avoid Using Same Title for Multiple Listings
Product attributes are present in e-commerce solutions such as Etsy for a reason. They eliminate the need for sellers to create different listings for the same product.
You don't need to create separate listings if you sell a yellow and a red sun dress. You only need to make one "Sun Dress" listing and then add the attributes "yellow" and "red". Customers can choose which color they want to buy right on the listing page.
To prevent using the same title for multiple products, use product attributes instead of making multiple listings for the same product. Devise a method to give each listing a unique product name if you create two of the same item that looks different enough to require separate listings.
8. Add Relevant Attributes
The attributes you add to your products also serve as tags and can aid in the discovery of your products in search results. Relevant context-specific ranking attributes include:
Product purpose
Material
Size
Color
Optional customization
Unique features
Manufacturing information
Bulk or individual purchase
9. Use All 13 Etsy Tag Spaces
You have 13 available spots to insert keywords when tagging your Etsy listings. Use them wisely, and use them all. You can use tags to describe your product using keywords and phrases. The more diverse (yet related) they are, the more likely a potential customer will find your listing.
By diversifying your tags, you can ensure that your store listing appears in as many searches as possible. This requires some trial and error, but with some experience and keyword research, you'll get the hang of it.
10. Refresh Your Etsy Listings Regularly
Keeping your Etsy listings renewed and updated is one of the most important Etsy SEO tips for increasing traffic. Etsy has a habit of giving new listings a brief and temporary boost.
The same idea applies to listings that have been renewed or refreshed. As a result, changing up your listing will accommodate this boost.
Of course, you do not have to do this for every listing. Try to maintain some of your more popular listings updated by changing the keywords, tags, and descriptions.
11. Optimize Product Descriptions for Search
Keywords are very important in Etsy SEO. Etsy wants to reward sellers who include keywords that directly match the search phrases of their customers. While researching the best keywords for your store, think like a customer and answer the following questions:
What would your potential client write into a search engine to seek your product?
What are their most likely search terms?
Once you've determined your target keywords, include them in the product description of your listing. Include relevant keywords as well. Use a natural voice. Write your description in full, human-friendly sentences, and naturally incorporate your keywords.
12. Avoid Using the Same Keywords Repeatedly
As a new Etsy seller, you probably have a general store with a varied selection of products, such as vintage apparel, jewelry, accessories, and so on, implying that you are targeting a broad customer base.
Sellers frequently make the error of using the identical set of keywords to rank multiple products in the same category.
You may believe that once you've identified a few relevant keywords for your goods, all you need to do is stay using those keywords to rank higher. However, this is not always the case.
When ranked using the same set of keywords, Etsy's algorithm only displays one or two products from the same seller. So, use a variety of search terms to increase the exposure of your product.
13. Add Keywords to the Start of Each Field
Placing your keyword at the start of your item title and description can facilitate the platform's algorithm to more efficiently match your product to a buyer's search query. While it is unlikely to be the deciding factor in what makes you have a privileged spot or not, it does help to keep your listings competitive.
14. Use High-Quality Images
Make certain that your product images are of high quality. Some product photography guidelines to help you stand out from the crowd include:
A still image of your product
A closer look at the product
A photograph of your product being used or worn so that customers can envision it
A brief video capturing the order packaging process. This has grown in popularity among small business owners, and some customers have even requested that their orders be filmed while it's being packed.
15. Name Your Shop Sections Properly
Shop sections are groups into which you can organize your products. They're optional, but they help customers navigate your store more easily.
Sections can be added by going to Shop Manager, then Listings, Manage, and finally Add Section. By default, all shops have an All Items section, but you can add up to 20 more.
Because you can only add a listing to a single section, it's critical to pick your sections carefully. Your sections should be named after primary keywords. If you're a potter, you could call these "ceramic bowls," "coffee mugs," "dinner plates," and so on.
Your sections should also serve as a way for you to categorize your products. This should be done in such a way that each product only belongs to one category. It wouldn't make logical sense, for example, to add a ramen bowl listing to the "Coffee Mugs" section.
16. Consider External Search Engines
Etsy listings can also be found in regular search results, particularly on Google. It might be worthwhile to conduct regular keyword research to see if there are any matching keywords between Etsy and Google.
17. Promoting Your Listings
When you use social media to market your products as an Etsy seller, you will increase traffic to your listings and enhance your Etsy search engine optimization.
This is because you generate backlinks, which Etsy considers valuable. When you mention your Etsy shop and products outside of the platform, Etsy incentives you with a higher total ranking in search results.
You can use other channels in along with social media. Blogging about your Etsy items improves your SEO. There is also the advantage of Google displaying it in the SERPs, showing your Etsy store to a larger audience. WordPress and Blogger allow you to start and host a blog for a low cost.
18. Keep Up to Date With Etsy Trends
While keeping track of what is trending on Etsy may seem like a difficult task it can be done pretty easily with some tools like EtsyHunt's product chart. It'll show you all-time trends and hot trends as well as the best-selling and fastest-growing items so you can stay up-to-date easily.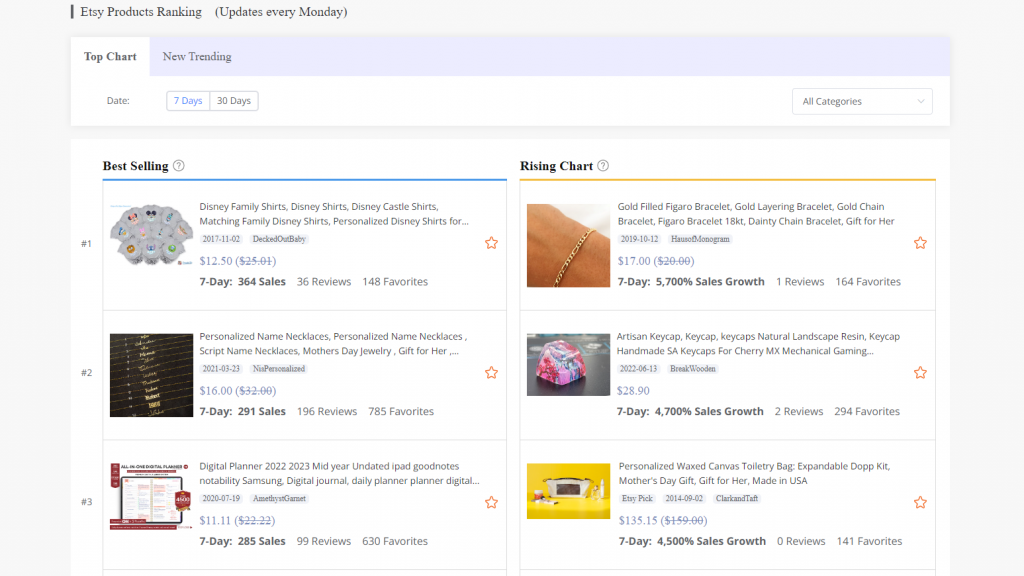 It refreshes its data once every week so you can be sure that what it displays is 100% reliable information and not outdated information.
19. Improve the Customer Buying Experience
When defining a shop's rating on Etsy, the marketplace considers customer satisfaction. If your store is verified, it is more likely to rank higher in search engine results.
One of the most important Etsy SEO tips is to make sure your profile is as detailed as possible. Include details about your shop's shipping, payment methods, and refund and exchange policies here. Your Etsy SEO may suffer or get benefited as a result of the level of customer service you provide.
Responding to questions, returns, swaps, and solving negative comments can result in positive reviews and improved search results. On the other hand, intellectual property disputes or customer complaints may have a negative impact on your search engine results.
20. Promote Your Etsy Shop with Etsy Ads
Undoubtedly, one of the quickest and easiest methods to draw the attention of customers to your store is to use Etsy Ads. Although Etsy's algorithm guarantees that potential buyers see your advertised items, smart bidding is still necessary to avoid wasting money.
The larger your bid price, the better your probability of being placed prominently in Etsy's ad promotion system, which functions similarly to an auction.
However, if you spend too much money on advertising, your profit margin may suffer. To prevent this, establish a reasonable budget and your maximum bid before you begin bidding.
21. Offer Competitive or Free Shipping
According to Etsy, shoppers are more likely to buy when shipping costs less, especially if it is free. As a result, they prioritize listings with free shipping.
This will be a decision you must make based on your niche. Investigate your competitors. Check to see if they offer free shipping or how much they charge. As with any pricing decision, you must balance what is most lucrative for your company with what the market will accept.
In most cases, it won't make or break your ranking, but it can give you an advantage if it is an option you can afford. However, it may simply be the minimum requirement in highly competitive niches.
22. Complete the Etsy Shop "About" Section
Completing your store's "about section" can help you increase your "customer & market experience score", and thus improve your ranking in search results. Etsy sellers must share their stories in their shop section because it allows them to connect with clients and make their shop appear trustworthy.
23. Add Clear Policies to Your Store
Clear policies in your Etsy store sections will inform buyers of what to expect if they buy a product in your store, increasing their feeling of security and confidence.
Furthermore, having complete and clear policies in your store will boost your "customer & market experience score" and assist you in increasing your web visibility.
The Importance of Etsy SEO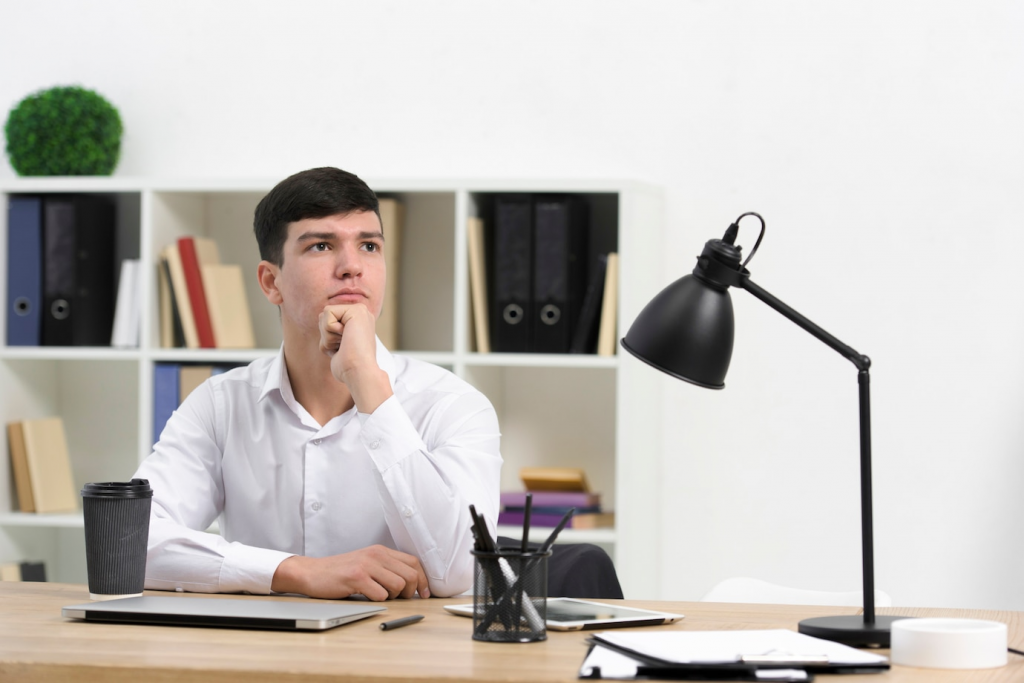 Once your store is perfectly optimized, you'll gain notable organic traffic flow into your site with little to no effort from you. That is one of the primary advantages of Etsy SEO.
While it will take you a while to put in the effort to optimize your Etsy store to attract the interest of search engines, it will be valuable in the long run when you notice your sales go up.
Etsy SEO Mistakes You Don't Want to Make
A few factors have been identified as having a negative impact on Etsy SEO, but Google isn't always transparent on what these are and how they affect your search results. To avoid Google penalties, the best approach is to present useful information straightforwardly.
If Google detects that you are manipulating its bots, your shop's search engine rankings will suffer. Make an effort to generate a user-friendly store with useful content, and consider the following Etsy SEO tips to avoid these practices.
Don't Fill Your Page with Superfluous Text
Your page should not be crowded with extraneous words or long blocks of text. Consider what information your intended audience would find valuable and interesting. Try to keep this information as brief as possible. Do not rehash information that has previously been shared on other listings.
Don't Have Any Broken Link
Search engines are designed to assist people in finding what they are looking for on the internet. They will penalize your website if it has broken links or error pages. If you encounter an issue with one of your store's links, try to restore it or redirect it to a new one as soon as possible.
Avoid Buying Backlinks
Some websites allow you to purchase backlinks to your website in the hopes of improving its ranking, but Google is well conscious of this practice. If you try to increase your ranking by purchasing backlinks, your SEO efforts may suffer.
Don't Prioritize Search Engines Only
Think about your brand's identity and value. To make the task of locating you easier for future clients, use the same color scheme across all platforms. Featuring a link to your Shop in your social media profile will certainly help users get into your Etsy store with ease.
Conclusion
Etsy SEO is simple to learn. A few minor changes can have a significant impact on how your listings appear in search results. There are lots of Etsy SEO tips that will help you to improve your Etsy store.
Some are more important, like carefully selecting your keywords, and others will give you a boost but aren't mandatory, like offering competitive shipping.
A tool like EtsyHunt can help you with the whole process. From keyword research to help you pick out products that are in demand and with low competition.
Finally, if you still have any concerns regarding your Etsy shop's SEO, you can make use of a tool like EtsyHunt's listing optimization. With it, you can analyze your store and receive specific Etsy SEO tips to improve your overall shop and listing optimization.
---
Startup Your Etsy Business Now!
100K+ people have used this free Etsy seller tool. But they'll never tell you.
Start for Free