Top 8 Etsy Seller Tools You Must Know in 2023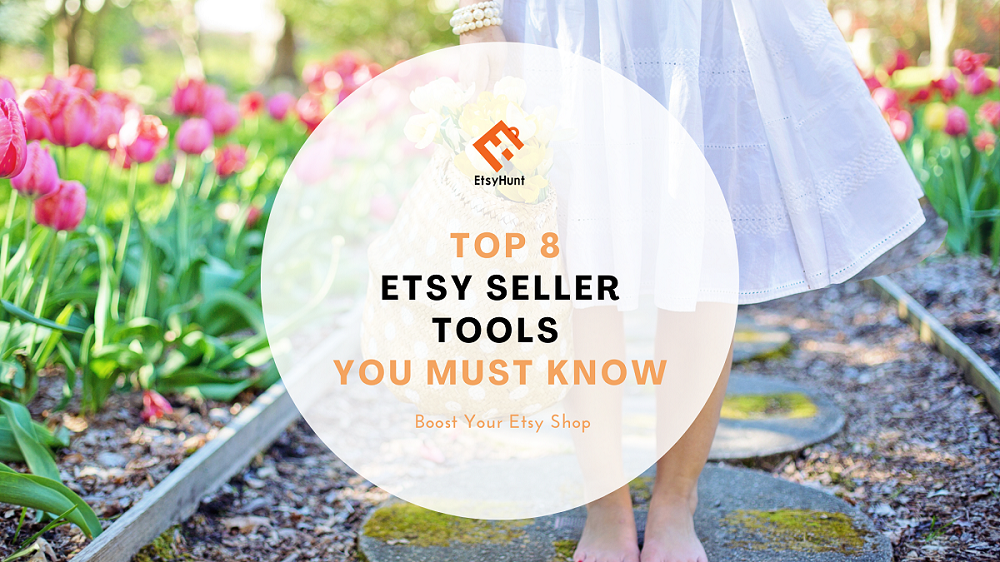 If you decide to start an Etsy shop, using powerful seller tools will be your sure path to success. According to the latest statistics, Etsy connects more than 7 Billion sellers and 90 million buyers. It will become more challenging for newbies (like you) to stand out quickly.
---
---
That's why you need Etsy seller tools. The tools can help you research the market faster, analyze product data, and manage your shop data. More excitingly, these tools use real data from Etsy to help sellers determine what data will help them succeed on Etsy.
Here are 8 essential types of Etsy seller tools you must know:
Top Etsy Sellers
Product Research
Niche Research
Etsy SEO
Keywords Research
Listing Optimization
Etsy Reveiws Mangement
Etsy Profit Calulator
In this article, we list the 8 most recommended tools for Etsy sellers in 2023. Some of them are all-in-one tools and others are designed for specific functions.
Top 6 Etsy Tools for Sellers
EtsyHunt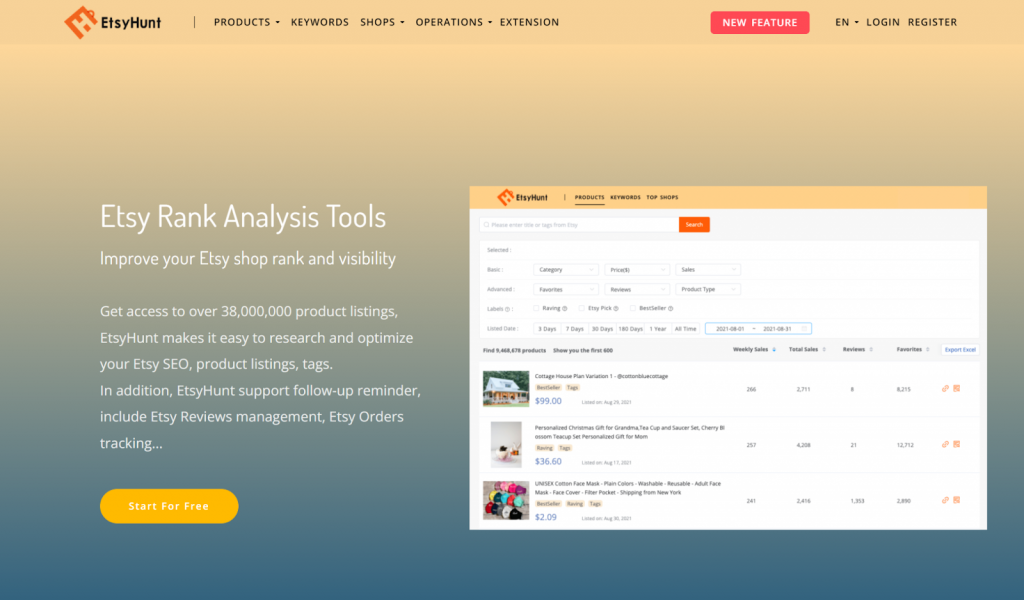 EtsyHunt covers most of the processes that Etsy sellers work with. Such as market research, competitor research, keyword analysis, listing optimization, reviews analysis, and Etsy Fee & Profit Calculator.
When it comes to product research, there is no chance to find a better tool than EtsyHunt. It is updated daily with a large amount of product data from real sellers. Sellers can take advantage of the powerful search function to gain better insights.
It is so comprehensive that it would be impossible to write everything here. I highly recommend that you just go ahead and try it out. Remarkably, it's free.
eRank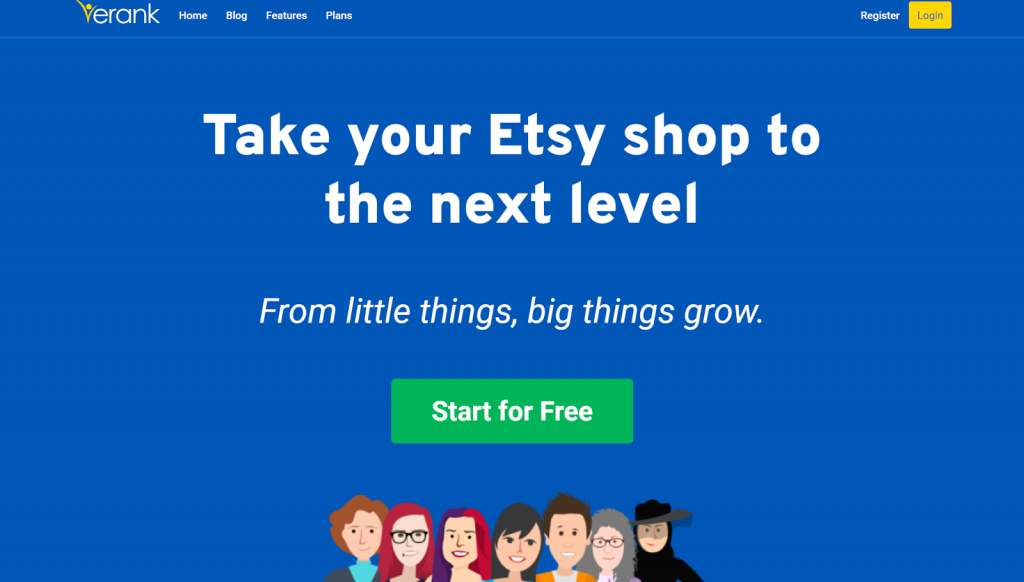 eRank is mainly for Etsy SEO, which can be used after users bind their shops. Its main functions are keyword analysis, listing optimization, and shop analysis. In general, it has three main advantages:
Supports in-depth analysis of keywords
Users can directly bind the shop and optimize the listing in a targeted way
Provides a very large number of widgets, such as Profit Calculator, Hashtag Generator
Marmalead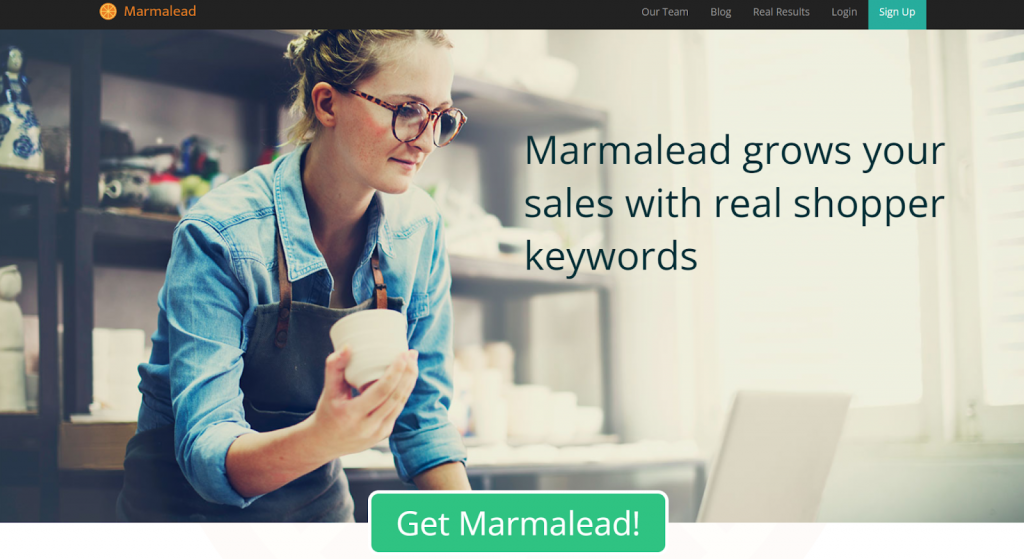 Marmalead is also designed primarily for Etsy SEO, which can be used after sellers have tied up their Etsy shop. It has a great keyword tool. From brainstorming to analysis to application, Marmalead helps users find the keywords with the greatest opportunity.
Alura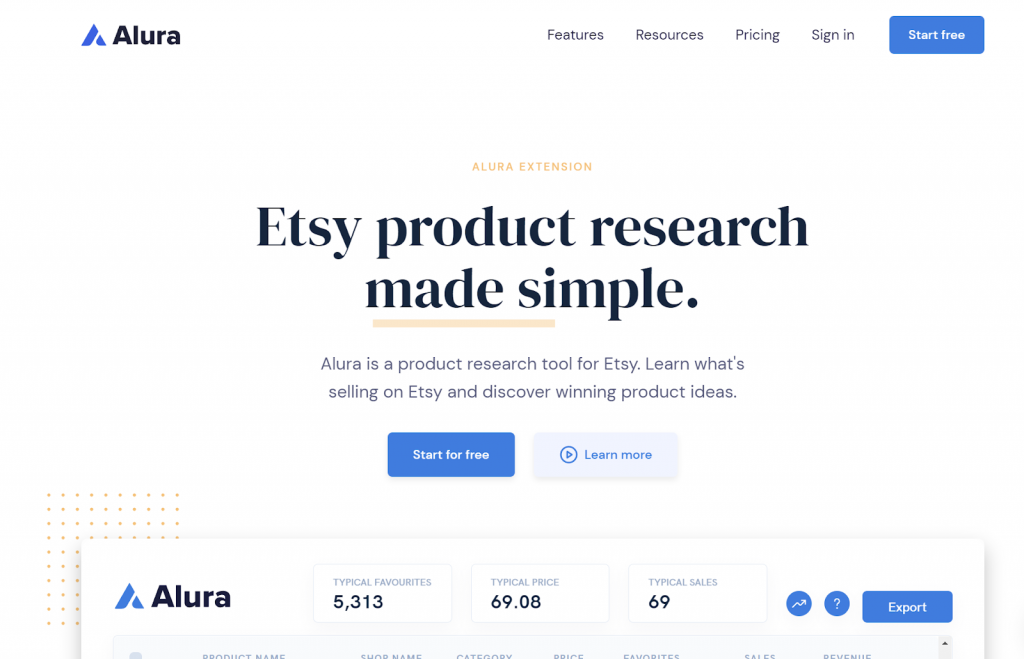 Alura's functionality is described as comprehensive, but not in-depth. Its main functions are divided into two categories: one is product research, where sellers can make informed product strategies through advanced filters. The other category is operation helper, which includes keyword analysis, listing optimization, and shop analysis.
Seller-Way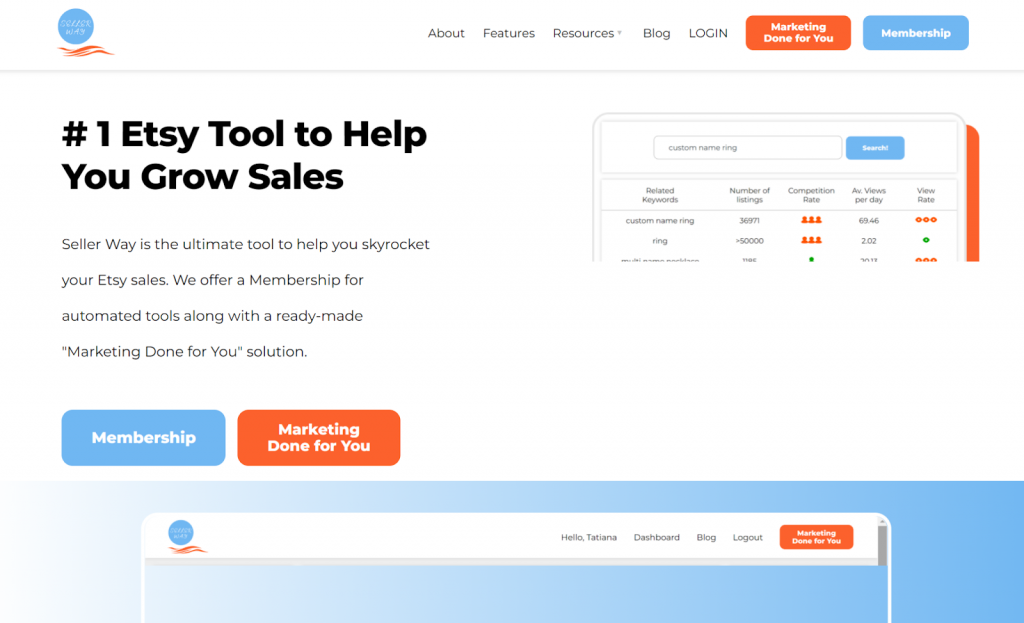 By becoming a Seller-Way Membership, you will get the following:
Listing & Shop Analysis
Keywords & Tags, SEO
Competitor's Shops & Sales
Hot Trends & Bestsellers
Listing Design Ideas & Colors
To-Do Lists, Tutorials & Rewards
Koalanda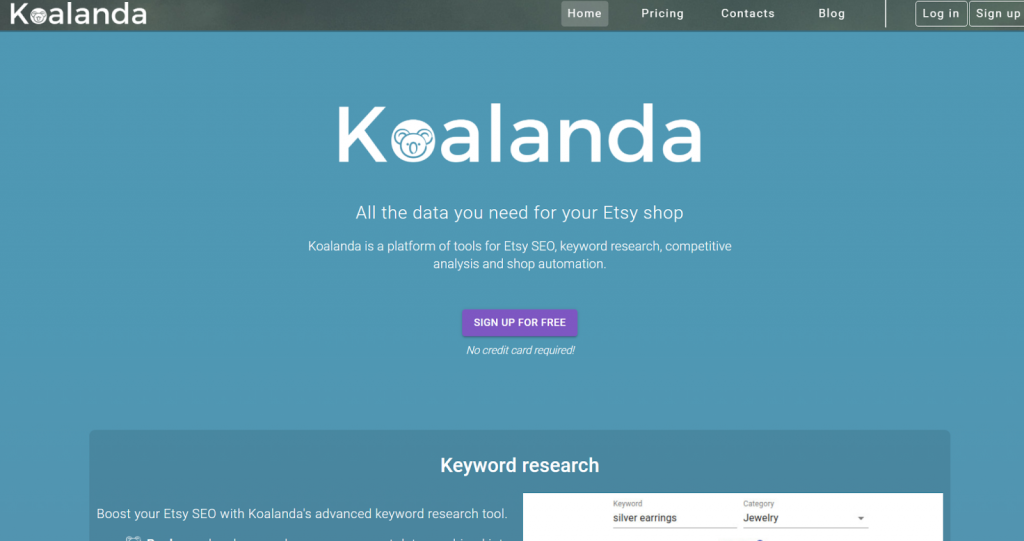 Koalanda consists of tools that could help in your day-to-day Etsy operations:
Etsy SEO
keyword research
competitive analysis
store automation.
2 Best Etsy Extensions
We have researched dozens of Etsy plugins and found that many of the tools have a single function and do not meet the needs of sellers. So, here I only recommend two high-value tools.
EtsyHunt - improves the efficiency of product research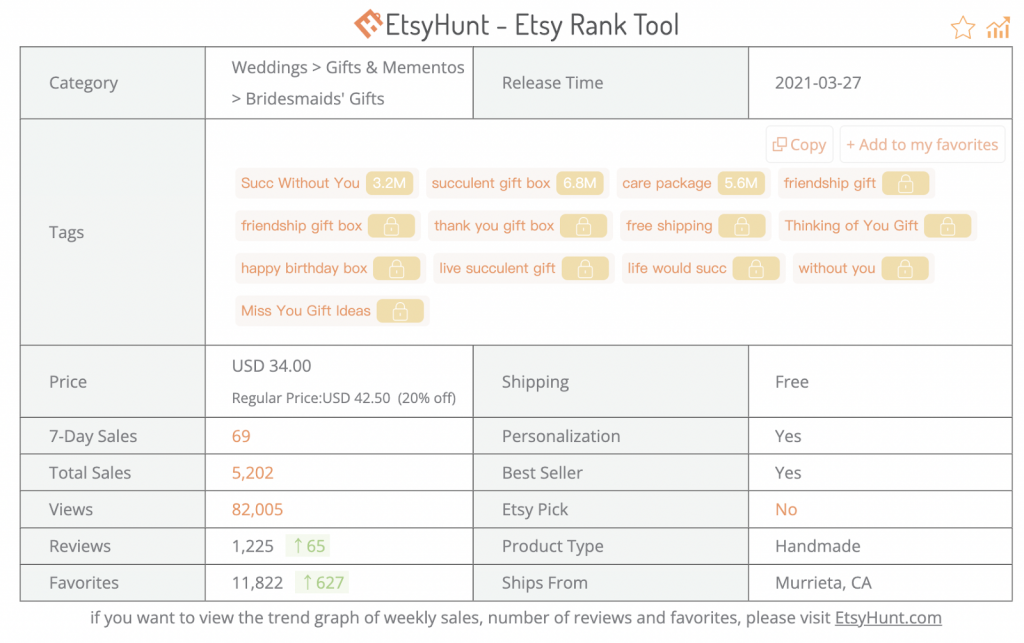 EtsyHunt is very powerful and is a plugin designed for Etsy sellers. It supports a quick view of core product/shop information on Etsy.com (weekly sales, total sales, favorites, date, shipping, etc.). In addition, it supports an in-depth view of Tag keyword performance.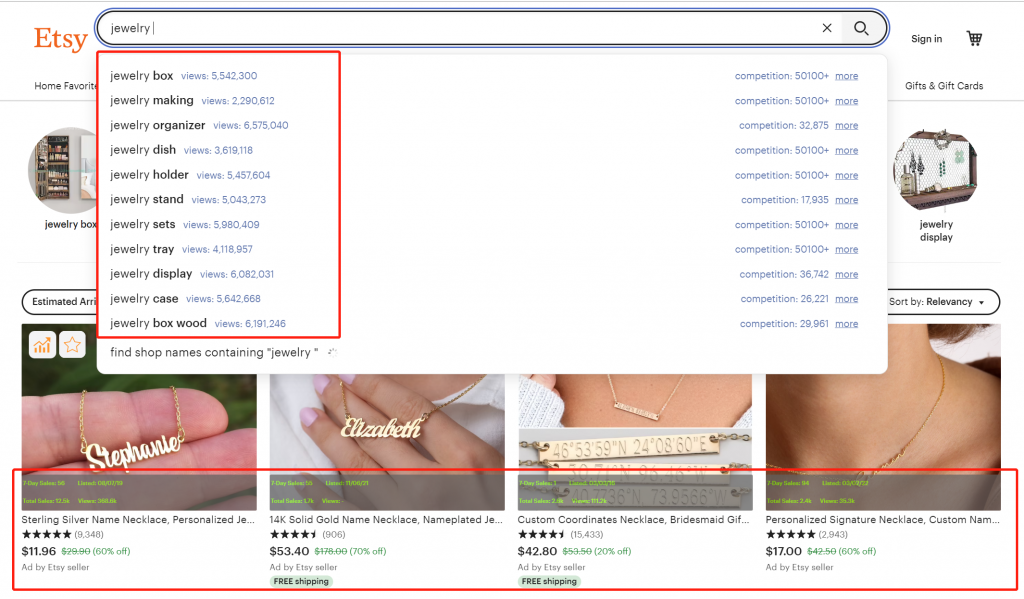 Sale Samurai - allows users to quickly expand their keywords
Sale Samurai can be used to analyze Etsy keyword search results. Using it requires only three steps.
Step 1: Enter keywords in the Etsy search bar
Step 2: Browse search results to see real-time keyword search volume
Step 3: Use the filters to drill down and find the most appropriate keywords for you
Other Etsy plugins:
Alura -- It has similar features to EtsyHunt, but is slightly inferior.
Ryviu -- It supports importing and managing product reviews. Etsy sellers can use it to import product reviews from AliExpress, Amazon, Etsy, etc. to Shopify.
ZeeDrop -- It is not designed for Etsy sellers, but it can also meet the needs of some sellers for product importing. For example, you can copy Amazon, eBay, and Walmart products to Etsy, or post Etsy products to Facebook quickly.
---
---
Takeaway
Just like Etsy is not perfect, most of the tools for Etsy sellers are under development. This article briefly introduces the classic features, you need to try it by yourself. In the end, you will choose EtsyHunt 🙂
---
Are you selling on Etsy? Join EtsyHunt to
Experience Hassle-free Selling on Etsy
Start for Free