How To Get Sales On Etsy: 12 Tips Proven to Work in 2022-2023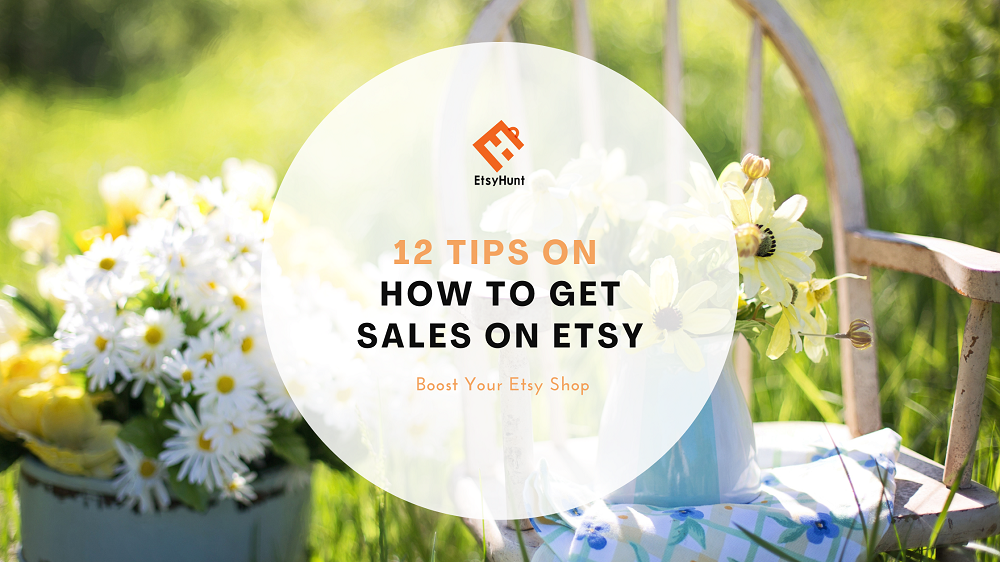 While Etsy brings new opportunities for e-commerce retailers, it appears that it is not easy to get sales on Etsy especially if you have been on Etsy for a while. Before introducing the twelve tips to increase Etsy sales, it is necessary to throw light on Etsy about why it is a success. As we unfold the success of Etsy, we are going to introduce 12 tips that are proven to help sellers get sales on Etsy.
Why Is Etsy Popular?
Speaking of the potential of Etsy is much of a cliche since I figured most people have heard about Etsy being an authentic, local and unique while profitable marketplace. But never until I read its sales report to physically understand its potential which put me want to address some of its statistics here. According to Forbes, the latest report showed Etsy has a 33% increase in revenue growth, ranking the number one out of other retail e-commerce companies such as Walmart (with a 26.4% revenue growth ), or Amazon (with a 24.9% revenue growth). Etsy has proved its market value. Forbes said Etsy has made itself a brand that "wins hearts and wallets", which sort of reveals the secret of its success. There are more insights that shall be pulled out to justify why Etsy has succeeded in taking customers' heats and wallets.
Exemplary at serving a niche market
Etsy set itself apart from other traditional retail e-commerce sites like Amazon or Walmart by dominating its marketplace with handcrafted and vintage items. It offers a niche market that the traditional marketplace couldn't hold on to. Etsy selectively chooses to narrow its product offerings to serve a value to goods and a different buying experience that you wouldn't have when you shop on Walmart or Amazon. In this way, it carved itself out as a leader among the artistic-made and handmade items marketplace and took all the traffic and money out of this niche. Etsy showed a niche in strong demand and self-proved that serving a niche to an exemplary level is going to have something in return. And that is the first insight into the success of Etsy.
Built a revenue model around seller/customer service
While reading the sales report of Etsy, one thing that is worth noticing is that seller services contributed more than 50% of Etsy's revenue. Etsy provides free and charged services to help sellers start, establish, and scale their stores such as reachable communication with sellers, Direct Checkout, and access to ratings and reviews. Sellers who utilized services are more likely to generate higher sales.
Etsy also supports sellers in areas like shipping, upsell advertising, and customized websites to retain sellers while assuring a satisfied customers' buying experience. Thanks to the seller service, buyers on Etsy are more engaging and loyal. Buyers come back to Etsy year after year. Etsy is able to show a revenue model building around a positive feedback loop of a practical and accessible seller service.
We have just analyzed the success of Etsy on a macro level, sort of theoretically. As a wanderer of Etsy's community, I realized it is hard to increase sales. The concerns repeatedly address four aspects: products, SEO, store operation, and store promotion. Therefore, let's dive into the four aspects and see what sellers can do better about them.
4 Major Aspects that Influence Sales of Your Etsy Stores
Products
Tip 1: Discovering on-trend products is halfway to getting sales increase
On Etsy, you are allowed to sell three kinds of products: handmade items, vintage, and craft supplies. Choosing what to sell is hard even when the product assortment is small. Etsy.com gives out questions as guidance to help sellers pick products. Some questions such as"do you enjoy selling it?" doesn't really bother us. While other questions such as "Is the product on-trend?" are more tricky. We all know sellers can get more sales with on-trend products.
But how do we find them?
Drawing upon most sellers' experience, you will want to constantly monitor what is on-trend to help guide product development. For your next product launch, you will want it to meet demand. You can service like EtsyHunt to look for ideas for your next launch. EtsyHunt provides a large database that covers over 39 billion products currently selling on Etsy. You can see if a product is on-trend by looking at its reviews, 7-day sales, and total favorites, which you can find these metrics on EtsyHunt.
EtsyHunt shows products in descending order by 7-day sales. When you click on a product detail page, it shows a visual of the product performance. You will have an idea if that product is on-trend over time.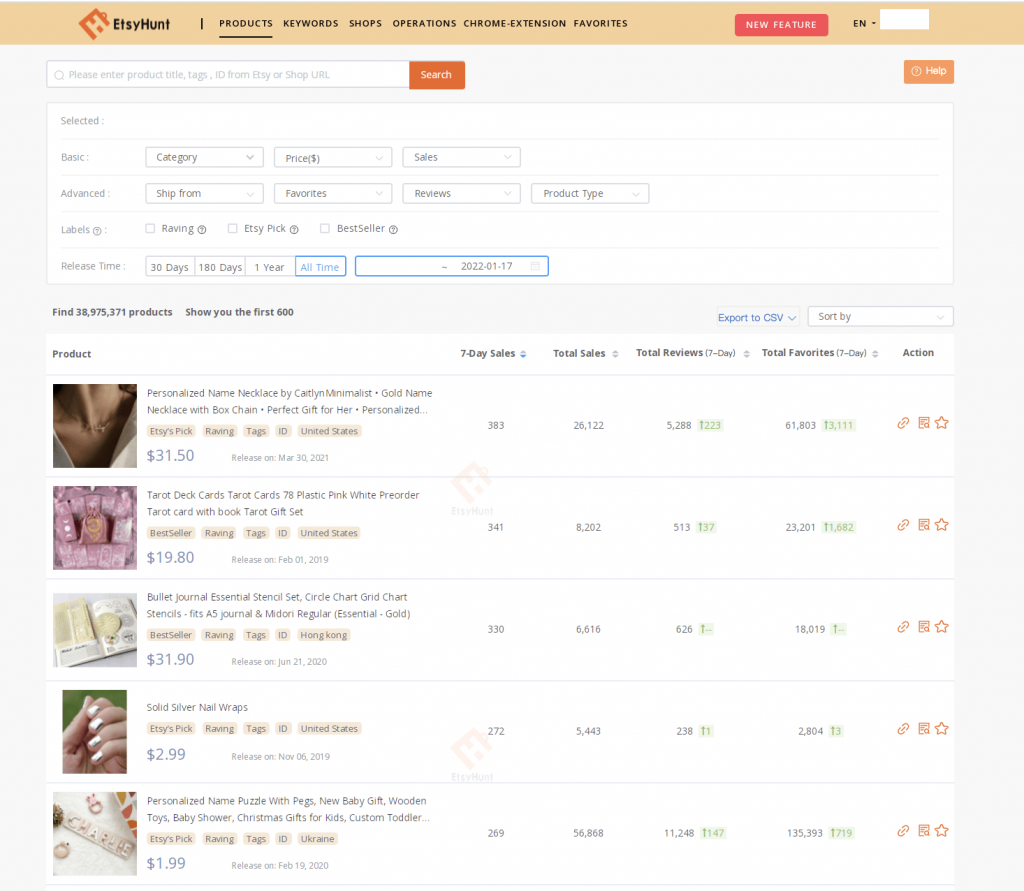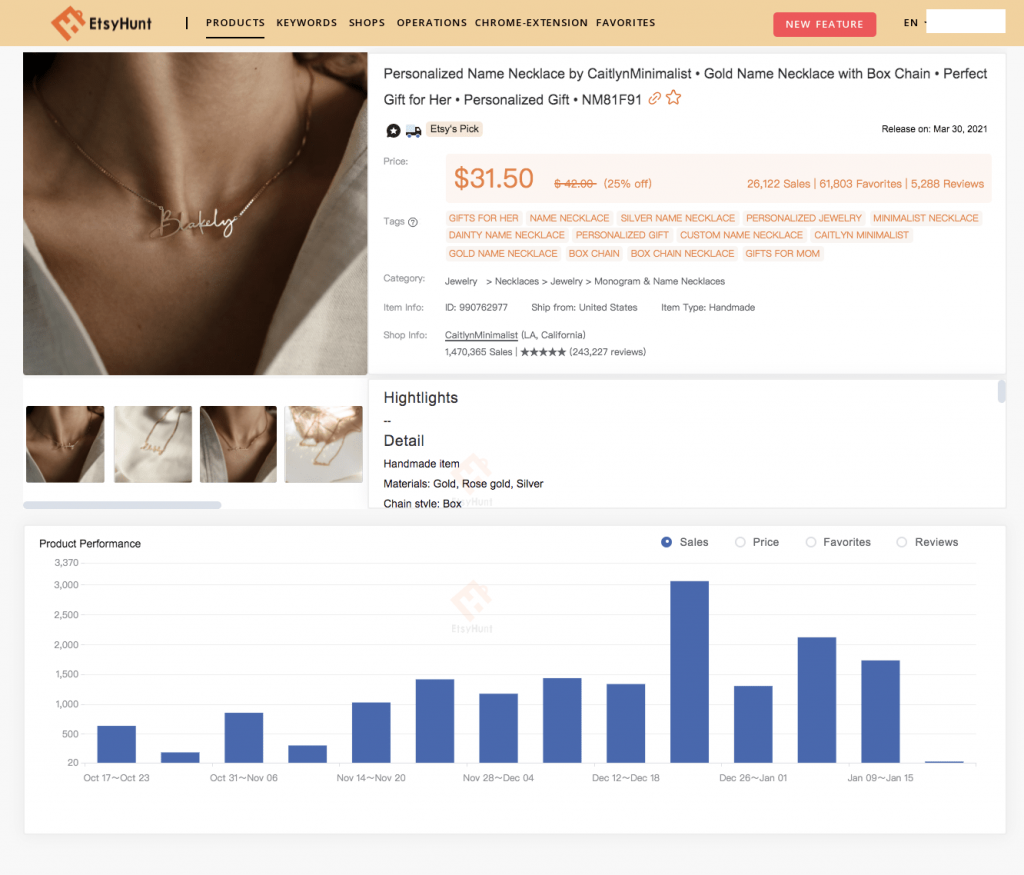 Another way to find on-trend products on EtsyHunt is by filtering out products that label "Etsy Pick". You can find products that are handpicked by Etsy in the last 30 days, 180 days, and in the last year. Although you can view "Etsy Pick" on Etsy, EtsyHunt allows you to assess a product in the long term that Etsy is not able to support.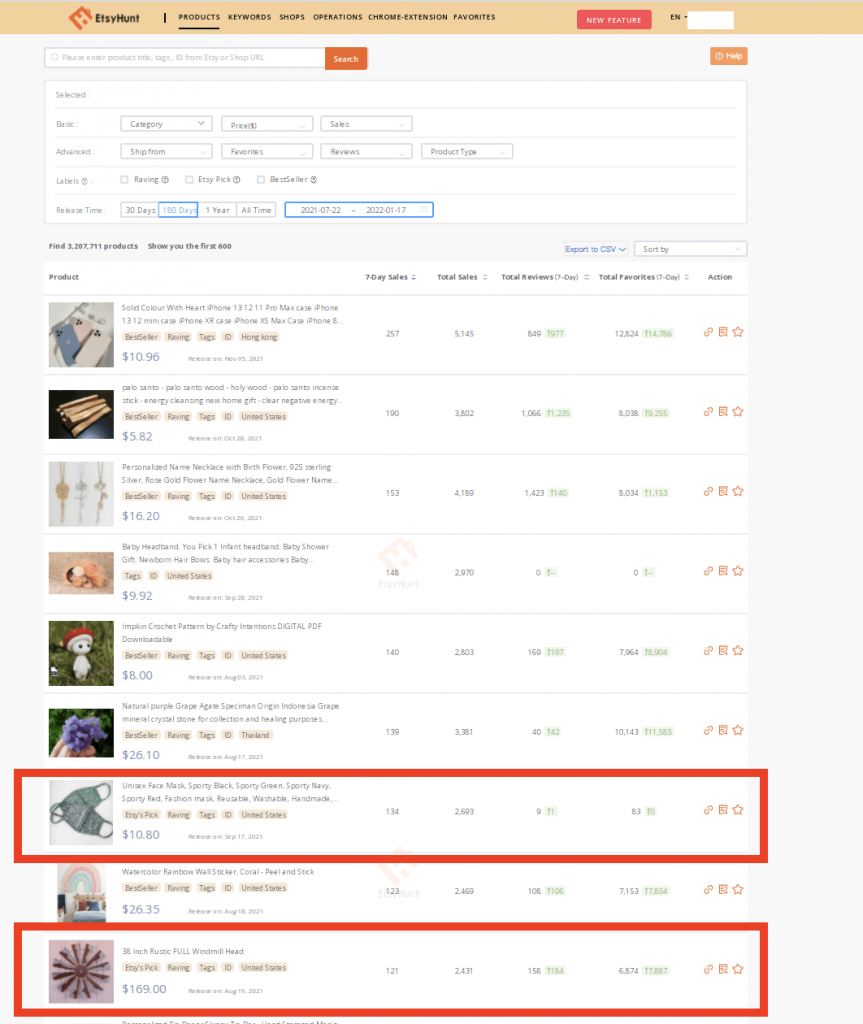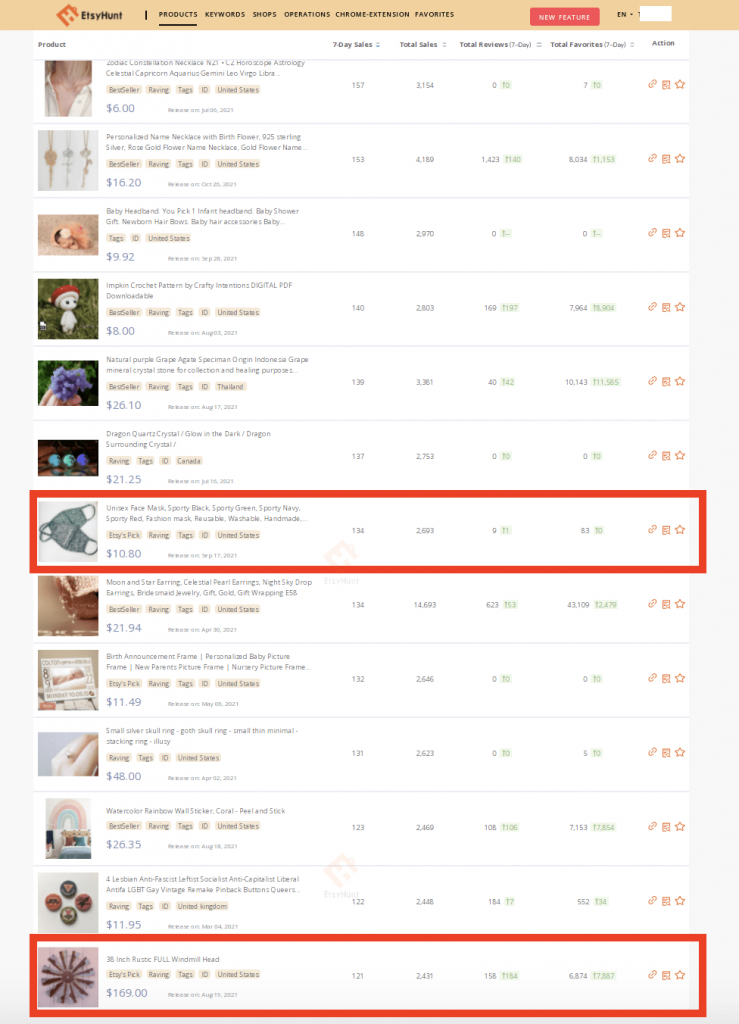 When you know what you sell, start working on SEO.
SEO
SEO is how you get found. Through effective search engine optimization strategies, your store will get more visibility that will help boost sales on Etsy.
Tip 2: Use SEO-friendly images for products
Etsy is a visually appealing platform where an image is worth a thousand words. Image SEO includes several strategies. A high-defined image makes your store look authentic. Naming each image with SEO keywords is just as important since Google finds your images through the name of the photo.
Tip 3: Getting titles and tags right is critical for SEO
Titles and tags are essential to SEO. You will not want to trip and fall on that. First, don't repeat tags in the title otherwise you are giving away spaces for other keywords that can help with SEO. Also, filling titles with tags makes your titles look like they were written for algorithms rather than for human beings. It is important to be aware that you are serving a human being on the other end. Write something that is readable to encourage sales.
Second, split your keywords into separate tags. Etsy provides a total of 13 spaces for tags for you to put keywords. Split up keywords to meet the search queries.
Tip 4: Make a good combination of long-tail keywords and short-tail keywords to help boost sales
The paradox of long-tail keywords is that they precisely describe your products but usually, they don't tend to have high views. However long-tail keywords are necessary for your listings since they bring high-quality traffic to your listings which results in a higher chance of purchase. I will suggest doing 2 long-tail keywords with 3-5 high-volume keywords in the listings and using synonyms of related keywords for the rest to shoot for SEO.
Since Etsy gives prominence to new stores, you might find a great influx of traffic to your store when you start running your store on Etsy, As time goes by it is really up to how sellers operate and promote their stores to get sales. Getting some tips on store operation and store promotion is fairy important.
Store Operation
Tip 5: Getting reviews is going to help increase sales of your Etsy store
The importance of reviews is heavily stressed all the time. Reviews are a major ranking factor on Etsy, determining how great a chance your store will be found. Also, reviews are a source of social proof that makes up a large part of purchase motivation. Typically a five-star review will boost your ranks and sales.
Some sellers have trouble getting reviews from the very start. EtsyHunt helps you to request reviews in a simple and intuitive way. You can manage reviews on the Operation, a feature that helps you boost reviews with effective request messages.
First, you will be asked to authorize access to your store. EtsyHunt uses the official API to secure your data and privacy.
Second, you will then see customer information, order information, order date, review status, and request status. What is fascinating about EtsyHunt is that it provides message templates for sellers. Reviews request messages for new buyers and returned buyers should be different. Templates on EtsyHunt adapt to various purposes and are editable. Sellers can copy and paste messages and EtsyHunt will direct them to the order they want to contact on their store page where sellers can send the review request with the message feature.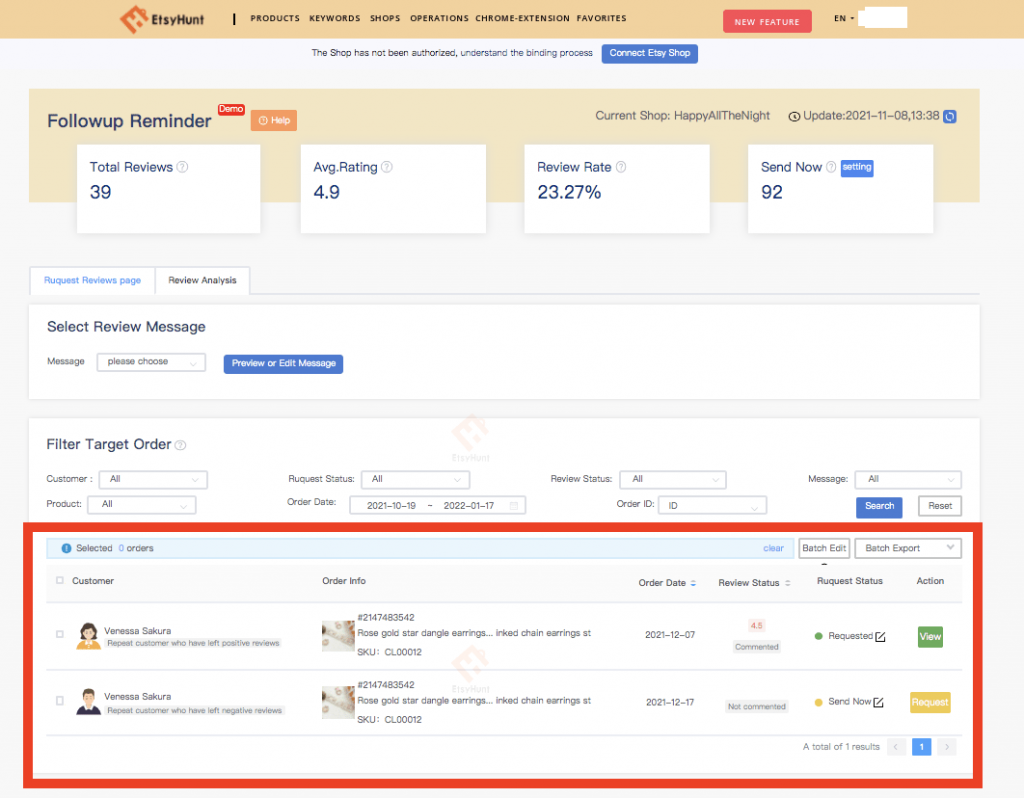 After you get feedback from customers, it is important that you monitor and do the analysis as the guide to your store operation. EtsyHunt does a comprehensive analysis for you. It shows an analysis of review on multiple dimensions. For instance, you can view a trend of the review and effectiveness of request messages. With this information, you can quickly respond to a drop in reviews and tweak your messages.
Tip 6: Focus on replace and refund, and shipping policies
Putting effort into improving customer services can have a positive impact on sales. Go through your replace and refund, shipping policies to make sure they are crisp and easy. Making them convenient to customers is going to help build trust with your customers which is going to help your shop's conversion and sales.
Tip 7: Go for free shipping when available
Etsy algorithm prefers free-shipping items so do buyers! Also, making items free for shipping gives bargaining power. Since your competitors will have to reduce their pricing in order to compete, you will have a higher profit margin with the free-shipping items.
Store Operation
Tip 8: Cross-sell on Etsy
Crossing selling is effective to increase customer retention. Therefore, provide links of similar or complementary items in the product description as Etsy allows you to include hyperlinks in the product descriptions. Take advantage of this opportunity to boost sales to other products.
As we move away from store operation to store promotion, never forget to leverage options provided by Etsy such as the Etsy Ads.
Besides Etsy Ads, using social media to reach out to potential buyers is also a way to increase sales. Instagram, Pinterest, and blog are common platforms where Etsy buyers often hang around. Therefore, regularly making posts, updating, and interacting on social media can help retain targeted customers while acquiring new customers. That will help increase repeat purchases and boost new sales.
Tip 10: Don't downplay the power of packaging in bringing sales
These days as more sellers and companies come to realize creative packaging as an effective promotion strategy, I would say that for Etsy sellers packaging is especially important since they are selling in an artistic marketplace, and no doubt visually pleasing packaging is going to help fulfill customers' expectation and buying experience. To Etsy sellers, the packaging is an easy trick that will help you to boost sales.
Tip 11: Have a sale when sales get down
Etsy is the biggest source of traffic and for sure they will promote their sales events. Therefore take advantage of any sales events planned by Etsy. Be part of the holiday sales! Even on normal days, you can choose to put some products on sale since Etsy has this filter in search that allows buyers to pick things that are on sale.
Tip 12: Use tools as helpers to help get sales easily
Last but not least, tools that are dedicated to Etsy sellers are great helpers in boosting sales. Tools such as EtsyHunt which you can find products, manage reviews, and do keyword research are going to save your time and allow you to boost sales all in one place.
Final Thoughts
Selling on Etsy is competitive. In order to get more sales, sellers need to be aware and constantly try new strategies and abandon old ones. Hopefully, we provide a guide to help Etsy sellers to think about their future plans in a systematic and feasible way. Next time you think about how to get sales start thinking about your products, SEO, store operation, and store promotion.
Scale Your Etsy Business Now!
200,000+ people are using this free Etsy seller tool. Are you next?
Get Started for Free