How to Close an Etsy Shop? Temporarily & Permanently Closing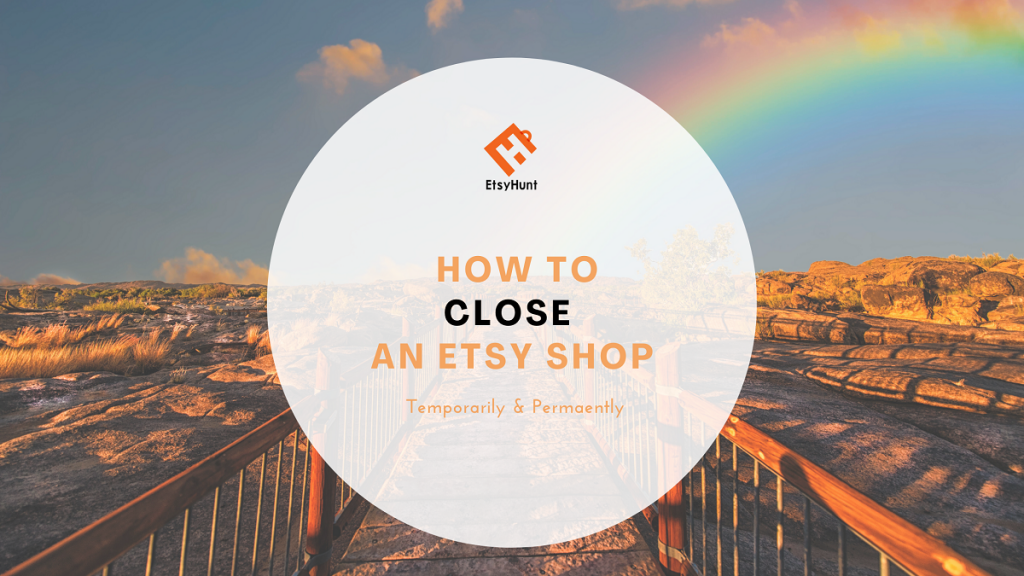 It would sometimes be a tough call to close an Etsy shop because it requires some procedures to follow carefully. So it will be of great significance to the seller to know how to close an Etsy shop sticking to the Rules of Etsy.
Whether you will close your shop for a short period of time or forever will largely depend on how well or badly your business on Etsy is going. Whatever your decision is, it is quite easy to perform this process. However, there are some actions you need to take before and when closing your store. Let us dive deep into fundamentals and details on these two major topics in this article: "How to temporarily close Etsy shop?" and "How to permanently close Etsy shop?" Keep on reading.
Reasons to Stop or Pause Selling on Etsy
After opening an Etsy shop, some sellers may want to take a break or stop selling altogether for a variety of reasons. Major factors causing this could be:
Thanks to Followup Reminder, you can manage feedback requests without spending so much time. This tool enables Etsy sellers to view customer data including order info and data, review status, request status, and the action. Thus, requesting feedback won't be a tough job.
Temporarily or Permanently Closing
In this case, you can take a break from selling on Etsy in two ways: Temporarily and Permanently
You can permanently delete your Etsy account if you have met the criteria such as resolving all the cases and fulfilling your orders.
Another option is temporarily closing an Etsy shop. You may also prefer turning on Vacation Mode, meaning you take a small break due to some specific inconveniences like being unable to run your shop properly or sellers traveling and being sick.
Moreover, closing your Etsy account or reopening a shop are other alternatives regarding taking a short break or having a fresh start on the platform.
How to Close an Etsy Shop?
Once a seller has made up their mind on closing the Etsy shop, then it is high time for them to follow the closing procedures attentively. Here is how it works:
Go to Etsy.com, then to Shop Manager.
Visit Settings and select Options.
Under it, refer to the Close Shop tab.
Finish it by clicking Close Shop and fill in a short survey regarding your probable reasons for closing your shop on Etsy. Etsy particularly needs to know why you are exiting the system, issues such as personal or business reasons appear in the list.
Things to Consider Before Closing an Etsy Shop
Sellers can easily close an Etsy store through the Panel. So what awaits you after closing? What should you consider in this process?
The Listing Will Not Be Visible to Shoppers
It is at this stage that sellers are always welcomed to reopen their shop or to turn on Vacation Mode when they especially have open orders impending. The only problem here is that the shop is not seen by shoppers even if sellers can communicate with customers related to open orders.
Possible Payment Issues
Finding out how to close your Etsy shop with a payment account balance is another part of the situation. You may have some issues receiving your payment and much more if the information you provided is out of date. You may close your draft shop by messaging Contact support as well.
Reviews Cannot Be Removed
Even though you permanently close your Etsy shop, reviews left for your shop and sold items page will remain public. Thus, it may be not a good idea for those who plan to close a shop due to bad reviews.
Get Informed Well Before Closing Your Store
You can also watch some informational videos on how to close your Etsy shop step by step, pointing out the importance of Vacation Mode one more time if you are specifically unsure about it.
Additionally, it provides sellers on the platform with some additional information like what happens when you close your shop and sellers having the possibility of reopening their shops any time.
In a nutshell, it takes a considerable amount of time to close the shop on Etsy owing to some procedures such as unresolved cases or not having paid overdue fees. Find out more details Etsy Help Centre.
Deleting an Etsy Store Permanently
Both sellers and buyers on Etsy have the right to delete their accounts for good in accordance with some specific acts and regulations both nationally and internationally. Before deleting the account forever, people on the platform may consider closing their Etsy account, closing their Etsy shop, and unsubscribing from emails coming from Etsy.
Just before you permanently delete the account, it is vital that you think about the criteria of it. For the sellers' part, they should have no amount due in their payment account, need to fulfill their orders, or have to resolve their cases without any issues.
Now onto how to permanently close an Etsy shop and delete it:
Go to Etsy.com, click You.
Now on Account settings.
Click on Privacy.
You will see Request deletion of your data under Permanently close and delete your Etsy account.
Getting an email regarding your request for deletion. You are good to go!
Please keep in mind that depending on if you are a seller or buyer on Etsy, it will take some time to delete the information for good. All the open issues have to be resolved successfully if the deletion process is to start right away.
⚠️As it is understood by its name, deletion is permanent and cannot be undone in any circumstances. Wanna go further and find out more? Check the article and explore details regarding how to permanently close your Etsy shop.
Taking a Break from Your Etsy Shop: Vacation Mode
Is it high time you had a break from your Etsy store for a while? Then Vacation Mode is just perfect for you. Because it allows you to find out how to temporarily close your Etsy shop. With that mode on, your online shop is on hold and it may be of great help to you if you are too occupied to manage your work, or your current orders are too many to deal with.
So this is the way how you activate Vacation Mode on Etsy :
Log on to Etsy.com.
Find Shop Manager.
Select Settings.
Click on Options.
Opt-out of the Vacation Mode tab.
Change the setting to On.
Fill in a temporary shop announcement and Message auto-reply.
Click on Save.
Pros and Cons of Vacation Mode
❌ Your shop will face some restrictions such as not being demonstrated on the Search bar, or not coming up in auto-suggestion tools while you are in Vacation Mode. On your Etsy shop, there will be a notice indicating that you are having a break for a short period of time.
✔️ However, you will be notified of orders, cases, and messages regarding your Etsy shop. In addition, you will be allowed to issue orders, or cancel orders and many more features will be available to make sure that your commitment to your buyers still carries on.
✔️ In terms of listings on Etsy when in Vacation Mode, it is allowed for sellers to edit their listing however they wish. In addition to that, sellers may make a list of new products and save them for further use when they activate their accounts without any charges. Yet, it is important to keep in mind that auto-renewal is an exception to that rule.
✔️ If the seller is a member of Etsy Plus, the billing on your subscription just moves on. Since the Star Seller criterion is all about your overall work in a 3-month period of time regardless of your shop being in Vacation Mode or not, you will get that special badge if you meet the standards of selling your items and supporting your customers.
✔️ Pattern sites on Etsy are also an integral part of the online shopping system. Sellers see an overlay on their website demonstrating your shop is in Vacation Mode. Contact Seller section will be displayed for the shoppers to communicate with sellers.
❌ The fee, though, on your subscription will go on.
Turning Vacation Mode Off
You can turn Vacation Mode off any time following these steps:
Log on to Etsy.com.
Choose Shop Manager.
Click on Settings.
Select Options.
See Vacation Mode and
Change the option to Off.
Finish by clicking Save.
Closing Your Etsy Seller Account
Besides learning how to close an Etsy shop, it is significant to know about closing your Etsy account as well. Now, a few steps to follow how to do that:
Go to Etsy.com and click on You.
Choose Account Settings.
Scroll down and find the Close Your Account section.
Specify a reason for exiting Etsy and provide an optional comment on your left.
Finish by clicking on Close Account.
Closing your account does not mean that you may use your username, email address, and shop name on a new name on Etsy. There are some strict rules to comply with that. It will be paramount for a seller or buyer to leave reviews regarding the purchase before they close their account.
Reopening an Etsy Shop
Wanna reopen the shop that you previously closed? It would be great to do that with a few basic steps:
Log on to Etsy.com from a desktop or laptop computer.
Go to Your Account icon.
Click on Account settings.
Find Your Closed Shop.
Choose Reopen Shop.
If your credit card is on file, make sure your billing info is up to date.
There you go! You have the exact data details when you closed it. It would be wise to check out expired listings if any, or billing cards being up to date. Please note that you cannot reopen your Etsy account on your mobile phone or app.
Sometimes, you may be notified by an email coming from Etsy stating that your shop has been closed or suspended. You are to request that Etsy reopen your account as soon as possible. It is at this stage that you make sure all your issues regarding your account have been resolved completely including open cases and unpaid balances.
If you are unable to reopen your shop even if you have tried many times, Contact Support is at the touch of a button to help you out.
Conclusion
Figuring out how to close your Etsy shop necessitates some procedures. Sellers should consider every detail very carefully to avoid disturbing circumstances. You need to fulfill some requirements so as to be able to close your shop. For instance, if you have some unresolved cases the system does not allow you to close them.
When it comes to how to temporarily close an Etsy shop, Vacation Mode stands out as a perfect alternative. You may take a short break from your shop. It lets you take some time to organize your shop in the way you wish. Because it seems you cannot catch up with your orders, or you are having some trouble running your business properly.
If the case is the permanent deletion of the account, it has to be done in accordance with the national and international law acts. Deleting your account for good has both seller's and buyer's sides. On both parts, all the criteria are to be met completely in order to be able to delete the accounts successfully. Needless to say, reopening your shop on Etsy is always an open door to sellers, makşng it an appealing option for potential users.
FAQs about Closing Etsy shop
There are more likely to be some Frequently Asked Questions (FAQs) in relation to closing an Etsy account. Here are some of them:
What are the conditions for closing the Etsy shop permanently?
As an Etsy Seller make sure to fulfill these requirements before you permanently delete your Etsy account:
You have no amount due in your payment account
You have fulfilled all your orders
You have resolved all your cases
You have saved any information you need for tax or record keeping purposes
You will not want to use the account's email address in another Etsy account.
Why can not see the button regarding closing your Etsy account?
This issue is directly related to resolving the cases completely and settling all your payment accounts successfully.
Why did I receive an error message when attempting to close my Etsy account?
This is the case especially when you have changed your email address before trying to close your account. By the way, the system on Etsy allows you to open a new account with the same email address on the grounds that you change your email address on file with your existing account before you close it. Please refer to the details here. This is how you do it:
Go to Etsy.com and click on You.
Choose Account Settings.
Scroll down to click the Email section.
Provide your new email address and your existing password.
Finish by clicking Change email.
Are you selling on Etsy? Join EtsyHunt to
Reduce Costs, Increase Efficiency.
Start for Free