Handmade Quilts: How to Sell Them On Etsy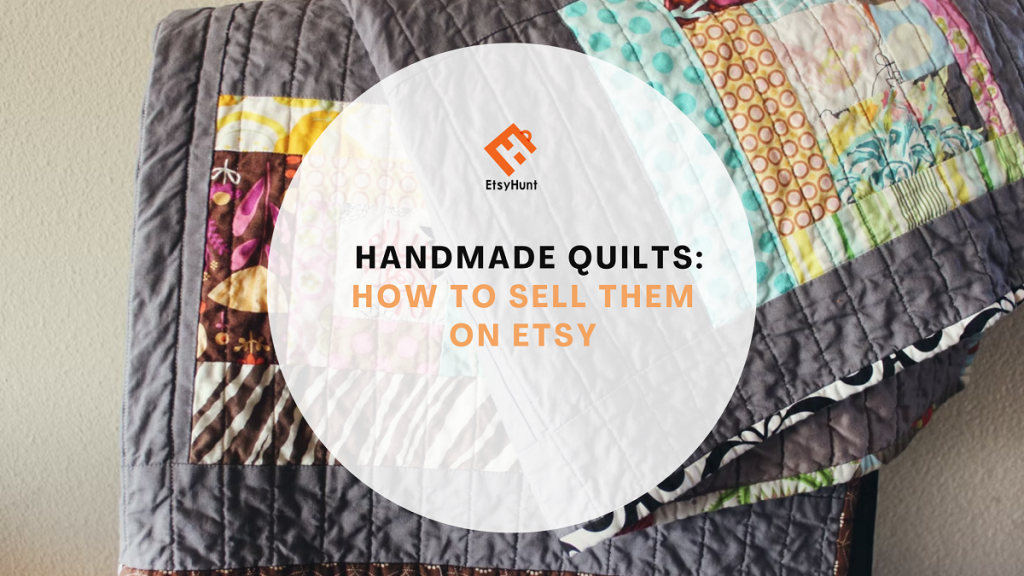 Handmade quilts can be very visually appealing, unique and really good to look at. They make a nice addition in order to decorate every bed, adding color to the bedroom. With many artists out there who make a living doing them, it is hard to find the perfect one without specialist tools.
Setting Up a Handmade Quilts Shop With EtsyHunt
Etsy's terms of use say that users can sell whatever they want if it is handcrafted (and proved) by the user. If the quilts are of your creation, there will be no problem with that. Knowing how to create a business account is not hard, and there are some steps and tips to do it.
EtsyHunt is our most impressive tool for market analysis where users can find and search for the products they are looking to buy or sell. Its intuitive and effective filtering features allow buyers to save time and buy quickly. Every best seller, hot picks and popular search are listed there, and in more than one platform.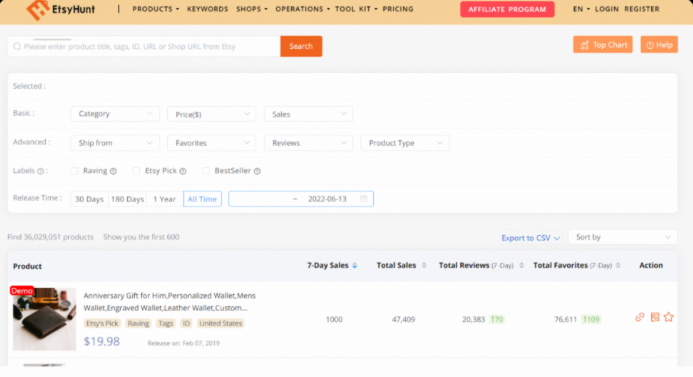 Keyword Research
In order to sell or find handmade quilts using EtsyHunt, the best way to do it is by doing keyword research. The tool explores the top searches finding the exact tag the user asked for among all listings. It also tells the amount of views an item has, letting you know if it is a good deal to sell that product.
Looking at other charts such as sales season can provide more useful information to calculate the income an user can earn by selling the product.
How to Attract Customers and Increase Sales

There are many ways to help your own shop increase sales and get those handmade quilts sold to earn some money.
Making a Good Looking Profile
Having a good looking profile is very important in order to attract potential buyers. It is not the same having a blank empty profile with little info than one with a bio, photos and products. A catchy shop name and simple to remember also helps greatly.
Adding social media photos of the product is another useful tip since it is a very innovative trend that not many use but Etsy allows. This not only works as a photo, but also a way to increase followers since they're directly interacting with the image. Those who come from social media will increase Etsy traffic.
Using the Proper Keywords
Descriptions are very important because it provides the buyer the info they need about the product they could be potentially buying. Materials, size, quality, colors and more need to be there, but the longer and more detailed the better. Making sure the appropriate keywords are there will enhance the search.
Using the website suggestions or the ones provided by our tool EtsyHunt you can greatly increase the visibility of your item.
Study the Analytics of the Products
Analytics are an important tool for analyzing the market, products and how the shop is doing overall. Monitoring your listings helps to check and compare which items are doing better and those who are being sold less.
For example, a shop offers a lot of different handmade quilts, but some are not bought at all. Learning what is causing this could help the shop to improve the quality since those less successful products will receive a better treatment.
Increasing the Reviews
Handmade quilts can be perfect, and the customer service is amazing. But that is not enough if there are not enough reviews. Most people base their buys after watching who has the best or more reviews. It does not harm to ask a customer to leave a review after getting his product.
Free Shipping
A simple way to increase your sellings and attract more customers is by simply shipping the product for free. While it means a bit more of a cost for the buyer, it pays off when more people buy. Most shop owners cap this shipping, meaning the product price has to surpass a certain value to be sent for free.
Applying this method also helps since the Etsy algorithm will place your product on top than others, since price will be reduced. Shipping prices are always embedded in the product, so it will seem significantly lower.
Free shipping can also be applied only during certain time frames, especially those where the market charts show a descending trend. It also applies the other way around, to be more competitive during busy market holidays.
Always Provide a Good Customer Service
Attracting new customers does not help at all if you are not nice and work hard to keep them coming back. A happy and satisfied buyer is more likely to come back to buy to your store if the product was sent in time and in good shape without any problem.
Replying answers on time and in a very polite manner can also raise your status, even gaining an Etsy star seller to display on your account.
Offer Multiple Payment Options
Buyers' final decision is also greatly affected by the number of payment options that are presented when deciding what shop they should choose.
More flexibility, different conversion rates and extensive options means a boost of sales. Etsy has recently implemented a feature to accept payments through installments.
Use Promoted Ads and Listings
When searching the store, each four rows Etsy saves one for promoted ads and listed products. Paying for these ads can also hugely increase the sales of a product since it will always appear.
Etsy has also reformed how the offsite ads used to work. Before that, users had to buy both ads (Etsy and offsite), but not anymore. Nowadays, everyone can look for products through many sites, browsers and social media using the same ad.
Provide Coupons Codes
Coupon codes are a very effective way to attract old and new buyers and encourage sales. Sometimes, users need a little discount in order to take that step and click on the buy button. Some pages provide these coupons to those who are subscribed to the newsletter, making it a win-win situation.
Help Social Causes
Stories shape the world and everything around it. Marketing is not excluded from that either. There are many causes, stories and problems that can inspire and motivate others to buy something in order to help. This help will be done by supporting an artisan who sells their handcrafted products online.
Increase the Products Available
Experienced users recommend newcomers to have the most amount of products for sale possible. Etsy products can be compared as a shop window. For example, an user with four products can make 30 dollars selling them, but one with 5000 items could earn more than $20,000.
The bigger an user's account is, the more traffic they will deliver into their profile, thus increasing the chances of someone buying an item. Most customers also like to buy more than one item at a time, maximizing their shopping, making it even a better opportunity for sellers.
Search for What Is Needed
There are some items that standout more than others without doubt, and they are always being sold. Users can read the reviews of that product in order to understand what makes it so special and try to adapt new products with that.
Searching through bad reviews of products can also help shops to realize why some products fail and build something on that, making it better. Making a product that fits their needs can make a big difference in sales-related.
Include Gifts or Freebies
Small details such as a little gift or freebies can greatly improve a customer's loyalty or trust. Something that they do not expect in a positive way can weigh when it comes to buying back from a shop. A popular product from your page is the best option to choose as a freebie.
Of course, this must be done carefully in order not to devalue any of the products listed on the shop. Delivering a full product as free can make a buyer question if what they purchased is worth what they paid for.
Add Scarcity Item's Details
Creating scarcity is another powerful and effective way to encourage a customer to buy a product. Sometimes a user sees something that they want, but they need a little push to acquire it. That's where scarcity comes to action.
Adding a sign saying how many products are left to buy or in someone else's cart can give the user that sense of urgency. Knowing that the item can be bought by someone else before them will make them buy it instantly. It's recommended to apply this method to bestsellers, putting their quantity below five.
Write a Blog
Blogs are a very powerful tool for those seeking long-term benefits and rewards. This tool can generate a very high amount of traffic to the shop, but it is important to remark that a lot of time needs to be spent writing it. Results may not appear from one day to another, but constancy makes a difference.
Articles related to the products being sold in the Etsy shop can find potential customers. It allows the writer to also present himself as an expert and inform about what they're selling, the process of crafting the item and many more.
Finding the Best Quilt Type

Since there are many handmade quilts to choose from with unique styles, shapes and colors, it is needed to understand what types exist. These multilayered textiles were originally composed of fiber or fabric.
Oftenly, these pieces of art contain information that can be very valuable to know more about the creators of it. These were segments of history and stories that were frequently displayed as non-utilitarian art.
Patchwork
One of the most famous styles of handmade quilts, that involves sewing together many other pieces of fabric, forming a much larger design. It's usually confirmed by repeating patterns with different shapes or colors, giving it a distinctive style.
Appliqué
This style is known as a sewing technique where a piece of fabric layer is sewed on another bigger one. It can be of any shape and color, and has many types of textures. Some people use glue, other stitches or freezer paper in order to create it.
Trapunto
Known as another sewing technique, Trapunto is used to sew two layers of fabric together, and then several pieces are added along it. Artists use this method in order to create original quilts giving the impression of outlines and dimensional effects.
English Paper
This classic and historical style of quilt has been around since the 18th century. Typically used as piecing, it often has many sides and in-set seams. The process involves cutting individual pieces and templates with an exact size and shape.
Photo Memory
Memory quilts are often used as an artistic way for different families to preserve important moments that happened through its history. It helps some people with grieving from a loss, and it is passed from one generation to another.
The most used type of clothing are jeans, shirts, blouses and sometimes dresses or handkerchiefs. Nowadays, sometimes photos are attached to it, not only to remember deceased family members but also new additions.
Cathedral Window
These obscure themed quilts gain their inspiration by the Churches' stained glass windows with many colors and designs. Calicos and cotton are the most used resources to achieve a heavy feeling, constructed with patchwork and edging.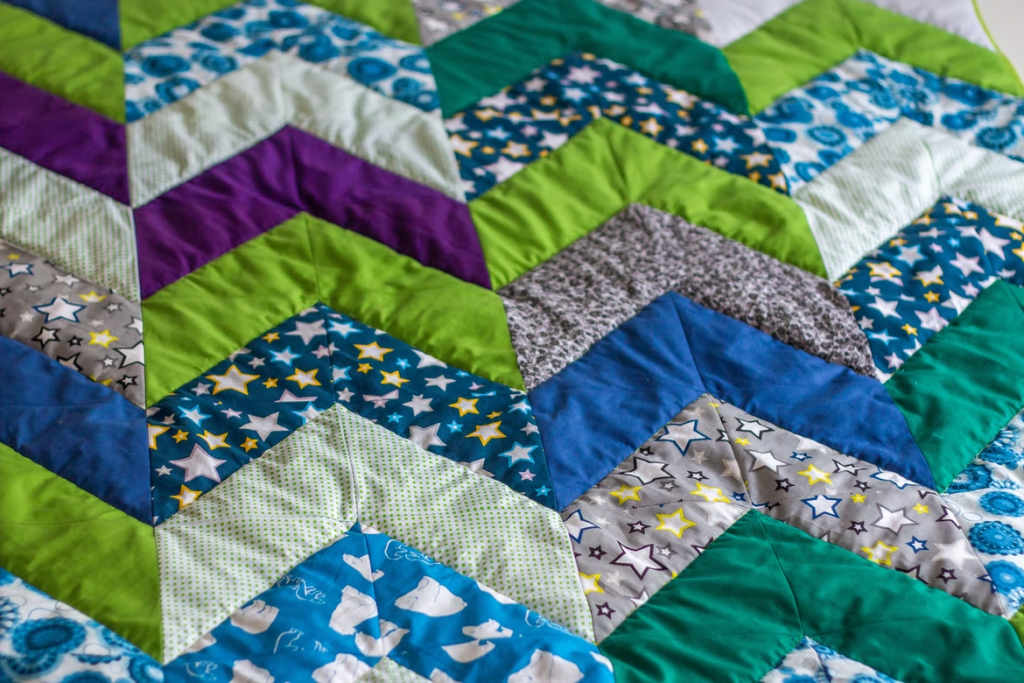 Conclusion
Handmade quilts are a very good product to list and sell on Etsy. With a proper strategy of marketing, deep analysis of the keywords, engagement and more thanks to our EtsyHunt tools you can set up a successful shop.
Users will also need to do their part, though. Setting up a proper profile with detailed info, pictures and good descriptions are vital to make a good first impression to the buyer. Knowing the types of quilt available and how they are done can also give you a bigger understanding when manufacturing one.
Are you selling on Etsy? Join EtsyHunt to
Experience Hassle-free Selling on Etsy
Start for Free