Top 40 Etsy Search Trends for 2023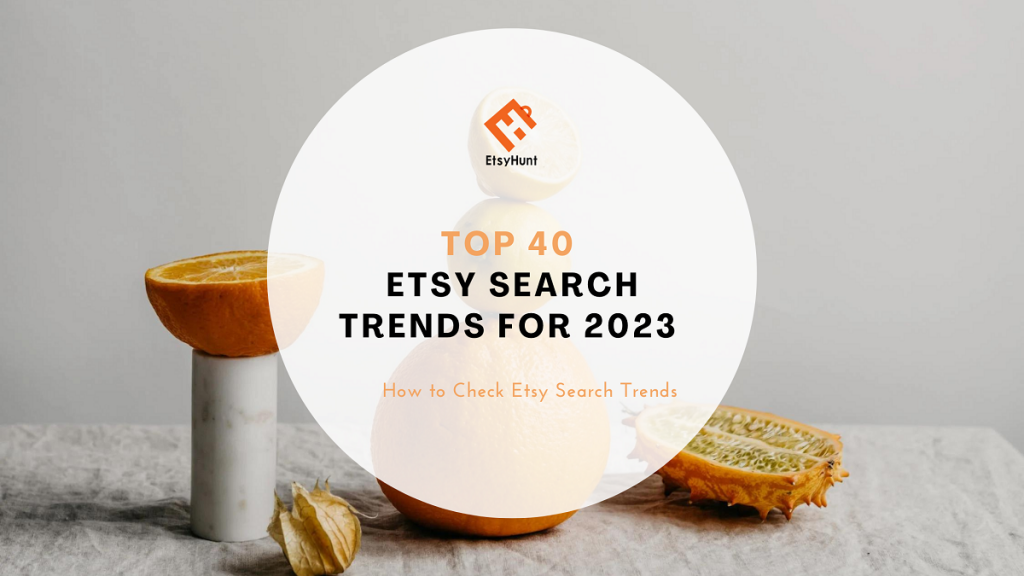 Asking yourself what to sell on Etsy? We'll show you the most notable search terms among shoppers right here. Immersing in the process of optimizing your Etsy SEO and tags and looking at what these Etsy search trends tell us about what's hot right now.
Moreover, we will also share with you practical tips to do your own research about what is trending on Etsy, and the popularity of certain keywords.
How to Check Etsy Search Trends
We are well conscious of the significance of keywords in the e-commerce industry. Selecting the search trending keywords can assist you in improving your listing's SEO score, increasing traffic, and, ultimately, increasing sales.
Finding the best keywords, however, is a difficult task. Etsy itself provides no information about keyword search volume, but it does offer a trends page that we can use. In conjunction with this page, and some other methods, that we will show you, you can discover the most effective keywords for your Etsy store.
There are a bunch of tools that could help you make keyword research easier, but would still involve combining different tools, methods, and web pages. Sites like Alura, eRank, Marmalead, and SaleSamurai promise each one to help you with it, but you'll have to do extra work.
However, EtsyHunt has the perfect one-stop offer to handle all your keyword research based on trustable databases that are constantly updated. You will be able to find out which keywords are the best ones for you without leaving Etsy and within a few clicks.
This is possible thanks to EtsyHunt's tag extension, an easy-to-use extension that will be ready to use upon installation. Let's review how it works
EtsyHunt's Tag Extension
So, the first step would be to get the extension from the extension's store, this tool is the perfect complement to analyze the only data Etsy gives us, its trend list.
After that, you're ready to begin researching Etsy search trends. It is as easy as heading to Etsy's trends page and choosing any of the products showcased there: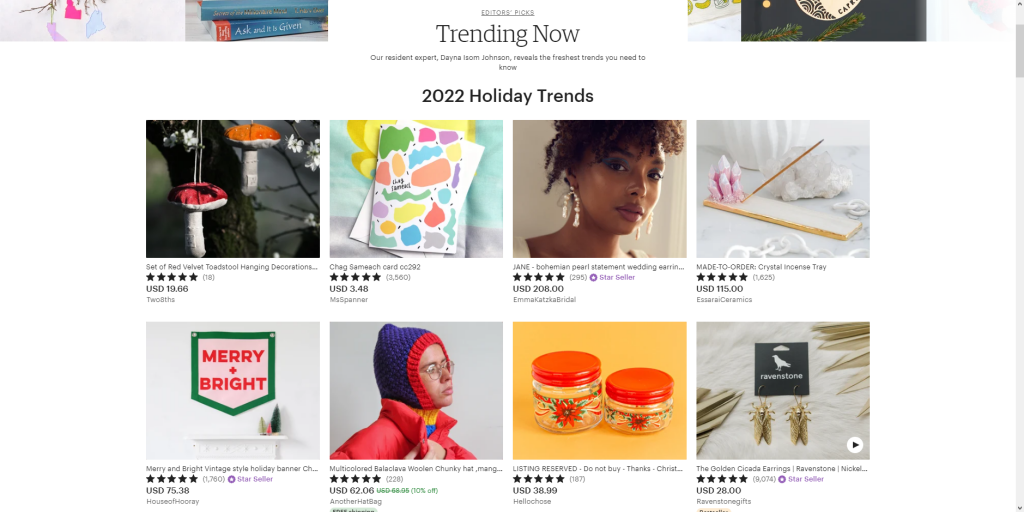 Let's take as an example the first option, the Set of Red Velvet Toadstools listing and we'll analyze it with the extension to illustrate better how it works. Once you're in the product's page, you'll see the extension's button to analyze its tags, simply click it to get the data: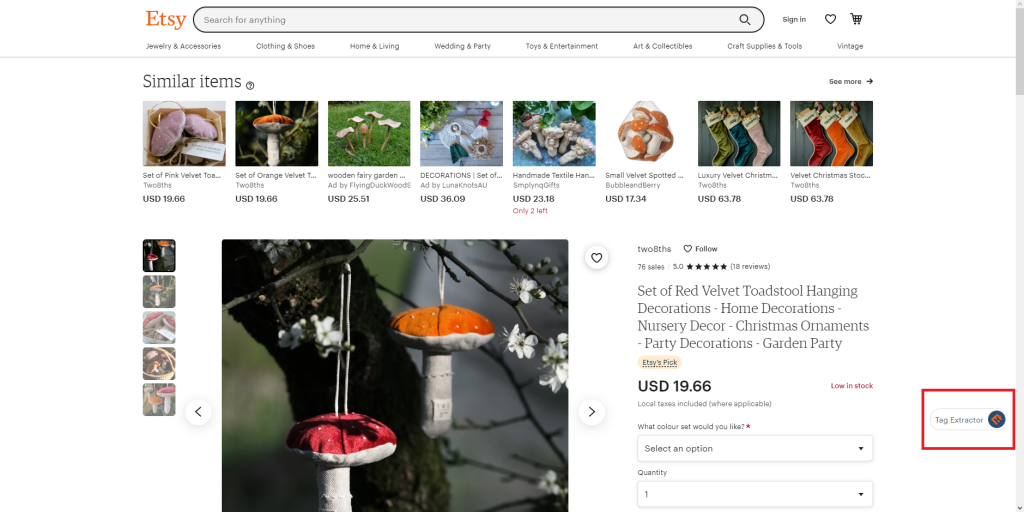 After that you'll get the trend statistics (views, favorites, competition, sales, and Google search trends) for the keywords that this product is using, conveniently ordered by popularity: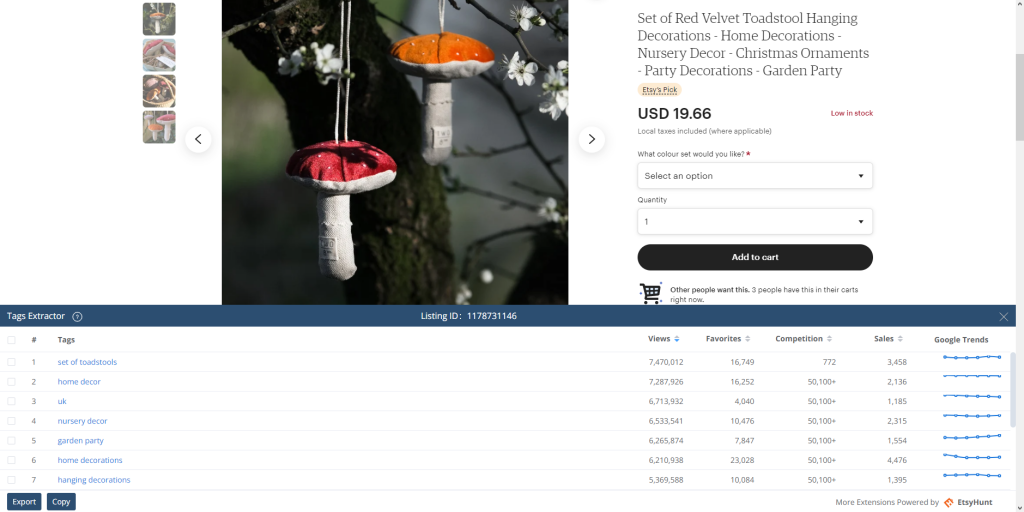 This way you can find the Etsy search trends keywords to update or create your listings to draw more potential clients to your shop! However this isn't everything you can do with this tool, you can also search trends for specific niches. Let's say you have a pet's focused shop, well search that keyword on Etsy:

You can observe that the extension's button is already there, in the search results, and by clicking it, you'll see the information about the keywords for that search:

Of course, you can also analyze specific products to check the tags that the product is using: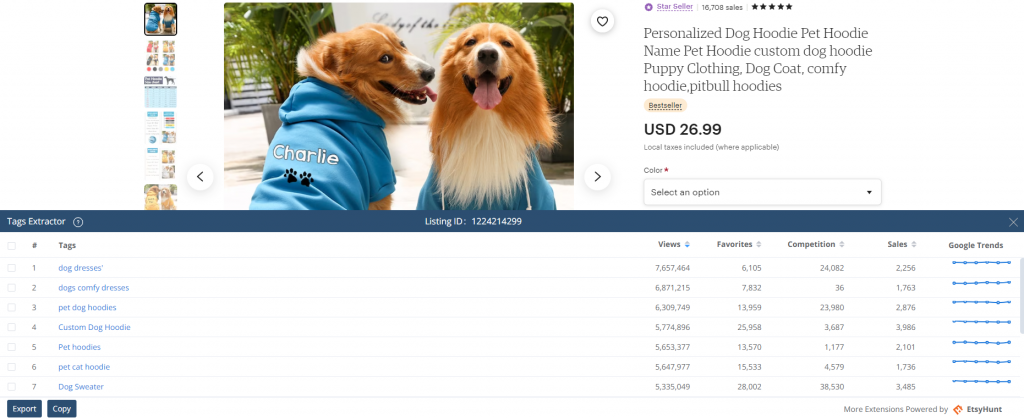 In this manner, you can conduct a research of the Etsy search trends to improve the visibility of your products or to have in mind when creating a new listing!
40 Etsy Search Trends for 2023
Now that you already know how to research keywords to find trends, let us share with you the following list of the top 40 Etsy Search Trends that have potentially good keywords to rank for:
1. Home Organization
Because of the pandemic, people are staying home more than ever. As a result, products that assist you in keeping your living space tidy and organized are trending. Take advantage of this by selling drawer organizers, kitchen labels, and handcrafted shelving.
2. Pride Expression

Customers are increasingly looking for accessories that fully express who they are. It can be pride clothing, accessories, stickers, or pins.
3. Natural Bodycare

Self-care is a popular trend in 2022. Allow potential customers to treat themselves with body care products such as bath salts and massage oils.
4. Specialized Journals

Trends show that day to day larger numbers of people are interested in starting a journal. Instead of selling a generic-themed journal, consider selling journals for specific niches such as wellness, fitness, affirmation, etc.
5. Baby Gifts

Baby gifts and toys, like always, are trending. Offering cute, kid-friendly, and colorful toys is an almost guaranteed sale.
6. Retro Home Decor

Retro fashion is making a comeback, particularly among the younger generation. As a result, creating retro-inspired home decorations and homeware can be highly profitable.
7. Personalized Jewelry

One of Etsy's evergreen categories. Personalized jewelry is generally bought to give as a gift. This is why one thing to consider is having the gift packaging ready.
8. Sustainable Fashion

An increasing number of Etsy customers are concerned about the environment and the issues associated with fast fashion. It would be wise to address these issues by selling handmade clothing made from sustainable materials such as bamboo and linen.
9. Home Office Supplies

Working from home has become the reality for many people since 2019. By providing some home office products, you can assist them in making their workspace more productive and personal.
10. Digital Prints

Offer customized digital products for printing. It can be anything from photos with dedications, wall art, and inspirational phrases, and by making it customizable, you'll be aiming for a wider target.
11. Pets

People adore their pets and consider them like family, which is why pets are almost always one of those Etsy search trends. Provide them with accessories and treats for their pets, and you'll surely benefit from them.
12. Self-Care Products

Provide your customers with self-care products that will make them feel good, such as candles, skincare, and floral tea. A compiled box like this makes an excellent gift for customers.
13. Vegan Accessories

Veganism is becoming more popular for ethical and environmental reasons. Enter this market with vegan accessories made from vegan materials, which means products that are not derived from animals or tested on animals.
14. Nature Home Decor

Bringing nature indoors with nature-themed home decor is a current trend. It includes not only real plants but also plant-related decors, such as floral paintings or nature-themed furniture.
15. DIY Project Kits

People nowadays prefer to learn how to craft and create rather than buy finished products. Sell them DIY craft kits that include raw materials and instructions. It can be from DIY plushes, paintings, crochet, and so on.
16. Anniversary Gifts

Offer something unique and personalized to couples that unequivocally demonstrates the affection and appreciation that one has for their partner. The two most popular Etsy search trends are jewelry and digital arts.
17. Natural Furniture
Natural-material furniture, like nature-themed home decor, is gaining popularity. Wood, rattan, and bamboo are excellent choices for furniture made of natural materials that will draw the customers' attention.
18. Craft Supplies

Craft supplies such as fabric and yarn are in high demand. If you live near a source of craft supplies, it might be a good idea to brand and sell them.
19. Cultural Art

People value authentic, genuine art from various cultures. Consider creating art from your own culture or even collaborating with people from various cultures. You could even start your own multicultural art and decoration workshop.
20. Fitness Items
Fitness is one of the most recent positive trends. People stay fit and healthy by working out, whether at the gym or at home. Fitness items such as gym clothes, yoga mats, and gym towels are excellent ways to break into the market.
21. Wedding Gifts

Create something so personal that when people see it, they will think, "I can buy it for a wedding of a friend or family member." One method is to use Photoshop to create a one-of-a-kind and personalized digital art piece with dedication.
22. Instagram Templates

Almost everyone has an Instagram account or at least another social media platform. Create designs that customers can easily customize and use to boost their Instagram presence, or even better, adaptable to any existing social media.
23. Baby Accessories

Parents enjoy dressing up their children. Create adorable baby accessories, such as clothes or hair accessories, to capture a piece of this lucrative market.
24. Lightroom Presets

Lightroom is a well-known photo editing app. Presets are a one-click feature with multiple adjustments that allow customers to quickly achieve the desired look. The app is free to use, but creating stunning edits takes time. Therefore, creating presets to save someone's time will surely compensate you in exchange.
25. Printable Invitations

Buying printed invitations can be costly, which is why these printable invitations are popular on Etsy. Making customizable designs with various themes that customers can modify and print themselves to save money will bring you several new clients.
26. Candles

This is one of the most relevant Etsy niches. Although the market may be saturated, you can specialize in a specific sub-market to serve them better than the competition.
27. Crystal Jewelry

Etsy's evergreen category. Customers are captivated by the natural beauty of crystals as well as their metaphysical properties. Explore it by looking for underserved sub-niches.
28. Baking Supplies

More time at home means more chances for people to cook and bake. Baking supplies, particularly those that can be personalized, are becoming increasingly popular.
29. Vintage Clothing

The vintage revival is a reality. Create clothing and accessories that are attractive to vintage-style Etsy customers by putting your own unique spin on the niche.
30. Gift Wrapping

Customers express themselves through the gift wrapping paper. Some people want exotic wrapping paper that is difficult to find, while others simply want the wrapping to feel more unique. To stand out on Etsy, create designs that are difficult to find elsewhere or offer personalized designs.
31. Personal Growth Printables
Create growth worksheets, checklists, and journals to allow and encourage customers to better themselves. They can be used for dietary, educational, fitness, or even occupational purposes. Allow your clients to choose or perhaps create a specific sheet for them (for a higher price, of course).
32. Print On Demand Products

Etsy print-on-demand is made possible by companies such as Printful and Printify, which allow you to make your own styles and have it printed on products and shipped directly to customers. It significantly reduces the cost of purchasing the equipment yourself, but the profit margin is lower.
33. Seasonal and Holiday Gifts

Holiday and seasonal gifts are a great way to boost a shop's sales, but it is not a good idea to build your entire business on them because demand is volatile. However, the peak is extremely high in the weeks and even months surrounding holidays such as Valentine's Day and Thanksgiving.
34. Bath Bombs

Bath bombs or bath frizzers have grown in popularity and desirability during bath time, making them a great product to sell. You can make unique flavors or shapes by combining it with plants that have skin benefits or aid in relaxation.
35. Natural Fiber Bags

Tote bags can be made from materials such as recycled cotton, hemp, and linen. Making reusable bags out of recycled or sustainable materials will bring you a lot of new customers while also helping to reduce plastic waste and production.
36. Finance Tracker

Budgeting and financial tracking can be difficult. Create planners and worksheets that can assist customers to solve that problem for them.
37. Cruelty Free Makeup

Vegan and cruelty-free makeup are more natural and better for the environment, and as more people become aware of the importance of the environment, they become more popular. Pinterest has a wealth of resources, including recipes and instructions on how to make them.
38. Motivational Prints

Most people struggle to stay motivated. Some of them search for a simple print that will both decorate the space and provide them with a little motivation. Assist your clients by converting motivational phrases into printables or selling them as large print to keep them focused and motivated in their daily lives.
39. Vintage Dinnerware

Dinnerware allows people to express themselves at the dinner table. Make something that you won't find in big box stores, such as a vintage bowl, plate set, glasses, or cutlery if you're into smithing.
40. Suncatchers

Suncatchers' catch' and reflect sunlight, resulting in colorful iridescent lights throughout the room. They're becoming increasingly popular, and making your own can be a profitable business venture.
Conclusion
You're now more than prepared to face an updating of your listings or to create new ones with the latest Etsy search trends. Going even further, you're now able to perform periodical keyword researches to determine the trending search topics to keep up-to-date.
We would like to friendly remind you to stay tuned to EtsyHunt because we're always bringing new tools to make your life and business easier. Good luck!
---
Scale Your Etsy Business Now!
100K+ people are using this free Etsy seller tool. Are you next?
Get Started for Free