10 Etsy Niche Ideas and How to Find Your Etsy Niches in 2023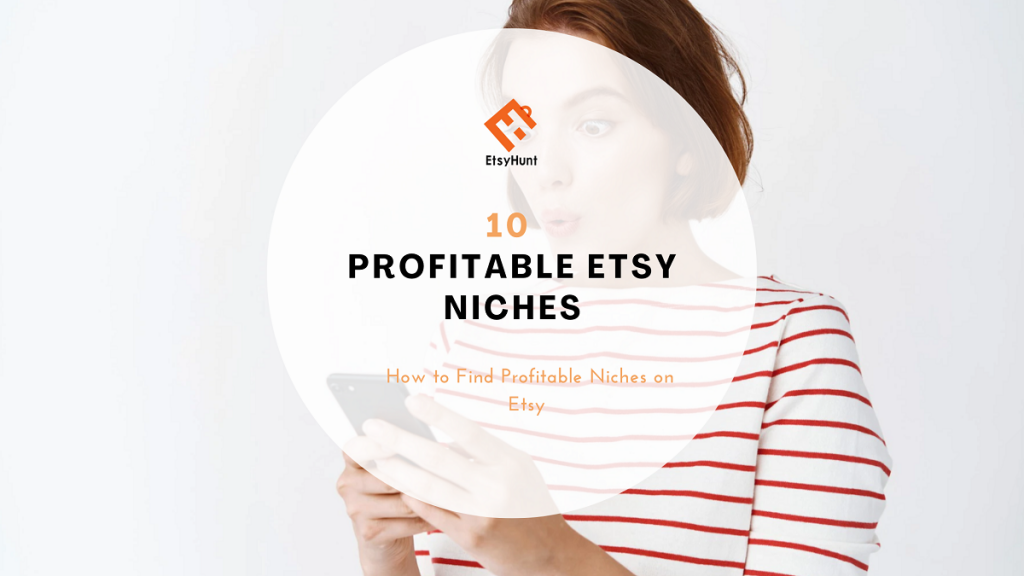 Selling on Etsy can be both convenient and profitable if you know how to recognize the most popular niches. After all, if you're not sure there's a market for the products you're making, you can't be sure your Etsy shop will be successful.
When it comes to selling on Etsy, there's one piece of advice that everyone seems to agree on; research the niches. However, doing Etsy niche research can be difficult if you don't know where to begin.
The question is, then, what can be done to identify one or more profitable niches and join the ranks of productive Etsy sellers? The best part is that the steps are straightforward, and anyone can complete them. EtsyHunt will teach you what you should know.
List of Niche Markets on Etsy
The following is the list of 15 Etsy niches because if you are a beginner, it is better to know them before even start thinking about which is the better:
Accessories.
Books, Movies, and Music.
Home and Living.
Shoes.
Clothing.
Toys and Games.
Craft Supplies and Tools.
Weddings.
Art and Collectibles.
Jewelry.
Electronics and Accessories.
Bags and Purses.
Paper and Party Supplies.
Pet Supplies.
Bath and Beauty.
Top 10 Profitable Niches on Etsy in 2023
You have the tools to make your own top 10 profitable Etsy niches, but allow us to make this task a little easier for you. This list will come in even handier if you're new to Etsy and you're looking for ideas on what to sell on Etsy:
1. Jewelry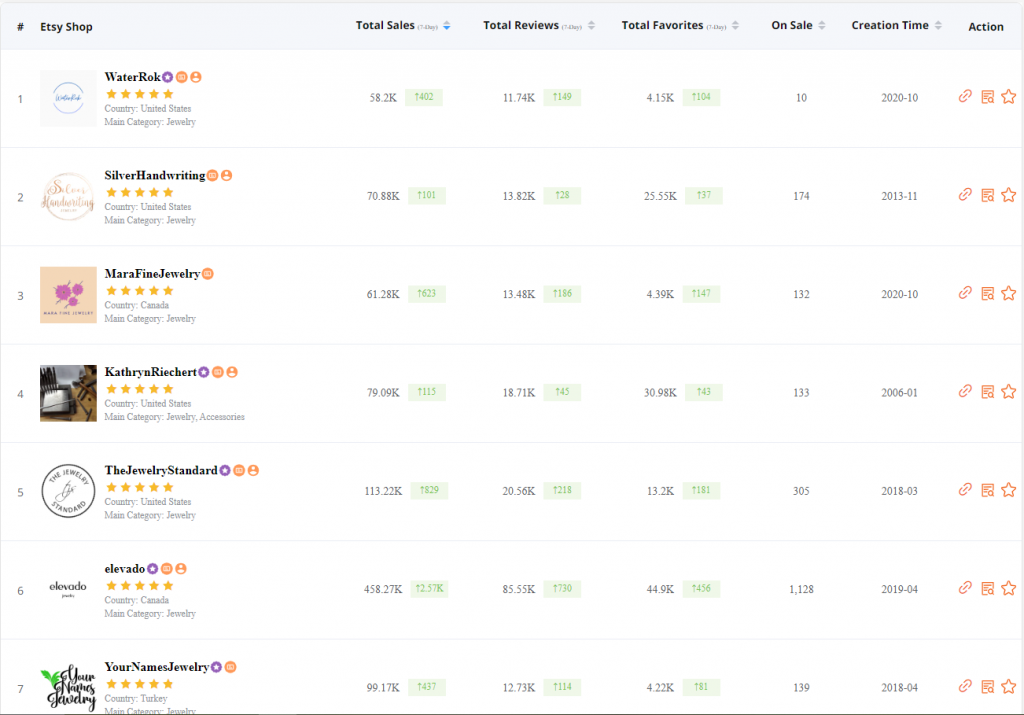 This is perhaps the best Etsy niche of all. As displayed by the EtsyHunt tool, it counts hundreds of thousands of sales (if not even millions) with the minor drawback of having a considerable amount of shops as competitors.
However, Jewelry can include rings, bracelets, charms, earrings, necklaces, and such. Creating a lot of sub niches where you can easily fit in if you specialize in them. Even further, this is consistently the hottest object on every platform because it is a must-have element for both men and women.
According to an Etsy report, jewelry ranked second when referring to gross merchandise sales (GMS) on the platform in 2020. As a result, selling jewelry on Etsy is a viable option.
2. Notebook and Journal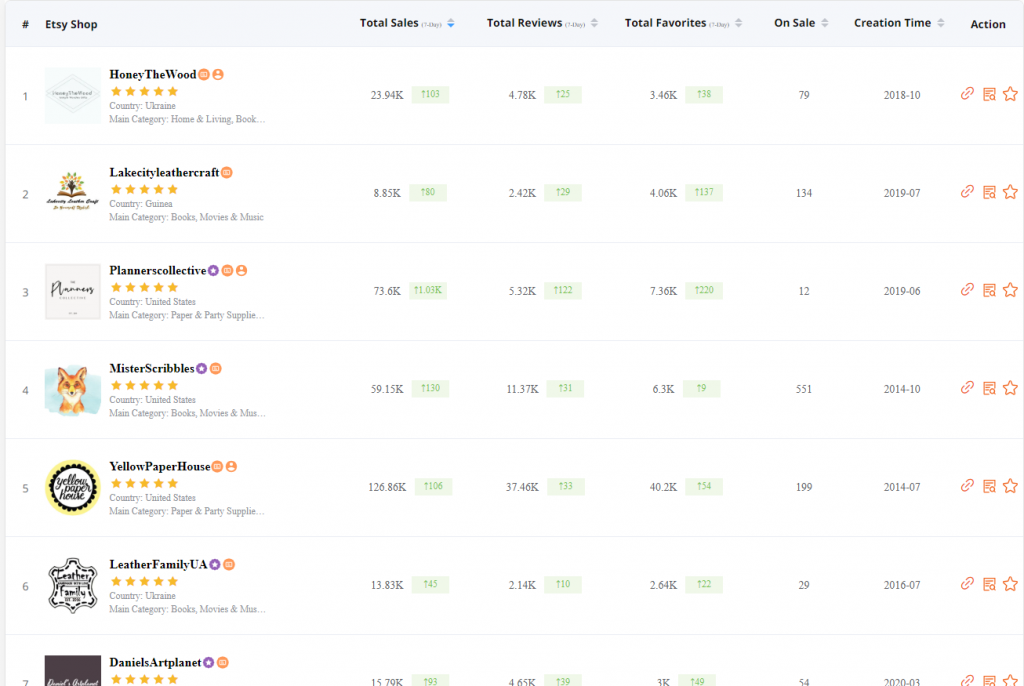 Notebooks and journals are the newest Etsy trend. The reason for this is that many people are interested in writing. A journal is also a common choice among people that are looking to record personal experiences while traveling.
Counting over 200,000 sales, the notebooks and journals Etsy niche is really one to have in consideration. Not just because it's a niche with good and profitable sales, but because it is clearly a low-competition Etsy niche. You won't need to think about anything really unique to gain a spot here.
3. Stickers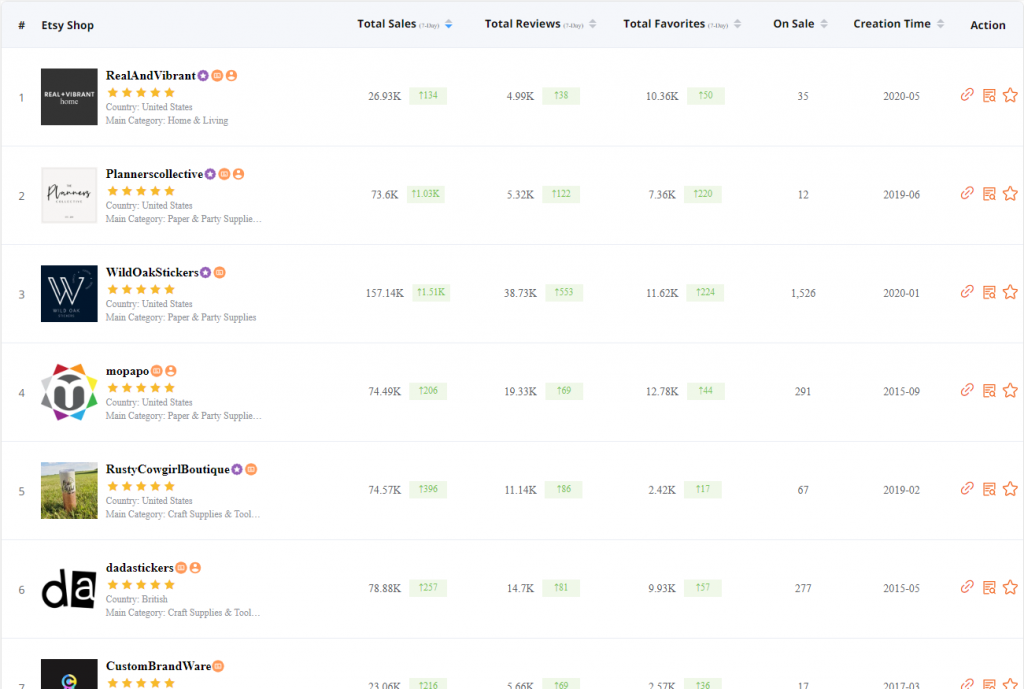 It might surprise you that this small item is listed as one of the best Etsy niches. What makes them get here is that they're inexpensive to produce and very simple to create. This affordability of this product among the public plus the huge sub niche possibilities make this item a really good one to start with.
Stickers can be used to embellish postcards, greeting cards, notebooks, and other items. You can also use custom stickers when hosting an event for clubs, schools, businesses, and other organizations. As a result, this product has a large market.
4. Toys and Items for Babies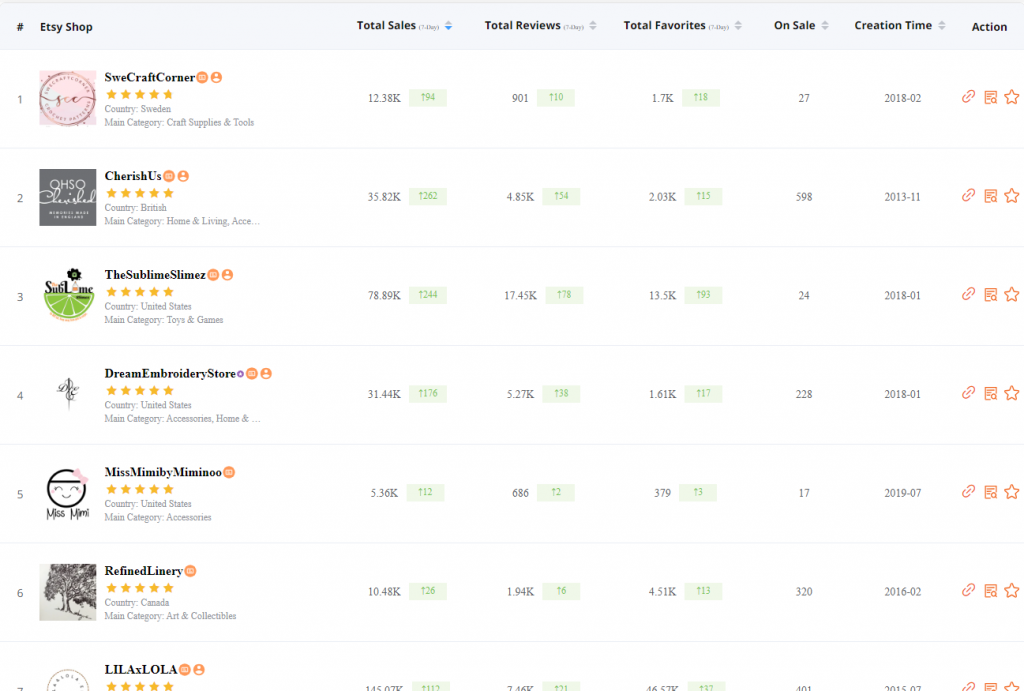 The main reason for investing in this Etsy niche is that people will always be willing to spend money on babies. The competition, additionally, isn't especially high and almost any original design of toys or items for babies will have its public assured.
Etsy, as one of the largest marketplaces for handmade products, allows handcrafters to sell toys and items for babies made from wood, fabric, wool, and other materials.
Because these materials are environmentally friendly, many parents prefer them for their children's safety. As you can check with the EtsyHunt shop database tool, some stores achieve over 2000 sales with just one item from this Etsy niche.
5. Digital and Graphic Designs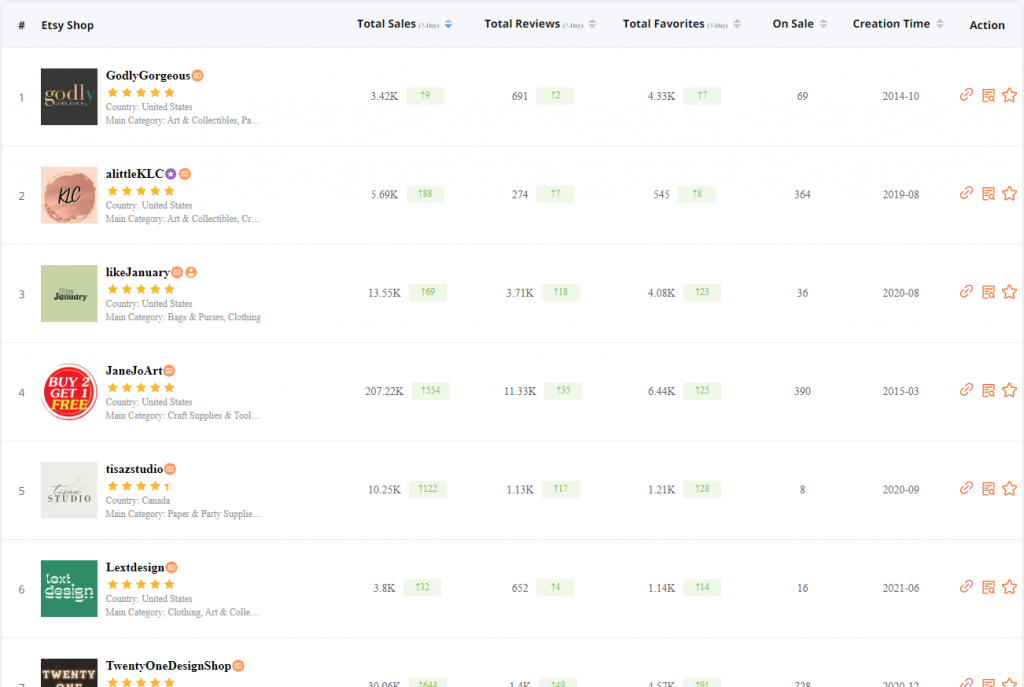 Selling digital products is a bright spot for a large number of Etsy sellers being one of the most famous Etsy digital niches. Some examples of graphic design can be store templates, desktop wallpaper, bullet journal and planner templates, print-on-demand, mobile icons, and all that can be done on a computer.
Moreover, with the exception of store templates, digital items tend to be reasonably priced. Most of them are under $10, and customers can buy them without having to wait for the goods to be delivered. You can tell just by looking that in the past week there were several thousand sales of digital products.
6. Clothing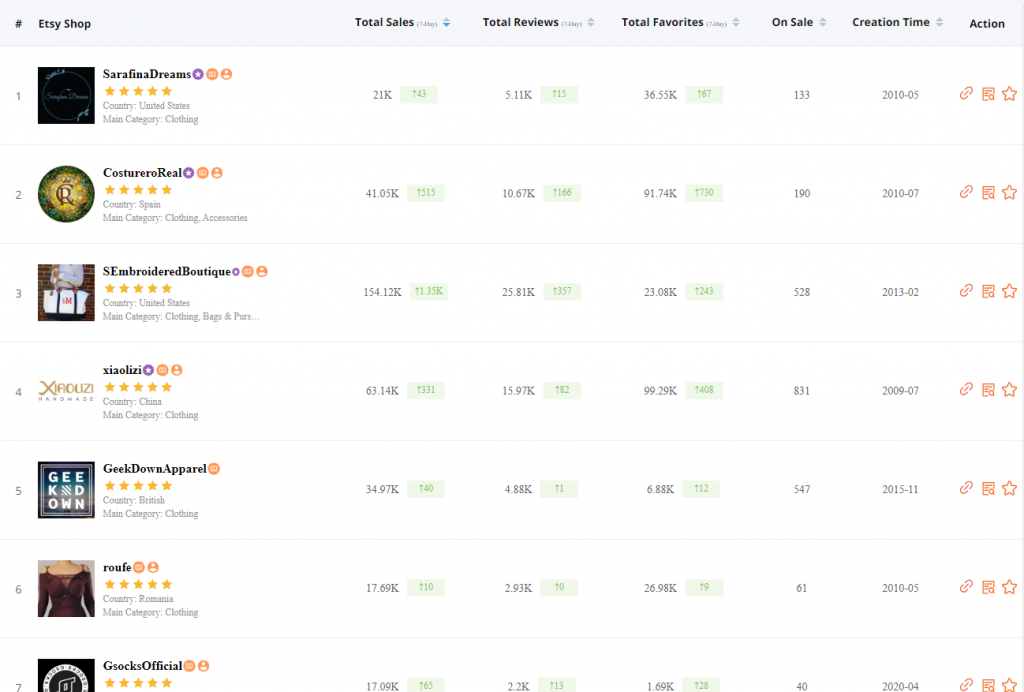 Clothing is another hot product on Etsy. Very much like jewelry, it is one with the most accumulated sales all over Etsy. However, creating clothes can be a little more difficult than creating jewelry pieces, but this doesn't mean anything if you have experience in this field.
Of course, there are various clothing styles available in various colors and patterns. Some are designed and manufactured by the sellers themselves. There are even several Etsy t-shirt niches, making this an undoubtedly very profitable niche with lots of sub niches to explore.
7. Home Decor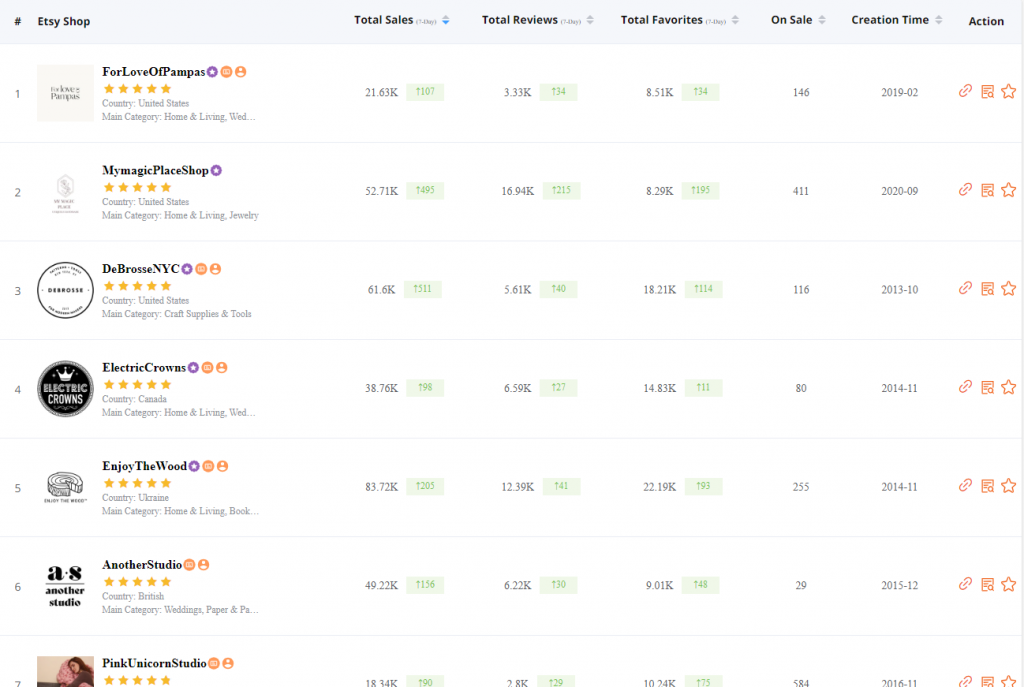 During the pandemic, there has been an increasing trend of people having to work from home. As a result, they tend to build multifunctional houses for themselves.
Furthermore, an increasing number of shopaholics are willing to devote significant time and effort to decorate their homes and rooms. This can be easily seen in the high amount of weekly sales that this Etsy niche is having these days.
Because of this, the market for home decor items is steadily increasing. You could think about selling furniture, paintings, wallpaper, and so on.
Another example is miniature art, which has been on the rise for several years. It entices people to devote their time and energy to creating small objects. Until now, the miniature public has been rapidly expanding.
8. Vintage Items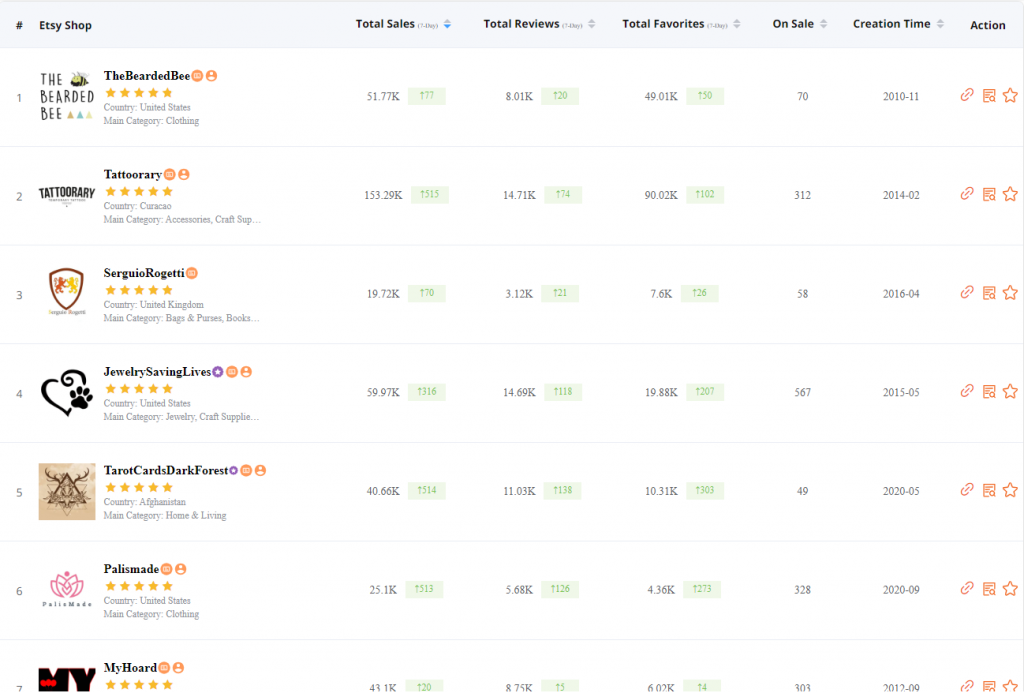 Aside from handmade items, Etsy is also a great place to sell used or vintage items. The reason for this is that retro is a popular style that many people enjoy.
As can be seen on the EtsyHunt tool, it's one of the Etsy niches with the most sales across the platform, making it a really profitable niche if you have the ability to recreate vintage items. These products typically have classic styles or are made of copper-like materials.
9. Organic Cosmetics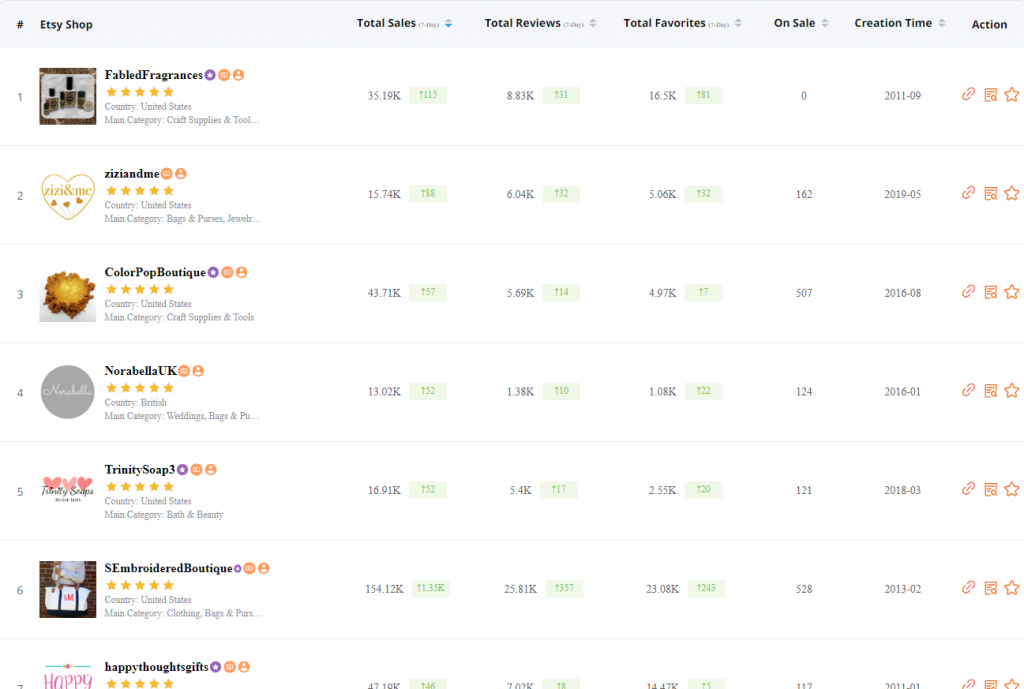 People are increasingly pursuing a healthy and environmentally friendly lifestyle. They are more likely to purchase natural cosmetics because they are gentle on sensitive skin. What is more interesting is that this niche has really low competition and a sales volume that is really high right now.
You should keep in mind that the production of organic cosmetics necessitates meticulous inspection. You may even want to find a reliable supplier with hand-made beauty products to sell on your online business. After that, you can label them with your business name.
10. Sewing and Crochet Pattern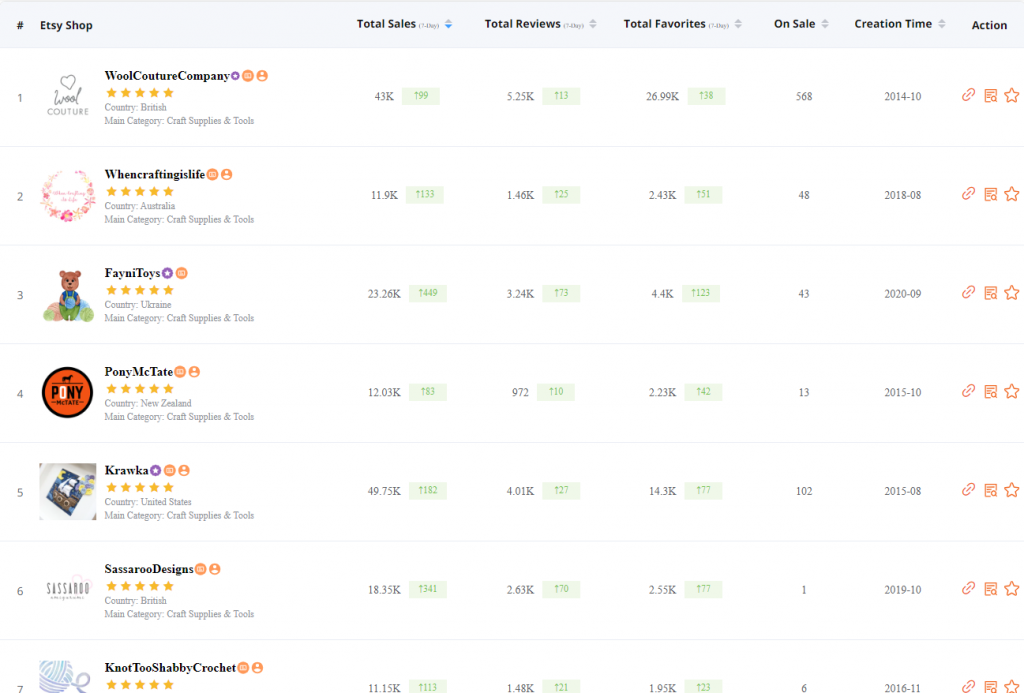 The big potential of this Etsy niche lies in the incredibly high sales volume that is spread over really low products. This means that with maybe just 1 or 2 products you can be making hundreds or thousands of sales.
What is better is that handmade products with sewing and crochet styles are popular all over the world. You can find tons of video instructional videos on YouTube and many other platforms to assist you in creating sweaters, dresses, or teddies to sell on your Etsy shop.
How to Find Your Profitable Niches on Etsy
Analyze Your Skills and Interests
The first step is beginning with things you are already familiar with. Don't worry, if you don't already have a crafty hobby, there are options. If you already know how to make one-of-a-kind design concepts for party supplies, this is a great place to start.
The same is true for your interests: what do you enjoy? You might be interested in classic cars, gardening, or golden retrievers. These factors can point to a specific niche. Working on something you enjoy can also keep you inspired to create new items to sell.
Offer a Solution
If you solve an issue for your target audience, you're more likely to have a popular shop. For example, perhaps you have a concept for a fresh method for keeping track of wedding plans and create a planner to assist people in planning a wedding on a limited budget.
Or perhaps you have a talent for creating one-of-a-kind, printable party resources that can be printed at home. Whatever it is, your item should make your customers' lives a little easier.
Use EtsyHunt Tools to Find Etsy Niche Ideas
The EtsyHunt tools will enable you to find the best Etsy niche ideas by combining a few tools and also you'll be able to find the most profitable niches as well. This way you can make the whole process of research way more efficient and increase your chances of success.
EtsyHunt Shop Chart Tool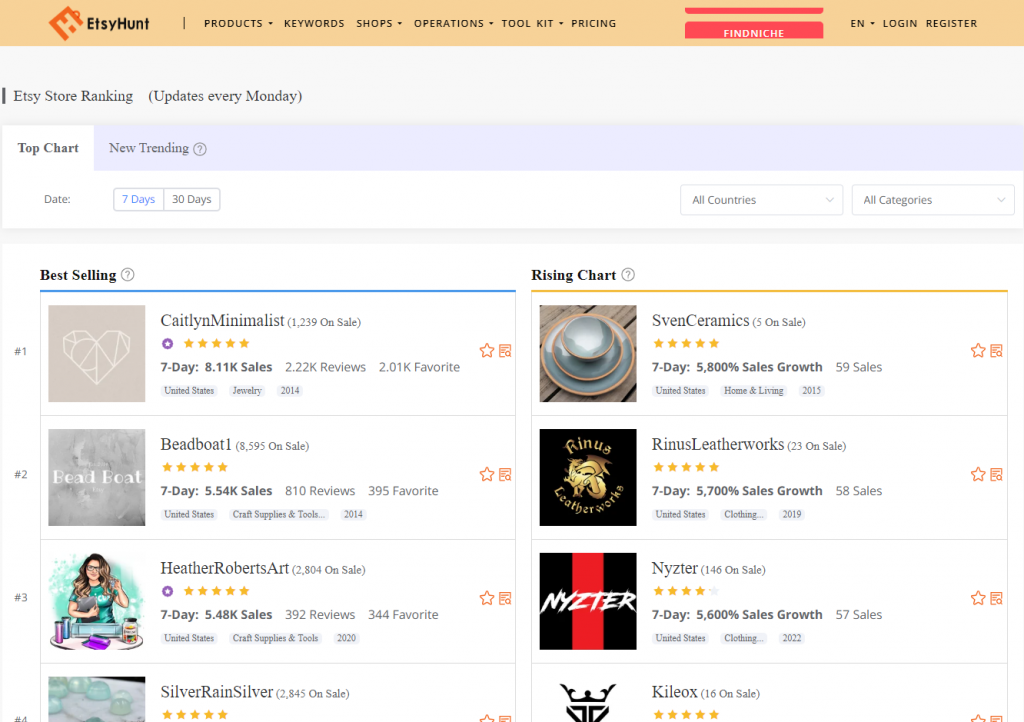 With this tool you'll be able to have an idea of the top-selling shops, as well as the top growing shops. This doesn't mean anything by itself, but you can extract some information about it, for example, what niches are the most popular among all.
Of course, you can also filter by a category, so you can focus on what sub niches of your desired niche are performing better. Let's say, for example, you're interested in crafting and selling clothes, you just need to filter by category and choose the "Clothing" one, and you'll see the top shops within this niche.
You can additionally check the shops that have been created within the past year by checking the "New Trending" section. This can benefit you more if you are planning to open a store on Etsy and this is your first approach. Knowing what has worked for others can give you a clear idea of what might work for you.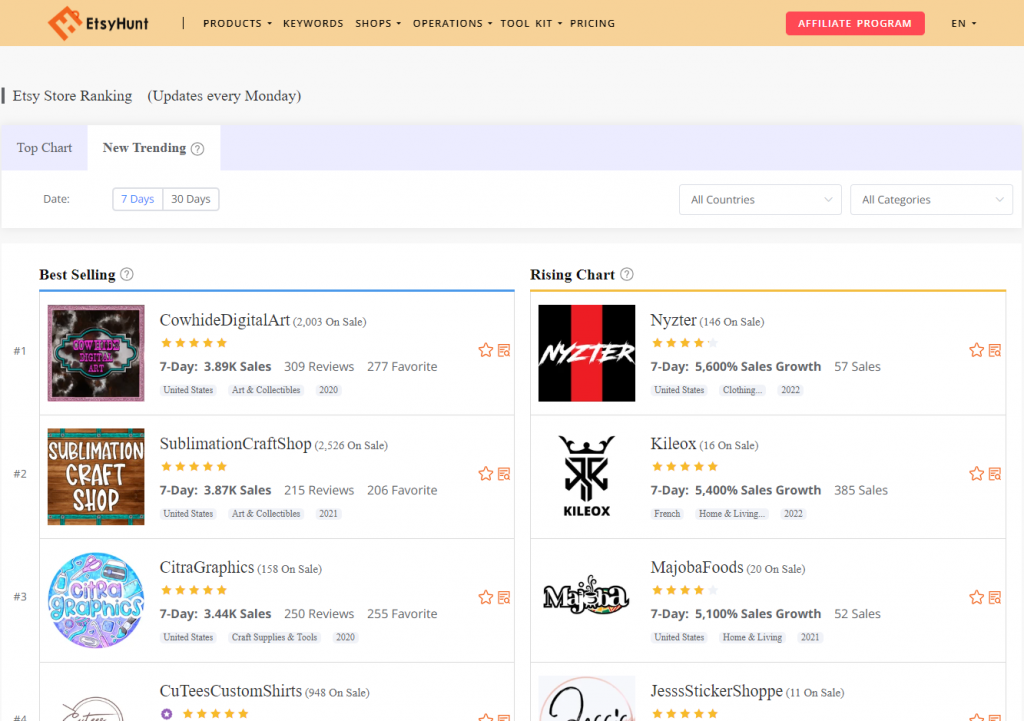 If you want to further refine the results, you could also filter by country, this could be useful to research a specific target range of clients. Knowing that 57% of buyers are from the US you may want to aim your first listings to fit that public even though the reimagining 43% of sales are international.
Targeting a specific country can be much easier than knowing the specific targets of multiple countries around the world, each with different customs, ideologies, and likes. Of course, once you have settled your shop you can start expanding, but first, you should play it safe.
EtsyHunt Shop Database Tool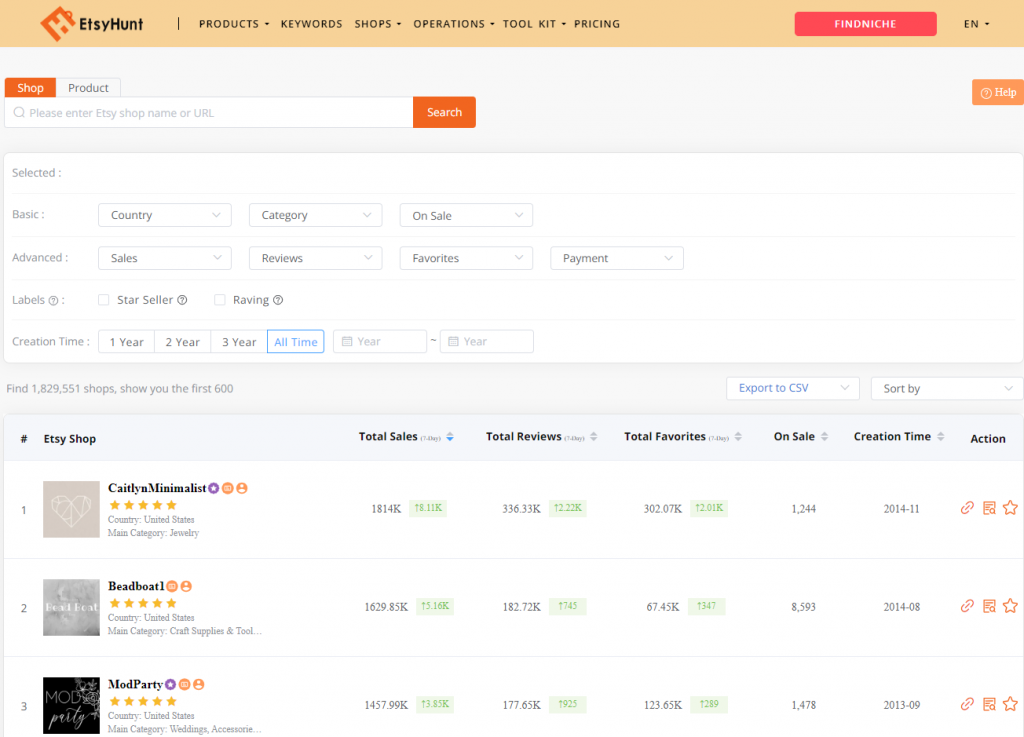 This tool can be easily tapped for inspiration, you can use it to find out what other stores with similar niches and targets are selling. You can display them by total sales, reviews, favorites, amount of products on sale, and creation time.
Going even further, once you have a list of which niches and sub niches you would like to aim for, it would be smart to check on how the competition is. In addition, to check if there are too many stores addressing this niche, you can check if the sales volume is enough to start in it.
Let's continue with the example of clothing, you can filter the category and add a keyword like "vintage" and then choose the "product" tab above the search box. After doing that you'll get results that will match this sub niche (vintage clothing) and you'll be able to browse them to find inspiration.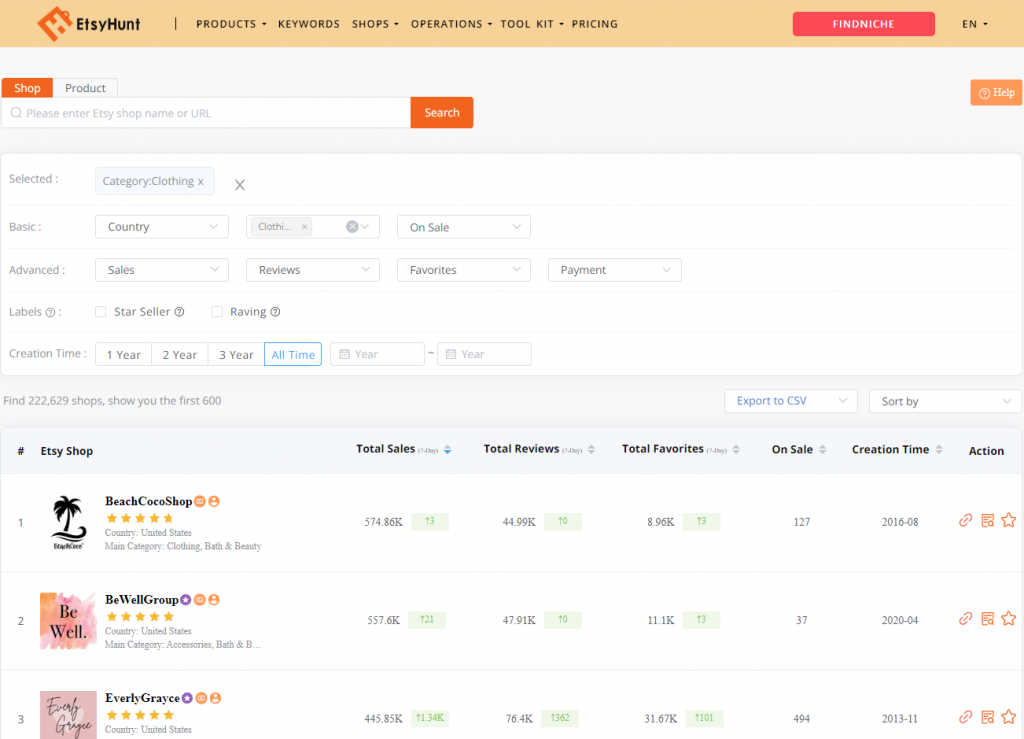 You can also use the total sales column to somehow determine if it is an active niche with potential clients interested in products like this or not. Finding niches with high interest is good, but optimally, you should look for the ones with high interest from buyers that also are low-competition Etsy niches to ensure your success.
By now you know how to use EtsyHunt to find potential and popular niches, as well as ideas on what products to create for those niches. But you still need to determine how profitable those ideas are. That's when the EtsyHunt list of best Etsy shops can come in handy.
This list is based on total sales in the previous 30 days. Every month on the 5th, the chart is updated. It will aid you with finding the most profitable niches, every month, and with updated data, you'll never be outdated again.
Conclusion
By this point, it doesn't matter if you're new to Etsy or a shop owner that wants to research niches to expand your business or increase your profits. With the information provided here, you have a clear idea of the top Etsy niches and how to research any specific niche or sub niche with the EtsyHunt tools.
Now it's time for you to start applying what you've learned here and start working on that low-competition niche that you enjoy creating products for. That way you'll enjoy running your Etsy shop while at the same time you'll be earning lots of money!
---
Scale Your Etsy Business Now!
100K+ people are using this free Etsy seller tool. Are you next?
Get Started for Free