Etsy Ads Strategy for Beginners: How to Run Ads on Etsy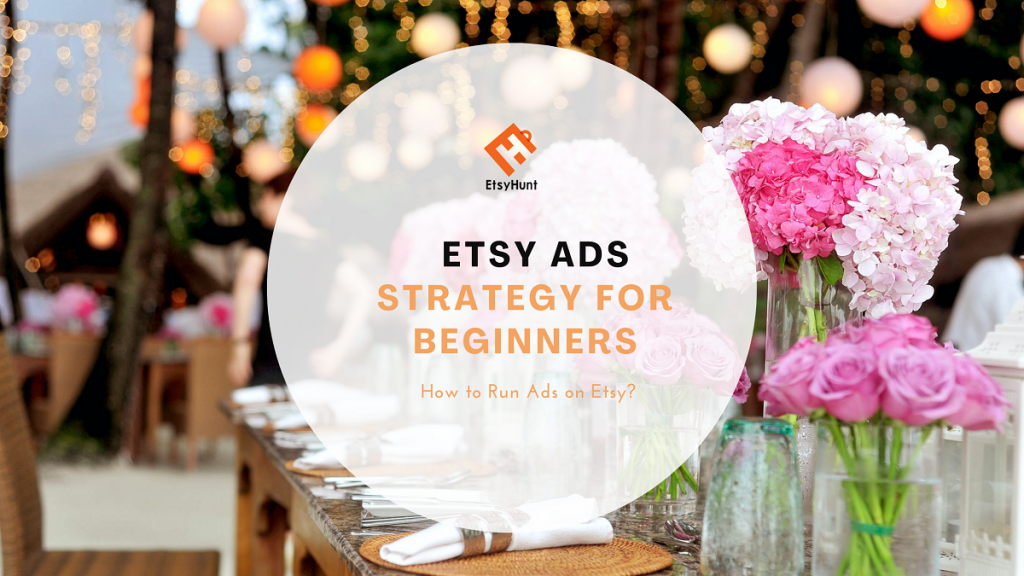 On most retail platforms, advertising is the most direct way to attract new customers and bring traffic to shops. Etsy operates in the same way. For Etsy sellers, the question is whether it is worth advertising on Etsy. And how to run ads on Etsy effectively.
If you are just starting to sell on Etsy, you will need this article on Etsy ads strategy.
What are Etsy Ads?
At present, Etsy's ads are in paid automatic mode. It is reported that manual ad models will be allowed in the future. Today, let's begin with two existing forms of advertising on Etsy.
Etsy Ads
It is a familiar advertising form for Etsy sellers. By setting the total daily budget (the minimum value is $1.00), Etsy will automatically advertise your listings at the right time and place according to its data insights and expertise, so as to get the most visits within the budget.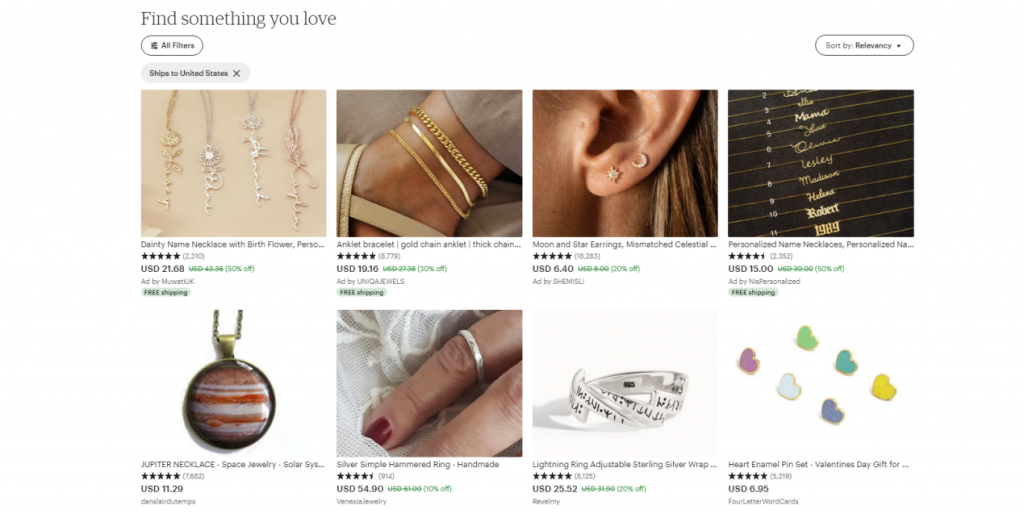 Etsy ads are displayed based on how well the product's title and tags match the customer's search terms.
Your items will be shown throughout Etsy, including Etsy Search, Category Pages, Market Pages on both Etsy.com and the Etsy app.
All Etsy sellers can view the ad performance in Shop Manager.
Etsy Offsite Ads
Offsite Ads, a new form of advertising launched last year, is an advertising form ignored by many Etsy sellers.
How do Etsy's Offsite Ads work?
Sellers choose to participate in Etsy offsite ads. Etsy will promote the listings on high-traffic websites (including Google, Facebook, Instagram, Pinterest, and Bing) to attract new buyers directly to your shop.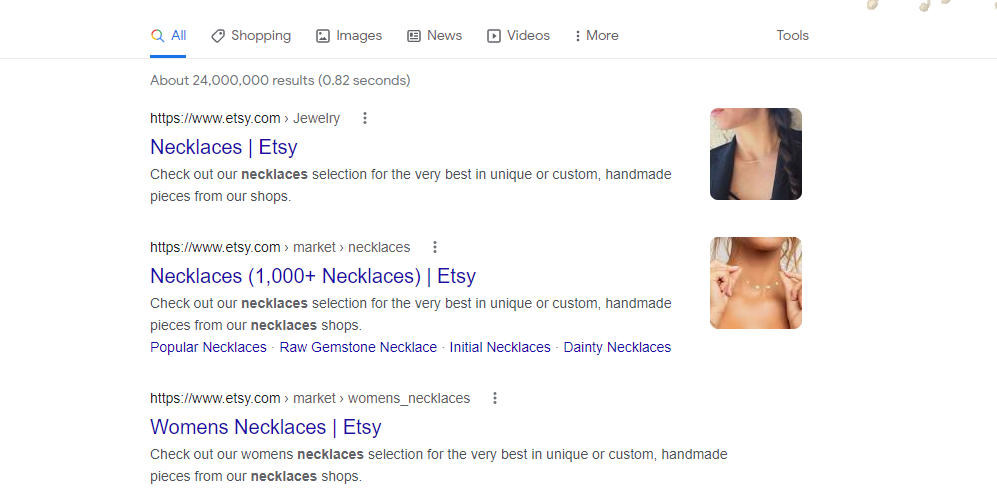 Of course, it is also automatic.
You only need to pay a 12% or 15% commission on the orders finalized through these advertisements. If there is no turnover, you don't have to pay. Does that sound good?

Etsy Ads Strategy: Tips to Use Etsy Ads Effectively
Unlike the manual advertising of some platforms, Etsy's automatic advertising can accurately advertise based on a few words. It seemingly leads to a very mixed audience, and many Etsy sellers even complain that advertising cannot help bring income but incur costs.
So we can do nothing about this kind of automatic advertising?
The answer is definitely no. Etsy sellers can intelligently use Etsy advertising to increase sales.
Run Etsy Ads with the Right Products
In most cases, "best-selling products" and "new products" are better suited to attract traffic through advertising.
Owing to good sales and response in the market, "best-selling products" have been recognized by many customers When Etsy advertises such products to new potential customers, it will increase the probability of making orders.
If your store has recently launched a "new product", it is also very suitable for advertising at the initial stage. Through a large amount of traffic brought by advertising, you can quickly promote the new product line to customers, and judge the market activity and consumer acceptance of the product according to the specific feedback effect (click-through rate, conversion rate, etc.). In that case, you can quickly judge the market situation and determine the long-term advertising strategy.
Open "Etsy Ads dashboard" and click "Manage advertised listings", where you can manage which listings you want to use for automatic advertising.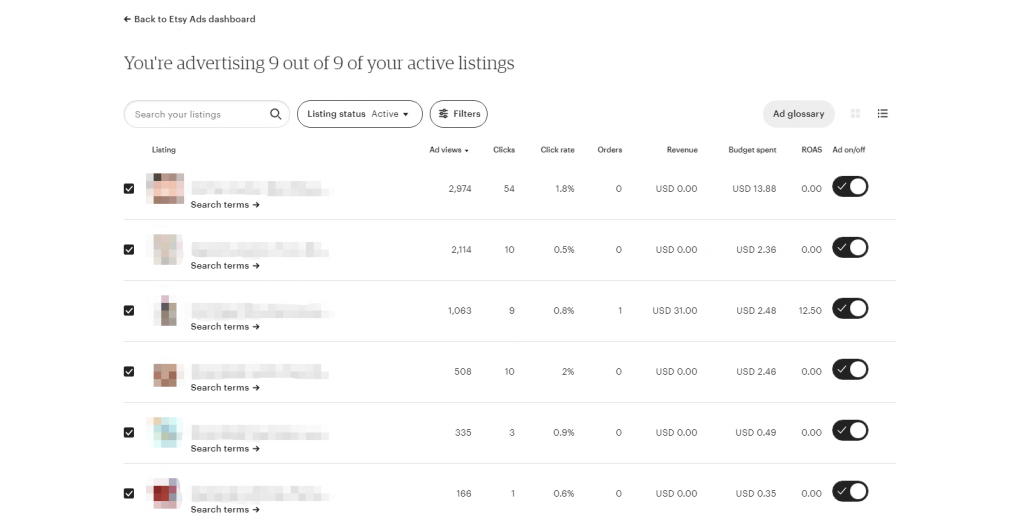 If you are unclear about what hot / trending are in the market, or you cannot afford too many advertising expenses as a small individual seller, here I recommend you to take a look at EtsyHunt, which helps you quickly grasp the dynamic information of the market.
Moreover, open the Product Ranking, where you can see some popular products and the trend of some new products. Through different time periods/categories, you can select the niche you want to know, which is of great help for some individual sellers.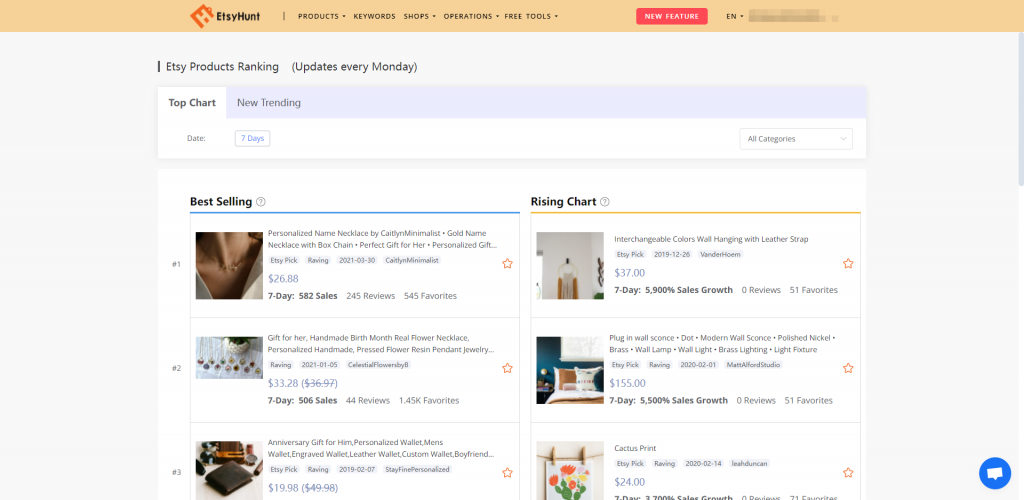 Get Your Listings Ready to Advertise
We cannot change the algorithm logic of Etsy platform advertising, but we can optimize and adjust our tags and titles. According to the performance of the ads, there are two ways to improve the accuracy and conversion rate of advertising.
1. Adjust advertising settings based on search terms
In Etsy advertising manager, you can deeply review the performance of your Etsy Ads. Get started with click rate, order rate, search terms, or search volume.

Go to click "search terms →", you will clearly see:
What keywords searched by Etsy shoppers Your listings are shown on ;
Why a single product listing is displayed and how many times it is displayed.
It is worth noting that you should know if you turn on or turn off the "Relevant keyword" button.

You can actually search with the customers' search keywords to see whether the results are related to the listing to be promoted, and decide whether to turn off the "Relevant keyword" button or not.
Once you turn off the button, your ads will no longer be displayed under these keyword search results. This function allows you to save advertising costs and prevent advertising from being widely promoted to irrelevant audiences.
2. Optimize the product listing according to the core indicators
According to the actual display volume, click-through rate, ROAS, and other key indicators of Etsy advertising, we can correspondingly adjust the listings to maximize the advertising effect.

For both beginners and current Etsy sellers, they may encounter difficulties in how to analyze advertising performance.
What can advertising data tell? How can we apply strategies to optimize Etsy advertising?
You can refer to the following FAQ.
Q1: Despite the high display volume of advertisements and great click-through rate, there is no actual transaction amount for a product. How will you handle this situation?
At this time, you should consider:
Whether advertisements are displayed in large quantities under irrelevant words, which brings invalid traffic. At this time, you need to optimize relevant keywords and close irrelevant words;
Customers just click but don't buy. You have achieved the first step of attracting customers, but you can't convert orders. It indicates that your listing itself is not convincing enough, or the price or product functions cannot meet customers' needs.
Q2: How can you deal with the poor sales volume of the corresponding listing of some advertisements?
The seller is recommended to implement the following two strategies:
Adjust the budget: Do not spend money on products with poor sales, but on listings with good sales and comments;
Test other products: If you have other interesting listings (e.g. exciting new product lines), you can use the budget spent on listings of slightly lower sales to promote new products to understand users' market feedback on new products.
Q3: What does it mean when there are a lot of visits to an advertisement?
If an advertisement has a large amount of click-through, it may mean that users like the homepage picture, title, and price of the product.
Q4: What does it mean if a listing only receives click-through but no conversion?
This may indicate that there are some factors affecting users' purchases in the listing, such as high freight or few photos of the listing. If so, you need to adjust the merchant information to increase sales.
A qualified and potential listing should at least include the following:
Keep the title concise;
Accurately describe your items;
Use clear and attractive product photos;
Competitive prices in the market;
Clearly convey product details such as shipping time, rates, and options.
The better the optimization of the listing itself, the greater the probability of transaction when it is pushed to more customers through Etsy automatic advertising.
EtsyHunt users are lucky to have some features to help optimize the listing - Keywords, and Listing Optimization. You can explore on your own.
Q5: What does it mean when the number of orders for advertising products exceeds the natural order quantity?
This means that your advertising is in a positive direction, and you are beginning to learn about the user's favorite types of listings.
After reading the above, you may have realized that they are some problems you often encounter. In fact, we should understand that as Etsy sellers, to attain effective advertising, we must first ensure the precision of the advertising audience, and then create a good listing. Exquisite product first picture, listing title, and competitive price are all important factors to attract customers to click on advertisements.
Scale Your Etsy Business Now!
80,000+ people have used this free Etsy seller tool. Are you next?
Get Started for Free