Society6 Reviews: The Home of Independent Artists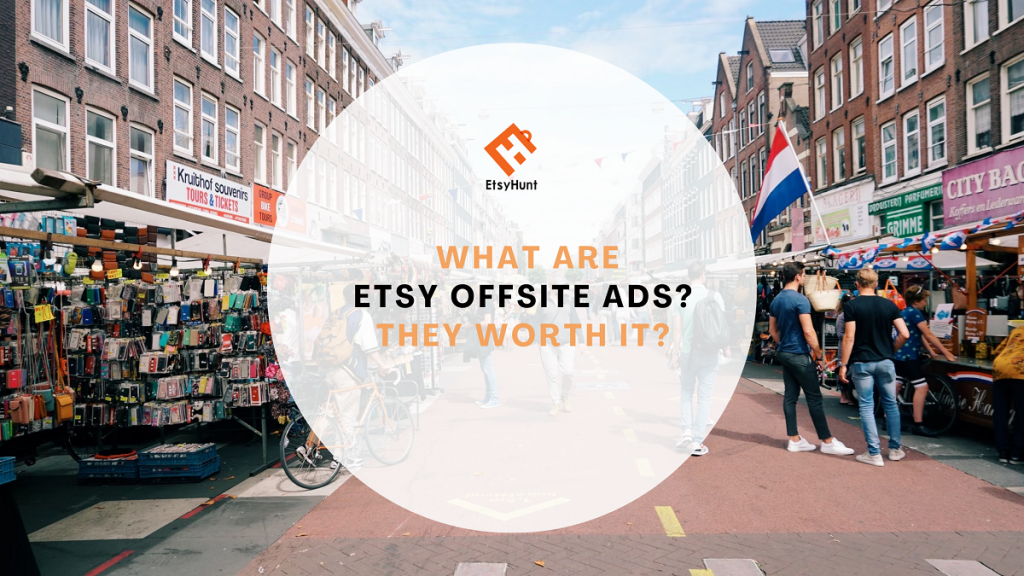 Many customers use Society6 to browse, search and order handmade products, backed up by the many Society6 reviews on the internet. This interesting website has a huge catalog of artisan products for art enthusiasts.
What is Society6?
Society6 is a website made and conformed entirely by products made by artists, artisans and the like. Artists who decide to partner with this website will get a cut of the pay when an item they decide to publish is sold to someone.
Any art product such as wall pictures, furniture, lifestyle articles can be published and sold. Its friendly atmosphere for newcomer artists is also interesting since it offers a huge base of people who already buy many products there.
Its user-friendly interface also helps new users to quickly join the community of artists, with simple and clear instructions to buy or sell. A group of professionals is also available to provide tools or help for those who need it.
Joining the Society6 Community
Setting up a profile and a PayPal account to get paid are the two first steps to join the S6 community. Then, users will be ready to set up their page, choosing a name and URL. It is advised to pick a catchy and easy one, so customers remember it. This page is where all clients will be redirected when clicking your profile.
Users will be able to showcase their art there, along with a description, profile picture and cover to provide more life and color to it. It can also help customers to know more about what products they can buy or experts.
Descriptions or bios are supposed to be short and straight, to be concise. It has to talk about what the users sell, what kind of artist the user is and what are his passions. The average length of this description is always about 50 words, and allows the possibility to link other pages such as social media ones.
The PayPal step is as important as creating the S6 account since it is the way artists will get paid. There is a small verification fee of $1 to make sure the account is owned by a real person and ensure it can receive or send cash. It is a very fast process and will not delay the process at all.
What Products Can Be Sold in Society6?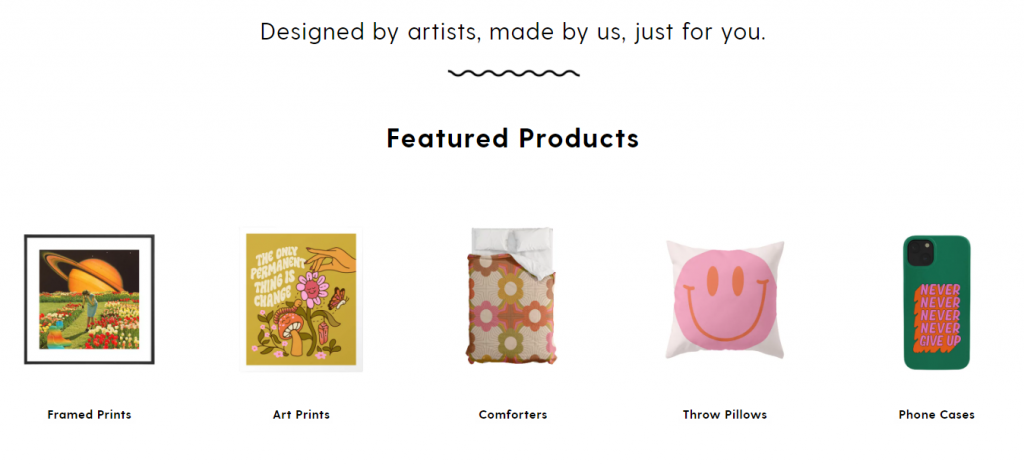 For those looking for where to sell handmade items such as paintings, home decor or apparel, Society6 comes up as one of the best options. Its extensive catalog and categories allows almost any artist to publish their products there, with only a few requisites.
Art that is published needs to be of a certain size. The minimum limit is 6500 x 6500px, since this is the standard that is used for shirts, wall clocks, mug designs and throw pillows. If an artist wants their art to get printed on another product, they will have to resize it in order to accommodate it to the product.
Users have to be very cautious when it comes to publishing items with trademarks. If any image, logo or art is under copyright or a trademark, Society6 will delete the submission, but there will not be any legal infraction for it.
Wall Art
Society6 has an immense catalog of categories, with each one having a lot of subcategories where people can find whatever art they want. And wall art is not an exception. Users will be able to search through canvas prints, pictures, posters, wall hangings and many more decorations for the house.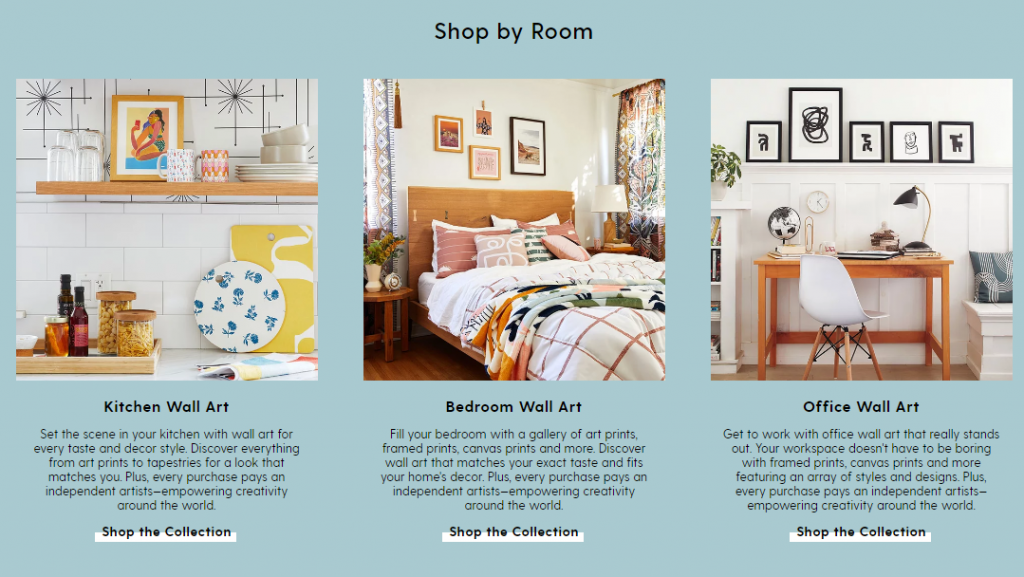 With the possibilities that an intuitive and friendly interface offers, it is easy to search collections related to each room, such as the office, bedroom or kitchen. Also, filters work by art type, theme and shop!
Home Decor
There is a lot of handmade decor made by artists in order to make any house look prettier. Stylish accessories that will make a nice addition for a home, apartment or dorm. Styles also vary from rustic to elegant, and anything in between them.
The most trending products that people search for here in this category are unique tapestries, pillows and blankets, rugs and amazing curtains.
Such a huge collection also brings many decisions to make in order to pick the best pillow to dress up a couch or sofa or those old chairs that need a new cover. Finishing touches for clocks and murals are also available.
Bed & Bath
Bed and bathrooms need specific themes and colors to match in order to get an elegant room. To achieve that, it is advised to search through the categories that the website has to offer: comforters, pillows, shower curtains, mats and towels.
Users can also search through the many sets of collections that Society6 has to offer in order to get the best bedding or duvet cover. Bathrooms are not left behind either; since there's a category of curated styles with the latest trends for them.
Apparel
Society6 reviews always have a mention for the good quality apparel that can be found on the website. Users can match styles and unique designs made by thousands and thousands of artists who published their product there. Search t-shirts, crewneck sweatshirts, hoodies, leggings or even graphic tees!
Collections offer many trending clothes waiting for the right customer to buy them. Many sales are being held almost everyday for users that search the t-shirt shop. Society6 even has an official licensed collection of Disney, where artists sell their products reimagining the characters of Mickey and Minnie Mouse.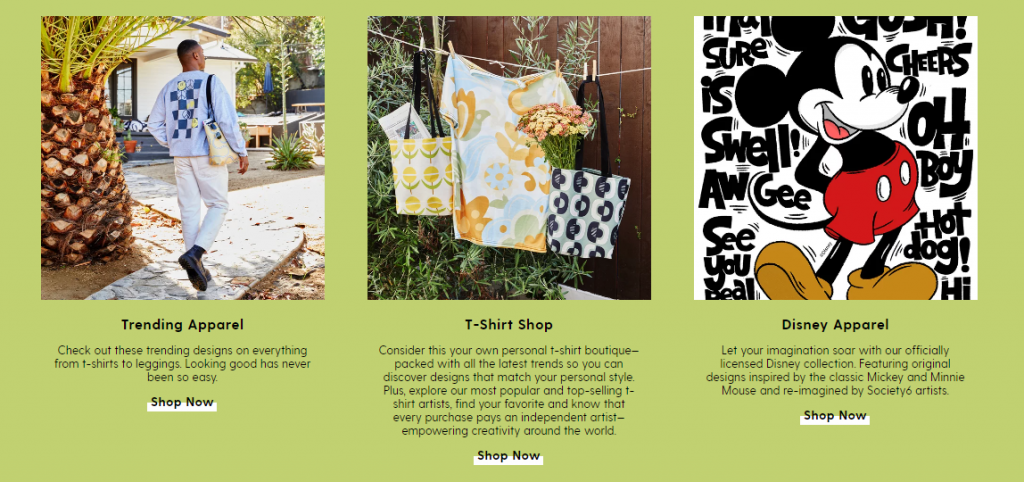 Bags & Accessories
Take the unique and elegant style to the streets thanks to the special handmade bags made by artists from Society6. Tote bags, carry-all pouches, backpacks or duffel bags with different themes and colors can be found.
Among the many styles that users can find, the ones that stand out are the eco-friendly, trippy and aesthetic ones.
Furniture
The furniture category provides unique additions for those looking for a new article that can improve a room. Collections include a series of the most sold and trending objects, the top picks of coffee tables and the best bohemian benches.
It is also possible to search for bar and seat stools, tables and many other furniture that would make any visitor jealous. Filtering by room such as kitchen, living room or common area is also available. According to Society6 reviews, big furniture shipping isn't an issue, so buyers around the world won't have a problem.
Tabletop
Tabletops are very useful decorations for those who want to give a finishing touch to a specific spot or room. Placemats, cutting boards, mugs, bottles and coasters can be found searching through this category. Collections also offer kitchen essentials, drinkware and upgrades for different kitchens.
Office

In order to have a productive space at the office, it is needed to have the proper motivation or inspiration. Beautifying the place with many of the products listed on Society6 for offices can provide that energy boost. Desk mats, stickers, notebooks with creative designs, puzzles and stationery cards can be found.
Among the most seen collections, three are the most picked ones: a list of the most viewed items for work offices is the main attraction. Acrylic trays and boxes along with the best sticker picks get the second and third place respectively.
Tech Decor
Society6 also offers a wide range of tech accessories for different tech devices. Wallet cases, apple watch custom sticker bands, card cases, iPad folio cases, snap cases of any color and design are available for purchase.
No matter the user's phone brand, there will always be a design for that special phone. Same goes for tablets, laptops and any other device that needs extra protection.
Outdoors
Beach towels, sling chairs, yoga mats, wine chiller and even outside cushions. Everything that suits outdoor furniture and accessories can be found here in order to make a garden more elegant.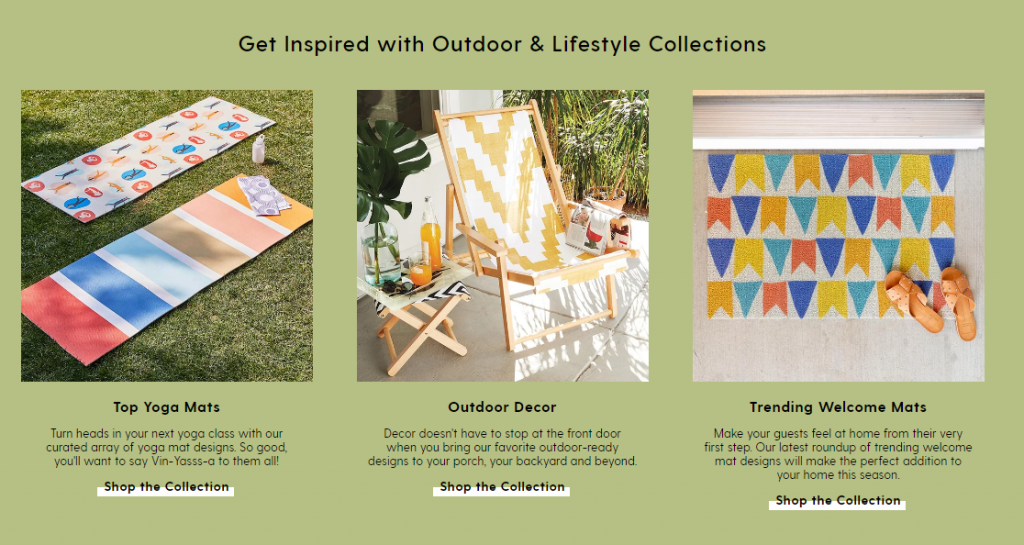 Special Collections
The website has many special collections to offer, most of them being licensed trademarks or unique events related to different seasons or months.
Many new concepts related to famous brands are here: Disney, Pixar and Star Wars are the main attractions. There are also other collections related to support movements such as Black lives matter, LGBTQIA+, the people suffering from war in Ukraine and many more.
How to Sell on Society6?
After reading about the requisites that the website asks for publishing a product and watching the catalog, everything is set for the next step: selling.
Most Society6 reviews speak well of the page since it is very easy to create an account. All artists around the world are welcomed to showcase their products in order to earn money. Users can apply to receive the newsletter, where tutorials, guides and many helpful tips will be given to maximize the art business.

Since it is the perfect place for that artist looking where to sell handmade items, it is just fair to highlight the selling process.
Uploading Art
An artwork with the specifications mentioned before needs to be uploaded first. This will be the "kickstarter" for new types of art. It is important to add a relevant title, give it a proper tag and description to make it more reachable.
Choosing the Product Type
Once the artwork has been selected and uploaded, there will be a selection process where the artist chooses where the art will be sold. It gets applied to the most products possible (for example wall tapestries, clocks, rugs or mugs) but the user can choose from it. Leaving them ON means approved.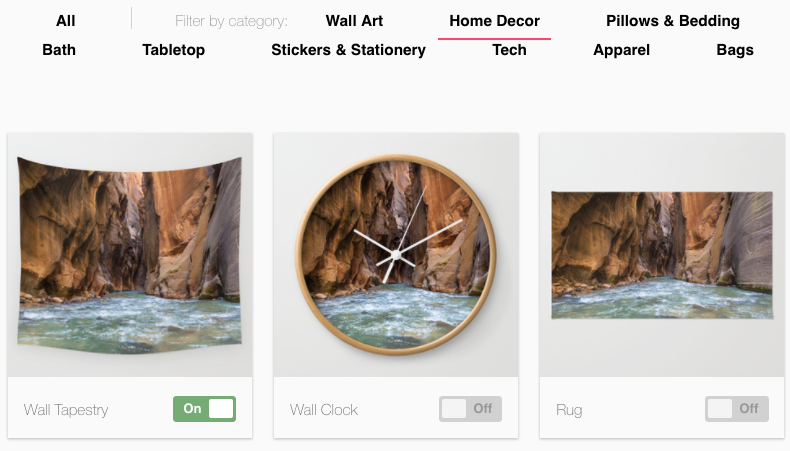 Product Customization
While the website provides an automated tool to fit an user's artwork on each product, people can still customize and resize it to make it look better manually. S6 drag and sizing tools are very easy to use and let artists rescale their art as they please.
Custom assets can also be added to certain products that the artist thinks would make a nice addition. There are some pixel requirements when it comes to uploading them. Besides art and assets personalization, artists can change the royalties and pricing of each product
Publishing
Making the artwork available for anyone to purchase is the final step of the process. Clicking the "publish" button will create a page for the related product.
The website has some recommendations for new artists, such as having at least five pieces of artwork being shown on the profile for customers to explore.
How to Promote a Published Product
Once a product is published, it will eventually gain some notoriety just by being listed there. But that is not enough for artists who think that they can reach more people.
Users will need to promote themselves in order to attract more attention from potential buyers. Best way for independent artists to gain notoriety is using their social media. Gaining an audience there can be the fastest way to attract people who will want to buy a product.
Offline promotion also helps. Art galleries, collections or just peer-to-peer can sound outdated, but still a way to earn a name.
Society6 has some tools and services in order to promote certain products, but personal promotion should always be the first option since it's the most effective way. Remember that clients' comments also matter, so ask them to leave a thought in the Society6 Reviews section of your profile.
Searching Creatives Handmade Products with EtsyHunt
EtsyHunt is a very powerful analysis tool used to search, sell and buy products filtering through tags, logos, fees and more.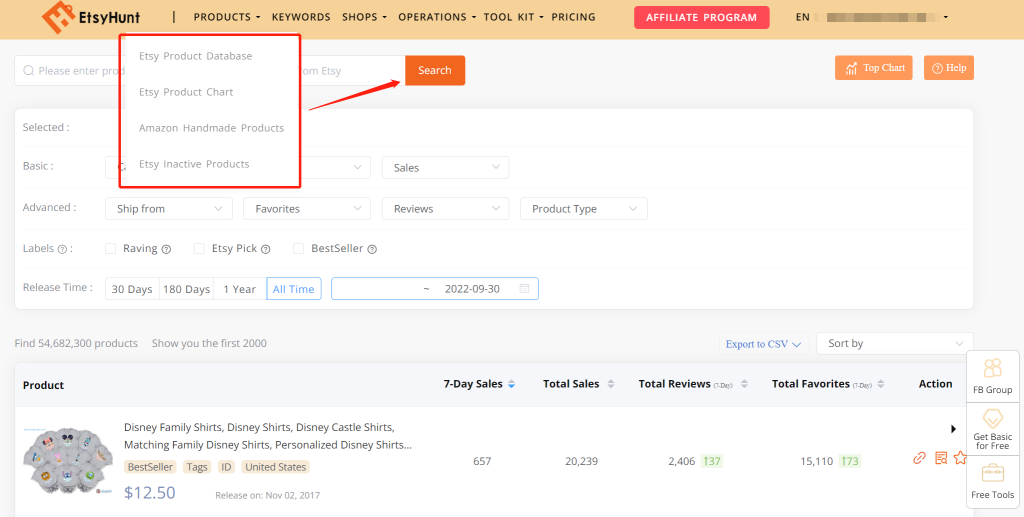 This tool can be used to also search through the many products of Society6 listed on Etsy. Filtering by Society6 Reviews, its pricing fees, shipment and tag details the users can get detailed info of the product they want to buy.
Its product research functionalities offer the users an easy, quick and straightforward way to discover products that are trending and hot picks. Filtering with specific keywords also helps to find that adequate product the user is looking forward to finding.
Conclusion
For those artists who want to earn extra money selling their art, there's no doubt that this page is the best option. Society6 reviews are positive enough to bring new artists into their extense categories of accessories, furniture and misc decor.
EtsyHunt can even improve the search for art fans who might be looking for some specific object or piece of art on the page. Its powerful tools grant users a quick and simple search that is useful to save time.
---
Are you selling on Etsy? Join EtsyHunt to
Experience Hassle-free Selling on Etsy
Start for Free